Abstract
Background
Biological acellular porcine dermis mesh, such as Permacol™, has been used since 2009 to treat abdominal incisional hernias in a septic context. This study investigated the risk factors for incisional hernia recurrence after biological mesh augmentation.
Results
Over a period of 6 years from February 2009 to February 2015, 68 patients underwent surgery. The mesh was placed intraperitoneally with closure of the anterior fascia in 27 cases (39.7%). The biological mesh was placed in the retromuscular pre-fascial plane in 1 case (1.5%) and pre-aponeurotic plane in 1 case (1.5%). Closure of the anterior fascia was not achieved in 39 cases, including 20 cases in which the mesh was placed intraperitoneally (intraperitoneal bridging group, 29.4%) and 19 cases in which the mesh was placed between the edges of the fascia (inlay bridging group, 27.9%). There were 37 cases of postoperative surgical site infections (54.4%), and Clavien–Dindo morbidity staging indicated stage I–II and III–IV complications in 19.1% and 44.1% of the cases, respectively. The recurrence rate was 61.8%, and the mortality rate was 0%. The rate of recurrence was significantly lower in the «fascia approximated» group (37%), p = 0.001). Univariate analyses of risk factors for procedural failure indicated an increased risk of recurrence in cases of postoperative surgical site infections, complications of Clavien–Dindo grade III or higher, an absent fascial closure in front of the mesh (OR = 8.69), an operating time longer than 180 min, and a VHWG score higher than 2. After logistic regression, the risk factors for recurrence were postoperative infections (OR = 6.2), placement of bridged biological mesh (OR = 22.3), and postoperative morbidity grade III or higher (OR = 16.7).
Conclusions
Patients with postoperative surgical site infections are at an increased risk for recurrence, and bridged mesh placements lack efficacy. Overall, this study challenges the purported advantage of biologics in treating incisional hernia repairs.
Access options
Buy single article
Instant access to the full article PDF.
US$ 39.95
Tax calculation will be finalised during checkout.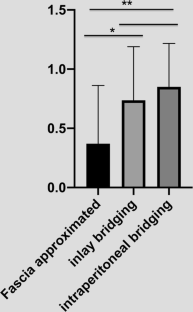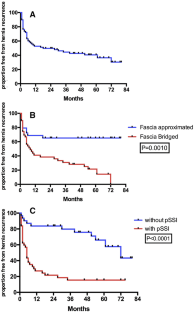 References
1.

Hiles M, Record Ritchie RD, Altizer AM (2009) Are biologic grafts effective for hernia repair?: a systematic review of the literature. Surg Innov 16(1):26–37

2.

Eker HH, Hansson BME, Buunen M et al (2013) Laparoscopic vs. open incisional hernia repair: a randomized clinical trial. JAMA Surg 148(3):259–263

3.

Sauerland S, Walgenbach M, Habermalz B et al (2011) Laparoscopic versus open surgical techniques for ventral or incisional hernia repair. Cochrane Database Syst Rev. https://doi.org/10.1002/14651858.CD007781

4.

Lee L, Mata J, Landry T et al (2014) A systematic review of synthetic and biologic materials for abdominal wall reinforcement in contaminated fields. Surg Endosc 28(9):2531–2546

5.

Bhangu A, Fitzgerald JE, Singh P et al (2013) Systematic review and meta-analysis of prophylactic mesh placement for prevention of incisional hernia following midline laparotomy. Hernia 17(4):445–455

6.

Burger JWA, Luijendijk RW, Hop WCJ et al (2004) Long-term follow-up of a randomized controlled trial of suture versus mesh repair of incisional hernia. Ann Surg 240(4):578–583 (discussion 583–585)

7.

Luijendijk RW, Hop WC, van den Tol MP et al (2000) A comparison of suture repair with mesh repair for incisional hernia. N Engl J Med 343(6):392–398

8.

Kamarajah SK, Chapman SJ, Glasbey J et al (2018) Systematic review of the stage of innovation of biological mesh for complex or contaminated abdominal wall closure: biological mesh devices for abdominal wall reconstruction. BJS Open 2(6):371–380

9.

Altemeier WA (1982) Sepsis in surgery. Presidential address. Arch Surg 117(2):107–112

10.

Ventral Hernia Working Group, Breuing K, Butler CE et al (2010) Incisional ventral hernias: review of the literature and recommendations regarding the grading and technique of repair. Surgery 148(3):544–558

11.

Majumder A, Winder JS, Wen Y et al (2016) Comparative analysis of biologic versus synthetic mesh outcomes in contaminated hernia repairs. Surgery 160(4):828–838

12.

De Simone B, Birindelli A, Ansaloni L et al (2019) Emergency repair of complicated abdominal wall hernias: WSES guidelines. Hernia. https://doi.org/10.1007/s10029-019-02021-8

13.

Bittner R, Bain K, Bansal VK et al (2019) Update of guidelines for laparoscopic treatment of ventral and incisional abdominal wall hernias (International Endohernia Society (IEHS))-Part A. Surg Endosc 33(10):3069–3139

14.

Hesselink VJ, Luijendijk RW, de Wilt JH et al (1993) An evaluation of risk factors in incisional hernia recurrence. Surg Gynecol Obstet 176(3):228–234

15.

Abdelfatah MM, Rostambeigi N, Podgaetz E, Sarr MG (2015) Long-term outcomes (%3e5-year follow-up) with porcine acellular dermal matrix (Permacol) in incisional hernias at risk for infection. Hernia 19(1):135–140

16.

Rosen MJ, Krpata DM, Ermlich B, Blatnik JA (2013) A 5-year clinical experience with single-staged repairs of infected and contaminated abdominal wall defects utilizing biologic mesh. Ann Surg 257(6):991–996

17.

Diaz-Siso JR, Bueno EM, Pomahac B (2013) Abdominal wall reconstruction using a non-cross-linked porcine dermal scaffold: a follow-up study. Hernia 17(1):37–44

18.

Giordano P, Pullan RD, Ystgaard B et al (2015) The use of an acellular porcine dermal collagen implant in the repair of complex abdominal wall defects: a European multicentre retrospective study. Tech Coloproctol 19(7):411–417

19.

Itani KMF, Rosen M, Vargo D et al (2012) Prospective study of single-stage repair of contaminated hernias using a biologic porcine tissue matrix: the RICH Study. Surgery 152(3):498–505

20.

Slater NJ, van der Kolk M, Hendriks T et al (2013) Biologic grafts for ventral hernia repair: a systematic review. Am J Surg 205(2):220–230

21.

Jin J, Rosen MJ, Blatnik J et al (2007) Use of acellular dermal matrix for complicated ventral hernia repair: does technique affect outcomes? J Am Coll Surg 205(5):654–660

22.

Patel KM, Nahabedian MY, Albino F, Bhanot P (2013) The use of porcine acellular dermal matrix in a bridge technique for complex abdominal wall reconstruction: an outcome analysis. Am J Surg 205(2):209–212

23.

Madani A, Niculiseanu P, Marini W et al (2017) Biologic mesh for repair of ventral hernias in contaminated fields: long-term clinical and patient-reported outcomes. Surg Endosc 31(2):861–871

24.

Clotteau JE, Premont M (1979) Treatment of severe median abdominal cicatricial eventrations by an aponeurotic plastic procedure (author's transl). Chirurgie 105(4):344–346

25.

Ramirez OM, Ruas E, Dellon AL (1990) "Components separation" method for closure of abdominal-wall defects: an anatomic and clinical study. Plast Reconstr Surg 86(3):519–526

26.

Rosen MJ, Jin J, McGee MF et al (2007) Laparoscopic component separation in the single-stage treatment of infected abdominal wall prosthetic removal. Hernia 11(5):435–440

27.

Rosen MJ, Bauer JJ, Harmaty M et al (2017) Multicenter, prospective, longitudinal study of the recurrence, surgical site infection, and quality of life after contaminated ventral hernia repair using biosynthetic absorbable mesh: The COBRA Study. Ann Surg 265(1):205–211

28.

Holihan JL, Nguyen DH, Nguyen MT et al (2016) Mesh location in open ventral hernia repair: a systematic review and network meta-analysis. World J Surg 40(1):89–99
Ethics declarations
Disclosures
Drs. Abdelkader Taibi, Sophiane Derbal, Sylvaine Durand Fontanier, Niki Christou, Fabien Fredon, Stephane Bouvier, Anne Fabre, Thibaud Rivaille, Denis Valleix, Muriel Mathonnet have no conflicts of interest or financial ties to disclose.
Additional information
Publisher's Note
Springer Nature remains neutral with regard to jurisdictional claims in published maps and institutional affiliations.
About this article
Cite this article
Taibi, A., Derbal, S., Durand Fontanier, S. et al. Implantation of biologic mesh in ventral hernia repair—does it make sense?. Surg Endosc 35, 702–709 (2021). https://doi.org/10.1007/s00464-020-07435-5
Received:

Accepted:

Published:

Issue Date:
Keywords
Biological mesh

Porcine dermis mesh

Incisional hernia

Recurrence

Bridge