Abstract
Background
The surgical resection of the splenic flexure carcinoma (SFC) is challenging and the optimal surgical procedure for SFCs remains a matter of debate. The present study aimed to compare in a multicenter European sample of patients the short- and long-term outcomes of extended right (ERC) vs. left (LC) vs. segmental left colectomy (SLC) for SFCs.
Methods
This retrospective multicenter study analyzed the surgical and oncological outcomes of SFC patients undergoing elective curative intent surgery between 2000 and 2018. Descriptive and exploratory analyses were first conducted on the whole sample. Outcomes of the different procedures (ERC vs. LC vs. SLC) were then compared using propensity score matching for multilevel treatment. Overall (OS) and disease-free survival (DFS) were evaluated by Kaplan–Meier method.
Results
From a total of 399 SFC patients, 143 (35.8%) underwent ERC, 131 (32.8%) underwent LC, and 125 (31.4%) underwent SLC. Overall, 297 (74.4%) were laparoscopic procedures. An increase in operative time, time to flatus, time to regular diet, and hospital stay was observed with the progressive extension of SFC resection. ERC was associated with significantly increased risk of postoperative ileus compared to both LC and SLC. A significantly greater number of lymph nodes were retrieved by ERC, but the objective of at least 12 retrieved lymph nodes was achieved in 85% of patients, without procedure-related differences. No differences were observed in OS or DFS between ERC, LC, and SLC.
Conclusion
The present study supports the resection of SFCs by colon-sparing surgical techniques, such as SLC.
Access options
Buy single article
Instant access to the full article PDF.
US$ 39.95
Tax calculation will be finalised during checkout.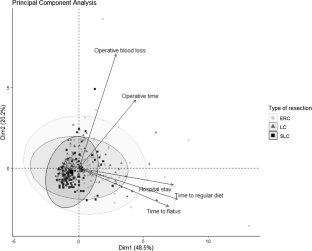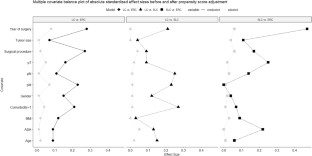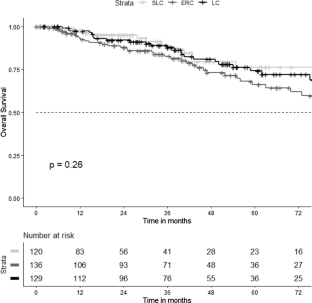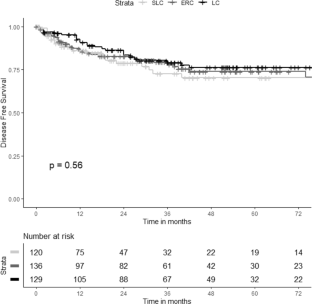 References
1.

Fukuoka A, Sasaki T, Tsukikawa S, Miyajima N, Ostubo T (2017) Evaluating distribution of the left branch of the middle colic artery and the left colic artery by CT angiography and colonography to classify blood supply to the splenic flexure. Asian J Endosc Surg 10(2):148–153

2.

Nakagoe T, Sawa T, Tsuji T, Jibiki M, Nanashima A, Yamaguchi H, Yasutake T, Ayabe H, Ishikawa H (2000) Carcinoma of the splenic flexure: multivariate analysis of predictive factors for clinicopathological characteristics and outcome after surgery. J Gastroenterol 35(7):528–535

3.

Kim MK, Lee IK, Kang WK, Cho HM, Kye BH, Jalloun HE, Kim JG (2017) Long-term oncologic outcomes of laparoscopic surgery for splenic flexure colon cancer are comparable to conventional open surgery. Ann Surg Treat Res 93(1):35–42

4.

Beisani M, Vallribera F, Garcia A, Mora L, Biondo S, Lopez-Borao J, Farres R, Gil J, Espin E (2017) Subtotal colectomy versus left hemicolectomy for the elective treatment of splenic flexure colonic neoplasia. Am J Surg 216(2):251–254

5.

Shaikh IA, Suttie SA, Urquhart M, Amin AI, Daniel T, Yalamarthi S (2012) Does the outcome of colonic flexure cancers differ from the other colonic sites? Int J Colorectal Dis 27(1):89–93

6.

Benedix F, Schmidt U, Mroczkowski P, Gastinger I, Lippert H, Kube R, Study Group "Colon/Rectum C (2011) Colon carcinoma–classification into right and left sided cancer or according to colonic subsite?—Analysis of 29,568 patients. Eur J Surg Oncol 37(2):134–139

7.

Akiyoshi T, Kuroyanagi H, Oya M, Ueno M, Fujimoto Y, Konishi T, Yamaguchi T (2010) Factors affecting difficulty of laparoscopic surgery for left-sided colon cancer. Surg Endosc 24(11):2749–2754

8.

Martinez-Perez A, Brunetti F, Vitali GC, Abdalla S, Ris F, de'Angelis N (2017) Surgical treatment of colon cancer of the splenic flexure: a systematic review and meta-analysis. Surg Laparosc Endosc Percutan Tech 27(5):318–327

9.

Ceccarelli G, Biancafarina A, Patriti A, Spaziani A, Bartoli A, Bellochi R, Pisanelli MC, Casciola L (2010) Laparoscopic resection with intracorporeal anastomosis for colon carcinoma located in the splenic flexure. Surg Endosc 24(7):1784–1788

10.

Carlini M, Spoletini D, Castaldi F, Giovannini C, Passaro U (2016) Laparoscopic resection of splenic flexure tumors. Updates Surg 68(1):77–83

11.

Fiscon V, Portale G, Migliorini G, Frigo F (2015) Splenic flexure colon cancers: minimally invasive treatment. Updates Surg 67(1):55–59

12.

Matsuda T, Sumi Y, Yamashita K, Hasegawa H, Yamamoto M, Matsuda Y, Kanaji S, Oshikiri T, Nakamura T, Suzuki S, Kakeji Y (2018) Anatomical and embryological perspectives in laparoscopic complete mesocoloic excision of splenic flexure cancers. Surg Endosc 32(3):1202–1208

13.

Nakagoe T, Sawai T, Tsuji T, Jibiki M, Ohbatake M, Nanashima A, Yamaguchi H, Yasutake T, Kurosaki N, Ayabe H, Ishikawa H (2001) Surgical treatment and subsequent outcome of patients with carcinoma of the splenic flexure. Surg Today 31(3):204–209

14.

Pisani Ceretti A, Maroni N, Sacchi M, Bona S, Angiolini MR, Bianchi P, Opocher E, Montorsi M (2015) Laparoscopic colonic resection for splenic flexure cancer: our experience. BMC Gastroenterol 15(1):76

15.

Roscio F, Bertoglio C, De Luca A, Frattini P, Clerici F, Scandroglio I (2012) Totally laparoscopic resection of the splenic flexure for tumor. Updates Surg 64(3):185–190

16.

Grieco M, Cassini D, Spoletini D, Soligo E, Grattarola E, Baldazzi G, Testa S, Carlini M (2018) Laparoscopic resection of splenic flexure colon cancers: a retrospective multi-center study with 117 cases. Updates Surg 71(2):349–357

17.

Manceau G, Mori A, Bardier A, Augustin J, Breton S, Vaillant JC, Karoui M (2018) Lymph node metastases in splenic flexure colon cancer: is subtotal colectomy warranted? J Surg Oncol 118(6):1027–1033

18.

Panaccio P, Grottola T, Ricciardiello M, di Sebastiano P, di Mola FF (2018) How we do it: totally laparoscopic complete mesocolon excision for splenic flexure cancer. Langenbecks Arch Surg 403(6):769–775

19.

Watanabe J, Ota M, Suwa Y, Ishibe A, Masui H, Nagahori K (2017) Evaluation of lymph flow patterns in splenic flexural colon cancers using laparoscopic real-time indocyanine green fluorescence imaging. Int J Colorectal Dis 32(2):201–207

20.

de'Angelis N, Hain E, Disabato M, Cordun C, Carra MC, Azoulay D, Brunetti F (2016) Laparoscopic extended right colectomy versus laparoscopic left colectomy for carcinoma of the splenic flexure: a matched case-control study. Int J Colorectal Dis 31(3):623–630

21.

Gravante G, Elshaer M, Parker R, Mogekwu AC, Drake B, Aboelkassem A, Rahman EU, Sorge R, Alhammali T, Gardiner K, Al-Hamali S, Rashed M, Kelkar A, Agarwal R, El-Rabaa S (2016) Extended right hemicolectomy and left hemicolectomy for colorectal cancers between the distal transverse and proximal descending colon. Ann R Coll Surg Engl 98(5):303–307

22.

Han KS, Choi GS, Park JS, Kim HJ, Park SY, Jun SH (2010) Short-term outcomes of a laparoscopic left hemicolectomy for descending colon cancer: retrospective comparison with an open left hemicolectomy. J Korean Soc Coloproctol 26(5):347–353

23.

Nakashima M, Akiyoshi T, Ueno M, Fukunaga Y, Nagayama S, Fujimoto Y, Konishi T, Noaki R, Yamakawa K, Nagasue Y, Kuroyanagi H, Yamaguchi T (2011) Colon cancer in the splenic flexure: comparison of short-term outcomes of laparoscopic and open colectomy. Surg Laparosc Endosc Percutan Tech 21(6):415–418

24.

Vasey CE, Rajaratnam S, O'Grady G, Hulme-Moir M (2018) Lymphatic drainage of the splenic flexure defined by intraoperative scintigraphic mapping. Dis Colon Rectum 61(4):441–446

25.

Binda GA, Amato A, Alberton G, Bruzzone M, Secondo P, Lopez-Borao J, Giudicissi R, Falato A, Fucini C, Bianco F, Biondo S (2019) Surgical treatment of the colon neoplasm of the splenic flexure: a multicentric study of short-term outcomes. Colorectal Dis. https://doi.org/10.1111/codi.14832

26.

Chi Z, Li Z, Cheng L, Wang C (2018) Comparison of long-term outcomes after laparoscopic-assisted and open colectomy for splenic flexure cancer. J BUON 23(2):322–328

27.

Martin Arevalo J, Moro-Valdezate D, Garcia-Botello SA, Pla-Marti V, Garces-Albir M, Perez Santiago L, Vargas-Duran A, Espi-Macias A (2018) Propensity score analysis of postoperative and oncological outcomes after surgical treatment for splenic flexure colon cancer. Int J Colorectal Dis 33(9):1201–1213

28.

Milone M, Angelini P, Berardi G, Burati M, Corcione F, Delrio P, Elmore U, Lemma M, Manigrasso M, Mellano A, Muratore A, Pace U, Rega D, Rosati R, Tartaglia E, De Palma GD (2018) Intracorporeal versus extracorporeal anastomosis after laparoscopic left colectomy for splenic flexure cancer: results from a multi-institutional audit on 181 consecutive patients. Surg Endosc Surg Endosc 32(8):3467–3473

29.

Odermatt M, Siddiqi N, Johns R, Miskovic D, Khan O, Khan J, Parvaiz A (2014) Short- and long-term outcomes for patients with splenic flexure tumours treated by left versus extended right colectomy are comparable: a retrospective analysis. Surg Today 44(11):2045–2051

30.

Okuda J, Yamamoto M, Tanaka K, Masubuchi S, Uchiyama K (2016) Laparoscopic resection of transverse colon cancer at splenic flexure: technical aspects and results. Updates Surg 68(1):71–75

31.

Rega D, Pace U, Scala D, Chiodini P, Granata V, Fares Bucci A, Pecori B, Delrio P (2019) Treatment of splenic flexure colon cancer: a comparison of three different surgical procedures: experience of a high volume cancer center. Sci Rep 9(1):10953

32.

Kim CW, Shin US, Yu CS, Kim JC (2010) Clinicopathologic characteristics, surgical treatment and outcomes for splenic flexure colon cancer. Cancer Res Treat 42(2):69–76

33.

von Elm E, Altman DG, Egger M, Pocock SJ, Gotzsche PC, Vandenbroucke JP, Initiative S (2008) The Strengthening the Reporting of Observational Studies in Epidemiology (STROBE) statement: guidelines for reporting observational studies. J Clin Epidemiol 61(4):344–349

34.

Weiser MR (2018) AJCC 8th edition: colorectal cancer. Ann Surg Oncol 25(6):1454–1455

35.

Kim JC, Lee JL, Yoon YS, Kim CW, Park IJ, Lim SB (2018) Robotic left colectomy with complete mesocolectomy for splenic flexure and descending colon cancer, compared with a laparoscopic procedure. Int J Med Robot 14(5):e1918

36.

Petrucciani N, Memeo R, Genova P, Le Roy B, Courtot L, Voron T, Aprodu R, Tabchouri N, Saleh NB, Berger A, Ouaissi M, Pezet D, Mutter D, Brunetti F, de'Angelis N (2019) Impact of conversion from laparoscopy to open surgery in patients with right colon cancer. Am Surg 85(2):177–182

37.

Dindo D, Demartines N, Clavien PA (2004) Classification of surgical complications: a new proposal with evaluation in a cohort of 6336 patients and results of a survey. Ann Surg 240(2):205–213

38.

Chapuis PH, Bokey L, Keshava A, Rickard MJ, Stewart P, Young CJ, Dent OF (2013) Risk factors for prolonged ileus after resection of colorectal cancer: an observational study of 2400 consecutive patients. Ann Surg 257(5):909–915

39.

Team RC (2017) R: A language and environment for statistical computing. In: Computing RFfS (ed), Vienna, Austria

40.

Bryer JM (2013) TriMatch: an R package for propensity score matching of Non-binary treatments.

41.

Benjamini Y, Yekutieli D (2001) The control of the false discovery rate in multiple testing under dependency. Ann Statis 29(4):1165–1188

42.

Austin PC (2007) The performance of different propensity score methods for estimating marginal odds ratios. Stat Med 26(16):3078–3094

43.

Austin PC (2013) The performance of different propensity score methods for estimating marginal hazard ratios. Stat Med 32(16):2837–2849

44.

Biondi-Zoccai G, Romagnoli E, Agostoni P, Capodanno D, Castagno D, D'Ascenzo F, Sangiorgi G, Modena MG (2011) Are propensity scores really superior to standard multivariable analysis? Contemp Clin Trials 32(5):731–740

45.

Brazauskas R, Logan BR (2016) Observational studies: matching or regression? Biol Blood Marrow Transplant 22(3):557–563

46.

Elze MC, Gregson J, Baber U, Williamson E, Sartori S, Mehran R, Nichols M, Stone GW, Pocock SJ (2017) Comparison of propensity score methods and covariate adjustment: evaluation in 4 cardiovascular studies. J Am Coll Cardiol 69(3):345–357

47.

Martínez-Perez A, Reitano E, Gavriilidis P, Genova P, Moroni P, Memeo R, Brunetti F, de'Angelis N (2019) What is the best surgical option for the resection of transverse colon cancer? Ann Laparosc Endosc Surg 4:69–80

48.

Chen SL, Bilchik AJ (2006) More extensive nodal dissection improves survival for stages I to III of colon cancer: a population-based study. Ann Surg 244(4):602–610

49.

Garcia-Granero A, Sanchez-Guillen L, Carreno O, Sancho Muriel J, Alvarez Sarrado E, Fletcher Sanfeliu D, Flor Lorente B, Frasson M, Martinez Soriano F, Garcia-Granero E (2017) Importance of the Moskowitz artery in the laparoscopic medial approach to splenic flexure mobilization: a cadaveric study. Tech Coloproctol 21(7):567–572

50.

Stelzner S, Hohenberger W, Weber K, West NP, Witzigmann H, Wedel T (2016) Anatomy of the transverse colon revisited with respect to complete mesocolic excision and possible pathways of aberrant lymphatic tumor spread. Int J Colorectal Dis 31(2):377–384
Acknowledgements
The authors would like to thank Dr Clotilde Carra for her valuable support in manuscript revisions. SFC Study Group collaborators who participated in the study providing cares for the study patients and collecting the data: Giorgio Bianchi, Julie Pham, Pietro Genova, Iradj Sobhani (Unit of Digestive, Hepato-Pancreato-Biliary Surgery, Henri Mondor Hospital, AP-HP, University of Paris Est, UPEC, Créteil, France). Segundo A. Gómez, M. Teresa Torres, Carmen Payá, Paula Gonzálvez (Unit of Colorectal Surgery, Department of General and Digestive Surgery, Hospital Universitario Doctor Peset, Valencia, Spain). Aine Stakelum, Alexandra Zaborowski (Department of Surgery, St. Vincent's Hospital, Elm Park, Dublin 4, Ireland). Albert Sueiras-Gil, Ramiro Hevia (Department of General Surgery, Viladecans Hospital, Barcelona, Spain). Michela Assalino (Service of Abdominal Surgery, Geneva University Hospitals and Medical School, Geneva, Switzerland). Denis Pezet, Mourad Abdallah (Department of Digestive and Hepato-biliary Surgery, Hospital Estaing, CHU Clermont-Ferrand, France). Luca Ansaloni (General, Emergency and Trauma Surgery Department, Bufalini Hospital of Cesena, Italy), Arianna Birindelli (Cambridge University Hospitals NHS Foundation Trust, Addenbrooke's Hospital, Cambridge Biomedical Campus, Cambridge, UK), Christine Denet (Department of Digestive Oncologic and Metabolic Surgery, Institut Mutualiste Montsouris, Paris Descartes University, Paris France), Alejandro Solis, Miquel Kraft (Unit of Colorectal Surgery, Department of General and Digestive Surgery, University Hospital Vall d'Hebron, Barcelona, Universitat Autonoma de Barcelona, Spain).
Funding
No grant was received for this study.
Ethics declarations
Disclosures
Drs Nicola de'Angelis, Aleix Martínez-Pérez, Des C. Winter, Filippo Landi, Giulio C. Vitali, Bertrand Le Roy, Federico Coccolini, Francesco Brunetti, Valerio Celentano, Salomone Di Saverio, Frederic Ris, David Fuks, and Eloy Espin have no conflicts of interest or financial ties to disclose.
Additional information
Publisher's Note
Springer Nature remains neutral with regard to jurisdictional claims in published maps and institutional affiliations.
The SFC Study Group collaborators who participated in the study providing cares for the study patients and collecting the data has been included in 'Acknowledgements' section.
Electronic supplementary material
Below is the link to the electronic supplementary material.
About this article
Cite this article
de'Angelis, N., Martínez-Pérez, A., Winter, D.C. et al. Extended right colectomy, left colectomy, or segmental left colectomy for splenic flexure carcinomas: a European multicenter propensity score matching analysis. Surg Endosc 35, 661–672 (2021). https://doi.org/10.1007/s00464-020-07431-9
Received:

Accepted:

Published:

Issue Date:
Keywords
Splenic flexure carcinoma

Extended right colectomy

Left colectomy

Segmental left colectomy

Propensity score matching

Postoperative complications