Abstract
Background
Current treatment of infected pancreatic necrosis (IPN) follows a step-up approach. Our group designed a step-up protocol that associates endoscopic drainage with local infusion of antibiotics through transmural nasocystic catheter. Aim of our study was to evaluate our step-up protocol for IPN in terms of proportion of patients avoiding necrosectomy.
Methods
Retrospective analysis of patients admitted with acute pancreatitis (AP) between January 2015 and December 2018. The number of patients who responded to each therapeutic step were analysed: step 1, systemic antibiotics; step 2, endoscopic transmural drainage and local infusion of antibiotics; step 3, endoscopic necrosectomy.
Results
1158 patients with AP were included. 110 patients (8.4%) suffered from necrotising pancreatitis; 48 of them had IPN (42.6% of necrotising pancreatitis) and were treated with systemic antibiotics. Nineteen patients (39.6% of IPN) responded and did not required any invasive therapy. Six patients with IPN on systemic antibiotics died within the first 4 weeks of disease before step 2 could be applied. Urgent surgical necrosectomy in the first 4 weeks was performed in three additional patients. Endoscopic drainage and local antibiotic therapy was performed in the remaining 20 patients; 9 (45% of them) did well and 9 patients underwent necrosectomy (18.7% of IPN). Two patients died on drainage. Overall mortality of the total cohort of AP was 2.53%
Conclusions
Addition of local infusion of antibiotics to endoscopic drainage avoids the need of necrosectomy in half of patients with IPN not responding to systemic antibiotics.
Access options
Buy single article
Instant access to the full article PDF.
US$ 39.95
Tax calculation will be finalised during checkout.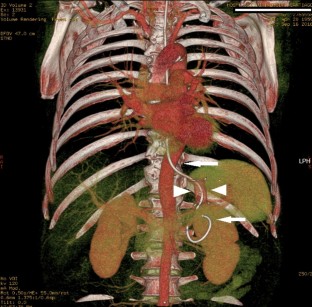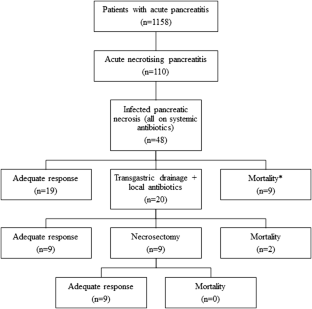 References
1.

Xiao AY, Tan ML, Wu LM, Asrani VM, Windsor JA, Yadav D, Petrov MS (2016) Global incidence and mortality of pancreatic diseases: a systematic review, meta-analysis, and meta-regression of population-based cohort studies. Lancet Gastroenterol Hepatol 1:45–55

2.

Sternby H, Bolado F, Canaval-Zuleta HJ, Marra-López C, Hernando-Alonso AI, Del-Val-Antoñana A, García-Rayado G, Rivera-Irigoin R, Grau-García FJ, Oms L, Millastre-Bocos J, Pascual-Moreno I, Martínez-Ares D, Rodríguez-Oballe JA, López-Serrano A, Ruiz-Rebollo ML, Viejo-Almanzor A, González-de-la-Higuera B, Orive-Calzada A, Gómez-Anta I, Pamies-Guilabert J, Fernández-Gutiérrez-Del-Álamo F, Iranzo-González-Cruz I, Pérez-Muñante ME, Esteba MD, Pardillos-Tomé A, Zapater P, de-Madaria E. (2018) Determinants of severity in acute pancreatitis: a nation-wide multicenter prospective cohort study. Ann Surg 270(2):348–355. https://doi.org/10.1097/SLA.0000000000002766

3.

Petrov MS, Shanbhag S, Chakraborty M, Phillips AR, Windsor JA (2010) Organ failure and infection of pancreatic necrosis as determinants of mortality in patients with acute pancreatitis. Gastroenterology 139:813–820

4.

Uhl W, Warshaw A, Imrie C, Bassi C, McKay CJ, Lankisch PG, Carter R, Di Magno E, Banks PA, Whitcomb DC, Dervenis C, Ulrich CD, Satake K, Ghaneh P, Hartwig W, Werner J, McEntee G, Neoptolemos JP, Büchler MW, International Association of Pancreatology (2002) IAP guidelines for the surgical management of acute pancreatitis. Pancreatology 2002(2):565–573

5.

UK Working Party on Acute Pancreatitis (2005) UK guidelines for the management of acute pancreatitis. Gut 54(Suppl III):iii1–iii9

6.

Garg PK, Sharma M, Madan K, Sahni P, Banerjee D, Goyal R (2010) Conservative treatment results in mortality comparable to surgery in patients with infected pancreatic necrosis. Clin Gastroenterol Hepatol 8:1089–1094

7.

van Santvoort HC, Besselink M, Bakker OJ, Hofker HS, Boermeester MA, Dejong CH, van Goor H, Schaapherder AF, van Eijck CH, Bollen TL, van Ramshorst B, Nieuwenhuijs VB, Timmer R, Laméris JS, Kruyt PM, Manusama ER, van der Harst E, van der Schelling GP, Karsten T, Hesselink EJ, van Laarhoven CJ, Rosman C, Bosscha K, de Wit RJ, Houdijk AP, van Leeuwen MS, Buskens E, Gooszen HG, Dutch Pancreatitis Study Group (2010) A step-up approach or open necrosectomy for necrotizing pancreatitis. N Engl J Med 362:1491–1502

8.

Bakker OJ, van Santvoort HC, van Brunschot S, Geskus RB, Besselink MG, Bollen TL, van Eijck CH, Fockens P, Hazebroek EJ, Nijmeijer RM, Poley JW, van Ramshorst B, Vleggaar FP, Boermeester MA, Gooszen HG, Weusten BL, Timmer R, Dutch Pancreatitis Study Group (2012) Endoscopic transgastric vs surgical necrosectomy for infected necrotizing pancreatitis: a randomized trial. JAMA 307:1053–1061

9.

van Brunschot S, van Grinsven J, van Santvoort HC, Bakker OJ, Besselink MG, Boermeester MA, Bollen TL, Bosscha K, Bouwense SA, Bruno MJ, Cappendijk VC, Consten EC, Dejong CH, van Eijck CH, Erkelens WG, van Goor H, van Grevenstein WMU, Haveman JW, Hofker SH, Jansen JM, Laméris JS, van Lienden KP, Meijssen MA, Mulder CJ, Nieuwenhuijs VB, Poley JW, Quispel R, de Ridder RJ, Römkens TE, Scheepers JJ, Schepers NJ, Schwartz MP, Seerden T, Spanier BWM, Straathof JWA, Strijker M, Timmer R, Venneman NG, Vleggaar FP, Voermans RP, Witteman BJ, Gooszen HG, Dijkgraaf MG, Fockens P, Dutch Pancreatitis Study Group (2018) Endoscopic or surgical step-up approach for infected necrotising pancreatitis: a multicentre randomised trial. Lancet 391:51–58

10.

Tenner S, Baillie J, DeWitt J (2013) American College of Gastroenterology guideline: management of acute pancreatitis. Am J Gastroenterol 108:1400–1415

11.

Working Group IAP/APA Acute Pancreatitis Guidelines (2013) IAP/APA evidence-based guidelines for the management of acute pancreatitis. Pancreatology 13(4 Suppl 2):e1–e15

12.

Vege S, DiMagno MJ, Martel M, Barkun AN (2018) Initial medical treatment of acute pancreatitis: American Gastroenterological Association Institute Technical Review. Gastroenterology 154:1103–1139

13.

Gornals JB, Consiglieri CF, Busquets J, Salord S, Hera M, Secanella L, Redondo S, Pelaez N, Fabregat J (2016) Endoscopic necrosectomy of walled-off pancreatic necrosis using a lumen-apposing metal stent and irrigation technique. Surg Endosc 2016(30):2592–2602

14.

González-López J, Macías-García F, Lariño-Noia J, Dominguez-Muñoz JE (2016) Theoretical approach to local infusion of antibiotics for infected pancreatic necrosis. Pancreatology 16:719–725

15.

Banks PA, Bollen TL, Dervenis C, Gooszen HG, Johnson CD, Sarr MG, Tsiotos GG, Vege S (2013) Acute Pancreatitis Classification Working Group. Classification of acute pancreatitis—2012: revision of the Atlanta classification and definitions by international consensus. Gut 62:102–111

16.

Berthoin K, Le Duff CS, Marchand-Brynaert J, Carryn S, Tulkens PM (2010) Stability of meropenem and doripenem solutions for administration by continuous infusion. J Antimicrob Chemother 65:1073–1075

17.

van Brunschot S, Fockens P, Bakker OJ, Besselink MG, Voermans RP, Poley JW, Gooszen HG, Bruno M, van Santvoort HC (2014) Endoscopic transluminal necrosectomy in necrotising pancreatitis: a systematic review. Surg Endosc 2014(28):1425–1438

18.

Bang JY, Arnoletti JP, Holt BA, Sutton B, Hasan MK, Navaneethan U, Feranec N, Wilcox CM, Tharian B, Hawes RH, Varadarajulu S (2019) An endoscopic transluminal approach, compared with minimally invasive surgery, reduces complications and costs for patients with necrotizing pancreatitis. Gastroenterology 156:1027–1040

19.

Siddiqui AA, Kowalski TE, Loren DE, Khalid A, Soomro A, Mazhar SM, Isby L, Kahaleh M, Karia K, Yoo J, Ofosu A, Ng B, Sharaiha RZ (2017) Fully covered self-expanding metal stents versus lumen-apposing fully covered self-expanding metal stent versus plastic stents for endoscopic drainage of pancreatic walled-off necrosis: clinical outcomes and success. Gastrointest Endosc 85:758–765

20.

Chandran S, Efthymiou M, Kaffes A, Chen JW, Kwan V, Murray M, Chandran S, Efthymiou M, Kaffes A, Williams D, Nguyen NQ, Tam W, Welch C, Chong A, Gupta S, Devereaux B, Tagkalidis P, Parker F, Vaughan R (2015) Management of pancreatic collections with a novel endoscopically placed fully covered self-expandable metal stent: a national experience (with videos). Gastrointest Endosc 81:127–135

21.

Bang JY, Navaneethan U, Hasan MK, Sutton B, Hawes R, Varadarajulu S (2018) Non-superiority of lumen-apposing metal stents for drainage of walled-off necrosis in a randomised trial. Gut 68(7):1200–1209. https://doi.org/10.1136/gutjnl-2017-315335

22.

van Santvoort HC, Bakker OJ, Bollen TL, Besselink MG, Ahmed Ali U, Schrijver AM, Boermeester MA, van Goor H, Dejong CH, van Eijck CH, van Ramshorst B, Schaapherder AF, van der Harst E, Hofker S, Nieuwenhuijs VB, Brink MA, Kruyt PM, Manusama ER, van der Schelling GP, Karsten T, Hesselink EJ, van Laarhoven CJ, Rosman C, Bosscha K, de Wit RJ, Houdijk AP, Cuesta MA, Wahab PJ, Gooszen HG, Dutch Pancreatitis Study Group (2011) A conservative and minimally invasive approach to necrotizing pancreatitis improves outcome. Gastroenterology 141:1254–1263

23.

Arvanitakis M, Dumonceau JM, Albert J, Badaoui A, Bali MA, Barthet M, Besselink M, Deviere J, Oliveira Ferreira A, Gyökeres T, Hritz I, Hucl T, Milashka M, Papanikolaou IS, Poley JW, Seewald S, Vanbiervliet G, van Lienden K, van Santvoort H, Voermans R, Delhaye M, van Hooft J (2018) Endoscopic management of acute necrotizing pancreatitis: European Society of Gastrointestinal Endoscopy (ESGE) evidence-based multidisciplinary guidelines. Endoscopy 50:524–546

24.

Mithöfer K, Fernández-del Castillo C, Ferraro MJ, Lewandrowski K, Rattner DW, Warshaw AL (1996) Antibiotic treatment improves survival in experimental acute necrotizing pancreatitis. Gastroenterology 110:232–240

25.

Baron T, Thaggard W, Morgan D, Stanley RJ (1996) Endoscopic therapy for organized pancreatic necrosis. Gastroenterology 111: 755–764

26.

Siddiqui AA, Dewitt JM, Strongin A, Singh H, Jordan S, Loren DE, Kowalski T, Eloubeidi MA (2013) Outcomes of EUS-guided drainage of debris-containing pancreatic pseudocysts by using combined endoprosthesis and a nasocystic drain. Gastrointest Endosc 78:589–595

27.

Gurusamy KS, Pallari E, Hawkins N, Pereira SP, Davidson BR (2016) Management strategies for pancreatic pseudocysts. Cochrane Database Syst Rev 4:CD011392. https://doi.org/10.1002/14651858

28.

Werge M, Novovic S, Roug S, Knudsen JD, Feldager E, Gluud LL, Schmidt PN (2018) Evaluation of local instillation of antibiotics in infected walled-off pancreatic necrosis. Pancreatology 18:642–646

29.

Mouli VP, Sreenivas V, Garg PK (2013) Efficacy of conservative treatment, without necrosectomy, for infected pancreatic necrosis: a systematic review and meta-analysis. Gastroenterology 144:333–340

30.

Besselink MG, van Santvoort HC, Boermeester MA, Nieuwenhuijs VB, van Goor H, Dejong CH, Schaapherder AF, Gooszen HG, Dutch Acute Pancreatitis Study Group (2009) Timing and impact of infections in acute pancreatitis. Br J Surg 96:267–273
Ethics declarations
Disclosures
José Lariño Noia, Julio Iglesias García and Enrique Dominguez Muñoz have received honoraria as speakers from Abbott, Mylan and Boston Scientific Company. Daniel de la Iglesia García have received honoraria as speaker from Mylan Company. Jaime González-Lopez, Javier Díaz-Lopez, Fernando Macías-García, Rafael Mejuto, Adriano Quiroga, Violeta Mauriz, Andrea Jardí have no conflict of interests or financial ties to disclose.
Additional information
Publisher's Note
Springer Nature remains neutral with regard to jurisdictional claims in published maps and institutional affiliations.
About this article
Cite this article
Lariño-Noia, J., de la Iglesia-García, D., González-Lopez, J. et al. Endoscopic drainage with local infusion of antibiotics to avoid necrosectomy of infected walled-off necrosis. Surg Endosc 35, 644–651 (2021). https://doi.org/10.1007/s00464-020-07428-4
Received:

Accepted:

Published:

Issue Date:
Keywords
Pancreatitis

Endosonography

Carbapenem

Antibiotic resistance

Endoscopic necrosectomy