Abstract
Objective
To find the optimal size of a drain for the reliable drainage and the best cosmetic result in TOETVA. To explore the normal drainage flow rate after TOETVA.
Methods
A prospective randomized controlled trial was performed in a single center from December 2016 to December 2018. One hundred and fifty-three (153) patients had TOETVA with a single incision and were randomly divided into two groups. Self-made drainage tubes with a small diameter (outer diameter 2.0 mm, inner diameter 1.0 mm) were used in 80 patients (experimental group). No. 8 tubes were used in 73 patients (control group). The clinical characteristics and results between both groups were compared by t test or chi-square test, and the results of normal drainage flow rate were calculated.
Results
The experimental group had a longer intraoperative tube-inserting time, compared with the control group (9.5 ± 2.5 min vs. 5.6 ± 1.4 min, p = 0.001), a smaller scar six months after the operation (1.8 ± 2.3 mm vs. 3.1 ± 2.6 mm, p = 0.002), and a lower Vancouver Scar Scale score at both one month (3.20 ± 1.44 vs. 4.19 ± 1.92, p = 0.001) and six months after the operation(1.43 ± 1.84 vs. 2.40 ± 2.37, p = 0.006). The drainage volume, pain score on the first day, postoperative complications (tube blockage, air leakage, subcutaneous hydrops, hematoma, regional infection), and the extubation time were not significantly different. The average drainage of 148 patients without postoperative complications was 78.3 ± 10.9 ml. The cumulative drainage within 8 h, and 32 h after the operation accounted for 53.2% and 91.9% of the total drainage, respectively. The residual drainage at 32 h was estimated to be 6.5 ± 2.9 ml (P95 = 11.0 ml). A linear regression equation between total volume (Vt) and the size of resected tissue (S) was established: Vt = 1.625 S + 56.604 (p = 0.0001).
Conclusion
In TOETVA, a small drain can provide a good cosmetic appearance and reliable drainage. The main exudation period of the wound is within 8 h after the operation. If a residual volume of less than 11 ml is considered to be self-absorbable, the shortest safe extubation point for 95% of patients should be 32 h after the operation.
Access options
Buy single article
Instant access to the full article PDF.
US$ 39.95
Tax calculation will be finalised during checkout.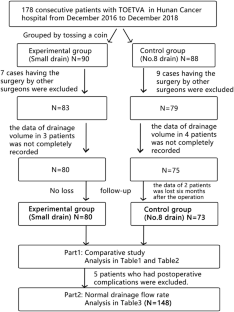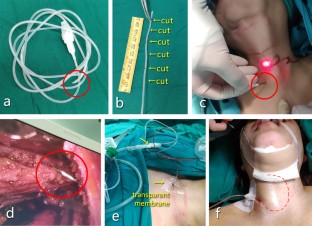 References
1.

Wilhelm T, Harlaar JJ, Kerver A et al (2010) Surgical anatomy of the floor of the oral cavity and the cervical spaces as a rationale for trans-oral, minimal-invasive endoscopic surgical procedures: results of anatomical studies. Eur Arch Otorhinolaryngol 267(8):1285–1290

2.

Wang C, Zhai H, Liu W et al (2014) Thyroidectomy: a novel endoscopic oral vestibular approach. Surgery 155(1):33–38

3.

Wang P, Wu GY, Tian W et al (2018) Chinese experts concensus on transoral endoscopic thyroidectomy vestibular approach. Chin J Pract Surg 38(10):1104–1107

4.

Jitpratoom P, Ketwong K, Sasanakietkul T et al (2016) Transoral endoscopic thyroidectomy vestibular approach (TOETVA) for Graves' disease: a comparison of surgical results with open thyroidectomy. Gland Surg 5(6):546–552

5.

Anuwong A, Ketwong K, Jitpratoom P et al (2018) Safety and outcomes of the transoral endoscopic thyroidectomy vestibular approach. JAMA Surg 153(1):21–27

6.

Wang Y, Yu X, Wang P et al (2016) Implementation of intraoperative neuromonitoring for transoral endoscopic thyroid surgery: a preliminary report. J Laparoendosc Adv Surg Tech A 26(12):965–971

7.

Peng W, Peng XW, Li Z (2018) Application of transoral endoscopic thyroidectomy for benign thyroid nodule. Lin Chung Er Bi Yan Hou Tou Jing Wai Ke Za Zhi 32(13):972–975

8.

Sun H, Zheng H, Wang X et al (2019) Comparison of transoral endoscopic thyroidectomy vestibular approach, total endoscopic thyroidectomy via areola approach, and conventional open thyroidectomy: a retrospective analysis of safety, trauma, and feasibility of central neck dissection in the treatment of papillary thyroid carcinoma. Surg Endosc 34(6):268–274

9.

Peng X, Li Z, Li H et al (2019) The clinical application of mental nerve dissection in transoral endoscopic thyroidectomy via an oral vestibular approach. Surg Endosc 34:153–158

10.

Peng XW, Li H, Li Z et al (2017) Modified transoral endoscopic thyroid surgery for treatment of thyroid cancer: operative steps and video. Gland Surg 6(6):742–744

11.

Bae SH, Bae YC (2014) Analysis of frequency of use of different scar assessment scales based on the scar condition and treatment method. Arch Plast Surg 41(2):111–115

12.

Li L, Liu W, Tao H et al (2018) Efficacy and safety of negative pressure versus natural drainage after thyroid surgery: a systematic review and meta-analysis. Medicine (Baltimore) 97(31):e11576

13.

Kowalski LP, Sanabria A, Vartanian JG et al (2012) Total thyroidectomy with ultrasonic scalpel: a multicenter, randomized controlled trial. Head Neck 34(6):805–812

14.

Jongekkasit I, Jitpratoom P, Sasanakietkul T et al (2019) Transoral Endoscopic Thyroidectomy for Thyroid Cancer. Endocrinol Metab Clin North Am 48(1):165–180

15.

Zhang D, Caruso E, Sun H et al (2019) Classifying pain in transoral endoscopic thyroidectomy. J Endocrinol Invest 42(11):1345–1351

16.

Morrissey AT, Chau J, Yunker WK et al (2008) Comparison of drain versus no drain thyroidectomy: randomized prospective clinical trial. J Otolaryngol Head Neck Surg 37(1):43–47

17.

Zhao S, Yin Z, Cheng R (2015) Clinical investigation of drainage volume variation after initial thyroidectomy. Chin J Bases Clin General Surg 22(07):799–802

18.

Yuan WZ, Li BG, Zhang YG et al (2018) Post thyroidectomy drainage, solutions, debate and compromise. Lin Chung Er Bi Yan Hou Tou Jing Wai Ke Za Zhi 32(9):705–707

19.

Woods RS, Woods JF, Duignan ES et al (2014) Systematic review and meta-analysis of wound drains after thyroid surgery. Br J Surg 101(5):446–456

20.

Portinari M, Carcoforo P (2017) The application of drains in thyroid surgery. Gland Surg 6(5):563–573

21.

Qu R, Wang J, Li J et al (2018) The learning curve for surgeons regarding endoscopic thyroidectomy via the oral-vestibular approach. Surg Laparosc Endosc Percutan Tech 28(6):380–384

22.

Kim HK, Park D, Kim HY (2019) Robotic transoral thyroidectomy: Total thyroidectomy and ipsilateral central neck dissection with da Vinci Xi Surgical System. Head Neck 41(5):1536–1540

23.

Li H, Peng XW, Li Z et al (2019) The clinical applied analysis of the modified transoral endoscopic thyroidectomy vestibular approach. Zhonghua Wai Ke Za Zhi 57(9):686–690
Funding
(1) Cancer Research Program of National Cancer Center (NCC2017A15). (2) Hunan Hygiene and Health Committee (B2019096). (3) The Science and Technology Project of Changsha City (kq1801103). (4) The Project of Innovative Technology in Medical Science of Hunan Province (S2018SFYLJS0175). This study had no other financial supports.
Ethics declarations
Disclosures
Zeyang Liu, Xiaowei Peng, Zan Li, Bo Zhou, Peng Wu, ChunliuLv, Yuanyuan Tang, Dajiang Song, Hui Li, Wen Peng,YanOu, Anji Xu have no conflicts of interest or financial ties to disclose.
Additional information
Publisher's Note
Springer Nature remains neutral with regard to jurisdictional claims in published maps and institutional affiliations.
Electronic supplementary material
About this article
Cite this article
Liu, Z., Peng, X., Li, Z. et al. Postoperative drain after transoral endoscopic thyroidectomy vestibular approach (TOETVA) with single incision. Surg Endosc 35, 358–366 (2021). https://doi.org/10.1007/s00464-020-07408-8
Received:

Accepted:

Published:

Issue Date:
Keywords
Transoral endoscopic thyroidectomy vestibular approach

Drainage

RCT