Abstract
Background
The care of patients who have undergone bariatric surgery is complex and requires a multidisciplinary approach. As such, these patients may be prone to fragmentation of care and differences in healthcare outcomes. We aimed to (1) determine the incidence of fragmentation among patients after Roux-en-Y gastric bypass (RYGB) or sleeve gastrectomy (SG), (2) identify risk factors for readmission, and (3) ascertain whether care fragmentation affects outcomes.
Methods
This is a retrospective cohort study using the National Readmission Database 2016. Patients were included if they had primary bariatric surgery during the index hospitalization using appropriate ICD-10 CM codes. Fragmentation of care was defined as a readmission to a different hospital within 90 days of the index admission. Primary outcome was incidence of fragmentation. Secondary outcomes were impact of fragmentation on (1) in-hospital mortality; (2) resource utilization (length of stay (LOS), total hospitalization charges and costs, in-hospital upper endoscopy (EGD), and abdominal imaging studies; and (3) independent predictors of readmission using multivariate regression analysis.
Results
A total of 136,536 subjects were included. 90-day readmission demonstrated a prevalence of fragmentation of 21.1%. Type of surgery was an independent predictor of fragmentation, with RYGB leading to increased risk (OR 1.90 [95% confidence interval (CI) 1.61, 2.25]; p-value < 0.0001). RYGB was associated with higher adjusted mean hospitalization costs, which was not explained by increased EGD (OR 0.95, CI 0.68, 1.32) or abdominal imaging (OR 0.52, CI 0.25, 1.06). No differences were found in mortality or LOS.
Conclusions
Over 20% of patients following primary bariatric surgery have inpatient readmissions that are fragmented, driven by patients who have undergone RYGB surgery. This may be due to the complexity of this procedure and the need for a multispecialty approach. Additional efforts targeting fragmentation should be made to better coordinate the management of these complex patients and reduce healthcare costs.
Access options
Buy single article
Instant access to the full article PDF.
US$ 39.95
Tax calculation will be finalised during checkout.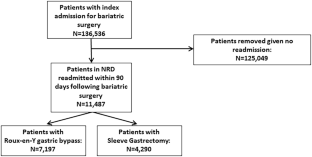 References
1.

Frandsen BR, Joynt KE, Rebitzer JB, Jha AK (2015) Care fragmentation, quality, and costs among chronically ill patients. Am J Manag Care 21(5):355–362

2.

Ljungqvist O, Scott M, Fearon KC (2017) Enhanced recovery after surgery: a review. JAMA Surg 152(3):292–298. https://doi.org/10.1001/jamasurg.2016.4952

3.

Telem DA, Yang J, Altieri M, Patterson W, Peoples B, Chen H et al (2016) Rates and risk factors for unplanned emergency department utilization and hospital readmission following bariatric surgery. Ann Surg 263(5):956–960. https://doi.org/10.1097/sla.0000000000001536

4.

Canner JK, Kaslow SR, Gani F, AlSulaim HA, Prokopowicz GP, Pourzal S et al (2019) Incidence of and risk factors associated with care fragmentation following bariatric surgery. Surg Obes Relat Dis. https://doi.org/10.1016/j.soard.2019.03.035

5.

(HCUP). HCaUP. The Nationwide Readmissions Database. https://www.hcup-us.ahrq.gov/nrdoverview.jsp: Agency for Healthcare Research and Quality, Rockville, MD. 2016

6.

Go JT, Vaughan-Sarrazin M, Auerbach A, Schnipper J, Wetterneck TB, Gonzalez D et al (2010) Do hospitalists affect clinical outcomes and efficiency for patients with acute upper gastrointestinal hemorrhage (UGIH)? J Hosp Med 5(3):133–139. https://doi.org/10.1002/jhm.612

7.

Wolf AT, Wasan SK, Saltzman JR (2007) Impact of anticoagulation on rebleeding following endoscopic therapy for nonvariceal upper gastrointestinal hemorrhage. Am J Gastroenterol 102(2):290–296. https://doi.org/10.1111/j.1572-0241.2006.00969.x

8.

Deyo RA, Cherkin DC, Ciol MA (1992) Adapting a clinical comorbidity index for use with ICD-9-CM administrative databases. J Clin Epidemiol 45(6):613–619

9.

Finkelstein EA, Trogdon JG, Cohen JW, Dietz W (2009) Annual medical spending attributable to obesity: payer-and service-specific estimates. Health Aff (Millwood) 28(5):w822–w831. https://doi.org/10.1377/hlthaff.28.5.w822

10.

Perry CD, Hutter MM, Smith DB, Newhouse JP, McNeil BJ (2008) Survival and changes in comorbidities after bariatric surgery. Ann Surg 247(1):21–27. https://doi.org/10.1097/SLA.0b013e318142cb4b

11.

Buchwald H, Avidor Y, Braunwald E, Jensen MD, Pories W, Fahrbach K et al (2004) Bariatric surgery: a systematic review and meta-analysis. JAMA 292(14):1724–1737. https://doi.org/10.1001/jama.292.14.1724

12.

Buchwald H, Oien DM (2013) Metabolic/bariatric surgery worldwide 2011. Obes Surg 23(4):427–436. https://doi.org/10.1007/s11695-012-0864-0

13.

Arterburn DE, Olsen MK, Smith VA, Livingston EH, Van Scoyoc L, Yancy WS Jr et al (2015) Association between bariatric surgery and long-term survival. JAMA 313(1):62–70. https://doi.org/10.1001/jama.2014.16968

14.

Kellogg TA, Swan T, Leslie DA, Buchwald H, Ikramuddin S (2009) Patterns of readmission and reoperation within 90 days after Roux-en-Y gastric bypass. Surg Obes Relat Dis 5(4):416–423. https://doi.org/10.1016/j.soard.2009.01.008

15.

Chen MM, Megwalu UC, Liew J, Sirjani D, Rosenthal EL, Divi V (2018) Regionalization of head and neck cancer surgery may fragment care and impact overall survival. Laryngoscope. https://doi.org/10.1002/lary.27440

16.

Graboyes EM, Kallogjeri D, Saeed MJ, Olsen MA, Nussenbaum B (2017) Postoperative care fragmentation and thirty-day unplanned readmissions after head and neck cancer surgery. Laryngoscope 127(4):868–874. https://doi.org/10.1002/lary.26301

17.

Cohen-Mekelburg S, Rosenblatt R, Gold S, Shen N, Fortune B, Waljee AK et al (2019) Fragmented care is prevalent among inflammatory bowel disease readmissions and is associated with worse outcomes. Am J Gastroenterol 114(2):276–290. https://doi.org/10.1038/s41395-018-0417-9

18.

Justiniano CF, Xu Z, Becerra AZ, Aquina CT, Boodry CI, Swanger A et al (2017) Long-term deleterious impact of surgeon care fragmentation after colorectal surgery on survival: continuity of care continues to count. Dis Colon Rectum 60(11):1147–1154. https://doi.org/10.1097/dcr.0000000000000919

19.

Vidal P, Ramon JM, Goday A, Parri A, Crous X, Trillo L et al (2014) Lack of adherence to follow-up visits after bariatric surgery: reasons and outcome. Obes Surg 24(2):179–183. https://doi.org/10.1007/s11695-013-1094-9

20.

Juo YY, Khrucharoen U, Sanaiha Y, Chen Y, Dutson E (2018) Postoperative care fragmentation is associated with increased 30-day mortality after bariatric surgery. Obes Surg 28(12):3795–3800. https://doi.org/10.1007/s11695-018-3419-1

21.

Sippey M, Kasten KR, Chapman WH, Pories WJ, Spaniolas K (2016) 30-day readmissions after sleeve gastrectomy versus Roux-en-Y gastric bypass. Surg Obes Relat Dis 12(5):991–996. https://doi.org/10.1016/j.soard.2016.01.036

22.

Surgeons ACo, Surgery ASfMaB. Standards manual: Resources for Optimal Care of the Metabolic and Bariatric Surgery Patient Metabolic and Bariatric Surgery Accreditation Quality Improvement Program 2016. p 80.

23.

Schulz K (2014) Decreasing bariatric surgery: readmissions with preoperative education. Surg Obes Relat Dis 10(3):387–388. https://doi.org/10.1016/j.soard.2014.03.001

24.

Verseman SR, Birkmeyer NJ (2014) Working together: regional collaboration and readmissions. Surg Obes Relat Dis 10(3):382–384. https://doi.org/10.1016/j.soard.2014.02.032

25.

Macht R, Cassidy R, Cabral H, Kazis LE, Ghaferi A (2017) Evaluating organizational factors associated with postoperative bariatric surgery readmissions. Surg Obes Relat Dis 13(6):1004–1009. https://doi.org/10.1016/j.soard.2016.12.029
Ethics declarations
Disclosures
Dr. Schulman: Apollo Endosurgery—consultant, MicroTech—consultant, and Boston Scientific—consultant. Dr. Telem: Medtronic—research funding. Drs. Dolan, Abougergi, and Cohen-Meckelburg have no conflicts of interest or financial ties to disclose.
Additional information
Publisher's Note
Springer Nature remains neutral with regard to jurisdictional claims in published maps and institutional affiliations.
About this article
Cite this article
Schulman, A.R., Dolan, R., Abougergi, M.S. et al. Impact of fragmentation on rehospitalization after bariatric surgery. Surg Endosc 35, 291–297 (2021). https://doi.org/10.1007/s00464-020-07395-w
Received:

Accepted:

Published:

Issue Date:
Keywords
Obesity

Gastric bypass

Sleeve gastrectomy

Fragmentation of care