Abstract
Background
Although transabdominal preperitoneal laparoscopic inguinal hernia repair (TAPP LIHR) is becoming increasingly more critical in the management of hernias, it has a long learning curve. The learning curve is often measured by a shortened operative time without mention of the quality of the procedure. This study was performed to evaluate the efficacy of a three-dimensional printed TAPP LIHR simulator to evaluate the surgeon's preoperative skill before entering the operative theater.
Methods
Fifteen surgeons in our institution were enrolled in this study. They performed simulation TAPP LIHR while being video recorded. The TAPP LIHR simulator allows for the performance of all procedures required in TAPP LIHR. All participants were classified according to several background factors: postgraduate years (PGYs) (1–5, 6–10, or > 10), number of TAPP LIHR procedures performed (< 10, 11–49, or > 50), and number of laparoscopic surgeries performed (≤ 100 or > 100). The correlation among PGYs, the number of TAPP repairs performed, and the checklist score was evaluated.
Results
The mean total score and time required to perform TAPP LIHR were significantly different among the three TAPP LIHR experience groups (< 10, 11–49, and > 50 procedures; P < 0.05). The checklist score and time required to perform TAPP LIHR were strongly correlated with the number of TAPP LIHR procedures performed (r = 0.74 and r = 0.69, respectively). However, the checklist score showed a weak correlation with PGY (r = 0.52).
Conclusions
Preoperative skill evaluation using a TAPP LIHR simulator and TAPP repair checklist supports the distinction between novices and experts. Both education systems are a valuable and affordable tool for evaluation and training of TAPP LIHR.
Access options
Buy single article
Instant access to the full article PDF.
US$ 39.95
Tax calculation will be finalised during checkout.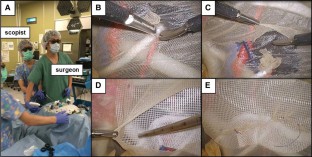 References
1.

Simons MP, Aufenacker T, Bay-Nielsen M, Bouillot JL, Campanelli G, Conze J, de Lange D, Fortelny R, Heikkinen T, Kingsnorth A, Kukleta J, Morales-Conde S, Nordin P, Schumpelick V, Smedberg S, Smietanski M, Weber G, Miserez M (2009) European Hernia Society guidelines on the treatment of inguinal hernia in adult patients. Hernia 13:343–403

2.

Reznick RK, MacRae H (2006) Teaching surgical skills: changes in the wind. N Engl J Med 355:2664–2669

3.

Andresen K, Friis-Andersen H, Rosenberg J (2016) Laparoscopic Repair of Primary Inguinal Hernia Performed in Public Hospitals or Low-Volume Centers Have Increased Risk of Reoperation for Recurrence. Surg Innov 23:142–147

4.

Voitk AJ (1998) The learning curve in laparoscopic inguinal hernia repair for the community general surgeon. Can J Surg 41:446–450

5.

Nishihara Y, Isobe Y, Kitagawa Y (2017) Validation of newly developed physical laparoscopy simulator in transabdominal preperitoneal (TAPP) inguinal hernia repair. Surg Endosc 31:5429–5435

6.

Poudel S, Kurashima Y, Kawarada Y, Watanabe Y, Murakami Y, Matsumura Y, Kato H, Miyazaki K, Shichinohe T, Hirano S (2015) Development and validation of a checklist for assessing recorded performance of laparoscopic inguinal hernia repair. Am J Surg 212:468–474

7.

Tanigawa N, Lee SW, Kimura T, Mori T, Uyama I, Nomura E, Okuda J, Konishi F (2011) (2011) The Endoscopic Surgical Skill Qualification System for gastric surgery in Japan. Asian J Endosc Surg. 4:112–115

8.

Sakai Y, Kitano S (2015) Practice Guidelines on Endoscopic Surgery for qualified surgeons by the Endoscopic Surgical Skill Qualification System. Asian J Endosc Surg 8:103–113

9.

Kockerling F, Bittner R, Kraft B, Hukauf M, Kuthe A, Schug-Pass C (2017) Does surgeon volume matter in the outcome of endoscopic inguinal hernia repair? Surg Endosc 31:573–585

10.

Gurusamy KS, Nagendran M, Toon CD, Davidson BR (2014) Laparoscopic surgical box model training for surgical trainees with limited prior laparoscopic experience. Cochrane Database Syst Rev. https://doi.org/10.1002/14651858

11.

Roberts KE, Bell RL, Duffy AJ (2006) Evolution of surgical skills training. World J Gastroenterol 12:3219–3224

12.

Bokeler U, Schwarz J, Bittner R, Zacheja S, Smaxwil C (2013) Teaching and training in laparoscopic inguinal hernia repair (TAPP): impact of the learning curve on patient outcome. Surg Endosc 27:2886–2893

13.

Zahiri HR, Park AE, Pugh CM, Vassiliou M, Voeller G (2015) "See one, do one, teach one": inadequacies of current methods to train surgeons in hernia repair. Surg Endosc 29:2867–2872

14.

Trevisonno M, Kaneva P, Watanabe Y, Fried GM, Feldman LS, Lebedeva E, Vassiliou MC (2015) A survey of general surgeons regarding laparoscopic inguinal hernia repair: practice patterns, barriers, and educational needs. Hernia 19:719–724
Acknowledgements
We would like to thank all the participants who voluntarily participated in this study. We also thank Angela Morben, DVM, ELS, from Edanz Group (www.edanzediting.com/ac), for editing a draft of this manuscript.
Ethics declarations
Disclosures
Yuichi Nishihara and Yoh Isobe have no conflicts of interest or financial ties to disclose.
Additional information
Publisher's Note
Springer Nature remains neutral with regard to jurisdictional claims in published maps and institutional affiliations.
About this article
Cite this article
Nishihara, Y., Isobe, Y. Preoperative skill evaluation in transabdominal preperitoneal (TAPP) inguinal hernia repair using a three-dimensional printed TAPP repair simulator. Surg Endosc 35, 270–274 (2021). https://doi.org/10.1007/s00464-020-07389-8
Received:

Accepted:

Published:

Issue Date:
Keywords
TAPP repair

3D printing

Surgical education

Surgical simulation