Abstract
Background
Many laparoscopic methods are available for treating pediatric inguinal hernias. Recurrence after laparoscopic pediatric inguinal hernia repair (LPIHR) is one of the greatest concerns for surgeons. The present study was performed to evaluate the effects of iliopubic tract repair in LPIHR with respect to the recurrence rate, surgical outcomes, and complications.
Methods
LPIHR was performed in 3386 pediatric patients aged < 10 years from January 2016 to June 2018. The patients were categorized into two groups according to the operative techniques: high ligation alone (1736 patients) and additional iliopubic tract repair (1650 patients). In high ligation surgery, the hernia sac was removed and the peritoneum was closed. In iliopubic tract repair surgery, iliopubic tract and transversalis fascia arch sutures were added.
Results
Recurrence only occurred in the high ligation group; no patients in the iliopubic tract repair group developed recurrence [0.35% (6/1736) vs. 0.00% (0/1650), respectively; p = 0.014]. Other surgical outcomes and complications did not differ between the two groups. Six patients in the high ligation group developed recurrence: four infants aged < 1 year and two children aged > 1 year. The mean duration from the first operation to reoperation in these six patients was 11.8 months; five patients developed recurrence within 1 year after the initial operation. All patients had a recurrent indirect hernia, and the location of the hernial defects was on the medial side of the previous stitch. The logistic regression indicated that the difference between the two groups affected the recurrence rate. This finding predicted that iliopubic tract repair is associated with a lower recurrence rate than high ligation (odds ratio  0.996, 95% confidence interval 0.994–0.999, p = 0.015).
Conclusions
This study of transabdominal LPIHR indicates that iliopubic tract repair results in a small but significant decrease in the risk of recurrence.
This is a preview of subscription content, log in to check access.
Access options
Buy single article
Instant access to the full article PDF.
US$ 39.95
Tax calculation will be finalised during checkout.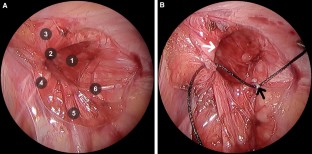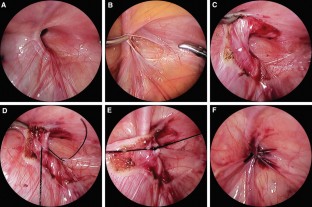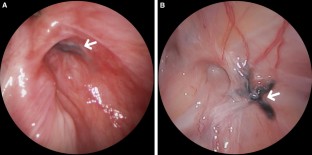 References
1.

Feehan BP, Fromm DS (2017) Laparoscopic pediatric inguinal hernia repair: overview of "true herniotomy" technique and review of current evidence. S D Med 70:217–223

2.

Chen Y, Wang F, Zhong H, Zhao J, Li Y, Shi Z (2017) A systematic review and meta-analysis concerning single-site laparoscopic percutaneous extraperitoneal closure for pediatric inguinal hernia and hydrocele. Surg Endosc 31:4888–4901

3.

Nyhus LM (2003) The posterior (preperitoneal) approach and iliopubic tract repair of inguinal and femoral hernias—an update. Hernia 7:63–67

4.

Thomson A (1836) Cause anatomique de la hernie inguinale externe. J Conn Med Part 4:147

5.

Teoh LS, Hingston G, Al-Ali S, Dawson B, Windsor JA (1999) The iliopubic tract: an important anatomical landmark in surgery. J Anat 194:137–141

6.

Nyhus LM (1993) Iliopubic tract repair of inguinal and femoral hernia. The posterior (preperitoneal) approach. Surg Clin North Am 73:487–499

7.

Tsai YC, Da Lin C, Chueh SC (2015) Technical refinement of mini-laparoscopic hernia repair in infants and children. Hernia 19:599–604

8.

Shehata S, Shehata S, Wella HL, Abouheba M, Elrouby A (2018) Pediatric inguinal hernias, are they all the same? A proposed pediatric hernia classification and tailored treatment. Hernia 22:941–946

9.

Chinnaswamy P, Malladi V, Jani KV, Parthasarthi R, Shetty RA, Kavalakat AJ, Prakash A (2005) Laparoscopic inguinal hernia repair in children. JSLS 9:393–398

10.

Lee SR, Choi SB (2017) The efficacy of laparoscopic intracorporeal linear suture technique as a strategy for reducing recurrences in pediatric inguinal hernia. Hernia 21:425–433

11.

Tsai YC, Wu CC, Ho CH, Tai HC, Wu CC, Yang SS (2011) Minilaparoscopic herniorrhaphy in pediatric inguinal hernia: a durable alternative treatment to standard herniotomy. J Pediatr Surg 46:708–712

12.

Lee SR (2018) Benefits of laparoscopic posterior wall suture repair in treating adolescent indirect inguinal hernias. Hernia 22:653–659

13.

Mouravas V, Sfoungaris D (2015) Is routine reinforcement of the posterior inguinal wall necessary for laparoscopic inguinal hernia repair in children? Comment to: technical refinement of mini-laparoscopic hernia repair in infants and children. Tsai YC, Da Lin C, Chueh SC (2014) Hernia. Hernia. https://doi.org/10.1007/s10029-014-1327-4

14.

Lee SR, Park PJ (2019) Laparoscopic reoperation for pediatric recurrent inguinal hernia after previous laparoscopic repair. Hernia 23:663–669

15.

Dreuning K, Maat S, Twisk J, van Heurn E, Derikx J (2019) Laparoscopic versus open pediatric inguinal hernia repair: state-of-the-art comparison and future perspectives from a meta-analysis. Surg Endosc 33:3177–3191

16.

Timberlake MD, Sukhu HKW, Rasmussen S, Corbett ST (2015) Laparoscopic percutaneous inguinal hernia repair in children: review of technique and comparison with open surgery. J Pediatr Urol 11:262.e1–6
Acknowledgements
We thank SR Kim, BS Oh, HY Lee, and JY Lee from the research center of Damsoyu Hospital for assisting with the statistical analysis and organizing the data in this manuscript. We also thank Angela Morben, DVM, ELS, from Edanz Group (www.edanzediting.com/ac), for editing a draft of this manuscript.
Funding
The authors have no financial ties to disclose.
Ethics declarations
Disclosures
Sung Ryul Lee and Pyoung Jae Park have no conflicts of interest or financial ties to disclose.
Ethical approval
This study was approved by the Institutional Review Board of Damsoyu Hospital (DSY-2019–003).
Research involving in human and animal rights
All procedures performed in studies involving human participants were in accordance with the ethical standards of the institutional and/or national research committee and with the 1964 Helsinki declaration and its later amendments or comparable ethical standards.
Informed consent
Informed consent was obtained from all individual participants included in the study.
Additional information
Publisher's Note
Springer Nature remains neutral with regard to jurisdictional claims in published maps and institutional affiliations.
Sung Ryul Lee and Pyoung Jae Park are co-first authors.
Electronic supplementary material
About this article
Cite this article
Lee, S.R., Park, P.J. Adding iliopubic tract repair to high ligation reduces recurrence risk in pediatric laparoscopic transabdominal inguinal hernia repair. Surg Endosc 35, 216–222 (2021). https://doi.org/10.1007/s00464-020-07382-1
Received:

Accepted:

Published:

Issue Date:
Keywords
Laparoscopic pediatric inguinal hernia repair

Iliopubic tract repair

Recurrence