Abstract
Background
Hepaticojejunostomy anastomotic stricture (HJS) is a rare complication after pancreatoduodenostomy. However, the rate of HJS may be increased with the expansion of operative indications, such as intraductal papillary mucinous neoplasm. Recently, the indications for EUS-guided biliary drainage to treat benign biliary disease have expanded. Recently, novel transluminal treatment protocol has been established in our hospital. The aim of this study was thus to evaluate the technical feasibility and safety of our treatment protocol.
Patients and method
Consecutive patients with complications of HJS between January and December 2018 were enrolled in this study. EUS-guided hepaticogastrostomy (HGS) is firstly performed. After 7 days to create the fistula, HGS stent is removed. HJS is transluminally evaluated by a cholangioscope, and antegrade balloon dilation is attempted. After 3 months, if HJS is still presence, antegrade stent deployment is performed using a covered metal stent. Also, after 1 month, antegrade stent removal is transluminally performed.
Results
Among total 29 patients, 14 patients were underwent antegrade metal stent deployment. The technical success rate of antegrade stent deployment was 92.9%. Median period of stent placement was 30.5 days (range 28–38 days), and transluminal stent removal was successfully performed in all patients. During follow-up (median 278 days; range 171–505 days), recurrence of HJS was seen in 2 patients. Severe adverse events were not seen in any patients during follow-up period.
Conclusion
Transluminal stent deployment for HJS under EUS-guidance appears feasible and safe, although further study with a larger sample size and longer follow-up is warranted.
This is a preview of subscription content, log in to check access.
Access options
Buy single article
Instant access to the full article PDF.
US$ 39.95
Tax calculation will be finalised during checkout.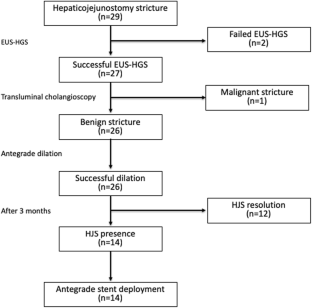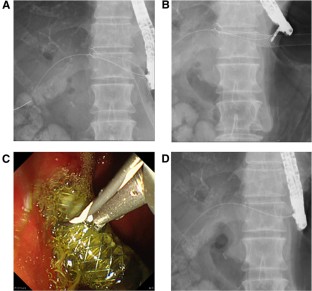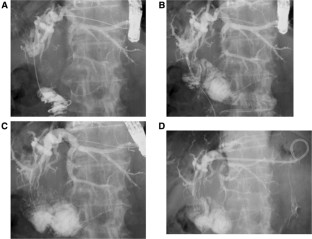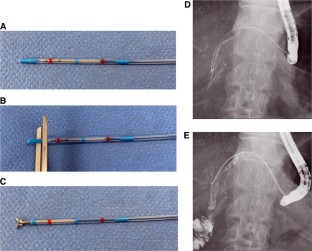 References
1.

Reid-Lombardo KM, Ramos-De La Medina A et al (2007) Long-term anastomotic complications after pancreaticoduodenostomy for benign disease. J Gastrointest Surg 11:1704–1711

2.

House MG, Cameron JL, Schulick RD et al (2006) Incidence and outcome of biliary stricture after pancreatoduodenostomy. Ann Surg 243:571–578

3.

Balcom JH 4th, Rattner DW, Warshaw AL et al (2001) Ten-year experience with 733 pancreatic resections: changing indications, older patients, and decreasing length of hospitalization. Arch Surg 136:391–398

4.

Tanisaka Y, Ryozawa S, Mizuide M et al (2019) Analysis of the factors involved in procedural failure: endoscopic retrograde cholangiopancreatography using a short-type single-balloon enteroscope for patients with surgically altered gastrointestinal anatomy. Dig Endosc 31:682–689

5.

Bukhari M, Kowalski T, Nieto J et al (2018) An international, multicenter, comparative trial of EUS-guided gastrogastrostomy-assisted ERCP versus enteroscopy-assisted ERCP in patients with Roux-en-Y gastric bypass anatomy. Gastrointest Endosc 88:486–494

6.

Shao XD, Qi XS, Guo XZ (2017) Endoscopic retrograde cholangiopancreatography with double balloon enteroscope in patients with altered gastrointestinal anatomy: a meta-analysis. Saudi J Gastroenterol 23:150–160

7.

Mizukawa S, Tsutumi K, Kato H et al (2018) Endoscopic balloon dilation for benign hepaticojejunostomy anastomotic stricture using short double-balloon enteroscopy in patients with a prior Whipple's procedure: a retrospective study. BMC Gastroenterol 18:14

8.

Shimatani M, Matsushita M, Takaoka M et al (2009) Effective "short" double-balloon enteroscope for diagnostic and therapeutic ERCP in patients with altered gastrointestinal anatomy: a large case series. Endoscopy. 41:849–854

9.

Yamada A, Kogure H, Nakai Y et al (2019) Performance of a new short-type double-balloon endoscope with advanced force transmission and adaptive bending for pancreaticobiliary intervention in patients with surgically altered anatomy: a propensity-matched analysis. Dig Endosc 31:86–93

10.

Shimatani M, Tokuhara M, Kato K et al (2017) Utility of newly developed short-type double-balloon endoscopy for endoscopic retrograde cholangiography in postoperative patients. J Gastroenterol Hepatol 32:1348–1354

11.

Khashab MA, El Zein MH, Sharzehi K et al (2016) EUS-guided biliary drainage or enteroscopy-assisted ERCP in patients with surgical anatomy and biliary obstruction: an international comparative study. Endosc Int Open 4:E1322–E1327

12.

Baars JE, Kaffes AJ, Saxena P (2018) EUS-guided biliary drainage: a comprehensive review of the literature. Endosc Ultrasound 7:4–9

13.

Khashab MA, Levy ML, Itoi T et al (2015) EUS-guided biliary drainage. Gastrointest Endosc 82:993–1001

14.

Nakai Y, Kogure H, Isayama H et al (2019) Endoscopic ultrasound-guided biliary drainage for benign biliary disease. Clin Endosc 52:212–219

15.

Mukai S, Itoi T, Sofuni A et al (2019) EUS-guided antegrade intervention for benign diseases in patients with surgically altered anatomy (with videos). Gastrointest Endosc 89:399–407

16.

Cotton PB, Eisen GM, Abakken L et al (2010) A lexicon for endoscopic adverse events: report of an ASGE work shop. Gastrointest Endosc 71:446–454

17.

Molnar W, Stockum AE (1974) Relief of obstructive jaundiace through percutaneous transhepatic catheter—a new therapeutic method. Am J Rogentgenol Radium Ther Nucl Med 122:356–367

18.

Glas L, Courbière M, Ficarelli S et al (2008) Long-term outcome of percutaneous transhepatic therapy for benign bilioenteric anastomotic strictures. J Vasc Interv Radiol 19:1336–1343

19.

Bonnel DH, Fingerhut AL (2012) Percutaneous transhepatic balloon dilatation of benign bilioenteric strictures: long-term results in 110 patients. Am J Surg 203:675–683

20.

Sano I, Katanuma A, Kuwatani M et al (2019) Long-term outcomes after therapeutic endoscopic retrograde cholangiopancreatography using balloon-assisted enteroscopy for anastomotic stenosis of choledochojejunostomy/pancreaticojejunostomy. J Gastroenterol Hepatol 34:612–619
Ethics declarations
Disclosures
Takeshi Ogura, Nobu Nishioka, Masanori Yamada, Tadahiro Yamada, Saori Ueno, Jyun Matsuno, Kazuya Ueshima, Yoshitaro Yamamoto, Atsushi Okuda, and Kazuhide Higuchi have no conflicts of interest or financial ties to disclose.
Additional information
Publisher's Note
Springer Nature remains neutral with regard to jurisdictional claims in published maps and institutional affiliations.
Electronic supplementary material
Below is the link to the electronic supplementary material.
Supplementary file1 (MP4 66061 kb). Video 1 After guidewire deployment across the hepaticojejunostomy stricture, the stent delivery system is inserted into the hepaticojejunostomy stricture site. Stent release is carefully performed, and antegrade stent deployment is performed. Finally, a plastic stent is deployed from the intrahepatic bile duct to the stomach
Supplementary file2 (MP4 59793 kb). Video 2 After the double guidewire deployment is performed through the antegrade metal stent, the modified ERCP catheter is inserted over the guidewire. Then, the forceps biopsy device is inserted through the ERCP catheter. The antegrade stent is grasped, and removed through the EUS-HGS route. If the antegrade stent is dislocated with the fistula, because fit alignment is easy, a larger forceps biopsy device can be inserted. Finally, antegrade stent removal is successfully performed
About this article
Cite this article
Ogura, T., Nishioka, N., Yamada, M. et al. Novel transluminal treatment protocol for hepaticojejunostomy stricture using covered self-expandable metal stent. Surg Endosc 35, 209–215 (2021). https://doi.org/10.1007/s00464-020-07381-2
Received:

Accepted:

Published:

Issue Date:
Keywords
EUS

EUS-HGS

Hepaticojejunostomy stricture

Endoscopic ultrasound-guided biliary drainage

ERCP