Abstract
Background
Right anterior sectionectomy is complex in comparison to other liver resections. Thus, the operation has not been widely performed via a laparoscopic approach. We herein present a purely laparoscopic method for right anterior sectionectomy using the standardized techniques.
Methods
Between May 2017 and December 2018, ten pure laparoscopic right anterior sectionectomies were performed for hepatic malignancy. To perform laparoscopic anatomical liver resection safely and securely, we developed an original surgical procedure based on the isolation of the targeted Glissonean pedicle at the hilum, with appropriate transection planes built sequentially according to anatomical landmarks. The extrahepatic right anterior Glissonean pedicle was isolated without parenchymal destruction by utilizing a unique view in the laparoscopic approach. The selective right anterior segment inflow was temporary occluded, consequently liver parenchymal transection consisted of four planes according to the demarcation line, middle hepatic vein (MHV), right anterior Glissonean pedicle, and right hepatic vein (RHV), which were used as anatomical landmarks. Transection was started between the demarcation line and ventral of the MHV (plane 1). Transection of the parenchyma was then performed from dorsal of the MHV to the right anterior Glissonean pedicle (plane 2). Parenchyma was then transected from dorsal of the RHV to the right anterior Glissonean pedicle (plane 3). We subsequently divide the right anterior Glissonean pedicle with a linear stapler. Finally, the resection plane was completed by performing parenchymal transection between the demarcation line and ventral of the RHV (plane 4).
Results
The mean operation time was 446 min with 334 ml of estimated blood loss. No cases required conversion to open surgery. Bile leakage occurred as a postoperative complication in one patient. There was no mortality.
Conclusion
Isolating the extrahepatic Glissonean pedicle at the hilum and transection along four planes determined according to anatomical landmarks made purely laparoscopic right anterior sectionectomy feasible.
This is a preview of subscription content, log in to check access.
Access options
Buy single article
Instant access to the full article PDF.
US$ 39.95
Tax calculation will be finalised during checkout.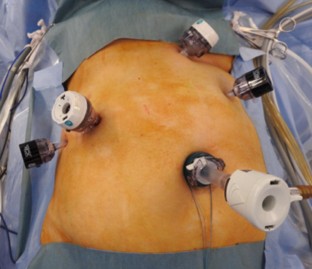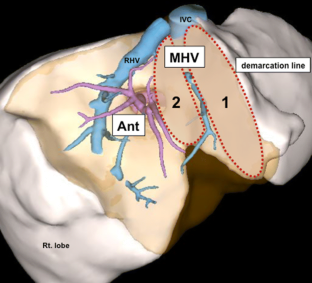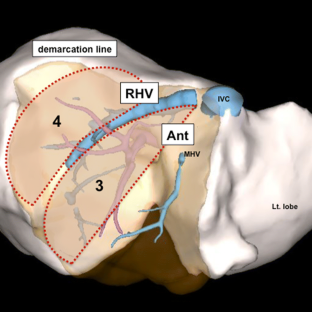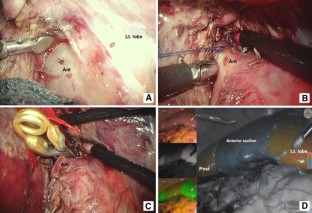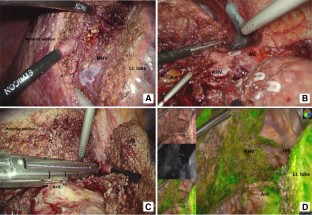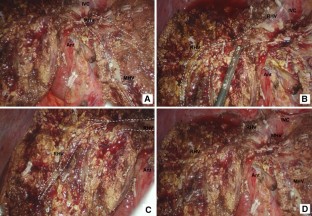 References
1.

Gagner M, Rheault M, Dubuc J (1992) Laparoscopic partial hepatectomy for liver tumor. Surg Endosc 6:97–98

2.

Buell JF, Cherqui D, Geller DA et al (2009) The international position on laparoscopic liver surgery: the Louisville Statement, 2008. Ann Surg 250:825–830

3.

Wakabayashi G, Cherqui D, Geller DA et al (2015) Recommendations for laparoscopic liver resection: a report from the second international consensus conference held in Morioka. Ann Surg 261:619–629

4.

Okuda Y, Honda G, Kobayashi S et al (2018) Intrahepatic Glissonean pedicle approach to segment 7 from the dorsal side during laparoscopic anatomical hepatectomy of the cranial part of the right liver. J Am Coll Surg 226:e1–e6

5.

Honda G, Kurata M, Okuda Y et al (2014) Totally laparoscopic anatomical hepatictomy exposing the major hepatic veins from the root side: a case of the right anterior sectionectomy (with Video). J Gastrointest Surg 18:1379–1380

6.

Kirchner VA, Kim KH, Kim SH et al (2017) Pure laparoscopic right anterior sectionectomy for hepatocellular carcinoma with great vascular exposure. Surg Endosc 31:3349–3350

7.

Sugioka A, Kato Y, Tanahashi Y (2017) Systematic extrahepatic Glissonean pedicle isolation for anatomical liver resection based on Laennec's capsule: proposed of a novel comprehensive surgical anatomy of the liver. J Hepatobilliary Pancreat Sci 24:17–23

8.

Cho JY, Han HS, Yoon YS et al (2008) Experiences of laparoscopic liver resection including lesions in the posterosuperior segments of the liver. Surg Endosc 22:2344–2349

9.

Ho CM, Wakabayashi G, Nitta H et al (2013) Total laparoscopic limited anatomical resection for centrally located hepatocellular carcinoma in cirrhotic liver. Surg Endosc 27:1820–1825

10.

Kim WJ, Kim KH, Shin MH et al (2017) Totally laparoscopic anatomical liver resection for centrally located tumors. A single center experience. Medicine 96:1–5

11.

Hu RH, Lee PH, Chang YC et al (2003) Treatment of centrally located hepatocellular carcinoma with central hepatectomy. Surgery 133:251–256

12.

Kazaryan AM, Rosok BI, Marangos IP et al (2011) Comparative evaluation of laparoscopic liver resection for posterosuperior and anterolateral segments. Surg Endosc 25:3881–3889

13.

Takahara T, Wakabayashi G, Konno M et al (2016) Comparison of laparoscopic major hepatectomy with propensity score matched open cases from the National Clinical Database in Japan. J Hepatobilliary Pancreat Sci 23:721–734

14.

Guro H, Cho JY, Han HS et al (2018) Outcomes of major laparoscopic liver resection for hepatocellular carcinoma. Surg Oncol 27:31–35

15.

Cho CW, Rhu J, Kwon CHD et al (2017) Short-term outcomes of totally laparoscopic central hepatectomy and right anterior sectionectomy for centrally located tumors: a case-matched study with propensity score matching. World J Surg 41:2838–2846

16.

Eguchi S, Kanematsu T, Arii S et al (2008) Comparison of the outcomes between an anatomical subsegmentectomy and a non-anatomical minor hepatectomy for single hepatocellular carcinomas based on a Japanese nationwide survey. Surgery 143:469–475

17.

Yamazaki O, Matsuyama M, Horii K et al (2010) Comparison of the outcomes between anatomical resection and limited resection for single hepatocellular carcinomas no larger than 5 cm in diameter. J Hepatobilliary Pancreat Sci 17:349–358

18.

Couinaud C (1989) The vasculo-biliary sheath. Surgical anatomy of the liver revisited. Paris: pers Ed: 29–39.

19.

Galperin EI, Karagiulian SR (1989) A new simplified method of selective exposure of hepatic pedicles for controlled hepatectomies. HPB Surg 1:119–130

20.

Machado MA, Herman P, Figueira ER et al (2006) Intrahepatic Glissonian access for segmental liver resection in cirrhotic patients. Am J Surg 192:388–392

21.

Nomi T, Hokuto D, Yoshikawa T et al (2018) A novel navigation for laparoscopic anatomic liver resection using indocyanine green fluorescence. Ann Surg Oncol 25:3982
Ethics declarations
Disclosures
Drs. Takao Ide, Taketo Matsunaga, Tomokazu Tanaka and Hirokazu Noshiro have no conflict of interest or financial ties to disclose.
Additional information
Publisher's Note
Springer Nature remains neutral with regard to jurisdictional claims in published maps and institutional affiliations.
About this article
Cite this article
Ide, T., Matsunaga, T., Tanaka, T. et al. Feasibility of purely laparoscopic right anterior sectionectomy. Surg Endosc 35, 192–199 (2021). https://doi.org/10.1007/s00464-020-07379-w
Received:

Accepted:

Published:

Issue Date:
Keywords
Laparoscopic liver resection

Right anterior sectionectomy

Surgical technique