Abstract
Background
Mesh repair of parastomal hernia is widely accepted as superior to non-mesh repair, yet the most favorable surgical approach is a subject of continued debate. The aim of this study was to compare the clinical outcomes of open versus laparoscopic parastomal hernia repair.
Methods
An IRB-approved retrospective review was conducted comparing laparoscopic (LPHR) or open (OPHR) parastomal hernia repair performed between 2009 and 2017 at our facilities. Patient demographics, preoperative characteristics, operative details, and clinical outcomes were compared by surgical approach. Subgroup analysis was performed by location of mesh placement. Repair longevity was measured using Kaplan–Meier method and Cox proportional hazards regression. Intention to treat analysis was used for this study based on initial approach to the repair.
Results
Sixty-two patients (average age of 61 years) underwent repair (31 LPHR, 31 OPHR). Patient age, gender, BMI, ASA Class, and comorbidity status were similar between OPHR and LPHR. Stoma relocation was more common in OPHR (32% vs 7%, p = .022). Open sublay subgroup was similar to LPHR in terms of wound class and relocation. Open "Other" and Sublay subgroups resulted in more wound complications compared to LPHR (70% and 48% vs 27%, p = .036). Operative duration and hospital length of stay were less with LPHR (p < .001). After adjustment for prior hernia repair, risk of recurrence was higher for OPHR (p = .022) and Open Sublay and Other subgroups compared to LPHR (p = .005 and p = .027, respectively).
Conclusions
Laparoscopic repair of parastomal hernias is associated with shorter operative duration, decreased length of stay, fewer short-term wound complications, and increased longevity of repair compared to open repairs. Direct comparison of repair longevity between LPHR and OPHR with mesh using Kaplan–Meier estimate is unique to this study. Further study is warranted to better understand methods of parastomal hernia repair associated with fewer complications and increased durability.
Access options
Buy single article
Instant access to the full article PDF.
US$ 39.95
Tax calculation will be finalised during checkout.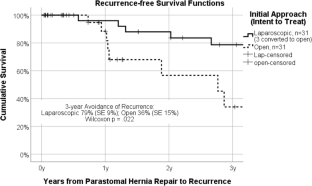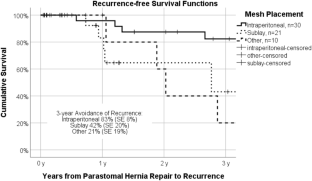 References
1.

Turnbull GB (2003) Ostomy statistics: the $64,000 question. Ostomy Wound Manag 49:22–23

2.

Gavigan T, Stewart T, Matthews B, Reinke C (2018) Patients undergoing parastomal hernia repair using the Americas Hernia Society Quality Collaborative: a prospective cohort study. J Am Coll Surg 227:393–403

3.

Antoniou SA, Agresta F, Garcia Alamino JM, Berger D, Berrevoet F, Brandsma HT, Bury K, Conze J, Cuccurullo D, Dietz UA, Fortelny RH, Frei-Lanter C, Hansson B, Helgstrand F, Hotouras A, Jänes A, Kroese LF, Lambrecht JR, Kyle-Leinhase I, López-Cano M, Maggiori L, Mandalà V, Miserez M, Montgomery A, Morales-Conde S, Prudhomme M, Rautio T, Smart N, Śmietański M, Szczepkowski M, Stabilini C, Muysoms FE (2018) European hernia society guidelines on prevention and treatment of parastomal hernias. Hernia 22:183–198

4.

McDermott FD, Bhangu A, Brandsma HT, Daniels IR, Pinkney TD, Pullen J, Wheeler J, Williams GL, Smart NJ (2018) Prevention and treatment of parastomal hernia: a position statement on behalf of the association of coloproctology of Great Britain and Ireland. Colorectal Dis. https://doi.org/10.1111/codi.14249

5.

Levy S, Plymale MA, Miller MT, Davenport DL, Roth JS (2016) Laparoscopic parastomal hernia repair: no different than a laparoscopic ventral hernia repair? Surg Endosc 30:1542–1546

6.

Colvin J, Rosenblatt S (2018) Surgical management of parastomal hernias. Surg Clin North Am 98:577–592

7.

van Dijk SM, Timmermans L, Deerenberg EB, Lamme B, Kleinrensink GJ, Jeekel J, Lange JF (2015) Parastomal hernia: impact on quality of life? World J Surg 39:2595–2601

8.

Lian L, Wu XR, He XS, Zou YF, Wu XJ, Lan P, Wang JP (2012) Extraperitoneal vs. intraperitoneal route for permanent colostomy: a meta-analysis of 1,071 patients. Int J Colorectal Dis 27:59–64

9.

Fitzgerald MJ, Ullrich S, Singh K, Misholy O, Kingham P, Brady MS (2018) Parastomal hernia repair using the "top hat" technique—an initial experience in 30 patients at Memorial Sloan Kettering Cancer Center. Am J Surg 216:465–470

10.

Hotouras A, Murphy J, Thaha M, Chan CL (2013) The persistent challenge of parastomal herniation: a review of the literature and future developments. Colorectal Dis 15:202–214

11.

Kroese LF, Lambrichts DPV, Jeekel J, Kleinrensink GJ, Menon AG, de Graaf EJR, Bemelman WA, Lange JF (2018) Non-operative treatment as a strategy for patients with parastomal hernia: a multicentre, retrospective cohort study. Colorectal Dis 20:545–551

12.

Hansson BM, Slater NJ, van der Velden AS, Groenewoud HM, Buyne OR, de Hingh IH, Bleichrodt RP (2012) Surgical techniques for parastomal hernia repair: a systematic review of the literature. Ann Surg 255:685–695

13.

Hansson BM, Morales-Conde S, Mussack T, Valdes J, Muysoms FE, Bleichrodt RP (2013) The laparoscopic modified Sugarbaker technique is safe and has a low recurrence rate: a Multicenter Cohort Study. Surg Endosc 27:494–500

14.

Silecchia G, Campanile FC, Sanchez L, Ceccarelli G, Antinori A, Ansaloni L, Olmi S, Ferrari GC, Cuccurullo D, Baccari P, Agresta F, Vettoretto N, Piccoli M (2015) Laparoscopic ventral/incisional hernia repair: updated Consensus Development Conference based guidelines [corrected]. Surg Endosc 29:2463–2484

15.

Halabi WJ, Jafari MD, Carmichael JC, Nguyen VQ, Mills S, Phelan M, Stamos MJ, Pigazzi A (2013) Laparoscopic versus open repair of parastomal hernias: an ACS-NSQIP analysis of short-term outcomes. Surg Endosc 27:4067–4072

16.

DeAsis FJ, Lapin B, Gitelis ME, Ujiki MB (2015) Current state of laparoscopic parastomal hernia repair: a meta-analysis. World J Gastroenterol 21:8670–8677

17.

Okorji LM, Kasten KR (2019) Diagnosis and management of parastomal hernias. Dis Colon Rectum 62:158–162

18.

Rosen MJ, Fatima J, Sarr MG (2010) Repair of abdominal wall hernias with restoration of abdominal wall function. J Gastrointest Surg 14:175–185

19.

Mangram AJ, Horan TC, Pearson ML, Silver LC, Jarvis WR (1999) Guideline for prevention of surgical site infection, Hospital Infection Control Practices Advisory Committee. Infect Control Hosp Epidemiol 20:250–278

20.

Pastor DM, Pauli EM, Koltun WA, Haluck RS, Shope TR, Poritz LS (2009) Parastomal hernia repair: a single center experience. J Soc Laparoendosc Surg 13:170–175

21.

DeAsis FJ, Linn JG, Lapin B, Denham W, Carbray JM, Ujiki MB (2015) Modified laparoscopic Sugarbaker repair decreases recurrence rates of parastomal hernia. Surgery 158:954–959

22.

Asif A, Ruiz M, Yetasook A, Denham W, Linn J, Carbray J, Ujiki MB (2012) Laparoscopic modified Sugarbaker technique results in superior recurrence rate. Surg Endosc 26:3430–3434

23.

Fox SS, Janczyk R, Warren JA, Carbonell AM II, Poulose BK, Rosen MJ, Hope WW (2017) An evaluation of parastomal hernia repair using the Americas Hernia Society Quality Collaborative. Am Surg 83:881–886

24.

Hwang GS, Hanna MH, Carmichael JC, Mills SD, Pigazzi A, Stamos MJ (2015) Repair of complex parastomal hernias. Tech Coloproctol 19:127–133

25.

Gillern S, Bleier JI (2014) Parastomal hernia repair and reinforcement: the role of biologic and synthetic materials. Clin Colon Rectal Surg 27:162–171
Acknowledgements
We acknowledge and thank the Professional Student Mentored Research Fellowship Program and the University of Kentucky Center for Clinical and Translational Science for their contributions to this project.
Ethics declarations
Conflict of interest
Dr. Roth discloses he has grant funding from Bard and Miromatrix; he is a consultant for Bard, Johnson & Johnson, and Allergan; and he owns stock in Miromatrix. Mr. Keller, Drs. Lin, Totten, Plymale, and Davenport have no conflicts of interest or financial ties to disclose.
Additional information
Publisher's Note
Springer Nature remains neutral with regard to jurisdictional claims in published maps and institutional affiliations.
About this article
Cite this article
Keller, P., Totten, C.F., Plymale, M.A. et al. Laparoscopic parastomal hernia repair delays recurrence relative to open repair. Surg Endosc 35, 415–422 (2021). https://doi.org/10.1007/s00464-020-07377-y
Received:

Accepted:

Published:

Issue Date:
Keywords
Hernia repair

Hernia recurrence

Parastomal hernia

Recurrence free probability

Prevention