Abstract
Background
Avoiding the use of nasogastric tubes (NGTs) is recommended after colorectal surgery but there is no consensus on intraoperative gastric decompression using NGTs during colorectal surgery. The objective was to assess the effect of avoiding insertion of NGTs during colorectal surgery for the recovery of gastrointestinal (GI) functions.
Method
1561 patients undergoing colorectal surgery, for whom information on NGT use was available, were included in this retrospective analysis and propensity score analysis of the prospective GRACE Audit database. Patients who did and did not have an NGT during surgery were compared.
Results
Among the study population of 1561 patients, 696 patients were matched to correct baseline differences between groups. The no-NGT group significantly improved GI motility impairment (e.g., less postoperative nausea [OR = 0.59; CI 95%: 0.42–0.84] and a better tolerance of early feeding [OR = 2.07; CI 95%: 1.33–3.22]). Such an association was also highlighted for reduced postoperative morbidity [OR = 0.60; CI 95%: 0.43–0.83], and especially pulmonary complications [OR = 0.08; CI 95%: 0.01–0.59], or parietal complications [OR = 0.29; CI 95%: 0.09–0.87]. The risk of postoperative ileus was not significantly reduced in the no-NGT group [OR = 0.67; CI 95%: 0.43–1.06].
Conclusion
No NGT insertion during colorectal surgery is safe and could improve postoperative GI function recovery.
Access options
Buy single article
Instant access to the full article PDF.
US$ 39.95
Tax calculation will be finalised during checkout.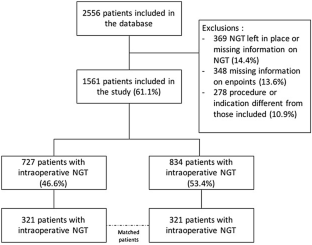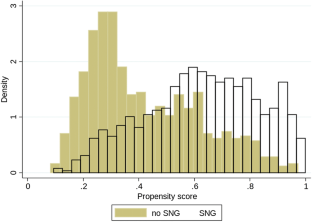 References
1.

Bauer VP (2013) The evidence against prophylactic nasogastric intubation and oral restriction. Clin Colon Rectal Surg 26:182–185

2.

Gustafsson UO, Scott MJ, Hubner M, Nygren J, Demartines N, Francis N, Rockall TA, Young-Fadok TM, Hill AG, Soop M, de Boer HD, Urman RD, Chang GJ, Fichera A, Kessler H, Grass F, Whang EE, Fawcett WJ, Carli F, Lobo DN, Rollins KE, Balfour A, Baldini G, Riedel B, Ljungqvist O (2019) Guidelines for perioperative care in elective colorectal surgery: enhanced recovery after surgery (ERAS®) society recommendations: 2018. World J Surg 43(3):659–695

3.

Wolff BG, Pembeton JH, van Heerden JA, Beart RW, Nivatvongs S, Devine RM, Dozois RR, Ilstrup DM (1989) Elective colon and rectal surgery without nasogastric decompression: a prospective, randomized trial. Ann Surg 209:670‑673; discussion 673–675

4.

Nelson R, Edwards S, Tse B (2007) Prophylactic nasogastric decompression after abdominal surgery. Cochrane Database Syst Rev. https://doi.org/10.1002/14651858.CD004929

5.

Rao W, Zhang X, Zhang J, Yan R, Hu Z, Wang Q (2011) The role of nasogastric tube in decompression after elective colon and rectum surgery: a meta-analysis. Int J Colorectal Dis 26:423–429

7.

Liu WZ, Zhang W, Ni Y (1996) A clinical study of intestinal and colorectal surgery without nasogastric decompression. Mod Diag Treat 7:206–207

8.

Feo CV, Romanini B, Sortini D, Ragazzi R, Zamboni P, Pansini GC, Liboni A (2004) Early oral feeding after colorectal resection: a randomized controlled study. ANZ J Surg 74:298–301

9.

Slim K, Reymond T, Joris J, Paul S, Pereira P, Cotte E (2019) Intolerance to early oral feeding in enhanced recovery after colorectal surgery: an early red flag? Colorectal Dis [In Press]

10.

Andersen HK, Lewis SJ, Thomas S (2006) Early enteral nutrition within 24 h of colorectal surgery versus later commencement of feeding for postoperative complications. Cochrane Database Syst Rev. https://doi.org/10.1002/14651858.CD004080

11.

Dindo D, Demartines N, Clavien P-A (2004) Classification of surgical complications: a new proposal with evaluation in a cohort of 6336 patients and results of a survey. Ann Surg 240:205–213

12.

Vather R, Josephson R, Jaung R, Robertson J, Bissett I (2015) Development of a risk stratification system for the occurrence of prolonged postoperative ileus after colorectal surgery: a prospective risk factor analysis. Surgery 157:764–773

13.

van Bree SHW, Bemelman WA, Hollmann MW, Zwinderman AH, Matteoli G, El Temna S, The FO, Vlug MS, Bennink RJ, Boeckxstaens GE (2014) Identification of clinical outcome measures for recovery of gastrointestinal motility in postoperative ileus. Ann Surg 259:708–714

14.

Svatek RS, Fisher MB, Williams MB, Matin SF, Kamat AM, Grossman HB, Nogueras-Gonzalez GM, Urbauer DL, Dinney CP (2010) Age and body mass index are independent risk factors for the development of postoperative paralytic ileus after radical cystectomy. Urology 76:1419–1424

15.

Kiran RP, Murray ACA, Chiuzan C, Estrada D, Forde K (2015) Combined preoperative mechanical bowel preparation with oral antibiotics significantly reduces surgical site infection, anastomotic leak, and ileus after colorectal surgery. Ann Surg 262:416–425; discussion 423–425

16.

Nematihonar B, Salimi S, Noorian V, Samsami M (2018) Early versus delayed (traditional) postoperative oral feeding in patients undergoing colorectal anastomosis. Adv Biomed Res 7:30

17.

Chen J-Y, Ko T-L, Wen Y-R, Wu S-C, Chou Y-H, Yien H-W, Kuo CD (2009) Opioid-sparing effects of ketorolac and its correlation with the recovery of postoperative bowel function in colorectal surgery patients: a prospective randomized double-blinded study. Clin J Pain 25:485–489

18.

Farmer AD, Pedersen AG, Brock B, Jakobsen PE, Karmisholt J, Mohammed SD, Scott SM, Drewes AM, Brock C (2017) Type 1 diabetic patients with peripheral neuropathy have pan-enteric prolongation of gastrointestinal transit times and an altered caecal pH profile. Diabetologia 60:709–718

19.

Moghadamyeghaneh Z, Hwang GS, Hanna MH, Phelan M, Carmichael JC, Mills S, Pigazzi A, Stamos MJ (2016) Risk factors for prolonged ileus following colon surgery. Surg Endosc 30:603–609

20.

Dai X, Ge X, Yang J, Zhang T, Xie T, Gao W, Gong J, Zhu W (2017) Increased incidence of prolonged ileus after colectomy for inflammatory bowel diseases under ERAS protocol: a cohort analysis. J Surg Res 212:86–93

21.

Chapuis PH, Bokey L, Keshava A, Rickard MJFX, Stewart P, Young CJ, Dent OF (2013) Risk factors for prolonged ileus after resection of colorectal cancer: an observational study of 2400 consecutive patients. Ann Surg 257:909–915

22.

Barbieux J, Hamy A, Talbot MF, Casa C, Mucci S, Lermite E, Venara A (2017) Does enhanced recovery reduce postoperative ileus after colorectal surgery? J Visc Surg 154:79–85

23.

Bekkelund M, Sangnes DA, Gunnar Hatlebakk J, Aabakken L (2019) Pathophysiology of idiopathic gastroparesis and implications for therapy. Scand J Gastroenterol 54:8–17

24.

De Winter BY, van den Wijngaard RM, de Jonge WJ (2012) Intestinal mast cells in gut inflammation and motility disturbances. Biochim Biophys Acta 1822:66–73

25.

Kalff JC, Schraut WH, Simmons RL, Bauer AJ (1998) Surgical manipulation of the gut elicits an intestinal muscularis inflammatory response resulting in postsurgical ileus. Ann Surg 228:652–663

26.

Mirbagheri N, Dunn G, Naganathan V, Suen M, Gladman MA (2016) Normal values and clinical use of bedside sonographic assessment of postoperative gastric emptying: a prospective cohort study. Dis Colon Rectum 59:758–765

27.

Mohan S, Kaoutzanis C, Welch KB, Vandewarker JF, Winter S, Krapohl G, Lampman RM, Franz MG, Cleary RK (2015) Postoperative hyperglycemia and adverse outcomes in patients undergoing colorectal surgery: results from the Michigan surgical quality collaborative database. Int J Colorectal Dis 30:1515–1523
*Collaborator of the GRACE group/Participating investigators who provided care for study patients
ARIMONT JM (CH Alpes Leman, Contamine Sur Arves, FRANCE), ARNALSTEEN L (Hôpital Privé La Louvière, Lille, FRANCE), ATGER J (CHICAS GAP, Gap, FRANCE), AUVRAY Sylvain (Hôpital Privé Saint Louis, Paris, FRANCE), BEGUINOT-HOLTZSCHERER S (Polyclinique de l'Europe, Saint Nazaire, FRANCE), BELOUARD A (Clinique de l'Archette, Olivet, FRANCE), BEN HENDA I (Hôpital Privé de l'Est Parisien, Aulnay sous-bois, FRANCE), BLEHAUT D (Infirmerie Protestante, Caluire, FRANCE), BONNET M (Hôpital Européen, Marseille, FRANCE), BORET H, BUISSET-SUBIRAN C and MASSA D (CHITS, Toulon, FRANCE), BOZIO G (Médipôle Savoie, Challes les Eaux, FRANCE), CASTIGLIONI M (Polyclinique Poitiers, Poitiers, FRANCE), CATINOIS ML, CHENET P (Clinique d'Argonay, Argonay, FRANCE), CHOPIN X and THIEVENAZ R (Clinique Charcot, Sainte Foy Les Lyon, FRANCE), CUELLAR E (CHU Toulouse, Toulouse, FRANCE), de ANGELIS N (Hôpital Henri Mondor, Paris, FRANCE), de la FONTAINE C (Clinique de l'Archette, Olivet, FRANCE), DENET C (Institut Mutualiste Montsouris, Paris, FRANCE), DILEON S (Clinique Saint Roch, Cavaillon, FRANCE), DOUARD R (Hôpital Européen Georges Pompidou, Paris, FRANCE), DUCHALAIS E (CHU Nantes, Nantes, FRANCE), DUFRAISSE S (CH Jacques Puel, Rodes, FRANCE), DUPRE A (Centre Léon Bérard, Lyon, FRANCE), DURAME F (CH de Longjumeau, Longjumeau, FRANCE), HUTIN E (Hôpital Privé de Versailles, Versailles, FRANCE), FERNOUX P and MASSARD JL (Hôpital privé Sainte Marie, Chalon Sur Saone, FRANCE), FRISONI R and SCHERRER ML (CHR Metz-Thionville, Ars-Laquenexy, FRANCE), GERMAIN A (CH Nancy, Nancy, FRANCE), GIGNOUX B (Clinique de la Sauvegarde, Lyon, FRANCE), GOASGUEN N (Hôpital Diaconnesses, Paris, FRANCE), GUEDJ J (Clinique Charcot, Sainte Foy Les Lyon, FRANCE), GUIGNARD B (Clinique du Val d'Or, Saint Cloud, FRANCE), Guinier D (CH Bretagne Sud, Lorient, FRANCE), HAIL K (Clinique chirurgicale B. CHU Mustapha, Alger, ALGERIA), HATWELL C (Clinique Saint Jean, Montpellier, FRANCE), JORIS J (CHU de Liège, Liège, BELGIUM), KASSOUL A (Hôpital Ambroise Paré, Boulogne-Billancourt, FRANCE), KOTHONDIS K (APP Sambre et Meuse, Sambreville, FRANCE), LANGLOIS G (Clinique Chénieux, Limoges, FRANCE), LEBAS S (Polyclinique la Pergola, Vichy, FRANCE), LEONARD D (Cliniques Universitaires Saint Luc, Bruxelles, BELGIUM), LEPORRIER J and SIRISIER F (Hôpital Privé Saint Martin, Caen, FRANCE), MARIANI A (Clinique d'Argonnay, Argonay, FRANCE), MAUVAIS F (CH Beauvais, Beauvais, FRANCE), MERGUI C and VOILIN C (Clinique la Chartreuse, Voiron, FRANCE), MESTRALLET JP (CH Annecy Genevois, Epagny Metz Tessy, FRANCE), MILOU F (HIA Desgenettes, Lyon, FRANCE), MONTAGNE S (Polyclinique Gentilly, Nancy, FRANCE), MOR MARTINEZ C (Clinique de l'Alliance, Saint Cyr S/Loire, FRANCE), OSTERMANN BUCHER S (Hirslanden Clinique la Colline, Genève, SWITZERLAND), OUAISSI M (CHRU Tours, Chambray Les Tours, FRANCE), PASSEBOIS L (CH Béziers, Béziers, FRANCE), PERROT L (Hôpital Privé Saint Martin, Caen, FRANCE), PIQUARD A (CHR Orélans, Orléans, FRANCE), PLARD L (CH Avranches-Granville, Avranches, FRANCE), PLUMEREAU F (CH Laval, Laval, FRANCE), POINCENOT J (CHIC, Créteil, FRANCE), RASPADO O (Infirmerie protestante, Caluire et Cuire, FRANCE), RAZAFINDRATSIRA T (CH Pierre Oudot, Bourgoin-Jallieu, FRANCE), REGIMBEAU JM (CHU Amiens, Amiens, FRANCE), RIBOUD R (CH de Voiron, Voiron, FRANCE), RIO D (CH Bretagne Atlantique, Vannes, FRANCE), SAINT DENIS M (Hôpital Privé d'Antony, Antony, FRANCE), SALAUN P (Le Confluent, Nouvelles cliniques Nantaises, Nantes, FRANCE), SMEETS B and LUYER M (Catarina Hospital, Endhoven, NETHERLANDS), STEINMETZ JP (Hôpital de Hautepierre, Strasbourg, FRANCE), VAUCLAIR E, LATRILLE A and ORTEGA-DEBALLON P (CHU Dijon, Dijon, FRANCE), VIGNAL JC (Polyclinique Bordeaux Rive Droite, Bordeaux, FRANCE), WOLTHUIS A (University Hospital Leuven, Leuven, BELGIUM).
Funding
Web-hosting of GRACE audit data was funded by the "Caisse National D'Assurance Maladie."
Ethics declarations
Conflict of interest
Aurélien Venara, Jean-Francois Hamel, Eddy Cotte, Hélène Meillat, Pierre-Yves Sage, and Karem Slim have no conflicts of interest or financial ties to disclose.
Additional information
Publisher's Note
Springer Nature remains neutral with regard to jurisdictional claims in published maps and institutional affiliations.
Collaborator of the GRACE group are listed in Acknowledgement section.
About this article
Cite this article
Venara, A., Hamel, JF., Cotte, E. et al. Intraoperative nasogastric tube during colorectal surgery may not be mandatory: a propensity score analysis of a prospective database. Surg Endosc 34, 5583–5592 (2020). https://doi.org/10.1007/s00464-019-07359-9
Received:

Accepted:

Published:

Issue Date:
Keywords
Intraoperative gastric decompression

Nasogastric tube

Colorectal surgery

Postoperative nausea and vomiting

Nasogastric tube

Early feeding tolerance