Abstract
Background
One-lung ventilation (OLV) is the standard and widely applied ventilation approach used in video-assisted thoracoscopic surgery for esophageal cancer (VATS-e). To address the disadvantages of OLV with respect to difficulties in intubation and induction, as well as the risk of respiratory complications, two-lung ventilation (TLV) with artificial pneumothorax has been introduced for use in VATS-e. However, no studies have yet compared TLV and OLV with postoperative infection and inflammation in the prone position over time postoperatively. Here, we investigated the efficacy of TLV in patients undergoing VATS-e in the prone position.
Methods
Between April 2010 and December 2016, 119 patients underwent VATS-e under OLV or TLV with carbon dioxide insufflation. Clinical characteristics, surgical outcomes, and postoperative outcomes, including oxygenation and systemic inflammatory responses, were compared between patients who underwent OLV and those who underwent TLV.
Results
Clinical characteristics other than pT stage were comparable between groups. The TLV group had shorter thoracic operation time than the OLV group. No patients underwent conversion to open thoracotomy. The PaO2/FiO2 ratios of the TLV group on postoperative day (POD) 5 and on POD7 were significantly higher than those of the OLV group. C-reactive protein levels on POD7 were lower in the TLV group than in the OLV group. There were no significant differences with respect to postoperative complications between the OLV and TLV groups. In the TLV group, the white blood cell count on POD7 was significantly lower than that in the OLV group; body temperature showed a similar trend immediately after surgery and on POD1.
Conclusions
In this study, we demonstrated that, compared with OLV, TLV in the prone position provides better oxygenation and reduced inflammation in the postoperative course. Accordingly, TLV might be more useful than OLV for ventilation during esophageal cancer surgery.
Access options
Buy single article
Instant access to the full article PDF.
US$ 39.95
Tax calculation will be finalised during checkout.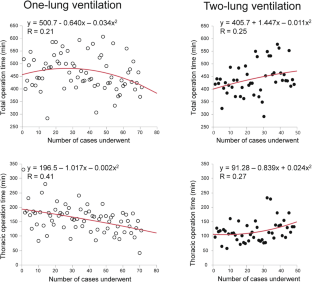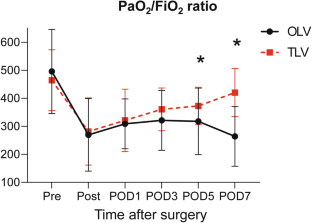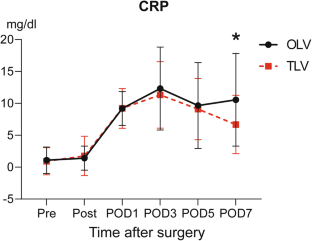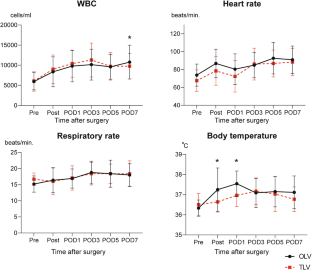 References
1.

Ferlay J, Soerjomataram I, Ervik M, Dikshit R, Eser S, Mathers C, Rebelo M, Parkin D, Forman D (2013) Bray F (2015) GLOBOCAN 2012 v1.0, cancer incidence and mortality worldwide: IARC CancerBase no. 11. International Agency for Research on Cancer, Lyon

2.

Durkin C, Schisler T, Lohser J (2017) Current trends in anesthesia for esophagectomy. Curr Opin Anaesthesiol 30:30–35

3.

Cuschieri A (1993) Endoscopic subtotal oesophagectomy for cancer using the right thoracoscopic approach. Surg Oncol 2(Suppl 1):3–11

4.

Nomura S, Tsujimoto H, Aosasa S, Saitoh D, Hase K, Ono S, Yamamoto J, Ueno H (2018) Impact of angiotensin-converting enzyme 2 levels on postoperative pneumonia after esophagectomy. J Surg Res 224:200–206

5.

Tsujimoto H, Takahata R, Nomura S, Yaguchi Y, Kumano I, Matsumoto Y, Yoshida K, Horiguchi H, Hiraki S, Ono S, Yamamoto J, Hase K (2012) Video-assisted thoracoscopic surgery for esophageal cancer attenuates postoperative systemic responses and pulmonary complications. Surgery 151:667–673

6.

Luketich JD, Pennathur A, Franchetti Y, Catalano PJ, Swanson S, Sugarbaker DJ, De Hoyos A, Maddaus MA, Nguyen NT, Benson AB, Fernando HC (2015) Minimally invasive esophagectomy: results of a prospective phase II multicenter trial-the eastern cooperative oncology group (E2202) study. Ann Surg 261:702–707

7.

Liu Z, Liu X, Huang Y, Zhao J (2016) Intraoperative mechanical ventilation strategies in patients undergoing one-lung ventilation: a meta-analysis. SpringerPlus 5:1251

8.

Blank RS, Colquhoun DA, Durieux ME, Kozower BD, McMurry TL, Bender SP, Naik BI (2016) Management of one-lung ventilation: impact of tidal volume on complications after thoracic surgery. Anesthesiology 124:1286–1295

9.

Lohser J, Slinger P (2015) Lung injury after one-lung ventilation: a review of the pathophysiologic mechanisms affecting the ventilated and the collapsed lung. Anesth Analg 121:302–318

10.

Palanivelu C, Prakash A, Senthilkumar R, Senthilnathan P, Parthasarathi R, Rajan PS, Venkatachlam S (2006) Minimally invasive esophagectomy: thoracoscopic mobilization of the esophagus and mediastinal lymphadenectomy in prone position—experience of 130 patients. J Am Coll Surg 203:7–16

11.

Zhang R, Liu S, Sun H, Liu X, Wang Z, Qin J, Hua X, Li Y (2014) The application of single-lumen endotracheal tube anaesthesia with artificial pneumothorax in thoracolaparoscopic oesophagectomy. Interact Cardiovasc Thorac Surg 19:308–310

12.

Cai L, Li Y, Sun L, Yang XW, Wang WB, Feng F, Xu GH, Guo M, Lian X, Zhang HW (2017) Better perioperative outcomes in thoracoscopic-esophagectomy with two-lung ventilation in semi-prone position. J Thorac Dis 9:117–122

13.

Lin M, Shen Y, Wang H, Fang Y, Qian C, Xu S, Ge D, Feng M, Tan L, Wang Q (2018) A comparison between two lung ventilation with CO2 artificial pneumothorax and one lung ventilation during thoracic phase of minimally invasive esophagectomy. J Thorac Dis 10:1912–1918

14.

Zhang BJ, Tian HT, Li HO, Meng J (2018) The effects of one-lung ventilation mode on lung function in elderly patients undergoing esophageal cancer surgery. Medicine 97:e9500

15.

Sobin LH, Gospodarowicz MK, Wittekind C (2011) TNM classification of malignant tumours. Wiley, New York

16.

Saikawa D, Okushiba S, Kawata M, Okubo T, Kitashiro S, Kawarada Y, Suzuki Y, Kato H (2014) Efficacy and safety of artificial pneumothorax under two-lung ventilation in thoracoscopic esophagectomy for esophageal cancer in the prone position. Gen Thorac Cardiovasc Surg 62:163–170
Acknowledgements
The authors would like to thank Enago (www.enago.com) for the English language review.
Funding
This research did not receive any specific grant from funding agencies in the public, commercial, or not-for-profit sectors.
Ethics declarations
Disclosures
All authors (Shinsuke Nomura, Hironori Tsujimoto, Yusuke Ishibashi, Seiichiro Fujishima, Keita Kouzu, Manabu Harada, Nozomi Ito, Yoshihisa Yaguchi, Daizoh Saitoh, Takehiko Ikeda, Kazuo Hase, Yoji Kishi, Hideki Ueno) report no proprietary or commercial interest in any product mentioned or concept discussed in this article.
Additional information
Publisher's Note
Springer Nature remains neutral with regard to jurisdictional claims in published maps and institutional affiliations.
Electronic supplementary material
Below is the link to the electronic supplementary material.
About this article
Cite this article
Nomura, S., Tsujimoto, H., Ishibashi, Y. et al. Efficacy of artificial pneumothorax under two-lung ventilation in video-assisted thoracoscopic surgery for esophageal cancer. Surg Endosc 34, 5501–5507 (2020). https://doi.org/10.1007/s00464-019-07347-z
Received:

Accepted:

Published:

Issue Date:
Keywords
Esophageal carcinoma

Two-lung ventilation (TLV)

One-lung ventilation (OLV)

Thoracoscopic esophagectomy

Prone position