Abstract
Background
Metachronous colorectal lesions sometimes occur at anastomotic sites following colorectal surgery, which increases the risk of developing colorectal cancer. However, these lesions are difficult to treat even with minimally invasive methods such as endoscopic submucosal dissection (ESD). Thus, we aimed to evaluate the outcomes of ESD for colorectal lesions at anastomotic sites following colorectal surgery.
Methods
We retrospectively investigated 11 patients with post-surgical colorectal lesions at anastomotic sites who later underwent ESD from May 2010 to April 2019 at Keio University Hospital, Tokyo, Japan. We examined the patients' background (tumor location, macroscopic type, tumor size, histological type, and depth of invasion) and treatment outcomes (procedure duration, en bloc resection rate, R0 resection rate, and adverse events).
Results
The patients' mean age was 66 years. There were two lesions in the transverse colon, six in the rectum, one in the anal canal, and two in the ileal pouch. The median tumor size was 25 mm. The macroscopic types were the protruded type (1 lesion) and the flat or depressed type (10 lesions). The pathological diagnoses were adenoma (4 lesions), intramucosal cancer (corresponding to high-grade dysplasia) (6 lesions), and muscularis propria cancer (1 lesion). The median procedure duration was 50 min; en bloc resection rate was 88.9% and R0 resection rate was 66.7%. The only adverse event was delayed post-ESD bleeding.
Conclusions
A high en bloc resection rate without perforation was achieved with ESD for lesions at anastomotic sites. Although ESD for lesions at anastomotic sites is a technically challenging procedure because of severe submucosal fibrosis, this approach could prevent the need for repeated surgical resection.
This is a preview of subscription content, log in to check access.
Access options
Buy single article
Instant access to the full article PDF.
US$ 39.95
Tax calculation will be finalised during checkout.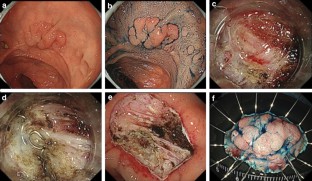 References
1.

Kawai K, Sunami E, Tsuno NH, Kitayama J, Watanabe T (2012) Polyp surveillance after surgery for colorectal cancer. Int J Colorectal Dis 27:1087–1093

2.

Levi F, Randimbison L, Blanc-Moya R, Maspoli-Conconi M, Rosato V, Bosetti C, La Vecchia C (2013) High constant incidence of second primary colorectal cancer. Int J Cancer 132:1679–1682

3.

Patel A, Williams N, Parsons N, Ali O, Peters F, Ranat R, Shah J, Spector E, Arasaradnam RP (2017) Risk factors for metachronous adenoma in the residual colon of patients undergoing curative surgery for colorectal cancer. Int J Colorectal Dis 32:1609–1616

4.

Gotoda T, Iwasaki M, Kusano C, Seewald S, Oda I (2010) Endoscopic resection of early gastric cancer treated by guideline and expanded National Cancer Centre criteria. Br J Surg 97:868–871

5.

Oyama T, Tomori A, Hotta K, Morita S, Kominato K, Tanaka M, Miyata Y (2005) Endoscopic submucosal dissection of early esophageal cancer. Clin Gastroenterol Hepatol 3:67–70

6.

Saito Y, Uraoka T, Yamaguchi Y, Hotta K, Sakamoto N, Ikematsu H, Fukuzawa M, Kobayashi N, Nasu J, Michida T, Yoshida S (2010) A prospective, multicenter study of 1111 colorectal endoscopic submucosal dissections (with video). Gastrointest Endosc 72:1217–1225

7.

Daoud DC, Suter N, Durand M, Bouin M, Faulques B, von Renteln D (2018) Comparing outcomes for endoscopic submucosal dissection between Eastern and Western countries: a systematic review and meta-analysis. World J Gastroenterol 24:2518–2536

8.

Draganov PV, Wang AY, Othman MO, Fukami N (2019) AGA Institute clinical practice update: endoscopic submucosal dissection in the United States. Clin Gastroenterol Hepatol 17:16–25

9.

Horii J, Uraoka T, Goto O, Ishii H, Shimoda M, Yahagi N (2014) Endoscopic submucosal dissection of colorectal neoplasia located on the suture line of anastomosis. Clin J Gastroenterol 7:290–294

10.

Wada M, Kato M, Hirai Y, Uraoka T (2017) Salvage resection of recurrent polyp after polypectomy on the colorectal anastomosis using endoscopic submucosal dissection. Gastrointest Endosc 85:1305–1306

11.

Tanaka S, Kashida H, Saito Y, Yahagi N, Yamano H, Saito S, Hisabe T, Yao T, Watanabe M, Yoshida M, Kudo SE (2015) JGES guidelines for colorectal endoscopic submucosal dissection/endoscopic mucosal resection. Dig Endosc 4:417–434

12.

Saito Y, Uraoka T, Matsuda T, Emura F, Ikehara H, Mashimo Y, Kikuchi T, Kozu T, Saito D (2007) A pilot study to assess the safety and efficacy of carbon dioxide insufflation during colorectal endoscopic submucosal dissection with the patient under conscious sedation. Gastrointest Endosc 65:537–542

13.

Yamamoto H, Kawata H, Sunada K, Satoh K, Kaneko Y, Ido K, Sugano K (2002) Success rate of curative endoscopic mucosal resection with circumferential mucosal incision assisted by submucosal injection of sodium hyaluronate. Gastrointest Endosc 56:507–512

14.

Bosman FT, Carneiro F, Hruban RH, Theise ND (2010) WHO classification of tumours of the digestive system, 4th edn. IARC Press, Lyon

15.

Watanabe T, Muto K, Ajioka Y, Hashiguchi Y, Ito Y, Saito Y, Hamaguchi T, Ishida H, Ishiguro M, Ishihara S, Kanemitsu Y (2018) Japanese Society for Cancer of the Colon and Rectum (JSCCR) guidelines 2016 for the treatment of colorectal cancer. Int J Clin Oncol 23:1–34

16.

Kobayashi R, Hirasawa K, Ikeda R, de Fukuchi T, Ishii Y, Kaneko H, Makazu M, Sato C, Maeda S (2017) The feasibility of colorectal endoscopic submucosal dissection for the treatment of residual or recurrent tumor localized in therapeutic scar tissue. Endosc Int Open 05:E1242–E1250

17.

Tajiri H, Kitano S (2004) Complication associated with endoscopic mucosal resection definition of bleeding that can be viewed as accidental. Dig Endosc 16:5134–5136

18.

The Paris endoscopic classification of superficial neoplastic lesions (2003) esophagus, stomach, and colon: November 30 to December 1, 2002. Gastrointest Endosc 58:S3–S43

19.

Ito S, Hotta K, Imai K, Yamaguchi Y, Kishida Y, Takizawa K, Kakushima N, Kawata N, Yoshida M, Ishiwatari H, Matsubayashi H (2019) Treatment strategy for local recurrences after endoscopic resection of a colorectal neoplasm. Surg Endosc 33:1140–1146

20.

Kuroki Y, Hoteya S, Mitani T, Yamashita S, Kikuchi D, Fujimoto A, Matsui A, Nakamura M, Nishida N, Iizuka T, Yahagi N (2010) Endoscopic submucosal dissection for residual/locally recurrent lesions after endoscopic therapy for colorectal tumors. J Gastroenterol Hepatol 25:1747–1753

21.

Hellinger MD, Santiago CA (2006) Reoperation for recurrent colorectal cancer. Clin Colon Rectal Surg 19:228–236

22.

Yabuuchi Y, Kakushima N, Takizawa K, Tanaka M, Kawata N, Yoshida M, Kishida Y, Ito S, Imai K, Ishiwatari H, Hotta K (2019) Short- and long-term outcomes of endoscopic submucosal dissection for early gastric cancer in the remnant stomach after gastrectomy. J Gastroenterol 54:511–520

23.

Lee JY, Min BH, Lee YG, Noh D, Lee JH, Rhee PL, Kim JJ (2016) Endoscopic submucosal dissection for early gastric neoplasia occurring in the remnant stomach after distal gastrectomy. Clin Endosc 49:82–186

24.

Tanaka S, Toyonaga T, Morita Y, Fujita T, Yoshizaki T, Kawara F, Wakahara C, Obata D, Sakai A, Ishida T, Ikehara N (2014) Endoscopic submucosal dissection for early gastric cancer in anastomosis site after distal gastrectomy. Gastric Cancer 17:371–376

25.

Mizushima T, Kato M, Iwanaga I, Sato F, Kubo K, Ehira N, Uebayashi M, Ono S, Nakagawa M, Mabe K, Shimizu Y (2015) Technical difficulty according to location, and risk factors for perforation, in endoscopic submucosal dissection of colorectal tumors. Surg Endosc 29:133–139

26.

Sato K, Ito S, Kitagawa T, Kato M, Tominaga K, Suzuki T, Maetani I (2014) Factors affecting the technical difficulty and clinical outcome of endoscopic submucosal dissection for colorectal tumors. Surg Endosc 28:2959–2965

27.

Hori K, Uraoka T, Harada K, Higashi R, Kawahara Y, Okada H, Ramberan H, Yahagi N, Yamamoto K (2014) Predictive factors for technically difficult endoscopic submucosal dissection in the colorectum. Endoscopy 46:862–870

28.

Yamamoto K, Michida T, Nishida T, Hayashi S, Naito M, Ito T (2015) Colorectal endoscopic submucosal dissection: recent technical advances for safe and successful procedures. World J Gastrointest Endosc 7:1114–1128

29.

Hayashi Y, Miura Y, Yamamoto H (2015) Pocket-creation method for the safe, reliable, and efficient endoscopic submucosal dissection of colorectal lateral spreading tumors. Dig Endosc 27:534–535
Acknowledgements
We gratefully acknowledge the work of past and present members of our division.
Ethics declarations
Disclosures
Tadateru Maehata, Motohiko Kato, Yasutoshi Ochiai, Mari Mizutani, Koshiro Tsutsumi, Yoshiyuki Kiguchi, Teppei Akimoto, Motoki Sasaki, Yusaku Takatori, Atsushi Nakayama, Kaoru Takabayashi, Ai Fujimoto, Osamu Goto, and Naohisa Yahagi have no conflicts of interest or financial ties to disclose.
Additional information
Publisher's Note
Springer Nature remains neutral with regard to jurisdictional claims in published maps and institutional affiliations.
About this article
Cite this article
Maehata, T., Kato, M., Ochiai, Y. et al. Feasibility of endoscopic submucosal dissection for colorectal neoplasia at anastomotic sites: a retrospective study. Surg Endosc 34, 5495–5500 (2020). https://doi.org/10.1007/s00464-019-07346-0
Received:

Accepted:

Published:

Issue Date:
Keywords
Endoscopic submucosal dissection

Colorectal lesions

Anastomotic site