Abstract
Background
The use of ultrasonography to assist needle placement during transverse abdominal plane (TAP) technique has provided direct visualization of surround anatomical musculature and facial planes. However, the increased girth in patients undergoing bariatric surgery is challenging to visualize via ultrasonography which may lead to poor postoperative analgesia.
Objective
The aim of the study is to investigate whether the addition of postoperative laparoscopic-guided TAP block as part of a multimodal analgesic regimen within the ERAS protocol compared to no block provides better postoperative analgesia in patients undergoing one-anastomosis gastric bypass surgery.
Patients and methods
A prospective clinical trial was performed. Patients were randomized into two groups: patients undergoing postoperative laparoscopic-guided TAP (TAP-lap) and patients not receiving TAP-lap (Control). Multimodal analgesia included preoperative port-site infiltration with Bupivacaine 0.25% in both groups and systemic Acetaminophen. Pain quantification as measured by visual analogic scale (VAS) was assessed at 6 and 24 h after surgery, and 24-h postoperative opioid consumption.
Results
One hundred and forty patients were included, 70 in each group. The mean operation time was 78.5 ± 14.4 min in TAP-lap and 75.9 ± 15.6 min in Control (NS). The mean postoperative pain, as measured by VAS, 6 h after surgery was 23.1 ± 11.3 mm in TAP-lap and 41.8 ± 16.2 mm in Control (p = 0.001).
24 h after surgery was 16.6 ± 11.4 mm in TAP-lap and 35.4 ± 12.7 mm in Control (p = 0.001).
Morphine rescues were necessary in 14.2% in Control and 2.8% in TAP-lap (p = 0.035).
Conclusion
Laparoscopic-guided TAP block as part of a multimodal analgesia regimen can reduce postoperative pain and opioid consumption, without increasing operative time.
Access options
Buy single article
Instant access to the full article PDF.
US$ 39.95
Tax calculation will be finalised during checkout.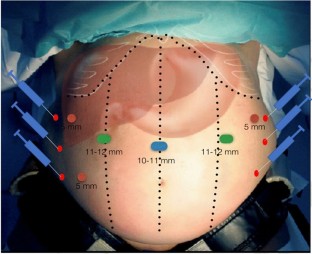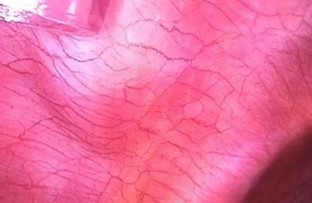 References
1.

Bray GA (2004) Medical consequences of obesity. J Clin Endocrinol Metab 89:2583–2589

2.

Wu CL, Naqibuddin M, Rowlingson AJ et al (2003) The effect of pain on health-related quality of life in immediate postoperative period. Anesth Analg 97:1078–1085

3.

Aronsohn J, Orner G, Palleschi G, Gerasimov M (2019) Opioid-free total intravenous anesthesia with ketamine as part of an enhanced recovery protocol for bariatric surgery patients with sleep disordered breathing. J Clin Anesth 52:65–66

4.

Aktimur R, Kirkil C, Yildirim K, Kutluer N (2018) Enhanced recovery after surgery (ERAS) in one-anastomosis gastric bypass surgery: a matched-cohort study. Surg Obes Relat Dis 14:1850–1856

5.

Lam J, Suzuki T, Bernstein D et al (2019) An ERAS protocol for bariatric surgery: is it safe to discharge on post-operative day 1? Surg Endosc 33:580–586

6.

De Oliveira GS, Jr (2018) Optimal analgesic regimen for bariatric surgery: no opioid is rarely the option. J Clin Anesth 51:123–124

7.

American Society of Anesthesiologists Task Force on Acute Pain Management (2012) Practice guidelines for acute pain management in the postoperative setting: an updated report by the American Society of Anesthesiologists Task Force on acute pain management. Anesthesiology 116:248–273.

8.

Ruiz-Tovar J, Muñoz JL, Gonzalez J et al (2017) Postoperative pain after laparoscopic sleeve gastrectomy: comparison of three analgesic schemes (isolated intravenous analgesia, epidural analgesia associated with intravenous analgesia and port-sites infiltration with bupivacaine associated with intravenous analgesia). Surg Endosc 31:231–236

9.

McDonnell JG, O'Donnell BD, Farrell T et al (2007) Transversus abdominis plane block: a cadaveric and radiological evaluation. Reg Anesth Pain Med 32:399–404

10.

El-Dawlatly AA, Turkistani A, Kettner SC et al (2009) Ultrasound-guided transversus abdominis plane block: description of a new technique and comparison with conventional systemic analgesia during laparoscopic cholecystectomy. Br J Anaesth 102:763–767

11.

Wassef M, Lee DY, Levine JL et al (2013) Feasibility and analgesic efficacy of the transversus abdominis plane block after single-port laparoscopy in patients having bariatric surgery. J Pain Res 6:837–841

12.

Ahmad S, Nagle A, McCarthy RJ et al (2008) Postoperative hypoxemia in morbidly obese patients with and without obstructive sleep apnea undergoing laparoscopic bariatric surgery. Anesth Analg 107:138–143

13.

Rosenberg-Adamsen S, Lie C, Bernhard A et al (1999) Effect of oxygen treatment on heart rate after abdominal surgery. Anaesthesiology 90:380–384

14.

Hadzic A (2007) Textbook of regional anesthesia and acute pain management, 1st edn. McGraw-Hill, New York

15.

Nielsen KC, Guller U, Steele SM et al (2005) Influence of obesity on surgical regional anesthesia in the ambulatory setting: an analysis of 9,038 blocks. Anaesthesiology 102:181–187

16.

Ruiz-Tovar J, Albrecht E, Macfarlane A et al (2019) The TAP block in obese patients: pros & cons. Minerva Anestesiol. https://doi.org/10.23736/S0375-9393.19.13545-6

17.

Ruiz-Tovar J, Garcia A, Ferrigni C et al (2018) Laparoscopic-Guided transversus abdominis plane (TAP) block as part of multimodal analgesia in laparoscopic Roux-en-Y gastric bypass within an enhanced recovery after surgery (ERAS) program: a prospective randomized clinical trial. Obes Surg 28:3374–3379

18.

Ruiz-Tovar J, Royo P, Munoz JL et al (2016) Implementation of the Spanish National Enhanced Recovery after Surgery (ERAS) program in bariatric surgery: a pilot study. Surg Laparosc Endosc Percutan Techn 26:439–443

19.

Apfel CC, Heidrich FM, Jukar-Rao S et al (2012) Evidence-based analysis of risk factors for postoperative nausea and vomiting. Br J Anaesth 109:742–753

20.

Lee IO, Kim SH, Kong MH et al (2001) Pain after laparoscopic cholecystectomy: the effect and timing of incisional and intraperitoneal bupivacaine. Can J Anesth 48:545–550

21.

Jimenez Fuertes M, Costa ND (2015) Colecistectomía laparoscópica ambulatoria y control del dolor postoperatorio: presentación de una serie de 100 casos. Cir Esp 93:181–186

22.

Tam T, Harkins G, Wegrzyniak L et al (2014) Infiltration of bupivacaine local anesthetic to trocar insertion sites after laparoscopy: a randomized, double-blind, stratified, and controlled trial. J Minim Invasive Gynecol 21:1015–1021

23.

Moncada R, Martinaitis L, Landecho M et al (2016) Does preincisional infiltration with bupivacaine reduce postoperative pain in laparoscopic bariatric surgery? Obes Surg 26:282–288

24.

Burns AJ, Pachnis V (2009) Development of the enteric nervous system: bringing together cells, signals and genes. Neurogastroenterol Motil 21:100–102

25.

Grundy D, Al-Chaer ED, Aziz Q et al (2006) Fundamentals of neurogastroenterology: basic science. Gastroenterology 130:1391–1411

26.

Albrecht E, Kirkham KR, Endersby RV et al (2013) Ultrasound-guided transversus abdominis plane (TAP) block for laparoscopic gastricbypass surgery: a prospective randomized controlled doubleblinded trial. Obes Surg 23:1309–1314

27.

Sinha A, Jayaraman L, Punhani D (2013) Efficacy of ultrasound-guided transversus abdominis plane block after laparoscopic bariatric surgery: a double blind, randomized, controlled study. Obes Surg 23:548–553

28.

Moon RC, Lastrapes L, Wier J et al (2019) Preoperative Transversus abdominis plane (TAP) block with liposomal bupivacaine for bariatric patients to reduce the use of opioid analgesics. Obes Surg 29:1099–1104

29.

Andersen LP, Werner MU, Rosenberg J et al (2014) Analgesic treatment in laparoscopic gastric bypass surgery: a systematic review of randomized trials. Obes Surg 24:462–470
Ethics declarations
Disclosures
Jaime Ruiz-Tovar, MD, PhD; Gilberto Gonzalez, MD; Andrei Sarmiento, MD; Miguel A. Carbajo, MD, PhD; Javier Ortiz-de-Solorzano, MD; Maria Jose Castro, MD, PhD; Jose Maria Jimenez, PhD; and Lorea Zubiaga, MD, PhD have no conflicts of interest or financial ties to disclose.
Additional information
Publisher's Note
Springer Nature remains neutral with regard to jurisdictional claims in published maps and institutional affiliations.
Electronic supplementary material
Below is the link to the electronic supplementary material.
About this article
Cite this article
Ruiz-Tovar, J., Gonzalez, G., Sarmiento, A. et al. Analgesic effect of postoperative laparoscopic-guided transversus abdominis plane (TAP) block, associated with preoperative port-site infiltration, within an enhanced recovery after surgery protocol in one-anastomosis gastric bypass: a randomized clinical trial. Surg Endosc 34, 5455–5460 (2020). https://doi.org/10.1007/s00464-019-07341-5
Received:

Accepted:

Published:

Issue Date:
Keywords
Transversus abdominis plane block

TAP

One-anastomosis gastric bypass

OAGB

Enhanced recovery after surgery

ERAS

Multimodal analgesia

Postoperative pain