Abstract
Background
The incidence of shoulder pain following laparoscopic surgery has been reported to be high. This study was designed to investigate the effect of Hemovac drain on postoperative pain of women after laparoscopic surgery, dose of postoperative drug, duration of hospitalization as well as comparison with deep breathing technique.
Methods
In this clinical trial, one hundred and fourteen female patients treated by laparoscopy were randomly assigned to three groups of 38 patients. In our study group, the Hemovac drain was implemented from the secondary trocar site with a closed system. In the deep breathing group, the patient was asked to breathe slowly and deeply three time per hour at full vigilance after surgery. In the non-drain group, laparoscopic surgery was done routinely. The severity of abdominal and shoulder pain was measured with a visual scale of pain at 3, 6, 12, and 24 h after surgery.
Results
There were no significant differences in age, type of surgery, duration of hospitalization, postoperative nausea and vomiting between the groups after surgery. The severity of shoulder pain was significant between groups 3, 6, 12, and 24 h after surgery (p < 0.001). Consumption of diclofenac after operation was higher in the control group (p < 0.001). The pain level of laparoscopic surgery was not different between the three groups within the first 24 h after surgery (p = 0.841).
Conclusions
The use of Hemovac drain in female laparoscopic surgery is beneficial for reducing the subsequent shoulder pain. Further studies are recommended to investigate the effects of deep breathing as a non-pharmacological and safe method in other laparoscopic areas.
Access options
Buy single article
Instant access to the full article PDF.
US$ 39.95
Tax calculation will be finalised during checkout.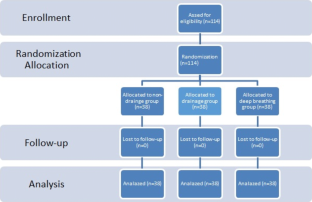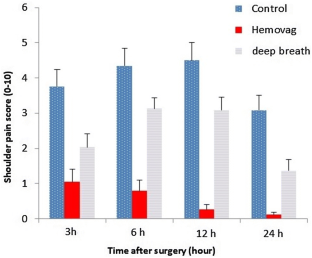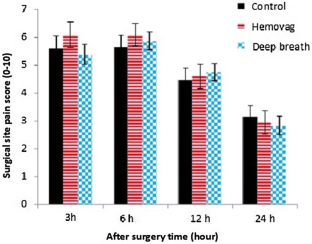 References
1.

Readman E, Maher PJ, Ugoni AM, Gordon S (2004) Intraperitoneal ropivacaine and a gas drain: effects on postoperative pain in laparoscopic surgery. J Am Assoc Gynecol Laparosc 11(4):486–491

2.

Khorasani B, Gholizadeh P (2007) Comparing the early complications of surgical wounds in two methods of open surgery and laparoscopy in Milad Hospital. Koomesh 8(3):139–144

3.

Mjoli M, Oosthuizen G, Clarke D, Madiba T (2015) Laparoscopy in the diagnosis and repair of diaphragmatic injuries in left-sided penetrating thoracoabdominal trauma. Surg Endosc 29(3):747–752. https://doi.org/10.1007/s00464-014-3710-8

4.

Rabbani A, Sharifi SRM, Razavi Emami SH (1995) Reporting of 100 cases of laparoscopic cholecystectomy in Imam Khomeini Hospital. Tehran Univ Med J 53(2):26–30

5.

Moradan S, Forozesh Fard M, Ghorbani R, Fahim DF (2014) Comparison of laparoscopy versus laparotomy for the surgical treatment of benign ovarian masses. Iran J Obstet Gynecol Infertil 17(100):1–9

6.

Saraswathi K, Prasad MS, Kumari BK (2015) Tubal ectopic pregnancy: comparative study of laparoscopy vs laparotomy. J Evol Med Dental Sci 4(89):15447–15449. https://doi.org/10.14260/jemds/2015/2206

7.

Coccolini F, Catena F, Pisano M, Gheza F, Fagiuoli S, Salomone D (2015) Open versus laparoscopic cholecystectomy in acute cholecystitis. Systematic review and meta-analysis. Int J Surg 18:196–204. https://doi.org/10.1016/j.ijsu.2015.04.083

8.

Atash KS (2005) Effects of intraperitoneal and local infiltration of anesthetic drugs in pain reduction after diagnostic laparoscopy in women. J Tabriz Univ Med Sci 27(1):5–8

9.

Putta PG, Pasupuleti H, Samantaray A, Natham H, Rao MH (2019) A comparative evaluation of pre-emptive versus post-surgery intraperitoneal local anesthetic instillation for postoperative pain relief after laparoscopic cholecystectomy: a prospective, randomized, double blind and placebo controlled study. Indian J Anaesth 63:205–211. https://doi.org/10.4103/ija.IJA_767_18

10.

Valadan M, Banifatemi S, Yousefshahi F (2015) Preoperative gabapentin to prevent postoperative shoulder pain after laparoscopic ovarian cystectomy: a randomized clinical trial. Anesthesiol Pain Med 5(6):e31524. https://doi.org/10.5812/aapm.31524

11.

Tuvayanon W, Silchai P, Sirivatanauksorn Y, Visavajarn P, Pungdok J, Tonklai S et al (2018) Randomized controlled trial comparing the effects of usual gas release, active aspiration, and passive valve release on abdominal distension in patients who have undergone laparoscopic cholecystectomy. Asian J Endosc Surg 11(3):212–219. https://doi.org/10.1111/ases.12451

12.

Sharma A, Gupta SN (2016) Drainage versus no drainage after elective laparoscopic cholecystectomy. Kathmandu Univ Med J 53(1):69–72

13.

Kaufman Y, Hirsch I, Ostrovsky L, Klein O, Pizov R, Lissak A (2008) Pain relief by continuous intraperitoneal nebulization of ropivacaine during gynecological laparoscopic procedures—a prospective randomized study and review of the literature. J Minim Invasive Gynecol 15(5):554–558. https://doi.org/10.1016/j.jmig.2008.05.012

14.

Kahokehr A, Sammour T, Srinivasa S, Hill A (2011) Systematic review and meta-analysis of intraperitoneal local anesthetic for pain reduction after laparoscopic gastric procedures. Br J Surg 98(1):29–36. https://doi.org/10.1002/bjs.7293

15.

Donatsky AM, Bjerrum F, Gögenur I (2013) Surgical techniques to minimize shoulder pain after laparoscopic cholecystectomy. A systematic review. Surg Endosc 27(7):2275–2282. https://doi.org/10.1007/s00464-012-2759-5

16.

Bijur PE, Silver W, Gallagher EJ (2001) Reliability of the visual analog scale for measurement of acute pain. Acad Emerg Med 8(12):1153–1157

17.

Wisa A, Kamol P, Apirak SN (2016) The outcome of soft silicone drains in reducing shoulder tip pain after laparoscopic adernalectomy. J Med Assoc Thai 99(9):1020–1024

18.

Haghgoo A, Chaichian S, Ghahremani M, Nooriardebili S, Akbaian A, Moazzami B (2016) The use of peritoneal suction drainage to reduce shoulder pain caused by gynecological laparoscopy. Arch Iran med. 19(3):173–178

19.

Kafali H, Karaoglanoglu M, Oksuzler C, Bozkurt S (2004) Active intraperitoneal gas aspiration to reduce postoperative shoulder pain after laparoscopy. Pain Clinic 16(2):197–200. https://doi.org/10.1163/156856904774134424

20.

Abbott J, Hawe J, Srivastava P, Hunter D, Garry R (2001) Intraperitoneal gas drain to reduce pain after laparoscopy: randomized masked trial. Obstet Gynecol 98(1):97–100. https://doi.org/10.1016/S0029-7844(01)01383-7

21.

Eikermann M, Siegel R, Broeders I, Dziri C, Fingerhut A, Gutt C et al (2012) Prevention and treatment of bile duct injuries during laparoscopic cholecystectomy: the clinical practice guidelines of the European Association for Endoscopic Surgery (EAES). Surg Endosc 26(11):3003–3039. https://doi.org/10.1007/s00464-012-2511-1

22.

Asgari Z, Hosseini R, Rastad H, Hosseini L (2018) Does peritoneal suction drainage reduce pain after gynecologic laparoscopy? Surg Laparosc Endosc Percutan Tech 28(2):73–76. https://doi.org/10.1097/SLE.0000000000000490

23.

Kerimoglu O, Yilmaz S, Pekin A, İncesu F, Dogan N, İlhan T et al (2015) Effect of drainage on postoperative pain after laparoscopic ovarian cystectomy. J Obstet Gynaecol 35(3):287–289. https://doi.org/10.3109/01443615.2014.948824

24.

Alexander J, Hull M (1987) Abdominal pain after laparoscopy: the value of a gas drain. BJOG Int J Obstet Gynecol 94(3):267–269. https://doi.org/10.1111/j.1471-0528.1987.tb02366.x

25.

Crowther C, Dodd J, Ledger W, Larwood D, Watson R, Hughes C et al (1995) Can post-laparoscopy pain be effectively reduced by the use of a peritoneal gas drain? Gynaeco Endosc. 4(1):53–57

26.

Swift G, Healey M, Varol N, Maher P, Hill D (2002) A prospective randomized double-blind placebo controlled trial to assess whether gas drains reduce shoulder pain following gynecological laparoscopy. Aust N Z J Obstet Gynaecol 42(3):267–270. https://doi.org/10.1111/j.0004-8666.2002.00267.x

27.

Nursal TZ, Yildirim S, Tarim A, Noyan T, Poyraz P, Tuna N et al (2003) Effect of drainage on postoperative nausea, vomiting, and pain after laparoscopic cholecystectomy. Langenbecks Arch Surg 388(2):95–100. https://doi.org/10.1007/s00423-003-0374-6

28.

Chauhan HR, Vaishnav UG (2016) A comparative study to evaluate the outcome of routine use of drain verses no drain after laparoscopic cholecystectomy: a tertiary care teaching center experience. Int Surg J 3(1):330–350. https://doi.org/10.18203/2349-2902.isj20160254

29.

Busch V, Magerl W, Kern U, Haas J, Hajak G, Eichhammer P (2012) The effect of deep and slow breathing on pain perception, autonomic activity, and mood processing—an experimental study. Pain Med 13(2):215–228. https://doi.org/10.1111/j.1526-4637.2011.01243.x

30.

Yuksel H, Cayir Y, Kosan Z, Tastan K (2017) Effectiveness of breathing exercises during the second stage of labor on labor pain and duration: a randomized controlled trial. J Integr Med. 15(6):456–461. https://doi.org/10.1016/S2095-4964(17)60368-6

31.

Tas B, Donatsky AM, Gögenur I (2013) Techniques to reduce shoulder pain after laparoscopic surgery for benign gynecological disease: a systematic review. Gynecol Surg 10(3):169–175. https://doi.org/10.1007/s10397-013-0791-7
Acknowledgements
The authors of this paper would like to thank Urmia University of Medical Sciences due to gathering the data of project No. 3245, which has been approved by Mazandaran University of Medical Sciences as an MSc thesis of Operation Room with ethics code IR.MAZUMS.REC.1397.3245 registered in National system by IRCT20190113042347N1 code.
Ethics declarations
Disclosures
Miss Fatemeh Hosseinzadeh as a first author, and Dr Ebrahim Nasiri as a corresponding author and Dr Tahereh Behroozi as a surgeon and third author have no conflicts of interest or financial ties to disclose.
Additional information
Publisher's Note
Springer Nature remains neutral with regard to jurisdictional claims in published maps and institutional affiliations.
About this article
Cite this article
Hosseinzadeh, F., Nasiri, E. & Behroozi, T. Investigating the effects of drainage by hemovac drain on shoulder pain after female laparoscopic surgery and comparison with deep breathing technique: a randomized clinical trial study. Surg Endosc 34, 5439–5446 (2020). https://doi.org/10.1007/s00464-019-07339-z
Received:

Accepted:

Published:

Issue Date:
Keywords
Drainage

Shoulder pain

Laparoscopy

Deep breathing

Gynecological surgery