Abstract
Introduction
Endoscopic sleeve gastroplasty (ESG) is a promising bariatric treatment. Gastric volume reduction and delayed gastric emptying are the probable mechanisms driving weight loss. However, there are concerns regarding the overtime ESG effectiveness. This study aims to evaluate the correlation between endoscopic gastroplasty integrity overtime and weight loss.
Patients and methods
Patients undergoing follow-up endoscopy (6 and 12 months) after ESG were included. ESG were classified in three groups according to endoscopic appearance: open when all the stiches were loose; partially intact if at least one stitch was loose; intact if all the stitches were present and tight. Initial BMI, excess weight loss (%EWL) and total weight loss (%TWL) at 6 and 12 months were assessed against gastroplasty endoscopic appearance.
Results
From October 2016 to April 2019, 133 patients underwent ESG, 87 (65.4%) had a follow-up EGD at 6 months. ESG was open in six cases (6.9%), partially intact in 38 (43.7%) and intact in 43 (49.4%). The overall %EWL and %TWL was 34.5 ± 19.8 and 13.2 ± 7.4, respectively; 25.7 ± 26.9 and 11.8 ± 11.8 for the open group, 30.8 ± 20.1 and 12.4 ± 7.8 for the partially intact group; 39.1 ± 19.7 and 14.0 ± 6.4 for the intact gastroplasty. Forty-one patients underwent a 12 months endoscopy: 10 (24.4%) had an intact ESG, 24 (58.5%) had a partially intact gastroplasty, and in 7 (17.0%) cases the sutures were lost. Overall %EWL and %TWL at 12 months was 34.3 ± 21.9 and 13.1 ± 8.1: 19.3 ± 13.4 and 8.9 ± 6.1 for the open group; 36.0 ± 24.2 and 13.1 ± 8.9 for the partially intact group; 40.3 ± 17.3 and 17.2 ± 5.4 for the intact group. ESG appearance correlated with preoperative BMI (r 0.34; p 0.001) and %EWL at 6 months (r 0.22; p 0.035) and 12 months (r 0.29; p 0.065).
Conclusion
This preliminary work shows that weight loss correlates with ESG endoscopic appearance over time. Initial BMI predicts endoscopic suture duration over time. Larger studies and longer follow-up are needed.
This is a preview of subscription content, log in to check access.
Access options
Buy single article
Instant access to the full article PDF.
US$ 39.95
Price includes VAT for USA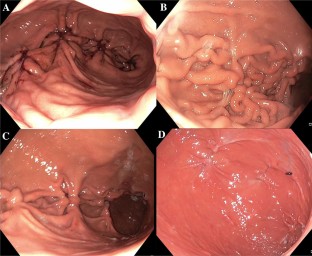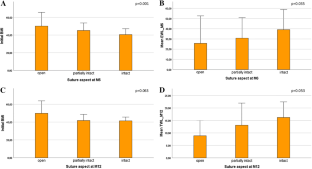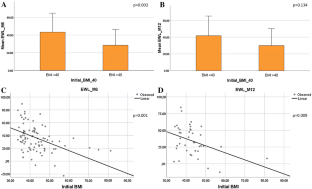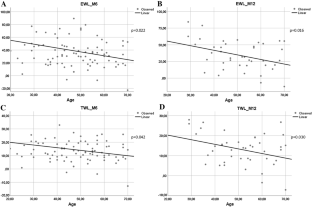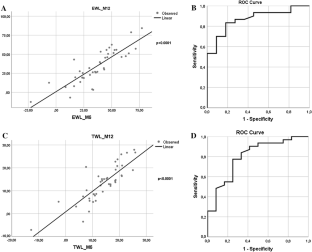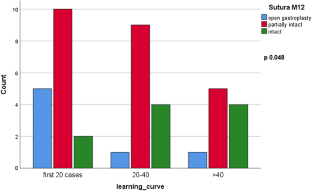 References
1.

Finucane MM, Stevens GA, Cowan MJ, Danaei G, Lin JK, Paciorek CJ, Singh GM, Gutierrez HR, Lu Y, Bahalim AN, Farzadfar F, Riley LM, Ezzati M (2011) National, regional, and global trends in body-mass index since 1980: systematic analysis of health examination surveys and epidemiological studies with 960 country-years and 9.1 million participants. Lancet (London, England) 377:557–567

2.

Collins J, Meng C, Eng A (2016) Psychological impact of severe obesity. Curr Obes Rep 5:435–440

3.

Kolotkin RL, Meter K, Williams GR (2001) Quality of life and obesity. Obes Rev 2:219–229

4.

Whitlock G, Lewington S, Sherliker P, Clarke R, Emberson J, Halsey J, Qizilbash N, Collins R, Peto R (2009) Body-mass index and cause-specific mortality in 900 000 adults: collaborative analyses of 57 prospective studies. Lancet (London, England) 373:1083–1096

5.

Haslam DW, James WP (2005) Obesity. Lancet (London, England) 366:1197–1209

6.

Sjostrom L, Lindroos AK, Peltonen M, Torgerson J, Bouchard C, Carlsson B, Dahlgren S, Larsson B, Narbro K, Sjostrom CD, Sullivan M, Wedel H (2004) Lifestyle, diabetes, and cardiovascular risk factors 10 years after bariatric surgery. N Engl J Med 351:2683–2693

7.

Sjostrom L, Peltonen M, Jacobson P, Sjostrom CD, Karason K, Wedel H, Ahlin S, Anveden A, Bengtsson C, Bergmark G, Bouchard C, Carlsson B, Dahlgren S, Karlsson J, Lindroos AK, Lonroth H, Narbro K, Naslund I, Olbers T, Svensson PA, Carlsson LM (2012) Bariatric surgery and long-term cardiovascular events. JAMA 307:56–65

8.

Carlsson LM, Peltonen M, Ahlin S, Anveden A, Bouchard C, Carlsson B, Jacobson P, Lonroth H, Maglio C, Naslund I, Pirazzi C, Romeo S, Sjoholm K, Sjostrom E, Wedel H, Svensson PA, Sjostrom L (2012) Bariatric surgery and prevention of type 2 diabetes in Swedish obese subjects. N Engl J Med 367:695–704

9.

Sjostrom L, Peltonen M, Jacobson P, Ahlin S, Andersson-Assarsson J, Anveden A, Bouchard C, Carlsson B, Karason K, Lonroth H, Naslund I, Sjostrom E, Taube M, Wedel H, Svensson PA, Sjoholm K, Carlsson LM (2014) Association of bariatric surgery with long-term remission of type 2 diabetes and with microvascular and macrovascular complications. JAMA 311:2297–2304

10.

Mechanick JI, Youdim A, Jones DB, Garvey WT, Hurley DL, Mcmahon MM, Heinberg LJ, Kushner R, Adams TD, Shikora S, Dixon JB, Brethauer S (2013) Clinical practice guidelines for the perioperative nutritional, metabolic, and nonsurgical support of the bariatric surgery patient—2013 update: cosponsored by American Association of Clinical Endocrinologists, the Obesity Society, and American Society for Metabolic & Bariatric Surgery. Obesity (Silver Spring, Md) 21(Suppl 1):S1–S27

11.

Abu Dayyeh BK, Acosta A, Camilleri M, Mundi MS, Rajan E, Topazian MD, Gostout CJ (2017) Endoscopic sleeve gastroplasty alters gastric physiology and induces loss of body weight in obese individuals. Clin Gastroenterol Hepatol 15:37–43.E31

12.

Abu Dayyeh BK, Rajan E, Gostout CJ (2013) Endoscopic sleeve gastroplasty: a potential endoscopic alternative to surgical sleeve gastrectomy for treatment of obesity. Gastrointest Endosc 78:530–535

13.

Sharaiha RZ, Kedia P, Kumta N, Defilippis EM, Gaidhane M, Shukla A, Aronne LJ, Kahaleh M (2015) Initial experience with endoscopic sleeve gastroplasty: technical success and reproducibility in the bariatric population. Endoscopy 47:164–166

14.

Lopez-Nava G, Sharaiha RZ, Vargas EJ, Bazerbachi F, Manoel GN, Bautista-Castano I, Acosta A, Topazian MD, Mundi MS, Kumta N, Kahaleh M, Herr AM, Shukla A, Aronne L, Gostout CJ, Abu Dayyeh BK (2017) Endoscopic sleeve gastroplasty for obesity: a multicenter study of 248 patients with 24 months follow-up. Obes Surg 27:2649–2655

15.

Sartoretto A, Sui Z, Hill C, Dunlap M, Rivera AR, Khashab MA, Kalloo AN, Fayad L, Cheskin LJ, Marinos G, Wilson E, Kumbhari V (2018) Endoscopic sleeve gastroplasty (Esg) is a reproducible and effective endoscopic bariatric therapy suitable for widespread clinical adoption: a large, International Multicenter Study. Obes Surg 28:1812–1821

16.

Khan Z, Khan MA, Hajifathalian K, Shah S, Abdul M, Saumoy M, Aronne L, Lee W, Rz S (2019) Efficacy of endoscopic interventions for the management of obesity: a meta-analysis to compare endoscopic sleeve gastroplasty, aspireassist, and primary obesity surgery endolumenal. Obes Surg 29(7):2287–2298

17.

Lopez-Nava G, Galvao MP, Da Bautista-Castano I, Jimenez A, De Grado T, Fernandez-Corbelle JP (2015) Endoscopic sleeve gastroplasty for the treatment of obesity. Endoscopy 47:449–452

18.

Sharaiha RZ, Kumta NA, Saumoy M, Desai AP, Sarkisian AM, Benevenuto A, Tyberg A, Kumar R, Igel L, Verna EC, Schwartz R, Frissora C, Shukla A, Aronne LJ, Kahaleh M (2017) Endoscopic sleeve gastroplasty significantly reduces body mass index and metabolic complications in obese patients. Clin Gastroenterol Hepatol 15:504–510

19.

Alqahtani A, Al-Darwish A, Ae M, Ya A, Elahmedi M (2018) Short-term outcomes of endoscopic sleeve gastroplasty in 1000 consecutive patients. Gastrointest Endosc 89:1132–1138

20.

Abu Dayyeh BK, Kumar N, Edmundowicz SA, Jonnalagadda S, Larsen M, Sullivan S, Thompson CC, Banerjee S (2015) Asge bariatric endoscopy task force systematic review and meta-analysis assessing the Asge Pivi thresholds for adopting endoscopic bariatric therapies. Gastrointest Endosc 82(425–438):E425

21.

Manning S, Pucci A, Carter NC, Elkalaawy M, Querci G, Magno S, Tamberi A, Finer N, Fiennes AG, Hashemi M, Jenkinson AD, Anselmino M, Santini F, Adamo M, Batterham RL (2014) Early postoperative weight loss predicts maximal weight loss after sleeve gastrectomy and Roux-en-Y gastric bypass. Surg Endosc 6:1484–1491

22.

Galvao-Neto MD, Grecco E, Souza TF, Quadros LG, Silva LB, Campos JM (2016) Endoscopic sleeve gastroplasty—minimally invasive therapy for primary obesity treatment. Arquivos Brasileiros De Cirurgia Digestiva 29(suppl 1):95–97

23.

Jain D, Bhandari BS, Arora A, Singhal S (2017) Endoscopic sleeve gastroplasty—a new tool to manage obesity. Clin Endosc 50:552–561

24.

Brethauer SA, Chand B, Schauer PR, Thompson CC (2012) Transoral gastric volume reduction as intervention for weight management: 12-month follow-up of trim trial. Surg Obes Relat Dis 8:296–303

25.

Contreras JE, Santander C, Court I, Bravo J (2013) Correlation between age and weight loss after bariatric surgery. Obes Surg 23:1286–1289

26.

Susmallian S, Raziel A, Barnea R, Paran H (2019) Bariatric surgery in older adults: should there be an age limit? Medicine 98:E13824

27.

Gys B, Plaeke P, Lamme B, Lafullarde T, Komen N, Beunis A, Hubens G (2019) Endoscopic gastric plication for morbid obesity: a systematic review and meta-analysis of published data over time. Obes Surg 29(9):3021–3029. https://doi.org/10.1007/S11695-019-04010-3
Ethics declarations
Disclosures
Margherita Pizzicannella, Alfonso Lapergola, Andrea Spota, Claudio Fiorillo, Pietro Mascagni, Michel Vix, Didier Mutter, Guido Costamagna, Lee Swanström, Jacques Marescaux, Silvana Perretta have no conflicts of interests or financial ties to disclose.
Ethical approval
This study is a prospective single-center study conducted by the Digestive Surgery Department of the Nouvel Hôpital Civil (NHC) in Strasbourg. After Institutional Review Board (IRB) approval, patients who were candidates for a bariatric procedure according to international guidelines for bariatric surgery were included in the study (protoClinicalTrials.gov ID NCT02948621 and NCT03554902).
Additional information
Publisher's Note
Springer Nature remains neutral with regard to jurisdictional claims in published maps and institutional affiliations.
About this article
Cite this article
Pizzicannella, M., Lapergola, A., Fiorillo, C. et al. Does endoscopic sleeve gastroplasty stand the test of time? Objective assessment of endoscopic ESG appearance and its relation to weight loss in a large group of consecutive patients. Surg Endosc 34, 3696–3705 (2020). https://doi.org/10.1007/s00464-019-07329-1
Received:

Accepted:

Published:

Issue Date:
Keywords
Bariatric endoscopy

Endoscopic sleeve gastroplasty

Obesity