Abstract
Background
Anastomotic complications such as leaks, bleeding, and stricture remain the most serious complications of surgery for gastric cancer. No perfect method exists for an accurate and reliable prevention of these complications. This study investigated the safety and efficacy of post-anastomotic intraoperative endoscopy (PAIOE) for avoidance of early anastomotic complications during gastrectomy in gastric cancer.
Methods
This retrospective case–control study enrolled patients from a tertiary care, academic medical center. Routine PAIOE was performed on 319 patients undergoing gastrectomy for gastric cancer between 2015 and 2016. As controls, without PAIOE 270 patients from 2013 to 2014 were used for comparison. Early anastomotic complications and outcomes after PAIOE were determined.
Results
Although there were no differences between the PAIOE and non-PAIOE group in terms of overall complication rates (20.1% vs 26.7%; P > 0.05), there were fewer complications related to anastomosis (3.4% vs 8.9%; P < 0.01) in the PAIOE group. The PAIOE group had rates of 2.5% for anastomotic leakage, 0.9% for intra-luminal bleeding, and 0% for anastomotic stenosis, while the non-PAIOE group exhibited rates of 5.6%, 2.6%, and 0.7%, respectively. Thirty-one abnormalities were detected in 26 PAIOE patients (9.71%) (20 venous bleeding, 7 mucosal tearing, 2 air leaks, 1 arterial bleeding, and 1 anastomotic stricture). All abnormalities were corrected by proper interventions (13 reinforced additional suture, 13 endoscopic hemostasis, and 2 re-anastomosis). There were no morbidities associated with PAIOE.
Conclusions
PAIOE appears to be a safe and reliable procedure to evaluate the stability of gastrointestinal anastomosis for gastric cancer patients. Further data collection and a well-designed prospective study are needed to confirm the validity of PAIOE.
Access options
Buy single article
Instant access to the full article PDF.
US$ 39.95
Tax calculation will be finalised during checkout.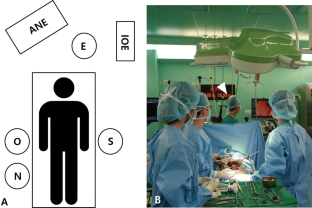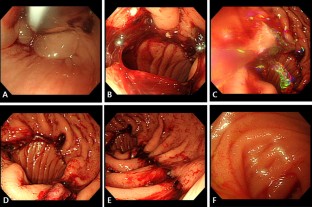 References
1.

Sierzega M, Kolodziejczyk P, Kulig J (2010) Impact of anastomotic leakage on long-term survival after total gastrectomy for carcinoma of the stomach. Br J Surg 97:1035–1042

2.

Yoo HM, Lee HH, Shim JH, Jeon HM, Park CH, Song KY (2011) Negative impact of leakage on survival of patients undergoing curative resection for advanced gastric cancer. J Surg Oncol 104:734–740

3.

Sasako M, Sano T, Yamamoto S, Kurokawa Y, Nashimoto A, Kurita A, Hiratsuka M, Tsujinaka T, Kinoshita T, Arai K, Yamamura Y, Okajima K, Japan Clinical Oncology Group (2008) D2 lymphadenectomy alone or with para-aortic nodal dissection for gastric cancer. N Engl J Med 359:453–462

4.

Degiuli M, Sasako M, Ponti A (2010) Morbidity and mortality in the Italian Gastric Cancer Study Group randomized clinical trial of D1 versus D2 resection for gastric cancer. Br J Surg 97:643–649

5.

Lee H-J, Hyung WJ, Yang H-K, Han SU, Park Y-K, An JY, Kim W, Kim HI, Kim HH, Ryu SW, Hur H, Kong SH, Cho GS, Kim JJ, Park DJ, Ryu KW, Kim YW, Kim JW, Lee JH, Kim MC, Korean Laparo-endoscopic Gastrointestinal Surgery Study (KLASS) Group (2016) Morbidity of laparoscopic distal gastrectomy with D2 lymphadenectomy compared with open distal gastrectomy for locally advanced gastric cancer: short term outcomes from multicenter randomized controlled trial (KLASS-02). J Clin Oncol 34(15):4062

6.

Hyung WJ, Yang H-K, Han S-U, Lee Y-J, Park J-M, Kim JJ, Kwon OK, Kong SH, Kim HI, Lee HJ, Kim W, Ryu SW, Jin SH, Oh SJ, Ryu KW, Kim MC, Ahn HS, Park YK, Kim YH, Hwang SH, Kim JW, Cho GS (2019) A feasibility study of laparoscopic total gastrectomy for clinical stage I gastric cancer: a prospective multi-center phase II clinical trial, KLASS 03. Gastric Cancer 22:214–222

7.

Li VKM, Wexner SD, Pulido N, Wang H, Jin HY, Weiss EG, Nogeuras JJ, Sands DR (2009) Use of routine intraoperative endoscopy in elective laparoscopic colorectal surgery: can it further avoid anastomotic failure? Surg Endosc 23:2459–2465

8.

Lieto E, Orditura M, Castellano P, Pinto M, Zamboli A, De Vita F, Pignatelli C, Galizia G (2011) Endoscopic intraoperative anastomotic testing may avoid early gastrointestinal anastomotic complications. A prospective study. J Gastrointest Surg 15:145–152

9.

Ishihara S, Watanabe T, Nagawa H (2008) Intraoperative colonoscopy for stapled anastomosis in colorectal surgery. Surg Today 38:1063–1065

10.

Nimeri A, Maasher A, Salim E, Ibrahim M, Al Hadad M (2016) The use of intraoperative endoscopy may decrease postoperative stenosis in laparoscopic sleeve gastrectomy. Obes Surg 26:1398–1401

11.

Al Hadad M, Dehni N, Elamin D, Ibrahim M, Ghabra S, Nimeri A (2015) Intraoperative endoscopy decreases postoperative complications in laparoscopic Roux-en-Y gastric bypass. Obes Surg 25:1711–1715

12.

Washington K (2010) 7th edition of the of the AJCC cancer staging manual: stomach. Ann Surg Oncol 17:3077–3079

13.

Dindo D, Demartines N, Clavien P-A (2004) Classification of surgical complications: a new proposal with evaluation in a cohort of 6336 patients and results of a survey. Ann Surg 240:205–213

14.

Gorgun IE, Aytac E, Manilich E, Church JM, Remzi FH (2013) Intraoperative colonoscopy does not worsen the outcomes of laparoscopic colorectal surgery: a case-matched study. Surg Endosc 27:3572–3576

15.

Park D, Lee H-J, Kim S, Jung H, Song I, Lee KU, Choe KJ, Yang HK (2015) Intraoperative gastroscopy for gastric surgery. Surg Endosc 19:1358–1361

16.

Kamiya S, Ohashi M, Ida S, Kumagai K, Nunobe S, Sano T (2018) Hiki N (2018) Laparoscopic subtotal gastrectomy with a new marking technique, endoscopic cautery marking: preservation of the stomach in patients with upper early gastric cancer. Surg Endosc 32:4681–4687

17.

Hiki N, Nunobe S, Matsuda T, Hirasawa T, Yamamoto Y, Yamaguchi T (2015) Laparoscopic endoscopic cooperative surgery. Dig Endosc 27:197–204

18.

Nishikawa K, Yanaga K, Kashiwagi H, Hanyuu N, Iwabuchi S (2010) Significance of intraoperative endoscopy in total gastrectomy for gastric cancer. Surg Endosc 24:2633–2636

19.

Ahn S-H, Jung DH, Son S-Y, Lee C-M, Park DJ, Kim H-H (2014) Laparoscopic double-tract proximal gastrectomy for proximal early gastric cancer. Gastric Cancer 17:562–570

20.

Quartararo G, Facchiano E, Scaringi S, Liscia G, Lucchese M (2014) Upper gastrointestinal series after Roux-en-Y gastric bypass for morbid obesity: effectiveness in leakage detection. A systematic review of the literature. Obes Surg 24:1096–1101

21.

Tanizawa Y, Bando E, Kawamura T, Tokunaga M, Ono H, Terashima M (2010) Early postoperative anastomotic hemorrhage after gastrectomy for gastric cancer. Gastric Cancer 13:50–57

22.

Association JGC (2017) Japanese gastric cancer treatment guidelines 2014 (ver. 4). Gastric Cancer 20:1–19
Acknowledgements
The authors would like to thank Jeong-Suk Suh, RN, and Young-Suk Kim, RN for conducting data collection.
Ethics declarations
Disclosures
Drs. Ji-Ho Park, Sang-Ho Jeong, Young-Joon Lee, Tae Han Kim, Jong-Man Kim, Dong-Hwan Kim, Seung-Jin Kwag, Ju-Yeon Kim, Taejin Park, Chi-Young Jeong, Young-tae Ju, Eun-Jung Jung, and Soon-Chan Hong have no conflicts of interest or financial ties to disclose.
Additional information
Publisher's Note
Springer Nature remains neutral with regard to jurisdictional claims in published maps and institutional affiliations.
About this article
Cite this article
Park, JH., Jeong, SH., Lee, YJ. et al. Safety and efficacy of post-anastomotic intraoperative endoscopy to avoid early anastomotic complications during gastrectomy for gastric cancer. Surg Endosc 34, 5312–5319 (2020). https://doi.org/10.1007/s00464-019-07319-3
Received:

Accepted:

Published:

Issue Date:
Keywords
Stomach neoplasm

Intraoperative endoscopy

Postoperative complications

Anastomotic leak

Postoperative hemorrhage