Abstract
Background
To evaluate the clinical and oncological outcomes of single-incision laparoscopic surgery (SILS) vs. conventional laparoscopic surgery (CLS) for patients with rectal cancer (RC) who underwent total mesorectal excision (TME) surgery.
Methods
This was a retrospective case–control study of patients with RC operated between 12/2013 and 12/2017 in Ruijin Hospital North, Shanghai Jiaotong University School of Medicine. In total, 177 patients who underwent CLS and 51 who underwent SILS met the inclusion and exclusion criteria and were matched 1:1 using propensity score matching method (PSM).
Results
Compared with the CLS group, the SILS group showed shorter operation time [105 (40) vs. 125 (55) min, P = 0.045], shorter total incision length [4 (1) vs. 6.5 (1.5) cm, P < 0.001], lower VAS score on POD2 [1 (1) vs. 2 (1), P < 0.001], shorter time to soft diet [7 (1) vs. 8 (2) days, P = 0.048], and shorter length of hospital stay [9 (2) vs. 11 (3) days, P < 0.001]. The postoperative complications were similar between two groups [1(2%) vs. 5 (9.8%), P = 0.205]. No readmissions or mortality in either group occurred within 30 days of surgery. All 102 specimens met the requirements of TME. No significant differences were observed in the pathologic outcomes between the two groups. The median follow-up period was 32.6 months in the SILS group and 36.8 months in the CLS group (P = 0.053). The 3-year disease-free survival rates and overall survival rates of the SILS and CLS groups were 89.8% vs. 96.0% (P = 0.224) and 90.9% vs. 96.9% (P = 0.146), respectively.
Conclusions
Compared with CLS, TME surgery for rectal cancer can be performed safely and effectively using the SILS technique with better cosmetic results, less postoperative pain, faster postoperative recovery, and acceptable clinical and oncological outcomes.
Access options
Buy single article
Instant access to the full article PDF.
US$ 39.95
Tax calculation will be finalised during checkout.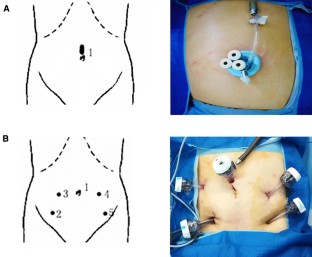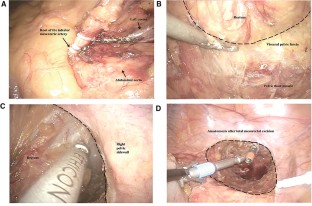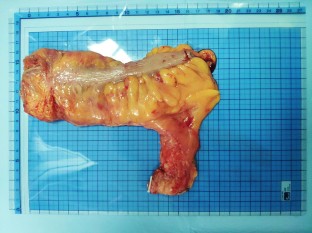 References
1.

Ferlay J, Soerjomataram I, Dikshit R, Eser S, Mathers C, Rebelo M, Parkin DM, Forman D, Bray F (2015) Cancer incidence and mortality worldwide: sources, methods and major patterns in GLOBOCAN 2012. Int J Cancer 136:E359–E386

2.

Moon SY, Kim S, Lee SY, Han EC, Kang SB, Jeong SY, Park KJ, Oh JH, SEoul COlorectal Group (SECOG) (2016) Laparoscopic surgery for patients with colorectal cancer produces better short-term outcomes with similar survival outcomes in elderly patients compared to open surgery. Cancer Med 5:1047–1054

3.

Julien M, Dove J, Quindlen K, Halm K, Shabahang M, Wild J, Blansfield J (2016) Evolution of laparoscopic surgery for colorectal cancer: the impact of the clinical outcomes of surgical therapy group trial. Am Surg 82:685–691

4.

Askari A, Nachiappan S, Currie A, Bottle A, Athanasiou T, Faiz O (2016) Selection for laparoscopic resection confers a survival benefit in colorectal cancer surgery in England. Surg Endosc 30:3839–3847

5.

Cuccurullo D, Pirozzi F, Sciuto A, Bracale U, La Barbera C, Galante F, Corcione F (2015) Relaparoscopy for management of postoperative complications following colorectal surgery: ten years experience in a single center. Surg Endosc 29:1795–1803

6.

Azin A, Saleh F, Cleghorn M, Yuen A, Jackson T, Okrainec A, Quereshy FA (2017) A comparison of endoscopic localization error rate between operating surgeons and referring endoscopists in colorectal cancer. Surg Endosc 31:1318–1326

7.

Govaert JA, Fiocco M, van Dijk WA, Kolfschoten NE, Prins HA, Dekker JWT, Tollenaar R, Tanis PJ, Wouters M, Dutch Value Based Healthcare Study (2017) Multicenter stratified comparison of hospital costs between laparoscopic and open colorectal cancer resections: influence of tumor location and operative risk. Ann Surg 266:1021–1028

8.

Gietelink L, Wouters MW, Bemelman WA, Dekker JW, Tollenaar RA, Tanis PJ (2016) Reduced 30-day mortality after laparoscopic colorectal cancer surgery. Ann Surg 264:135–140

9.

Hoyuela C, Juvany M, Carvajal F (2017) Single-incision laparoscopy versus standard laparoscopy for colorectal surgery: a systematic review and meta-analysis. Am J Surg 214:127–140

10.

Pascual M, Salvans S, Pera M (2016) Laparoscopic colorectal surgery: current status and implementation of the latest technological innovations. World J Gastroenterol 22:704–717

11.

Steinemann DC, Muller PC, Probst P, Schwarz AC, Buchler MW, Muller-Stich BP, Linke GR (2017) Meta-analysis of hybrid natural-orifice transluminal endoscopic surgery versus laparoscopic surgery. Br J Surg 104:977–989

12.

Rubinkiewicz M, Nowakowski M, Wierdak M, Mizera M, Dembinski M, Pisarska M, Major P, Malczak P, Budzynski A, Pedziwiatr M (2018) Transanal total mesorectal excision for low rectal cancer: a case-matched study comparing TaTME versus standard laparoscopic TME. Cancer Manag Res 10:5239–5245

13.

Ma B, Gao P, Song Y, Zhang C, Zhang C, Wang L, Liu H, Wang Z (2016) Transanal total mesorectal excision (taTME) for rectal cancer: a systematic review and meta-analysis of oncological and perioperative outcomes compared with laparoscopic total mesorectal excision. BMC Cancer 16:380

14.

Spanheimer PM, Armstrong JG, Fu S, Liao J, Regenbogen SE, Byrn JC (2017) Robotic proctectomy for rectal cancer: analysis of 71 patients from a single institution. Int J Med Robot Comput Assist Surg 13:e1841

15.

Chouillard E, Alsabah S, Daher R, Younan A, Greco VJ, Chahine E, Abdullah B, Biagini J (2016) Single-incision laparoscopy could be better than standard laparoscopy in right colectomy for cancer. J Laparoendosc Adv Surg Tech A 26:371–378

16.

Keller DS, Flores-Gonzalez JR, Ibarra S, Haas EM (2016) Review of 500 single incision laparoscopic colorectal surgery cases—lessons learned. World J Gastroenterol 22:659–667

17.

Cianchi F, Staderini F, Badii B (2014) Single-incision laparoscopic colorectal surgery for cancer: state of art. World J Gastroenterol 20:6073–6080

18.

Gash K, Bicsak M, Dixon A (2015) Single-incision laparoscopic surgery for rectal cancer: early results and medium-term oncological outcome. Colorectal Dis 17:1071–1078

19.

Bucher P, Pugin F, Morel P (2008) Single port access laparoscopic right hemicolectomy. Int J Colorectal Dis 23:1013–1016

20.

Kim SJ, Choi BJ, Lee SC (2014) Successful total shift from multiport to single-port laparoscopic surgery in low anterior resection of colorectal cancer. Surg Endosc 28:2920–2930

21.

Ragupathi M, Ramos-Valadez DI, Yaakovian MD, Haas EM (2011) Single-incision laparoscopic colectomy: a novel approach through a Pfannenstiel incision. Tech Coloproctol 15:61–65

22.

Madhoun N, Keller DS, Haas EM (2015) Review of single incision laparoscopic surgery in colorectal surgery. World J Gastroenterol 21:10824–10829

23.

Rao PP, Rao PP, Bhagwat S (2011) Single-incision laparoscopic surgery-current status and controversies. J Minim Access Surg 7:6–16

24.

Trakarnsanga A, Akaraviputh T, Wathanaoran P, Phalanusitthepha C, Methasate A, Chinswangwattanakul V (2011) Single-incision laparoscopic colectomy without using special articulating instruments: an initial experience. World J Surg Oncol 9:162

25.

Bulut O, Aslak KK, Levic K, Nielsen CB, Romer E, Sorensen S, Christensen IJ, Nielsen HJ (2015) A randomized pilot study on single-port versus conventional laparoscopic rectal surgery: effects on postoperative pain and the stress response to surgery. Tech Coloproctol 19:11–22

26.

Tei M, Otsuka M, Suzuki Y, Kishi K, Tanemura M, Akamatsu H (2018) Safety and feasibility of single-port laparoscopic low anterior resection for upper rectal cancer. Am J Surg 216:1101–1106

27.

Bush AJ, Morris SN, Millham FH, Isaacson KB (2011) Women's preferences for minimally invasive incisions. J Minim Invasive Gynecol 18:640–643

28.

Osborne AJ, Lim J, Gash KJ, Chaudhary B, Dixon AR (2013) Comparison of single-incision laparoscopic high anterior resection with standard laparoscopic high anterior resection. Colorectal Dis 15:329–333

29.

Stevenson AR, Solomon MJ, Lumley JW, Hewett P, Clouston AD, Gebski VJ, Davies L, Wilson K, Hague W, Simes J (2015) Effect of laparoscopic-assisted resection vs open resection on pathological outcomes in rectal cancer: the ALaCaRT randomized clinical trial. JAMA 314:1356–1363

30.

Fleshman J, Branda M, Sargent DJ, Boller AM, George V, Abbas M, Peters WR Jr, Maun D, Chang G, Herline A, Fichera A, Mutch M, Wexner S, Whiteford M, Marks J, Birnbaum E, Margolin D, Larson D, Marcello P, Posner M, Read T, Monson J, Wren SM, Pisters PW, Nelson H (2015) Effect of laparoscopic-assisted resection vs open resection of stage II or III rectal cancer on pathologic outcomes: the ACOSOG Z6051 randomized clinical trial. JAMA 314:1346–1355

31.

Katsuno G, Fukunaga M, Nagakari K, Yoshikawa S, Azuma D, Kohama S (2016) Short-term and long-term outcomes of singleincision versus multi-incision laparoscopic resection for colorectal cancer: a propensity-score-matched analysis of 214 cases. Surg Endosc 30:1317–1325

32.

Miyo M, Takemasa I, Ishihara H, Hata T, Mizushima T, Ohno Y, Doki Y, Mori M (2017) Long-term outcomes of single-site laparoscopic colectomy with complete mesocolic excision for colon cancer: comparison with conventional multiport laparoscopic colectomy using propensity score matching. Dis Colon Rectum 60:664–673

33.

Yun JA, Yun SH, Park YA, Huh JW, Cho YB, Kim HC, Lee WY (2016) Oncologic outcomes of single-incision laparoscopic surgery compared with conventional laparoscopy for colon cancer. Ann Surg 263:973–978

34.

Marks JM, Phillips MS, Tacchino R, Roberts K, Onders R, DeNoto G, Gecelter G, Rubach E, Rivas H, Islam A, Soper N, Paraskeva P, Rosemurgy A, Ross S, Shah S (2013) Single-incision laparoscopic cholecystectomy is associated with improved cosmesis scoring at the cost of significantly higher hernia rates: 1-year results of a prospective randomized, multicenter, single-blinded trial of traditional multiport laparoscopic cholecystectomy vs single-incision laparoscopic cholecystectomy. J Am Coll Surg 216:1037–1047

35.

Antoniou SA, Morales-Conde S, Antoniou GA, Granderath FA, Berrevoet F, Muysoms FE, Bonham G (2016) Single-incision laparoscopic surgery through the umbilicus is associated with a higher incidence of trocar-site hernia than conventional laparoscopy: a meta-analysis of randomized controlled trials. Hernia 20:1–10

36.

Alptekin H, Yilmaz H, Acar F, Kafali ME, Sahin M (2012) Incisional hernia rate may increase after single-port cholecystectomy. J Laparoendosc Adv Surg Tech A 22:731–737

37.

Song Z, Li Y, Liu K, Jiang Y, Shi Y, Ji X, Zhang T, Wu H, Shi Y, Zhao R (2019) Clinical and oncologic outcomes of single-incision laparoscopic surgery for right colon cancer: a propensity score matching analysis. Surg Endosc 33:1117–1123
Funding
This study was supported by Advanced and Appropriate Technology Promotion Projects of Shanghai Municipal Health Commission (2019SY058). It had no involvement in study design, collection, analysis, and interpretation of data; in the writing of the report; and in the decision to submit the article for publication.
Ethics declarations
Disclosures
Yimei Jiang, Zijia Song, Xi Cheng, Kun Liu, Yiqin Shi, Changgang Wang, You Li, Xiaopin Ji, and Ren Zhao have no conflicts of interest or financial ties to disclose.
Additional information
Publisher's Note
Springer Nature remains neutral with regard to jurisdictional claims in published maps and institutional affiliations.
About this article
Cite this article
Jiang, Y., Song, Z., Cheng, X. et al. Clinical and oncological outcomes of single-incision vs. conventional laparoscopic surgery for rectal cancer. Surg Endosc 34, 5294–5303 (2020). https://doi.org/10.1007/s00464-019-07317-5
Received:

Accepted:

Published:

Issue Date:
Keywords
Rectal cancer

Single-incision laparoscopic surgery

Total mesorectal excision

Oncologic outcomes