Abstract
Background
As internet access improves, patient self-education continues to increase. However, patient surgical background, e-literacy, and media exposure potentially influence what information patients search online. This impacts patient concern, healthcare decisions, and subsequent patient-physician interactions. The purpose of this pilot study is to characterize hernia patients' use and the impact of internet self-education regarding surgical mesh.
Methods
The target population included patients presenting for evaluation of hernia repair with mesh. A total of 30 patients were enrolled. Patients took surveys before and after the initial surgical consult. The surveys evaluated internet use, mesh research completed, the impact on patient opinions/decisions, and the impact of research on the patient-physician interaction.
Results
The average age of the patients was 58.7 years; sixteen had prior surgery with surgical mesh. 93% of patients were aware of surgical mesh through the media, and 60% were motivated by the media to conduct research. 90% of patients conducted research, and 67% used the internet. Patients with negative attitudes toward mesh had more media exposure in comparison to those with neutral or positive attitudes (p = 0.046), and they were more likely to have researched surgical mesh because of media influence (p = 0.033). This group had the highest rate of perceived knowledge on mesh risks and the lowest regarding benefits (p = 0.013). Patients who had prior surgery without complication had the most positive attitude toward surgical mesh (p = 0.010) and were less likely to plan to do future internet research (p = 0.041) in comparison to patients who had surgery with complications or no prior surgery.
Conclusions
Patients' attitudes and perceived knowledge regarding surgical mesh are associated with media exposure and internet research. These attributes along with prior surgical experience impact the patient-physician relationship and shared decision-making model regarding patient care.
Access options
Buy single article
Instant access to the full article PDF.
US$ 39.95
Tax calculation will be finalised during checkout.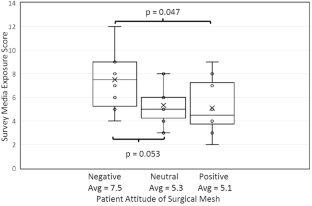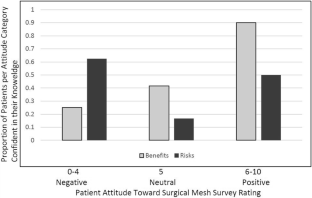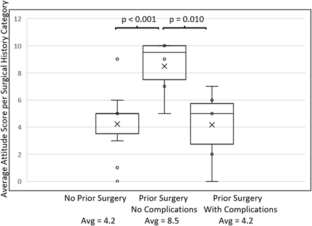 References
1.

O'Grady L (2006) Future directions for depicting credibility in health care web sites. Int J Med Inform. https://doi.org/10.1016/j.ijmedinf.2005.07.035

2.

Thakurdesai PA, Kole PL, Pareek RP (2004) Evaluation of the quality and contents of diabetes mellitus patient education on Internet. Patient Educ Couns. https://doi.org/10.1016/j.pec.2003.04.001

3.

Lauckner C, Hsieh G (2013) The presentation of health-related search results and its impact on negative emotional outcomes. In Proceedings of the SIGCHI Conference on Human Factors in Computing Systems (CHI '13). ACM, New York, NY, USA, 333-342. Doi: 10.1145/2470654.2470702

4.

Rice RE (2006) Influences, usage, and outcomes of Internet health information searching: multivariate results from the Pew surveys. Int J Med Inform. https://doi.org/10.1016/j.ijmedinf.2005.07.032

5.

Diaz JA, Griffith RA, Ng JJ, Reinert SE, Friedmann PD, Moulton AW (2002) Patients' use of the internet for medical information. J Gen Intern Med 17(3):180–185

6.

Ybarra ML, Suman M (2006) Help seeking behavior and the Internet: a national survey. Int J Med Inform. https://doi.org/10.1016/j.ijmedinf.2005.07.029

7.

Iverson SA, Howard KB, Penney BK et al (2008) Impact of internet use on health-related behaviors and the patient-physician relationship: a survey-based study and review. J Am Osteopath Assoc 108(12):699

8.

Eysenbach G, Jadad AR (2001) Evidence-based patient choice and consumer health informatics in the Internet age. J Med Internet Res 3(2):94–111. https://doi.org/10.2196/jmir.3.2.e19

9.

Novitsky YW, Elliott HL, Orenstein SB, Rosen MJ (2012) Transversus abdominis muscle release: a novel approach to posterior component separation during complex abdominal wall reconstruction. Am J Surg 204(5):709–716. https://doi.org/10.1016/j.amjsurg.2012.02.008

10.

U.S. Food and Drug Administration. Class 2 device recall versatex monofilament mesh 50 × 50 cm. https://www.accessdata.fda.gov/scripts/cdrh/cfdocs/cfRES/res.cfm. Accessed June 8 2018

11.

Novitsky YW (2016) Hernia surgery: current principles. Springer, New York

12.

Dessie SG, Hacker MR, Haviland MJ, Rosenblatt PL (2015) Attitudes toward transvaginal mesh among patients in a urogynecology practice. Int Urogynecol J. https://doi.org/10.1007/s00192-014-2607-3id=162927

13.

Hay MC, Cadigan RJ, Khanna D et al (2008) Prepared patients: internet information seeking by new rheumatology patients. Arthr Care Res. https://doi.org/10.1002/art.235336

14.

Chung SY, Nahm ES (2015) Testing reliability and validity of the eHealth Literacy Scale (eHEALS) for Older Adults Recruited Online. CIN. https://doi.org/10.1097/CIN.0000000000000146

15.

Miller MP, Arefanian S, Blatnik BA (2019) Characterization of information on surgical mesh for hernia repair on the Internet. Oral Presentation presented at: Americas Hernia Society Annual Meeting Scientific Session; Las Vegas, NV

16.

Kim P, Eng TR, Deering MJ, Maxfield A (1999) Published criteria for evaluating health related web sites: review. BMJ. https://doi.org/10.1136/bmj.318.7184.647

17.

Finkelstein J, Bedra M (2017) Is internet search better than structured instruction for web-based health education? Stud Health Technol Inform 2013(190):65–67. https://doi.org/10.3233/978-1-61499-276-9-65
Ethics declarations
Disclosures
Dr. Blatnik reports grants from Ethicon, personal fees from Medtronic, personal fees from BD (Formerly Bard Davol), personal fees from Intuitive Surgical, outside the submitted work. Mr. Miller and Dr. Arefanian have no conflicts of interest or financial ties to disclose.
Additional information
Publisher's Note
Springer Nature remains neutral with regard to jurisdictional claims in published maps and institutional affiliations.
Electronic supplementary material
Below is the link to the electronic supplementary material.
About this article
Cite this article
Miller, M.P., Arefanian, S. & Blatnik, J.A. The impact of internet-based patient self-education of surgical mesh on patient attitudes and healthcare decisions prior to hernia surgery. Surg Endosc 34, 5132–5141 (2020). https://doi.org/10.1007/s00464-019-07300-0
Received:

Accepted:

Published:

Issue Date:
Keywords
Surgical mesh

Hernia repair

Patient internet self-education