Abstract
Background
The purpose of this study was to determine whether magnetic sphincter augmentation (MSA) could effectively treat patients with gastroesophageal reflux disease (GERD) who suffer primarily from atypical symptoms due to laryngopharyngeal reflux (LPR). MSA has been shown to treat typical symptoms of GERD with good success, but its effect on atypical symptoms is unknown.
Methods
A retrospective review of a prospectively maintained institutional review board-approved database was conducted for all patients who underwent MSA between January 2015 and December 2018. All patients had objective confirmation of GERD from ambulatory pH monitoring off anti-reflux medications (DeMeester score > 14.7). Symptoms were assessed preoperatively and at 1 year postoperatively using GERD Health-Related Quality of Life (GERD–HRQL) and Reflux Symptom Index (RSI) questionnaires.
Results
There were 86 patients (38 males; 48 females) with a median age of 51.5 years. Total GERD HRQL scores improved from a mean of 38.79 to 6.53 (p < 0.01) and RSI scores improved from a mean of 20.9 to 8.1 (p < 0.01). Atypical symptoms evaluated from the RSI questionnaire include hoarseness, throat clearing, postnasal drip, breathing difficulties, and cough. All atypical symptoms were significantly improved at 1 year following MSA (p < 0.01). All three typical symptoms of heartburn, dysphagia, and regurgitation were significantly improved based on pre and postoperative GERD HRQL questionnaires (p < 0.02). Ninety-one percent of patients were off their PPI and dissatisfaction with their current therapy decreased from 95% preoperatively to 13% postoperatively.
Conclusion
MSA is an effective treatment for typical and atypical GERD symptoms.
Access options
Buy single article
Instant access to the full article PDF.
US$ 39.95
Tax calculation will be finalised during checkout.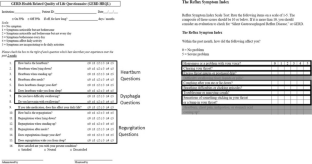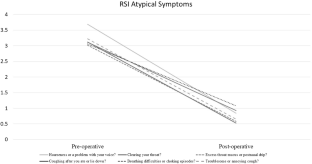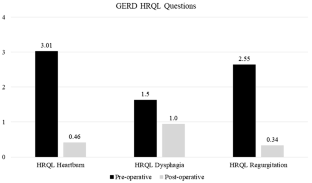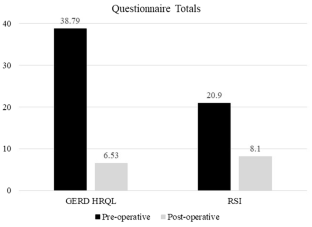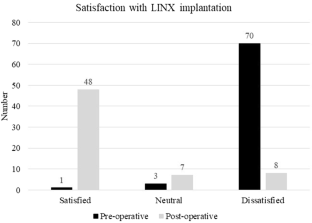 References
1.

El-Serag HB, Sweet S, Winchester CC, Dent J (2014) Update on the epidemiology of gastro-oesophageal reflux disease: a systematic review. Gut 63(6):871–880

2.

Koufman JA, Aviv JE, Casiano RR, Shaw GY (2002) Laryngopharyngeal reflux: position statement of the committee on speech, voice, and swallowing disorders of the American Academy of Otolaryngology-Head and Neck Surgery. Otolaryngol Head Neck Surg 127(1):32–35

3.

Vaezi MF (2008) Laryngeal manifestations of gastroesophageal reflux disease. Curr Gastroenterol Rep 10(3):271–277

4.

Wassenaar E, Johnston N, Merati A, Montenovo M, Petersen R, Tatum R, Pellegrini C, Oelschlager B (2011) Pepsin detection in patients with laryngopharyngeal reflux before and after fundoplication. Surg Endosc 25(12):3870–3876

5.

Falk GL, Beattie J, Ing A, Falk SE, Magee M, Burton L, Van der Wall H (2015) Scintigraphy in laryngopharyngeal and gastroesophageal reflux disease: a definitive diagnostic test? World J Gastroenterol 21(12):3619–3627

6.

Komatsu Y, Kelly LA, Zaidi AH, Rotoloni CL, Kosovec JE, Lloyd EJ, Waheed A, Hoppo T, Jobe BA (2015) Hypopharyngeal pepsin and Sep70 as diagnostic markers of laryngopharyngeal reflux: preliminary study. Surg Endosc 29(5):1080–1087

7.

Spyridoulias A, Lillie S, Vyas A, Fowler SJ (2015) Detecting laryngopharyngeal reflux in patients with upper airways symptoms: symptoms, signs or salivary pepsin? Respir Med 109(8):963–969

8.

Carroll TL, Nahikian K, Asban A, Wiener D (2016) Nissen fundoplication for laryngopharyngeal reflux after patient selection using dual pH, full column impedance testing: a pilot study. Ann Otol Rhinol Laryngol 125(9):722–728

9.

Patel DA, Vaezi MF (2017) Utility of esophageal mucosal impedance as a diagnostic test for esophageal disease. Curr Opin Gastroenterol 33(4):277–284

10.

Vardar R, Keskin M (2017) Indications of 24-h esophageal pH monitoring, capsule pH monitoring, combined pH monitoring with multichannel impedance, esophageal manometry, radiology and scintigraphy in gastroesophageal reflux disease? Turk J Gastroenterol 28(Suppl 1):S16–S21

11.

Uslu Kizilkan N, Bozkurt MF, Saltik Temizel IN, Demir H, Yuce A, Caner B, Ozen H (2016) Comparison of multichannel intraluminal impedance-pH monitoring and reflux scintigraphy in pediatric patients with suspected gastroesophageal reflux. World J Gastroenterol 22(43):9595–9603

12.

Lundell L, Miettinen P, Myrvold HE, Pedersen SA, Liedman B, Hatlebakk JG, Julkonen R, Levander K, Carlsson J, Lamm M, Wiklund I (2001) Continued (5-year) followup of a randomized clinical study comparing antireflux surgery and omeprazole in gastroesophageal reflux disease. J Am Coll Surg 192(2):172–179 (discussion 179–181)

13.

Galmiche JP, Hatlebakk J, Attwood S, Ell C, Fiocca R, Eklund S, Langstrom G, Lind T, Lundell L (2011) Laparoscopic antireflux surgery vs esomeprazole treatment for chronic GERD: the LOTUS randomized clinical trial. JAMA 305(19):1969–1977

14.

Zhang C, Hu ZW, Yan C, Wu Q, Wu JM, Du X, Liu DG, Luo T, Li F, Wang ZG (2017) Nissen fundoplication vs proton pump inhibitors for laryngopharyngeal reflux based on pH-monitoring and symptom-scale. World J Gastroenterol 23(19):3546–3555

15.

Krill JT, Naik RD, Higginbotham T, Slaughter JC, Holzman MD, Francis DO, Garrett CG, Vaezi MF (2017) Association between response to acid-suppression therapy and efficacy of antireflux surgery in patients with extraesophageal reflux. Clin Gastroenterol Hepatol 15(5):675–681

16.

Falk GL, Van der Wall H, Burton L, Falk MG, O'Donnell H, Vivian SJ (2017) Fundoplication for laryngopharyngeal reflux despite preoperative dysphagia. Ann R Coll Surg Engl 99(3):224–227

17.

Saino G, Bonavina L, Lipham JC, Dunn D, Ganz RA (2015) Magnetic sphincter augmentation for gastroesophageal reflux at 5 years: final results of a pilot study show long-term acid reduction and symptom improvement. J Laparoendosc Adv Surg Tech A 25(10):787–792

18.

Ganz RA, Edmundowicz SA, Taiganides PA, Lipham JC, Smith CD, DeVault KR, Horgan S, Jacobsen G, Luketich JD, Smith CC, Schlack-Haerer SC, Kothari SN, Dunst CM, Watson TJ, Peters J, Oelschlager BK, Perry KA, Melvin S, Bemelman WA, Smout AJ, Dunn D (2015) Long-term outcomes of patients receiving a magnetic sphincter augmentation device for gastroesophageal reflux. Clin Gastroenterol Hepatol 14(5):671–677

19.

Lipham JC, Taiganides PA, Louie BE, Ganz RA, DeMeester TR (2015) Safety analysis of first 1000 patients treated with magnetic sphincter augmentation for gastroesophageal reflux disease. Dis Esophagus 28(4):305–311

20.

Velanovich V (2007) The development of the GERD–HRQL symptom severity instrument. Dis Esophagus 20(2):130–134

21.

Belafsky PC, Postma GN, Koufman JA (2002) Validity and reliability of the reflux symptom index (RSI). J Voice 16(2):274–277

22.

Schappert S, Burt C (2006) Ambulatory care visits to physician offices, hospital outpatient departments, and emergency departments: United States, 2001–02. In: Vital and health statistics. National Center for Health Statistics, Hyattsville

23.

Sifrim D et al (2005) Weakly acidic reflux in patients with chronic unexplained cough during 24 h pressure, pH, and impedance monitoring. Gut 54(4):449–454

24.

Masaany M et al (2011) Empirical treatment with pantoprazole as a diagnostic tool for symptomatic adult laryngopharyngeal reflux. J Laryngol Otol 125(5):502–508

25.

Ylitalo R, Lindestad P, Hertegard S (2005) Pharyngeal and laryngeal symptoms and signs related to extraesophageal reflux in patients with heartburn in gastroenterology practice: a prospective study. Clin Otolaryngol 30(4):347–352

26.

Faruqi S et al (2011) Chronic cough and esomeprazole: a double-blind placebo-controlled parallel study. Respirology 16(7):1150–1156

27.

Reichel O et al (2008) Double-blind, placebo-controlled trial with esomeprazole for symptoms and signs associated with laryngopharyngeal reflux. Otolaryngol Head Neck Surg 139(3):414–420

28.

Wo JM et al (2006) Double-blind, placebo-controlled trial with single-dose pantoprazole for laryngopharyngeal reflux. Am J Gastroenterol 101(9):1972–1978

29.

Thoman DS et al (2002) Laparoscopic antireflux surgery and its effect on cough in patients with gastroesophageal reflux disease. J Gastrointest Surg 6(1):17–21

30.

Novitsky YW et al (2002) Chronic cough due to gastroesophageal reflux disease: efficacy of antireflux surgery. Surg Endosc 16(4):567–571

31.

Greason KL et al (2002) Effects of antireflux procedures on respiratory symptoms. Ann Thorac Surg 73(2):381–385

32.

Allen CJ, Anvari M (2002) Preoperative symptom evaluation and esophageal acid infusion predict response to laparoscopic nissen fundoplication in gastroesophageal reflux patients who present with cough. Surg Endosc 16:1037–1041

33.

Patti MG et al (2000) Effect of laparoscopic fundoplication on gastroesophageal reflux disease-induced respiratory symptoms. J Gastrointest Surg 4(2):143–149

34.

Koch OO et al (2012) Effectiveness of laparoscopic total and partial fundoplication on extraesophageal manifestations of gastroesophageal reflux disease: a randomized study. Surg Laparosc Endosc Percutan Tech 22(5):387–391
Ethics declarations
Disclosures
Dr. Leeds is a consultant for Ethicon & LINX device. Dr. Ward, Mr. Ebrahim, Dr. Kopita, Dr. Arviso, Dr. Ogola, and Ms. Buckmaster have no conflicts of interest or financial ties to disclose.
Additional information
Publisher's Note
Springer Nature remains neutral with regard to jurisdictional claims in published maps and institutional affiliations.
About this article
Cite this article
Ward, M.A., Ebrahim, A., Kopita, J. et al. Magnetic sphincter augmentation is an effective treatment for atypical symptoms caused by gastroesophageal reflux disease. Surg Endosc 34, 4909–4915 (2020). https://doi.org/10.1007/s00464-019-07278-9
Received:

Accepted:

Published:

Issue Date:
Keywords
Magnetic sphincter augmentation

Gastroesophageal reflux disease (GERD)

Atypical symptoms

Laryngopharyngeal reflux disease (LPR)

Ambulatory pH testing