Abstract
Background
Up to 20% of medical students are unable to reach competency in laparoscopic surgery. It is unknown whether these difficulties arise from heterogeneity in neurological functioning across individuals. We sought to examine the differences in neurological functioning during laparoscopic tasks between high- and low-performing medical students using functional magnetic resonance imaging (fMRI).
Methods
This prospective cohort study enrolled North American medical students who were within the top 20% and bottom 20% of laparoscopic performers from a previous study. Brain activation was recorded using fMRI while participants performed peg-pointing, intracorporeal knot tying (IKT), and the Pictorial Surface Orientation (PicSOr) test. Brain activation maps were created and areas of activation were compared between groups.
Results
In total, 9/12 high and 9/13 low performers completed the study. High performers completed IKT faster and made more successful knot ties than low performers [standing: 23.5 (5.0) sec vs. 37.6 (18.4) sec, p = 0.03; supine: 23.2 (2.5) sec vs. 72.7 (62.8) sec, p = 0.02; number of successful ties supine, 3 ties vs. 1 tie, p = 0.01]. Low performers showed more brain activation than high performers in the peg-pointing task (q < 0.01), with no activation differences in the IKT task. There were no behavioral differences in the PiCSOr task.
Conclusions
This study is the first to show differences between low and high performers of laparoscopic tasks at the brain level. This pilot study has shown the feasibility of using fMRI to examine laparoscopic surgical skills. Future studies are needed for further exploration of our initial findings.
This is a preview of subscription content, log in to check access.
Access options
Buy single article
Instant access to the full article PDF.
US$ 39.95
Tax calculation will be finalised during checkout.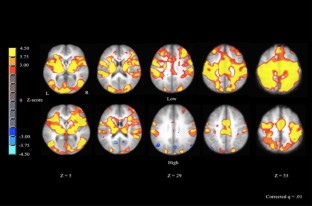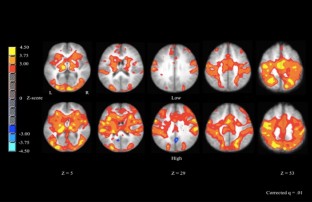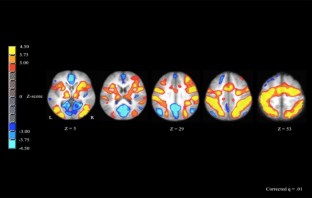 References
1.

Okrainec A, Soper NJ, Swanstrom LL, Fried GM (2011) Trends and results of the first 5 years of Fundamentals of Laparoscopic Surgery (FLS) certification testing. Surg Endosc 25(4):1192–1198

2.

Peters JH, Fried GM, Swanstrom LL, Soper NJ, Sillin LF, Schirmer B et al (2004) Development and validation of a comprehensive program of education and assessment of the basic fundamentals of laparoscopic surgery. Surgery 135(1):21–27

3.

Derossis AM, Fried GM, Abrahamowicz M, Sigman HH, Barkun JS, Meakins JL (1998) Development of a model for training and evaluation of laparoscopic skills. Am J Surg 175(6):482–487

4.

Ritter EM, Taylor ZA, Wolf KR, Franklin BR, Placek SB, Korndorffer JR Jr et al (2018) Simulation-based mastery learning for endoscopy using the endoscopy training system: a strategy to improve endoscopic skills and prepare for the fundamentals of endoscopic surgery (FES) manual skills exam. Surg Endosc 32(1):413–420

5.

Louridas M, Szasz P, Fecso AB, Zywiel MG, Lak P, Bener AB et al (2017) Practice does not always make perfect: need for selection curricula in modern surgical training. Surg Endosc 31(9):3718–3727

6.

Davis CH, Shirkey BA, Moore LW, Gaglani T, Du XL, Bailey HR et al (2018) Trends in laparoscopic colorectal surgery over time from 2005-2014 using the NSQIP database. J Surg Res 223:16–21

7.

Escarce JJ, Bloom BS, Hillman AL, Shea JA, Schwartz JS (1995) Diffusion of laparoscopic cholecystectomy among general surgeons in the United States. Med Care 33(3):256–271

8.

Birkmeyer JD, Finks JF, O'Reilly A, Oerline M, Carlin AM, Nunn AR et al (2013) Surgical skill and complication rates after bariatric surgery. N Engl J Med 369(15):1434–1442

9.

Morris MC, Frodl T, D'Souza A, Fagan AJ, Ridgway PF (2015) Assessment of competence in surgical skills using functional magnetic resonance imaging: a feasibility study. J Surg Educ 72(2):198–204

10.

Gore JC (2003) Principles and practice of functional MRI of the human brain. J Clin Investig 112(1):4–9

11.

Bahrami P, Graham SJ, Grantcharov TP, Cusimano MD, Rotstein OD, Mansur A et al (2014) Neuroanatomical correlates of laparoscopic surgery training. Surg Endosc 28(7):2189–2198

12.

Modi HN, Singh H, Yang GZ, Darzi A, Leff DR (2017) A decade of imaging surgeons' brain function (part II): a systematic review of applications for technical and nontechnical skills assessment. Surgery 162(5):1130–1139

13.

Henn P, Gallagher AG, Nugent E, Cowie R, Seymour NE, Haluck RS et al (2017) A computerised test of perceptual ability for learning endoscopic and laparoscopic surgery and other image guided procedures: score norms for PicSOr. Am J Surg 214(5):969–973

14.

Gallagher AG, Cowie R, Crothers I, Jordan-Black JA, Satava RM (2003) PicSOr: an objective test of perceptual skill that predicts laparoscopic technical skill in three initial studies of laparoscopic performance. Surg Endosc 17(9):1468–1471

15.

Bahrami P, Schweizer TA, Tam F, Grantcharov TP, Cusimano MD, Graham SJ (2011) Functional MRI-compatible laparoscopic surgery training simulator. Magn Reson Med 65(3):873–881

16.

Derossis AM, Bothwell J, Sigman HH, Fried GM (1998) The effect of practice on performance in a laparoscopic simulator. Surg Endosc 12(9):1117–1120

17.

Piromchai P, Avery A, Laopaiboon M, Kennedy G, O'Leary S (2015) Virtual reality training for improving the skills needed for performing surgery of the ear, nose or throat. Cochrane Database Syst Rev 9:CD010198

18.

Ritter EM, McClusky DA 3rd, Gallagher AG, Enochsson L, Smith CD (2006) Perceptual, visuospatial, and psychomotor abilities correlate with duration of training required on a virtual-reality flexible endoscopy simulator. Am J Surg 192(3):379–384

19.

Westman B, Ritter EM, Kjellin A, Torkvist L, Wredmark T, Fellander-Tsai L et al (2006) Visuospatial abilities correlate with performance of senior endoscopy specialist in simulated colonoscopy. J Gastrointest Surg 10(4):593–599

20.

Buckner RL, Andrews-Hanna JR, Schacter DL (2008) The brain's default network: anatomy, function, and relevance to disease. Ann N Y Acad Sci 1124:1–38

21.

Shetty K, Leff DR, Orihuela-Espina F, Yang GZ, Darzi A (2016) Persistent prefrontal engagement despite improvements in laparoscopic technical skill. JAMA Surg 151(7):682–684

22.

Howells FM, Stein DJ, Russell VA (2010) Perceived mental effort correlates with changes in tonic arousal during attentional tasks. Behav Brain Funct 6:39

23.

Ohuchida K, Kenmotsu H, Yamamoto A, Sawada K, Hayami T, Morooka K et al (2009) The frontal cortex is activated during learning of endoscopic procedures. Surg Endosc 23(10):2296–2301

24.

Schott GD (2011) Doodling and the default network of the brain. Lancet 378(9797):1133–1134

25.

Andrews-Hanna JR (2011) The brain's default network and its adaptive role in internal mentation. Neuroscientist 18(3):251–270

26.

Hawkins Richard E, Welcher Catherine M, Holmboe Eric S, Kirk Lynne M, Norcini John J, Simons Kenneth B et al (2015) Implementation of competency-based medical education: are we addressing the concerns and challenges? Med Educ 49(11):1086–1102

27.

Bonrath EM, Gordon LE, Grantcharov TP (2015) Characterising 'near miss' events in complex laparoscopic surgery through video analysis. BMJ Qual Saf 24(8):516–521
Funding
We the authors have no funding to acknowledge.
Ethics declarations
Disclosures
Teodor Grantcharov is an equity holder in Surgical Safety Technologies Inc. Alaina Garbens, Bonnie Armstrong, Marisa Louridas, Fred Tam, Allan Detsky, Tom A. Schweizer, and Simon Graham have no conflicts of interest or financial ties to disclose.
Additional information
Publisher's Note
Springer Nature remains neutral with regard to jurisdictional claims in published maps and institutional affiliations.
Electronic supplementary material
Below is the link to the electronic supplementary material.
About this article
Cite this article
Garbens, A., Armstrong, B.A., Louridas, M. et al. Brain activation during laparoscopic tasks in high- and low-performing medical students: a pilot fMRI study. Surg Endosc 34, 4837–4845 (2020). https://doi.org/10.1007/s00464-019-07260-5
Received:

Accepted:

Published:

Issue Date:
Keywords
Surgical training

Neural activity

Technical performance

Laparoscopic simulation