Abstract
Background
Laparoscopic repair of large paraesophageal hiatal hernia with defects too large to close primarily or greater than 8 cm is technically challenging. The ideal repair remains unclear and is often debated. Utilizing the gastric fundus as an autologous patch to obliterate and tamponade large hiatal defects may offer a new solution. The aim of this study was to evaluate the short-term outcomes following partial posterior fundoplication with gastric fundus tamponade.
Methods
Retrospective chart review and prospective patient follow up was conducted on patients who underwent laparoscopic hiatal hernia repair between 2015 and 2019 by a single surgeon. Basic demographics, pre-operative diagnoses, operative technique, and clinical outcomes were recorded.
Results
Fifteen patients underwent the described technique for repair of large paraesophageal hiatal hernia. All procedures were completed laparoscopically with a short post-operative length of stay (mean of 3 days) and no 30-day readmissions. The majority of patients reported resolution of their pre-operative symptoms. Only one patient required surgery for emergent indications and the same patient was the only mortality in the study, which was secondary to respiratory failure, necrotizing pneumonia, and sepsis as a result of gastric volvulus and obstruction.
Conclusion
Utilizing the gastric fundus as an autologous patch to repair large hiatal hernia may be a safe and efficacious solution with good short-term outcomes. However, further studies should be conducted to elucidate long-term results.
Access options
Buy single article
Instant access to the full article PDF.
US$ 39.95
Tax calculation will be finalised during checkout.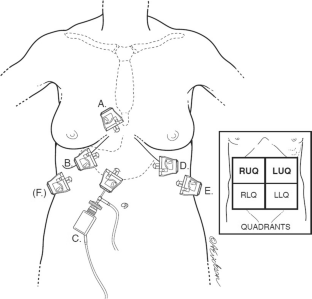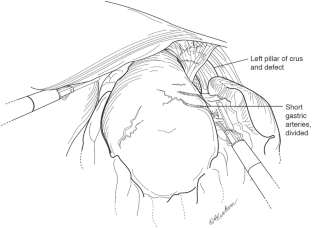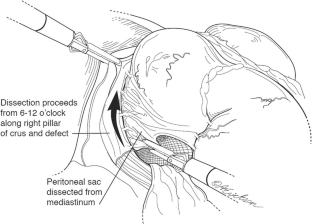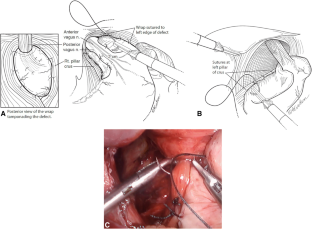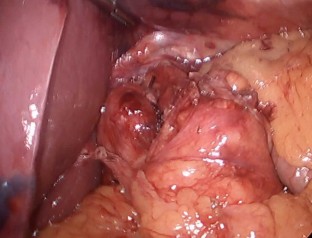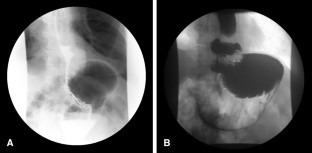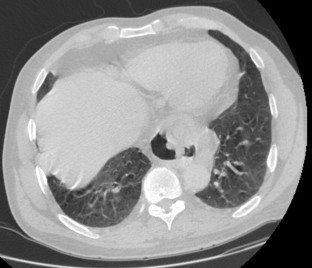 References
1.

Kahrilas PJ, Kim HC, Pandolfino JE (2008) Approaches to the diagnosis and grading of hiatal hernia. Best Pract Res Clin Gastroenterol 22(4):601–616

2.

Friedland GW (1978) Historical review of the changing concepts of lower esophageal anatomy: 430B.C.–1977. Am J Roentgoenol 131:373–388

3.

Hutter MM, Rattner DW (2007) Paraesophageal and other complex diaphragmatic hernias. In: Yeo CJ (ed) Shackelford's surgery of the alimentary tract. Saunders Elsevier, Philadelphia, pp 549–562

4.

Davis SS Jr (2008) Current controversies in paraesophageal hernia repair. Surg Clin North Am 88(5):959–978

5.

Schieman C, Grondin SC (2009) Paraesophageal hernia: clinical presentation, evaluation, and management controversies. Thorac Surg Clin 19:473–484

6.

Memon MA, Memon B, Yunus RM et al (2016) Suture cruroplasty versus prosthetic hiatal herniorrhaphy for large hiatal hernia: a meta-analysis and systematic review of randomized controlled trials. Ann Surg 263(2):258–266

7.

Hashemi M, Peters JH, DeMeester TR et al (2000) Laparoscopic repair of large type III hiatal hernia: objective follow-up reveals high recurrence rate. J Am Coll Surg 190:554–561

8.

Toupet MA (1963) Technique d'oesophago-gastroplastie avec phreno-gastropexie appliquee dans la cure radicale des hernies hiatales et comme complement de l'operation de Heller dans les cardiospasmes. Mem Acad Chir 89:394

9.

Nissen R (1995) Eine einfache Operation zur Beein-flussung der Refluxoesophagitis. Schweiz Med Woochenschr 86:590–592

10.

Ferzli G, Fingerhut A (2004) Trocar placement for laparoscopic abdominal procedures: a simple standardized method. J Am Coll Surg 198(1):163–174

11.

Bammer T, Hinder RA, Klaus A, Klingler PJ (2001) Five to eight-year outcome of the first laparoscopic Nissen fundoplications. J Gastrointest Surg 5:42–48

12.

Hagedorn C, Lonroth H, Rydberg L, Ruth M, Lundell L (2002) Long-teram efficacy of total (Nissen-Rossetti) and posterior partial (Toupet) fundoplication: results of a randomized clinical trial. J Gastrointest Surg 6:540–545

13.

Zornig C, Strate U, Fibbe C, Emmermann A, Layer P (2002) Nissen vs Toupet laparoscopic fundoplication. Surg Endosc 16:758–766

14.

Walker SJ, Holt S, Sanderson CJ, Stoddard CJ (1992) Comparison of Nissen total and lind partial transabdominal fundoplication in the treatment of gastroesophageal reflux. Br J Surg 79:410–414

15.

Zornig C (2006) Laparoscopic toupet fundoplication. In: Granderath FA, Kamolz T, Pointner R (eds) Gastroesophageal reflux disease, vol 17. Springer, Vienna, pp 183–187

16.

Targorona EM, Balague C, Martinez C, Garriga J, Trias M (2004) The massive hiatal hernia: dealing with the defect. Semin Laparsc Surg 11(3):161–169

17.

DeMeester SR (2013) Laparoscopic paraesophageal hernia repair: critical steps and adjunct techniques to minimize recurrence. Surg Laparosc Endosc Percutaneous Tech 23(5):429–435

18.

Dally E, Falk GL (2004) Teflon pledget reinforced fundoplication causes symptomatic gastric and esophageal lumenal penetration. Am J Surg 187:226

19.

Baladas HG, Smith GS, Richardson MA et al (2000) Esophagogastric fistula secondary to Teflon pledget: a rare complication following laparoscopic fundoplication. Dis Esophagus 13:72

20.

Kuster GG, Gilroy S (1993) Laparoscopic technique for repair of paraesophageal hiatal hernias. J Laparoendsc Surg 3:331

21.

Granderath FA, Schweiger UM, Kamolz T et al (2005) Laparoscopic Nissen fundoplication with prosthetic hiatal closure reduces postoperative intrathoracic wrap herniation: preliminary results of a prospective randomized functional and clinical study. Arch Surg 140:40

22.

Carlson MA, Richards CG, Frantzides CT (1999) Laparoscopic prosthetic reinforcement of hiatal herniorrhaphy. Dig Surg 16:407

23.

Tatum RP, Shalhub S, Oelschlager BK et al (2007) Complications of PTFE mesh at the diaphragmatic hiatus. J Gastrointest Surg 12:953–957

24.

Wassenaar EB, Mier F, Sinan H et al (2012) The safety of biologic mesh for laparoscopic repair of large, complicated hiatal hernia. Surg Endosc 26(5):1390–1396

25.

Badylak S, Kokini K, Tullius B et al (2001) Strength over time of a resorbable bioscaffold for body wall repair in a dog model. J Surg Res 99:282

26.

Greene CL, DeMeester SR, Zehetner J et al (2013) Diaphragmatic relaxing incisions during laparoscopic paraesophageal hernia repair. Surg Endosc 27(12):4532–4538

27.

Ghanem O, Doyle C, Sebastian R, Park A (2015) New surgical approach for giant paraesophageal hernia repair: closure of the esophageal hiatus anteriorly using the left triangular ligament. Dig Surg 32(2):124–128

28.

Park AE, Hoogerboord CM, Sutton E (2012) Use of the falciform ligament flap for closure of the esophageal hiatus in giant paraesophageal hernia. J Gastrointest Surg 16(7):1417–1421

29.

Arevalo G, Wilkerson J, Saxe J (2018) Acute paraesophageal hernia: laparoscopic repair with adjunct t-fastener gastropexy for the high operative risk patient. Surg Laparosc Endosc Percutaneous Tech 28(2):123–127

30.

Hakanson BS, Lundell L, Bylund A et al (2019) Comparison of laproscopic 270° posterior partial fundoplication vs total fundoplication for the treatment of gastroesophageal reflux disease: a randomized clinical trial. JAMA Surg. https://doi.org/10.1001/jamasurg.2019.0047

31.

Wirsching A, Zhang Q, McCormick SE et al (2018) Abnormal high-resolution manometry findings and outcomes after paraesophageal hernia repair. JACS. https://doi.org/10.1016/j.jamcollsurg.2018.03.033

32.

Zevin B, Jones EL, del Campo M, Perry KA (2017) Omission of preoperative esophageal manometry does not alter operative approach or postoperative dysphagia following laparoscopic paraesophageal hernia repair. Dis Esophagus 30(7):1–6
Ethics declarations
Disclosures
The authors George Ferzli, Shinban Liu, Mazen Iskandar, and Abe Fingerhut have no conflicts of interest or financial ties to disclose.
Additional information
Publisher's Note
Springer Nature remains neutral with regard to jurisdictional claims in published maps and institutional affiliations.
About this article
Cite this article
Ferzli, G., Liu, S., Iskandar, M. et al. Laparoscopic gastric fundus tamponade: a novel adaptation of the Toupet fundoplication for large paraesophageal hernia repair. Surg Endosc 34, 4803–4811 (2020). https://doi.org/10.1007/s00464-019-07256-1
Received:

Accepted:

Published:

Issue Date:
Keywords
Paraesophageal hernia

Hiatal hernia

Gastric tamponade