Abstract
Background
Excluding the foregut (distal stomach and duodenum) from food transit in RYGB normalizes glucose tolerance. Excluding/removing the duodenal mucosa partly improves glycemic control. So far, the effect of excluding/removing the gastric mucosa remains unknown.
Objective
To observe the effect of removing the distal gastric mucosa on glucose tolerance.
Method
Thirty fatty Sprague–Dawley rats received low-dose streptozotocin (STZ) to induce type 2 diabetes (T2D), then randomly assigned to Roux-en-Y gastric bypass (RYGB, n = 8), distal gastric mucosa removal (DGMR, n = 8), duodenal–jejunal bypass (DJB, n = 8), and Sham (n = 6) groups. In the DGMR group, the distal third of the gastric mucosa was removed by thermal ablation using an electrocautery. Rats were followed for 8 weeks postoperatively. Preoperative oral glucose tolerance test (OGTT), insulin tolerance test (ITT), and mixed-meal tolerance test (MMTT) were repeated 3 and 6 weeks postoperatively. Changes in body weight, food intake, and fasting blood glucose were also recorded.
Results
Gastrin AUC decreased significantly (p < 0.05) in the DGMR group after surgery. A significantly increased GLP-1 AUC was found in the RYGB, DGMR, and DJB groups at week 3 and only the RYGB group at week 6 postoperatively. The improved glucose tolerance in the RYGB group was significantly greater than the improved glucose tolerance in the DGMR and DJB groups. The improved glucose tolerance 3 and 6 weeks after surgery in the DGMR group was significantly greater than the improved glucose tolerance in the DJB group. Body weight decreased significantly in the RYGB, DGMR, and DJB groups postoperatively.
Conclusion
Removing the distal gastric mucosa induced significant weight loss and improved glycemic control in T2D SD rat model. Therefore, the gastric mucosa exclusion in RYGB may be key to the weight loss and diabetes remission, which perhaps warrants a new theory.
This is a preview of subscription content, log in to check access.
Access options
Buy single article
Instant access to the full article PDF.
US$ 39.95
Tax calculation will be finalised during checkout.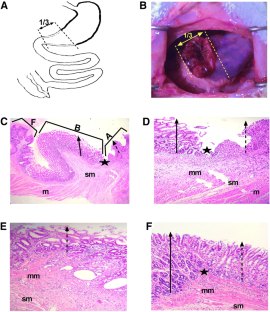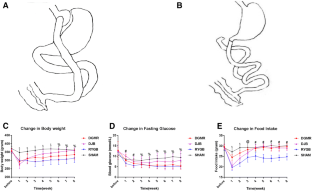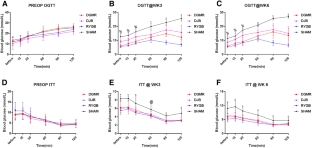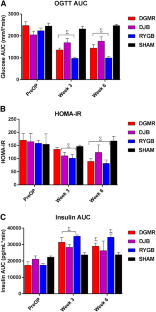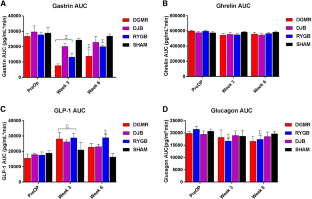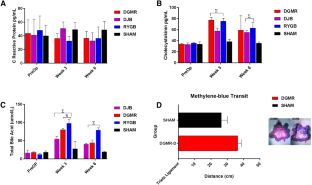 References
1.

Peterli R, Wolnerhanssen BK, Vetter D, Nett P, Gass M, Borbely Y, Peters T, Schiesser M, Schultes B, Beglinger C et al (2017) Laparoscopic sleeve gastrectomy versus Roux-Y-gastric bypass for morbid obesity-3-year outcomes of the prospective randomized Swiss Multicenter Bypass Or Sleeve Study (SM-BOSS). Ann Surg 265(3):466–473

2.

Perrone F, Bianciardi E, Ippoliti S, Nardella J, Fabi F, Gentileschi P (2017) Long-term effects of laparoscopic sleeve gastrectomy versus Roux-en-Y gastric bypass for the treatment of morbid obesity: a monocentric prospective study with minimum follow-up of 5 years. Updates Surg 69(1):101–107

3.

Allen RE, Hughes TD, Ng JL, Ortiz RD, Ghantous MA, Bouhali O, Froguel P, Arredouani A (2013) Mechanisms behind the immediate effects of Roux-en-Y gastric bypass surgery on type 2 diabetes. Theor Biol Med Model 10:45

4.

Rubino F, Gagner M, Gentileschi P, Kini S, Fukuyama S, Feng J, Diamond E (2004) The early effect of the Roux-en-Y gastric bypass on hormones involved in body weight regulation and glucose metabolism. Ann Surg 240(2):236–242

5.

Li P, Zhu L, Wang G, Yang X, Yi B, Zhu S (2016) The role of foregut exclusion in the deterioration of glucose and lipid metabolism induced by a high-fat diet. Diabetes Res Clin Pract 114:83–92

6.

Rubino F, Marescaux J (2004) Effect of duodenal-jejunal exclusion in a non-obese animal model of type 2 diabetes: a new perspective for an old disease. Ann Surg 239(1):1–11

7.

Dolo PR, Shao Y, Li C, Zhu X, Yao L, Wang H (2019) The effect of gastric bypass with a distal gastric pouch on glucose tolerance and diabetes remission in type 2 diabetes Sprague–Dawley rat model. Obes Surg 29(6):1889–1900

8.

Oberbach A, Schlichting N, Heinrich M, Kullnick Y, Retschlag U, Lehmann S, Khashab MA, Kalloo AN, Kumbhari V (2018) Gastric mucosal devitalization reduces adiposity and improves lipid and glucose metabolism in obese rats. Gastrointest Endosc 87(1):288e286–299e286

9.

Zhang M, Lv XY, Li J, Xu ZG, Chen L (2008) The characterization of high-fat diet and multiple low-dose streptozotocin induced type 2 diabetes rat model. Exp Diabetes Res 2008:704045

10.

Dolo PR, Li C, Zhu X, Yao L, Meng S, Hong J (2018) The effect of distal-ileal exclusion after Roux-en-Y gastric bypass on glucose tolerance and GLP-1 response in type-2 diabetes Sprague–Dawley rat model. Surg Obes Relat Dis 14(10):1552–1560

11.

Davis DB, Khoraki J, Ziemelis M, Sirinvaravong S, Han JY, Campos GM (2018) Roux en Y gastric bypass hypoglycemia resolves with gastric feeding or reversal: confirming a non-pancreatic etiology. Mol Metab 9:15–27

12.

Jirapinyo P, Thompson AC, Kroner PT, Chan WW, Thompson CC (2018) Metabolic effect of foregut exclusion demonstrated by the impact of gastrogastric fistula on recurrence of diabetes. J Am Coll Surg 226(3):259e251–266e251

13.

Tellez N, Joanny G, Escoriza J, Vilaseca M, Montanya E (2011) Gastrin treatment stimulates beta-cell regeneration and improves glucose tolerance in 95% pancreatectomized rats. Endocrinology 152(7):2580–2588

14.

Grong E, Graeslie H, Munkvold B, Arbo IB, Kulseng BE, Waldum HL, Marvik R (2016) Gastrin secretion after bariatric surgery-response to a protein-rich mixed meal following Roux-En-Y gastric bypass and sleeve gastrectomy: a pilot study in normoglycemic women. Obes Surg 26(7):1448–1456

15.

Stenstrom B, Zhao CM, Tommeras K, Arum CJ, Chen D (2006) Is gastrin partially responsible for body weight reduction after gastric bypass? Eur Surg Res 38(2):94–101

16.

Persson P, Hakanson R, Axelson J, Sundler F (1989) Gastrin releases a blood calcium-lowering peptide from the acid-producing part of the rat stomach. Proc Natl Acad Sci USA 86(8):2834–2838

17.

Svane MS, Bojsen-Moller KN, Martinussen C, Dirksen C, Madsen JL, Reitelseder S, Holm L, Rehfeld JF, Kristiansen VB, van Hall G et al (2019) postprandial nutrient handling and gastrointestinal hormone secretion after Roux-en-Y gastric bypass vs sleeve gastrectomy. Gastroenterology 156(6):1627e1621–1641e1621

18.

Theodorakis MJ, Carlson O, Michopoulos S, Doyle ME, Juhaszova M, Petraki K, Egan JM (2006) Human duodenal enteroendocrine cells: source of both incretin peptides, GLP-1 and GIP. Am J Physiol Endocrinol Metab 290(3):E550–E559
Funding
Funding was provided by Natural Science Foundation of Jiangsu Province (2015102015).
Ethics declarations
Disclosures
Dr. Ponnie Robertlee Dolo, Dr. Ke Huang, Dr. Jason Widjaja, Dr. Chao Li, Dr. Xiaocheng Zhu, Dr. Libin Yao, and Dr. Jian Hong have no conflict of interest or financial ties to disclose.
Informed consent
Not applicable (there were no human participants).
Research involved in human and animal rights
All applicable institutional and national guidelines of the People's Republic of China for the care and use of animals were followed.
Additional information
Publisher's Note
Springer Nature remains neutral with regard to jurisdictional claims in published maps and institutional affiliations.
About this article
Cite this article
Dolo, P.R., Huang, K., Widjaja, J. et al. Distal gastric mucosa ablation induces significant weight loss and improved glycemic control in type 2 diabetes Sprague–Dawley rat model. Surg Endosc 34, 4336–4346 (2020). https://doi.org/10.1007/s00464-019-07200-3
Received:

Accepted:

Published:

Issue Date:
Keywords
Gastric bypass

Type 2 diabetes

Foregut

Gastric mucosa

GLP-1

Gastrin