Abstract
Background
Treatment of rectovaginal fistulas (RVFs) is extremely difficult. No standard surgical procedure is accepted worldwide. The aim of this article was to evaluate a minimally invasive procedure for the repair of mid-low rectovaginal fistula.
Methods
This is a retrospective review of 17 patients who underwent minimally invasive surgery for the repair of mid-low rectovaginal fistulas (located in the lower or middle one-third of the vaginal wall) at our center between August 2016 and October 2018. The anal approach was adopted for 12 patients: 6 patients were treated directly by rectal mucosal advancement flap (RMAF) with transanal endoscopic surgery (TES), while the other 6 patients underwent initial TES exploration followed by RMAF procedure under direct vision. The vaginal approach was adopted for 5 patients: 3 patients were treated under TES directly and the other 2 were treated under direct vision after initial TES exploration. A total of 9 (52.94%) patients received diverting ileostomy—5 anal approach patients and 4 vaginal approach patients.
Results
Median age of the patients was 46 years (range 10–76 years), and median BMI was 21.9 (range 17.9–28.1). Median operative time was 75 min (range 60–120 min), and median duration of postoperative hospital stay was 8 days (range 6–15 days). Recurrence was seen in 3/12 anal approach patients vs. 0/5 vaginal approach patients. Both the median preoperative and the median postoperative Wexner score were 0 (range 0–2). The median follow-up time was 8 months (range 2–24). No severe complications occurred in any patient.
Conclusion
The TES procedure for the treatment of mid-low rectovaginal fistulas avoids any incision of the abdomen and perineal area and appears to be a safe and feasible procedure. This minimally invasive technique is still evolving and is likely to gain wide acceptance in the near future.
Access options
Buy single article
Instant access to the full article PDF.
US$ 39.95
Tax calculation will be finalised during checkout.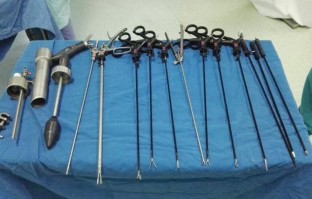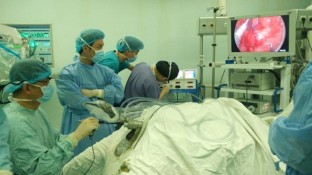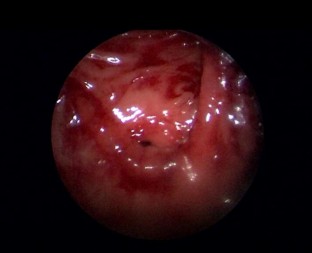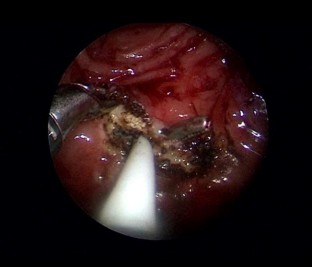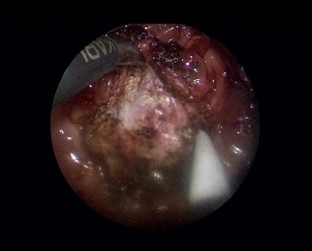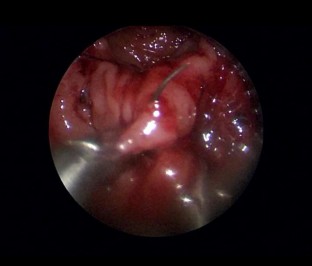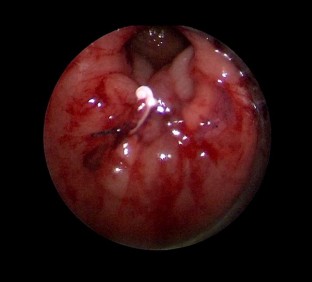 References
1.

Ommer A, Herold A, Berg E et al (2012) German S3-guideline: rectovaginal fistula. Ger Med Sci. https://doi.org/10.3205/000166

2.

Oakley SH, Brown HW, Yurteri-Kaplan L et al (2015) Practice patterns regarding management of rectovaginal fistulae: a multicenter review from the Fellows' pelvic research network. Female Pelvic Med Reconstr Surg 21:123–128

3.

Zoulek E, Karp DR, Davila GW (2011) Rectovaginal fistula as a complication to a bartholin gland excision. Obstet Gynecol 118:489–491

4.

Corte H, Maggiori L, Treton X et al (2015) Rectovaginal fistula: what is the optimal strategy?: an analysis of 79 patients undergoing 286 procedures. Ann Surg 262(5):855–861. https://doi.org/10.1097/SLA.0000000000001461

5.

Tsang CB, Rothenberger DA (1997) Rectovaginal fistulas therapeutic options. Surg Clin North Am 77(1):95–114

6.

Debeche-Adams TH, Bohl JL (2010) Rectovaginal fistulas. Clin Colon Rectal Surg 23(2):99–103. https://doi.org/10.1055/s-0030-1254296

7.

Buess G, Theiss R, Hutterer F et al (1983) Transanal endoscopic surgery of the rectum—testing a new method in animal experiments. Leber Magen Darm 13(2):73–77

8.

D'Ambrosio G, Paganini AM, Guerrieri M et al (2012) Minimally invasive treatment of rectovaginal fistula. Surg Endosc 26:546–550

9.

Chen W, Chen X et al (2016) Successful repair of recurrent rectovaginal fistula by stratified suture using transanal endoscopic microsurgery—a CARE-compliant case report. Medicine 95(36):e4600

10.

Queralto M, Badiou W, Bonnaud G et al (2012) Vaginal flap for rectovaginal fistulae in Crohn's disease. Gynecol Obstet Fertil 40:143–147

11.

Nassar OA (2011) Primary repair of rectovaginal fistulas complicating pelvic surgery by gracilis myocutaneous flap. Gynecol Oncol 121:610–614

12.

Berger K, Faro J, Faro S (2015) Repair of a recurrent rectovaginal fistula with a biological graft. Int Urogynecol J 26:1071–1073

13.

VanBuren WM, Lightner AL, Kim ST, Fletcher JG (2018) Imaging and surgical management of anorectal vaginal fistulas. RadioGraphics 38(5):1385–1401

14.

de Miguel Criado J, del Salto LG, Rivas PF et al (2012) MR imaging evaluation of perianal fistulas: spectrum of imaging features. RadioGraphics 32(1):175–194

15.

Lee YY, Kim TJ, Kim CJ et al (2009) Single-port access laparoscopic-assisted vaginal hysterectomy: a novel method with a wound retractor and a glove. J Minim Invasive Gynecol 16(4):450–453
Funding
This study was supported by Science and Technology Commission of Shanghai Municipality (Grant No. 201540382).
Ethics declarations
Disclosures
Xiaoqi Yuan, Hong Chen, Chunqiu Chen, Muqing Yang, Qiwei Li, Renyuan Gao, Xiaocai Wu, Weiwei Xu, Jing Sun, Lu Yin have no conflicts of interest or financial ties to disclose.
Additional information
Publisher's Note
Springer Nature remains neutral with regard to jurisdictional claims in published maps and institutional affiliations.
Electronic supplementary material
Below is the link to the electronic supplementary material.
Supplementary material 1 (MP4 64485 kb)
About this article
Cite this article
Yuan, X., Chen, H., Chen, C. et al. Minimally invasive treatment of mid-low rectovaginal fistula: a transanal endoscopic surgery study. Surg Endosc 34, 3971–3977 (2020). https://doi.org/10.1007/s00464-019-07174-2
Received:

Accepted:

Published:

Issue Date:
Keywords
Rectovaginal fistula (RVF)

Transanal endoscopic surgery (TES)

Rectal mucosal advancement flap (RMAF)