Abstract
Background and Aim
Although successful endoscopic resection of gastric subepithelial tumors (SETs) originating from the muscularis propria (MP) layer has been frequently reported, it requires a relatively complicated technique and has a high perforation rate. In this retrospective study, we evaluated the efficacy and safety of the snare-assisted endoscopic resection (SAER) method which is performed using a snare and insulated-tip (IT) knife via a single-channel endoscope to reduce the perforation rate.
Methods
In this study, fifty-six patients with gastric SETs originating from the MP layer treated by the SAER method at three institutions between July 2017 and December 2017 were reviewed. The procedure involved multiple steps as shown in Fig. 2. Data were obtained on demographics, SET features, histopathological diagnoses, procedure time, en bloc resection rate, R0 resection (negative margins) status, and adverse events.
Results
Endoscopic resection was successfully performed in all patients. The median overall procedure time was 43.5 min (range 26–106 min). The mean size of resected specimens was 19.73 mm (range 10–33 mm). The overall rate of en bloc resection was 96.4% (54/56). In addition, the perforation rate was 7.1% (4/56), and defects in the stomach wall were very small and easily closed using metallic clips. No postprocedural bleeding occurred in any case.
Conclusions
The SAER method is an effective, safe, less costly technique for the removal of some gastric SETs originating from the MP layer with an appropriate size.
Access options
Buy single article
Instant access to the full article PDF.
US$ 39.95
Tax calculation will be finalised during checkout.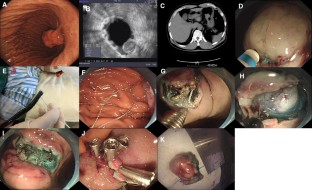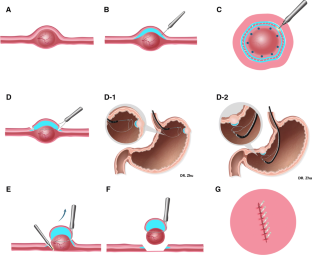 Abbreviations
SAER:

Snare-assisted endoscopic resection

SETs:

Subepithelial tumors

MP:

Muscularis propria

IT:

Insulated-tip

GISTs:

Gastrointestinal stromal tumors

EUS:

Endoscopic ultrasound

HPF:

High-power field

NCCN:

National Comprehensive Cancer Network
References
1.

Hedenbro JL, Ekelund M, Wetterberg P (1991) Endoscopic diagnosis of submucosal gastric lesions. The results after routine endoscopy. Surg Endosc 5:20–23

2.

Akahoshi K, Sumida Y, Matsui N, Oya M, Akinaga R, Kubokawa M, Motomura Y, Honda K, Watanabe M, Nagaie T (2007) Preoperative diagnosis of gastrointestinal stromal tumor by endoscopic ultrasound-guided fine needle aspiration. World J Gastroenterol 13:2077–2082

3.

Miettinen M, Sobin LH, Lasota J (2005) Gastrointestinal stromal tumors of the stomach: a clinicopathologic, immunohistochemical, and molecular genetic study of 1765 cases with long-term follow-up. Am J Surg Pathol 29:52–68

4.

Hwang JH, Saunders MD, Rulyak SJ, Shaw S, Nietsch H, Kimmey MB (2005) A prospective study comparing endoscopy and EUS in the evaluation of GI subepithelial masses. Gastrointest Endosc 62:202–208

5.

Karaca C, Turner BG, Cizginer S, Forcione D, Brugge W (2010) Accuracy of EUS in the evaluation of small gastric subepithelial lesions. Gastrointest Endosc 71:722–727

6.

Schlag C, Wilhelm D, von Delius S, Feussner H, Meining A (2013) EndoResect study: endoscopic full-thickness resection of gastric subepithelial tumors. Endoscopy 45:4–11

7.

Jeong ID, Jung SW, Bang SJ, Shin JW, Park NH, Kim DH (2011) Endoscopic enucleation for gastric subepithelial tumors originating in the muscularis propria layer. Surg Endosc 25:468–474

8.

Zhang Y, Ye LP, Zhou XB, Mao XL, Zhu LH, He BL, Huang Q (2013) Safety and efficacy of endoscopic excavation for gastric subepithelial tumors originating from the muscularis propria layer: results from a large study in China. J Clin Gastroenterol 47:689–694

9.

Al-Bawardy B, Rajan E, Wong Kee Song LM (2017) Over-the-scope clip-assisted endoscopic full-thickness resection of epithelial and subepithelial GI lesions. Gastrointest Endosc 85:1087–1092

10.

Shi D, Li R, Chen W, Zhang D, Zhang L, Guo R, Yao P, Wu X (2017) Application of novel endoloops to close the defects resulted from endoscopic full-thickness resection with single-channel gastroscope: a multicenter study. Surg Endosc 31:837–842

11.

Liu BR, Song JT, Qu B, Wen JF, Yin JB, Liu W (2012) Endoscopic muscularis dissection for upper gastrointestinal subepithelial tumors originating from the muscularis propria. Surg Endosc 26:3141–3148

12.

Franquemont DW (1995) Differentiation and risk assessment of gastrointestinal stromal tumors. Am J Clin Pathol 103:41–47

13.

Karaca C, Daglilar ES, Soyer OM, Gulluoglu M, Brugge WR (2017) Endoscopic submucosal resection of gastric subepithelial lesions smaller than 20 mm: a comparison of saline solution-assisted snare and cap band mucosectomy techniques. Gastrointest Endosc 85:956–962

14.

Polkowski M, Gerke W, Jarosz D, Nasierowska-Guttmejer A, Rutkowski P, Nowecki ZI, Ruka W, Regula J, Butruk E (2009) Diagnostic yield and safety of endoscopic ultrasound-guided trucut [corrected] biopsy in patients with gastric submucosal tumors: a prospective study. Endoscopy 41:329–334

15.

Hunt GC, Smith PP, Faigel DO (2003) Yield of tissue sampling for submucosal lesions evaluated by EUS. Gastrointest Endosc 57:68–72

16.

Cantor MJ, Davila RE, Faigel DO (2006) Yield of tissue sampling for subepithelial lesions evaluated by EUS: a comparison between forceps biopsies and endoscopic submucosal resection. Gastrointest Endosc 64:29–34

17.

Hoda KM, Rodriguez SA, Faigel DO (2009) EUS-guided sampling of suspected GI stromal tumors. Gastrointest Endosc 69:1218–1223

18.

Philipper M, Hollerbach S, Gabbert HE, Heikaus S, Bocking A, Pomjanski N, Neuhaus H, Frieling T, Schumacher B (2010) Prospective comparison of endoscopic ultrasound-guided fine-needle aspiration and surgical histology in upper gastrointestinal submucosal tumors. Endoscopy 42:300–305

19.

Schmidt A, Bauder M, Riecken B, von Renteln D, Muehleisen H, Caca K (2015) Endoscopic full-thickness resection of gastric subepithelial tumors: a single-center series. Endoscopy 47:154–158
Acknowledgements
We sincerely thank the staff of the endoscopy unit at General Hospital of Southern Theater Command of PLA, the First Affiliated Hospital of Soochow University, and the Clifford Hospital for their excellent technical assistance in conducting this study.
Funding
This study was supported by combined grants from the National Natural Science Foundation of China (No. 81602170), the Natural Science Foundation of Guangdong province (No. 2014A030313595), the Science and Technology Plan Project of Guangzhou City (Nos. 201804010039 and 201607010077), and the Youth Medical Key Talent Project of Jiangsu province (No. QNRC2016705).
Ethics declarations
Disclosures
Hongwu Zhu, Dongtao Shi, Hong Song, Meihua Zhou, Dayong Sun, Rui Li, and Yagang Zhao have no conflicts of interest or financial ties to disclose.
Additional information
Publisher's Note
Springer Nature remains neutral with regard to jurisdictional claims in published maps and institutional affiliations.
About this article
Cite this article
Zhu, H., Shi, D., Song, H. et al. Snare-assisted endoscopic resection of gastric subepithelial tumors originating from the muscularis propria layer: a multicenter study. Surg Endosc 34, 3827–3832 (2020). https://doi.org/10.1007/s00464-019-07147-5
Received:

Accepted:

Published:

Issue Date:
Keywords
Endoscopic resection

Gastric subepithelial tumor

Muscularis propria layer

Snare

Perforation

Bleeding