Abstract
Background
Building on the principles of eTEP access, described by Dr. Jorge Daes, our group has previously described and standardized a novel minimally invasive approach to restoration of the linea alba and repair of lateral atypical defects of the abdominal wall. The purpose of this report is to present comparative analysis of laparoscopic and robotic eTEP access retrorectus repairs.
Methods
A retrospective review was conducted in patients who underwent laparoscopic eTEP (lap-eRS) and robotic-assisted eTEP (robo-eRS) Rives-Stoppa repairs between September 2015 and May 2018 at our institution. We analyzed the preoperative demographics and the perioperative outcomes.
Results
Our review identified 206 patients (Lap-eRS 120 vs. robo-eRS 86). The groups were comparable (p > 0.05) in gender distribution (47.6% vs. 53% male) and mean age (53.2 vs. 50.8 years), but different (p < 0.05) in mean BMI (31.3 vs. 34.4 kg/m2) and ASA score (2.1 vs. 2.4). The robo-eRS group had a larger defect size (5.5 vs. 7.1 cm, p < 0.05), a longer mean operative time (120.4 vs. 174.7 min, p < 0.05), and a higher hospitalization cost ($5,091 vs. $6,751, p = 0.005) compared to the lap-eRS group. Average length of stay (0.2 vs. 0.1 days), length of drain placement (5.3 vs. 5.7 days), and reoperations (2.5% vs. 2.3%) were similar between lap-eRS and robo-eRS (p > 0.05). Patients in both groups (lap-eRS vs. robo-eRS) were followed for an average of 5.7 months vs. 5.5 months (p = .735) and showed similar recurrence rates (1.7% vs. 1.2%, p > 0.05).
Conclusion
We present the largest series to-date of eTEP access laparoscopic and robotic ventral hernia retrorectus repairs. Morbidly obese patients and those with more complex abdominal wall defects were more likely to undergo a robo-eRS. The significantly longer operative time and higher hospital cost associated with the robo-eRS group may be in part due to these factors. Both robotic and laparoscopic eTEP Rives-Stoppa repairs are associated with favorable perioperative outcomes and low recurrence rates.
Access options
Buy single article
Instant access to the full article PDF.
US$ 39.95
Tax calculation will be finalised during checkout.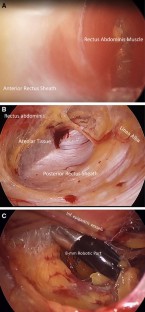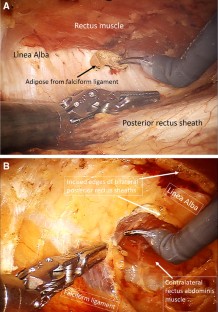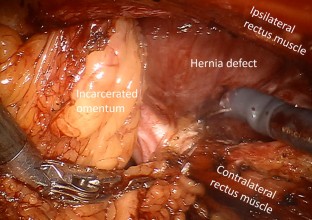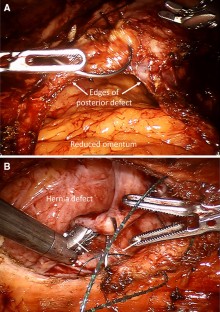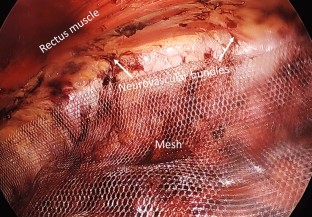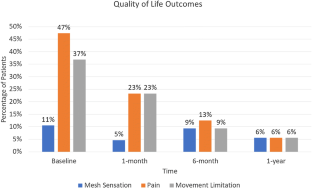 References
1.

Ramshaw BJ, Esartia P, Schwab J et al (1999) Comparison of laparoscopic and open ventral herniorrhaphy. Am Surg 65(9):827–831

2.

Itani KMF, Hur K, Kim LT et al (2010) Comparison of laparoscopic and open repair with mesh for the treatment of ventral incisional hernia: a randomized trial. Arch Surg 145(4):322–328. https://doi.org/10.1001/archsurg.2010.18

3.

Colavita PD, Tsirline VB, Belyansky I et al (2012) Prospective, long-term comparison of quality of life in laparoscopic versus open ventral hernia repair. Ann Surg 256(5):714–723. https://doi.org/10.1097/SLA.0b013e3182734130

4.

McCormack K, Wake B, Fraser C, Vale L, Perez J, Grant A (2005) Transabdominal pre-peritoneal (TAPP) versus totally extraperitoneal (TEP) laparoscopic techniques for inguinal hernia repair: a systematic review. Hernia 9(2):109–114. https://doi.org/10.1007/s10029-004-0309-3

5.

Daes J (2012) The enhanced view-totally extraperitoneal technique for repair of inguinal hernia. Surg Endosc 26(4):1187–1189. https://doi.org/10.1007/s00464-011-1993-6

6.

Belyansky I, Daes J, Radu V et al (2018) A novel approach using the enhanced-view totally extraperitoneal (eTEP) technique for laparoscopic retromuscular hernia repair. Surg Endosc 32(3):1525–1532. https://doi.org/10.1007/s00464-017-5840-2

7.

Belyansky I, Reza Zahiri H, Sanford Z, Weltz A, Park A (2018) Early operative outcomes of endoscopic (eTEP access) robotic-assisted retromuscular abdominal wall hernia repair. Hernia 22(5):837–847. https://doi.org/10.1007/s10029-018-1795-z

8.

Heniford B, Lincourt A, Walters A et al (2018) Carolinas comfort scale as a measure of hernia repair quality of life: a reappraisal utilizing 3788 international patients. Ann Surg 267(1):171–176. https://doi.org/10.1097/SLA.0000000000002027

9.

Heniford BT, Walters AL, Lincourt AE, Novitsky YW, Hope WW, Kercher KW (2008) Comparison of generic versus specific quality-of-life scales for mesh hernia repairs. J Am Coll Surg 206(4):638–644. https://doi.org/10.1016/j.jamcollsurg.2007.11.025

10.

Novitsky Y, Fayezizadeh M, Majumder A, Neupane R, Elliott H, Orenstein S (2016) Outcomes of posterior component separation with transversus abdominis muscle release and synthetic mesh sublay reinforcement. Ann Surg 264(2):226–232. https://doi.org/10.1097/SLA.0000000000001673

11.

Berry MF, Paisley S, Low DW, Rosato EF (2007) Repair of large complex recurrent incisional hernias with retromuscular mesh and panniculectomy. Am J Surg 194(2):199–204. https://doi.org/10.1016/j.amjsurg.2006.10.031

12.

Weltz AS, Sibia US, Zahiri HR, Schoeneborn A, Park A, Belyansky I (2017) Operative outcomes after open abdominal wall reconstruction with retromuscular mesh fixation using fibrin glue versus transfascial sutures. Am Surg 83(9):937–942

13.

Lee G, Lee M, Green I, Allaf M, Marohn M (2017) Surgeons' physical discomfort and symptoms during robotic surgery: a comprehensive ergonomic survey study. Surg Endosc 31(4):1697–1706. https://doi.org/10.1007/s00464-016-5160-y

14.

van der Schatte ORH, van't Hullenaar CDP, Ruurda JP, Broeders IA (2009) Ergonomics, user comfort, and performance in standard and robot-assisted laparoscopic surgery. Surg Endosc 23(6):1365–1371. https://doi.org/10.1007/s00464-008-0184-6

15.

Muysoms F, Van Cleven S, Pletinckx P, Ballecer C, Ramaswamy A (2018) Robotic transabdominal retromuscular umbilical prosthetic hernia repair (TARUP): observational study on the operative time during the learning curve. Hernia 22(6):1101–1111. https://doi.org/10.1007/s10029-018-1825-x

16.

Halpern DK, Howell RS, Boinpally H, Magadan-Alvarez C, Petrone P, Brathwaite CEM (2019) Ascending the learning curve of robotic abdominal wall reconstruction. JSLS 23(1):e2018.00084. https://doi.org/10.4293/jsls.2018.00084

17.

Belyansky I, Weltz A, Sibia U et al (2018) The trend toward minimally invasive complex abdominal wall reconstruction: is it worth it? Surg Endosc 32(4):1701–1707. https://doi.org/10.1007/s00464-017-5850-0

18.

Krpata DM, Blatnik JA, Novitsky YW, Rosen MJ (2012) Posterior and open anterior components separations: a comparative analysis. Am J Surg 203(3):318–322. https://doi.org/10.1016/j.amjsurg.2011.10.009

19.

Gibreel W, Sarr M, Rosen M, Novitsky Y (2016) Technical considerations in performing posterior component separation with transverse abdominis muscle release. Hernia 20(3):449–459. https://doi.org/10.1007/s10029-016-1473-y
Funding
No financial support was received for this study.
Ethics declarations
Disclosures
Dr. Belyansky has received honoraria for speaking engagements and consulting work from Intuitive, Bard Davol and Medtronic; he is an investor into IHC Inc. Dr. Lu, Dr. Addo, Dr. Ewart, Dr. Zahiri, Mr. Broda, Ms. Parlacoski have no conflicts of interest or financial ties to disclose.
Additional information
Publisher's Note
Springer Nature remains neutral with regard to jurisdictional claims in published maps and institutional affiliations.
About this article
Cite this article
Lu, R., Addo, A., Ewart, Z. et al. Comparative review of outcomes: laparoscopic and robotic enhanced-view totally extraperitoneal (eTEP) access retrorectus repairs. Surg Endosc 34, 3597–3605 (2020). https://doi.org/10.1007/s00464-019-07132-y
Received:

Accepted:

Published:

Issue Date:
Keywords
eTEP

Rives-Stoppa repair

Ventral hernia repair

Retromuscular repair

Retrorectus repair

Robo-eRS

Lap-eRS