Abstract
Objective
The objectives were to determine factors associated with conversion to open surgery in patients with esophageal cancer who underwent minimally invasive esophagectomy (MIE, including laparo-thoracoscopic and robotic) and the impact of conversion to open surgery on patient outcomes.
Methods
We included patients from the National Cancer Database with esophageal and gastroesophageal junction cancer who underwent MIE from 2010 to 2015. Patient-, tumor-, and facility-related characteristics as well as short-term and oncologic outcomes were compared between patients who were converted to open surgery and those who underwent successful MIE without conversion to open surgery. Multivariable logistic regression models were used to analyze risk factors for conversion to open surgery from attempted MIE.
Results
7306 patients underwent attempted MIE. Of these patients, 82 of 1487 (5.2%) robotic-assisted esophagectomies were converted to open, compared to 691 of 5737 (12.0%) laparo-thoracoscopic esophagectomies (p < 0.001). Conversion rates decreased significantly over the study period (ptrend = 0.010). Patient age, tumor size, and nodal involvement were independently associated with conversion. Facility minimally invasive cumulative volume and robotic approach were associated with decreased conversion rates. Patients whose MIEs were converted had increased 90-day mortality [Odds Ratio (OR) 1.49; 95% Confidence Interval (CI) 1.10, 2.02], prolonged hospital stay (OR 1.39; 95% CI 1.17, 1.66), and higher rates of unplanned readmission (OR 1.67; 95% CI 1.27, 2.20). No significant differences were found in surgical margins or number of lymph nodes harvested.
Conclusion
Patients undergoing attempted MIE requiring conversion to open surgery had significantly worse short-term outcomes including postoperative mortality. Patient factors and hospital experience contribute to conversion rates. These findings should inform surgeons and patients considering esophagectomy for cancer.
This is a preview of subscription content, log in to check access.
Access options
Buy single article
Instant access to the full article PDF.
US$ 39.95
Price includes VAT for USA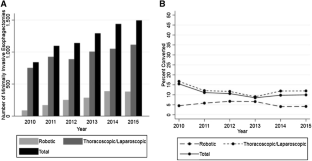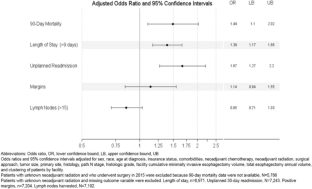 Abbreviations
MIE:

Minimally invasive esophagectomy

OE:

Open esophagectomy

RAMIE:

Robotic-assisted minimally invasive esophagectomy

VAMIE:

Video-assisted minimally invasive esophagectomy

NCDB:

National Cancer Database

RCT:

Randomized controlled trial

GE:

Gastroesophageal

MIS:

Minimally invasive surgical

LOS:

Length of stay

OR:

Odds ratio

CI:

Confidence interval
References
1.

Torre LA, Siegel RL, Ward EM, Jemal A (2016) Global cancer incidence and mortality rates and trends: an update. Cancer Epidemiol Biomark Prev 25:16–27

2.

Torre LA, Bray F, Siegel RL et al (2015) Global cancer statistics, 2012. CA Cancer J Clin 65:87–108

3.

National Comprehensive Cancer Network Esophageal and Esophagogastric Junction Cancers (2018)

4.

Bhagat R, Bronsert MR, Juarez-Colunga E et al (2018) Postoperative complications drive unplanned readmissions after esophagectomy for cancer. Ann Thorac Surg 105:1476–1482

5.

Thirunavukarasu P, Gabriel E, Attwood K et al (2016) Nationwide analysis of short-term surgical outcomes of minimally invasive esophagectomy for malignancy. Int J Surg 25:69–75

6.

Sihag S, Kosinski AS, Gaissert HA et al (2016) Minimally invasive versus open esophagectomy for esophageal cancer: A comparison of early surgical outcomes from the Society of Thoracic Surgeons National Database. Ann Thorac Surg 101:1281–1288 (Discussion 1288–1289)

7.

Seesing MFJ, Gisbertz SS, Goense L et al (2017) A propensity score matched analysis of open versus minimally invasive transthoracic esophagectomy in the Netherlands. Ann Surg 266:839–846

8.

Luketich JD, Pennathur A, Awais O et al (2012) Outcomes after minimally invasive esophagectomy: review of over 1000 patients. Ann Surg 256:95–103

9.

Mu JW, Gao SG, Xue Q et al (2015) Updated experiences with minimally invasive McKeown esophagectomy for esophageal cancer. World J Gastroenterol 21:12873–12881

10.

Luketich JD, Pennathur A, Franchetti Y et al (2015) Minimally invasive esophagectomy: results of a prospective phase II multicenter trial-the eastern cooperative oncology group (E2202) study. Ann Surg 261:702–707

11.

He H, Wu Q, Wang Z et al (2018) Short-term outcomes of robot-assisted minimally invasive esophagectomy for esophageal cancer: a propensity score matched analysis. J Cardiothorac Surg 13:52

12.

Yerokun BA, Sun Z, Yang CJ et al (2016) Minimally invasive versus open esophagectomy for esophageal cancer: a population-based analysis. Ann Thorac Surg 102:416–423

13.

Biere SS, van Berge Henegouwen MI, Maas KW et al (2012) Minimally invasive versus open oesophagectomy for patients with oesophageal cancer: a multicentre, open-label, randomised controlled trial. Lancet 379:1887–1892

14.

Mariette C, Markar SR, Dabakuyo-Yonli TS et al (2019) Hybrid minimally invasive esophagectomy for esophageal cancer. N Engl J Med 380:152–162

15.

Straatman J, van der Wielen N, Cuesta MA et al (2017) Minimally invasive versus open esophageal resection: three-year follow-up of the previously reported randomized controlled trial: the TIME trial. Ann Surg 266:232–236

16.

Weksler B, Sharma P, Moudgill N et al (2012) Robot-assisted minimally invasive esophagectomy is equivalent to thoracoscopic minimally invasive esophagectomy. Dis Esophagus 25:403–409

17.

Park SY, Kim DJ, Yu WS, Jung HS (2016) Robot-assisted thoracoscopic esophagectomy with extensive mediastinal lymphadenectomy: experience with 114 consecutive patients with intrathoracic esophageal cancer. Dis Esophagus 29:326–332

18.

Dunn DH, Johnson EM, Anderson CA et al (2017) Operative and survival outcomes in a series of 100 consecutive cases of robot-assisted transhiatal esophagectomies. Dis Esophagus 30:1–7

19.

Biebl M, Andreou A, Chopra S et al (2018) Upper gastrointestinal surgery: robotic surgery versus laparoscopic procedures for esophageal malignancy. Visc Med 34:10–15

20.

Coker AM, Barajas-Gamboa JS, Cheverie J et al (2014) Outcomes of robotic-assisted transhiatal esophagectomy for esophageal cancer after neoadjuvant chemoradiation. J Laparoendosc Adv Surg Tech A 24:89–94

21.

Tapias LF, Morse CR (2014) Minimally invasive Ivor Lewis esophagectomy: description of a learning curve. J Am Coll Surg 218:1130–1140

22.

Hernandez JM, Dimou F, Weber J et al (2013) Defining the learning curve for robotic-assisted esophagogastrectomy. J Gastrointest Surg 17:1346–1351

23.

National Cancer Database (2017) National Cancer Database

24.

Deyo RA, Cherkin DC, Ciol MA (1992) Adapting a clinical comorbidity index for use with ICD-9-CM administrative databases. J Clin Epidemiol 45:613–619

25.

World Health Organization, Interim Commission of the World Health Organization, High-Level Working Group on the H et al (1976) International classification of diseases for oncology. World Health Organization, Geneva

26.

Birkmeyer JD, Dimick JB (2004) Potential benefits of the new Leapfrog standards: effect of process and outcomes measures. Surgery 135:569–575

27.

Chandra V, Nehra D, Parent R et al (2010) A comparison of laparoscopic and robotic assisted suturing performance by experts and novices. Surgery 147:830–839

28.

Claassen L, van Workum F, Rosman C (2018) Learning curve and postoperative outcomes of minimally invasive esophagectomy. J Thor Dis 11:S777–S785
Ethics declarations
Disclosure
Dr. John D. Mitchell MD is a consultant on the Advisory Board for Medtronic, Dr. Alison L. Halpern MD, Ms. Chloe Friedman MPH, Dr. Robert J. Torphy MD, Dr. Mohammed H. Al-Musawi, MD MSc, Dr. Christopher D. Scott MD, Dr. Robert A. Meguid MD MPH, Dr. Martin D. McCarter MD, Dr. Michael J. Weyant MD, and Ana L. Gleisner MD PhD have no conflicts of interest or financial ties to disclose.
Additional information
Publisher's Note
Springer Nature remains neutral with regard to jurisdictional claims in published maps and institutional affiliations.
About this article
Cite this article
Halpern, A.L., Friedman, C., Torphy, R.J. et al. Conversion to open surgery during minimally invasive esophagectomy portends worse short-term outcomes: an analysis of the National Cancer Database. Surg Endosc 34, 3470–3478 (2020). https://doi.org/10.1007/s00464-019-07124-y
Received:

Accepted:

Published:

Issue Date:
Keywords
Minimally invasive esophagectomy

Conversion

NCDB

Esophageal cancer

Outcomes