Abstract
Background
Understanding the internal anatomy of the liver remains a major challenge in anatomical liver resection. Although virtual hepatectomy and indocyanine green (ICG) fluorescence imaging techniques have been widely used in hepatobiliary surgery, limitations in their application for real-time navigation persist.
Objective
The aim of the present study was to evaluate the feasibility and clinical utility of the novel laparoscopic hepatectomy navigation system (LHNS), which fuses preoperative three-dimensional (3D) models with ICG fluorescence imaging to achieve real-time surgical navigation.
Methods
We conducted a retrospective review of clinical outcome for 64 patients who underwent laparoscopic hepatectomy from January 2018 to December 2018, including 30 patients who underwent the procedure using the LHNS (LHNS group) and 34 patients who underwent the procedure without LHNS guidance (Non-LHNS group).
Results
There was no significant difference in preoperative characteristics between the two groups. The LHNS group had a significantly less blood loss (285.0 ± 163.0 mL vs. 391.1 ± 242.0 mL; P = 0.047), less intraoperative blood transfusion rate (13.3% vs. 38.2%; P = 0.045), and shorter postoperative hospital stay (7.8 ± 2.1 days vs. 10.6 ± 3.8 days; P < 0.001) than the Non-LHNS group. There was no statistical difference in operative time and the overall complication rate between the two groups. The liver transection line was clearly delineated by the LHNS in 27 patients; however, the projection of boundary was unclear in 2 cases, and in 1 case, the boundary was not clearly displayed by ICG fluorescence imaging.
Conclusions
We developed the LHNS to address limitations of current intraoperative imaging systems. The LHNS is hopefully to become a promising real-time navigation system for laparoscopic hepatectomy.
Access options
Buy single article
Instant access to the full article PDF.
US$ 39.95
Tax calculation will be finalised during checkout.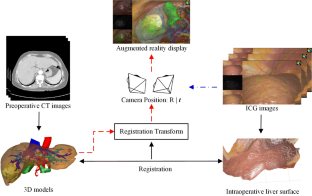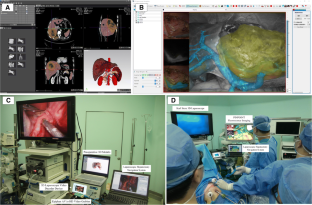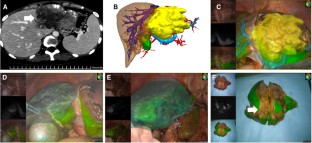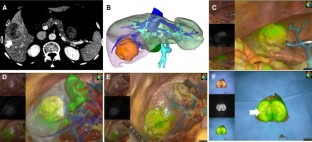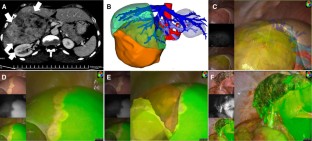 References
1.

Buell JF, Cherqui D, Geller DA, O'Rourke N, Iannitti D, Dagher I, Koffron AJ, Thomas M, Gayet B, Han HS, Wakabayashi G, Belli G, Kaneko H, Ker CG, Scatton O, Laurent A, Abdalla EK, Chaudhury P, Dutson E, Gamblin C, D'Angelica M, Nagorney D, Testa G, Labow D, Manas D, Poon RT, Nelson H, Martin R, Clary B, Pinson WC, Martinie J, Vauthey JN, Goldstein R, Roayaie S, Barlet D, Espat J, Abecassis M, Rees M, Fong Y, McMasters KM, Broelsch C, Busuttil R, Belghiti J, Strasberg S, Chari RS (2009) The international position on laparoscopic liver surgery: The Louisville Statement, 2008. Ann Surg 250(5):825–830

2.

Kawaguchi Y, Fuks D, Kokudo N, Gayet B (2018) Difficulty of laparoscopic liver resection. Ann Surg 267(1):13–17

3.

Fang C, Tao H, Yang J, Fang Z, Cai W, Liu J, Fan Y (2015) Impact of three-dimensional reconstruction technique in the operation planning of centrally located hepatocellular carcinoma. J Am Coll Surg 220(1):28–37

4.

Nakayama K, Oshiro Y, Miyamoto R, Kohno K, Fukunaga K, Ohkohchi N (2017) The effect of three-dimensional preoperative simulation on liver surgery. World J Surg 41(7):1840–1847

5.

Mise Y, Hasegawa K, Satou S, Shindoh J, Miki K, Akamatsu N, Arita J, Kaneko J, Sakamoto Y, Kokudo N (2018) How has virtual hepatectomy changed the practice of liver surgery?: experience of 1194 virtual hepatectomy before liver resection and living donor liver transplantation. Ann Surg 268(1):127–133

6.

Ishizawa T, Fukushima N, Shibahara J, Masuda K, Tamura S, Aoki T, Hasegawa K, Beck Y, Fukayama M, Kokudo N (2009) Real-time identification of liver cancers by using indocyanine green fluorescent imaging. Cancer 115(11):2491–2504

7.

Baiocchi GL, Diana M, Boni L (2018) Indocyanine green-based fluorescence imaging in visceral and hepatobiliary and pancreatic surgery: State of the art and future directions. World J Gastroenterol 24(27):2921–2930

8.

Koch M, Ntziachristos V (2016) Advancing surgical vision with fluorescence imaging. Annu Rev Med 67:153–164

9.

Nolden M, Zelzer S, Seitel A, Wald D, Muller M, Franz AM, Maleike D, Fangerau M, Baumhauer M, Maier-Hein L, Maier-Hein KH, Meinzer HP, Wolf I (2013) The medical imaging interaction toolkit: challenges and advances: 10 years of open-source development. Int J Comput Assist Radiol Surg 8(4):607–620

10.

Mahmoud N, Collins T, Hostettler A, Soler L, Doignon C, Montiel J (2018) Live tracking and dense reconstruction for hand-held monocular endoscopy. IEEE Trans Med Imag 38(1):79–89

11.

Yang J, Li H, Campbell D, Jia Y (2016) Go-ICP: a globally optimal solution to 3D ICP point-set registration. IEEE Trans Pattern Anal Mach Intell 38(11):2241–2254

12.

Mahmoud N, Collins T, Hostettler A, Soler L, Doignon C, Montiel J (2019) Live tracking and dense reconstruction for handheld monocular endoscopy. IEEE Trans Med Imag 38(1):79–89

13.

Cherqui D (2015) Laparoscopic liver resection: a new paradigm in the management of hepatocellular carcinoma? J Hepatol 63(3):540–542

14.

Yoon YI, Kim KH, Kang SH, Kim WJ, Shin MH, Lee SK, Jung DH, Park GC, Ahn CS, Moon DB, Ha TY, Song GW, Hwang S, Lee SG (2017) Pure laparoscopic versus open right hepatectomy for hepatocellular carcinoma in patients with cirrhosis: a propensity score matched analysis. Ann Surg 265(5):856–863

15.

Moris D, Vernadakis S (2018) Laparoscopic hepatectomy for hepatocellular carcinoma: the opportunities, the challenges, and the limitations. Ann Surg 268(1):e16

16.

Inoue Y, Arita J, Sakamoto T, Ono Y, Takahashi M, Takahashi Y, Kokudo N, Saiura A (2015) Anatomical liver resections guided by 3-dimensional parenchymal staining using fusion indocyanine green fluorescence imaging. Ann Surg 262(1):105–111

17.

Conrad C, Fusaglia M, Peterhans M, Lu H, Weber S, Gayet B (2016) Augmented reality navigation surgery facilitates laparoscopic rescue of failed portal vein embolization. J Am Coll Surg 223(4):e31–e34

18.

Sauer IM, Queisner M, Tang P, Moosburner S, Hoepfner O, Horner R, Lohmann R, Pratschke J (2017) Mixed reality in visceral surgery: development of a suitable workflow and evaluation of intraoperative use-cases. Ann Surg 266(5):706–712

19.

Marescaux J, Clement JM, Tassetti V, Koehl C, Cotin S, Russier Y, Mutter D, Delingette H, Ayache N (1998) Virtual reality applied to hepatic surgery simulation: the next revolution. Ann Surg 228(5):627–634

20.

Fang C, Liu J, Fan Y, Yang J, Xiang N, Zeng N (2013) Outcomes of hepatectomy for hepatolithiasis based on 3-dimensional reconstruction technique. J Am Coll Surg 217(2):280–288

21.

Peterhans M, Vom BA, Dagon B, Inderbitzin D, Baur C, Candinas D, Weber S (2011) A navigation system for open liver surgery: design, workflow and first clinical applications. Int J Med Robot 7(1):7–16

22.

Tang R, Ma LF, Rong ZX, Li MD, Zeng JP, Wang XD, Liao HE, Dong JH (2018) Augmented reality technology for preoperative planning and intraoperative navigation during hepatobiliary surgery: a review of current methods. Hepatobiliary Pancreat Dis Int 17(2):101–112

23.

Ishizawa T, Masuda K, Urano Y, Kawaguchi Y, Satou S, Kaneko J, Hasegawa K, Shibahara J, Fukayama M, Tsuji S, Midorikawa Y, Aburatani H, Kokudo N (2014) Mechanistic background and clinical applications of indocyanine green fluorescence imaging of hepatocellular carcinoma. Ann Surg Oncol 21(2):440–448

24.

Nishino H, Hatano E, Seo S, Nitta T, Saito T, Nakamura M, Hattori K, Takatani M, Fuji H, Taura K, Uemoto S (2018) Real-time navigation for liver surgery using projection mapping with indocyanine green fluorescence: development of the novel medical imaging projection system. Ann Surg 267(6):1134–1140

25.

Yang T, Liu K, Liu CF, Zhong Q, Zhang J, Yu JJ, Liang L, Li C, Wang MD, Li ZL, Wu H, Xing H, Han J, Lau WY, Zeng YY, Zhou YH, Gu WM, Wang H, Chen TH, Zhang YM, Zhang WG, Pawlik TM, Wu MC, Shen F (2019) Impact of postoperative infective complications on long-term survival after liver resection for hepatocellular carcinoma. Br J Surg 106(9):1228–1236

26.

Yamamoto J, Kosuge T, Takayama T, Shimada K, Yamasaki S, Ozaki H, Yamaguchi N, Mizuno S, Makuuchi M (1994) Perioperative blood transfusion promotes recurrence of hepatocellular carcinoma after hepatectomy. Surgery 115(3):303–309

27.

Katz SC, Shia J, Liau KH, Gonen M, Ruo L, Jarnagin WR, Fong Y, D'Angelica MI, Blumgart LH, DeMatteo RP (2009) Operative blood loss independently predicts recurrence and survival after resection of hepatocellular carcinoma. Ann Surg 249(4):617–623

28.

Harada N, Shirabe K, Maeda T, Kayashima H, Ishida T, Maehara Y (2015) Blood transfusion is associated with recurrence of hepatocellular carcinoma after hepatectomy in child–pugh class a patients. World J Surg 39(4):1044–1051

29.

Kawaguchi Y, Nomi T, Fuks D, Mal F, Kokudo N, Gayet B (2016) Hemorrhage control for laparoscopic hepatectomy: technical details and predictive factors for intraoperative blood loss. Surg Endosc 30(6):2543–2551

30.

Goh BKP, Chan C, Wong J, Lee S, Lee VTW, Cheow P, Chow PKH, Ooi LLPJ, Chung AYF (2015) Factors associated with and outcomes of open conversion after laparoscopic minor hepatectomy: initial experience at a single institution. Surg Endosc 29(9):2636–2642

31.

Halls MC, Cipriani F, Berardi G, Barkhatov L, Lainas P, Alzoubi M, D'Hondt M, Rotellar F, Dagher I, Aldrighetti L, Troisi RI, Edwin B, Abu Hilal M (2018) Conversion for unfavorable intraoperative events results in significantly worse outcomes during laparoscopic liver resection. Ann Surg 268(6):1051–1057

32.

Lim C, Vibert E, Azoulay D, Salloum C, Ishizawa T, Yoshioka R, Mise Y, Sakamoto Y, Aoki T, Sugawara Y (2014) Indocyanine green fluorescence imaging in the surgical management of liver cancers: current facts and future implications. J Visc Surg 151(2):117–124

33.

Alfano MS, Molfino S, Benedicenti S, Molteni B, Porsio P, Arici E, Gheza F, Botticini M, Portolani N, Baiocchi GL (2019) Intraoperative ICG-based imaging of liver neoplasms: a simple yet powerful tool preliminary results. Surg Endosc 33(1):126–134

34.

Fang C, Zhang P, Qi X (2019) Digital and intelligent liver surgery in the new era: prospects and dilemmas. EbioMedicine 41:693–701
Acknowledgments
The authors are grateful for the researchers of the Shenzhen Institute of Advanced Technology of the Chinese Academy of Science, and Professor Liu Lianxin of the First Affiliated Hospital of University of Science and Technology of China for their help in preclinical experiments of LHNS. We also want to thank Wen Sai, the research assistant of Department of Hepatobiliary Surgery in Zhujiang Hospital affiliated to Southern Medical University for her contribution to translation and proofreading of this paper.
Funding
This work was supported by the grants from the National Key R&D Program, China (No. 2016YFC0106500), the NSFC-GD Union Foundation, China (No. U1401254), the Major Instrument Project of National Natural Science Fund, China (No. 81627805), and National High Technology Research and Development Program of China (863 program, China) (Nos. 2006AA02Z346 and 2012AA021105).
Ethics declarations
Disclosure
Peng Zhang, Huoling Luo, Wen Zhu, Jian Yang, Ning Zeng, Yingfang Fan, Sai Wen, Nan Xiang, Fucang Jia, and Chihua Fang have no conflicts of interest or financial ties to disclose.
Additional information
Publisher's Note
Springer Nature remains neutral with regard to jurisdictional claims in published maps and institutional affiliations.
About this article
Cite this article
Zhang, P., Luo, H., Zhu, W. et al. Real-time navigation for laparoscopic hepatectomy using image fusion of preoperative 3D surgical plan and intraoperative indocyanine green fluorescence imaging. Surg Endosc 34, 3449–3459 (2020). https://doi.org/10.1007/s00464-019-07121-1
Received:

Accepted:

Published:

Issue Date:
Keywords
Laparoscopic hepatectomy

Virtual hepatectomy

Fluorescence

Indocyanine green

Surgical navigation