Abstract
Background
Left hemicolectomy and complicated sigmoid colectomy require an anastomosis between the transverse colon and rectum. Generous mobilization will typically allow the colon to reach to the rectum. However, despite full mobilization of the splenic flexure and extensive work on the mesentery, there are cases in which reach to the pelvis is still an issue. Retroileal routing of the colon is one technique for overcoming such a reach problem and achieving a tension-free anastomosis. Performing retroileal routing using laparoscopic techniques has been reported rarely, and to date, there are no data on this technique when performed in a hand-assisted laparoscopic fashion. This study aimed to describe the feasibility of doing a retroileal routing using a hand-assisted laparoscopic technique.
Methods
This was a retrospective chart review of patients who underwent a colon or rectal resection, either open or laparoscopic, with a pelvic anastomosis, by a single colorectal surgeon at an academic institution between 2008 and 2015 with a focus on the immediate and long-term postoperative complications, estimated blood loss, and operating room time for patients having an operation that included retroileal routing for construction of a colorectal anastomosis.
Results
A total of 340 patients fit inclusion criteria and of these, 13 underwent hand-assisted laparoscopic procedures with retroileal routing of the proximal colon to the colorectal anastomosis. Postoperative morbidity included intubation for CO2 retention in one patient and a RLL effusion in another patient; there were no anastomotic leaks. Long-term morbidities included two ventral hernias at 2 years postoperatively. Mean operating room time was 208 min. There were no 30- or 90-day mortalities.
Conclusions
Hand-assisted laparoscopic retroileal routing is a feasible and safe technique in accomplishing a tension-free colorectal anastomosis when proximal colon length makes standard routing of the colon to the rectum an issue.
Access options
Buy single article
Instant access to the full article PDF.
US$ 39.95
Tax calculation will be finalised during checkout.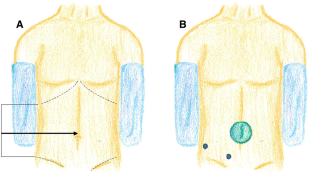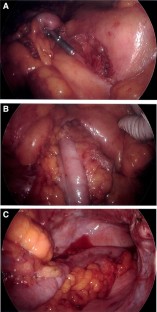 References
1.

Rombeau JL, Collins JP, Turnbull RB Jr (1978) Left-sided colectomy with retroileal colorectal anastomosis. Arch Surg 113:1004–1005

2.

Nafe M, Athanasiadis S, Kohler A (1994) Indications and technique of retro-ileal colorectal anastomosis after expanded left-sided hemicolectomy. Chirurg 65:804–806

3.

Hogan NM, Joyce MR (2014) Retroileal colorectal anastomosis: an old technique, still relevant. Tech Coloproctol 18:309–311

4.

Sakamoto Y et al (2016) Retroileal colorectal anastomosis after extended left colectomy: application for laparoscopic surgery. Surg Today 46:1476–1478

5.

Aalbers AGJ, Biere SSAY, van Berge Henegouwen MI, Bemelman WA (2008) Hand-assisted or laparoscopic-assisted approach in colorectal surgery: a systematic review and meta-analysis. Surg Endosc 22(8):1769–1780

6.

Rafferty JF (2001) Obtaining adequate bowel length for colorectal anastomosis. Clin Colon Rectal Surg 14:25–31

7.

Hays LV, Davis DR (1976) A technic for restoring intestinal continuity after left hemicolectomy for cancer of the distal colon and rectum. Am J Surg 131:390–391

8.

Kream J, Ludwig KA, Ridolfi TJ, Peterson CY (2016) Achieving low anastomotic leak rates utilizing clinical perfusion assessment. Surgery 160:960–967

9.

Kennedy GD, Heise C, Rajamanickam V, Harms B, Foley EF (2009) Laparoscopy decreases postoperative complication rates after abdominal colectomy: results from the national surgical quality improvement program. Ann Surg 249(4):596–601

10.

Ding J, Xia Y, Liao GQ, Zhang ZM, Liu S, Zhang Y, Yan ZS (2014) Hand-assisted laparoscopic surgery versus open surgery for colorectal disease: a systematic review and meta-analysis. Am J Surg 2014(1):109–119

11.

Orcutt ST, Marshall CL, Balentine CJ et al (2012) Hand-assisted laparoscopy leads to efficient colorectal cancer surgery. J Surg Res 177(2):e53–e58

12.

Leraas HJ, Ong CT, Sun Z et al (2017) Hand-assisted laparoscopic colectomy improves perioperative outcomes without increasing operative time compared to the open approach: a national analysis of 8791 patients. J Gastrointest Surg 21(4):684–691
Ethics declarations
Disclosures
Drs. Blank, Gibson, Peterson, Ridolfi, and Ludwig have no conflicts of interest or financial ties to disclose.
Additional information
Publisher's Note
Springer Nature remains neutral with regard to jurisdictional claims in published maps and institutional affiliations.
About this article
Cite this article
Blank, J.J., Gibson, E.K., Peterson, C.Y. et al. Retroileal anastomosis in hand-assisted laparoscopic left colectomy: experience at a single institution. Surg Endosc 34, 3408–3413 (2020). https://doi.org/10.1007/s00464-019-07116-y
Received:

Accepted:

Published:

Issue Date:
Keywords
Hand-assisted laparoscopic colectomy

Retro-ileal routing

Laparoscopic colon surgery

Left colectomy

Colorectal anastomosis