Abstract
Background
Transanal endoscopic surgery is the treatment of choice in patients with rectal adenomas that cannot be removed by endoscopy. However, the risk of adenoma recurrence and optimal surveillance is not well defined. The objective of this study was to characterize the timing and frequency of rectal adenoma recurrence after removal by transanal endoscopic surgery and identify recurrence risk factors.
Methods
This was a retrospective cohort study of a large, single-center academic institution in Vancouver, BC, Canada. Consecutive patients between May 1, 2007 and September 30, 2016 with pathology-confirmed rectal adenoma treated by primary excision with transanal endoscopic surgery and at least 1 year of confirmed endoscopic follow-up were included. Main outcome measures were recurrence rates following TEM as well as risk factors for recurrence.
Results
297 patients met inclusion criteria. The mean age of patients was 66.5 ± 11.5 years and 57.9% were male. Median follow-up was 623 (range 56–3841) days. A total of 62 recurrences occurred in 41 patients (13.8% of study population). Recurrences were managed with repeat transanal endoscopic surgery or endoscopic resection 67.7% and 25.8% of the time, respectively. Radical resection was required for adenocarcinoma in 4 patients. Recurrence-free survival rates were 93.4% at 1 year, 86.2% at 2 years, and 73.1% at 5 years. After adjusting for individual surgeons, adenoma height, size > 3 cm, high-grade dysplasia, positive margins, and management of the rectal defect, patients who underwent surgery in the latter 5 years of the study had lower odds of recurrence (OR 0.42, 95% CI 0.19, 0.93, p = 0.03).
Conclusions
Rectal adenomas managed by transanal endoscopic surgery are lesions at high risk for recurrence; surveillance should be performed within the first 2 years and continued for a total of at least 5 years. Most recurrences can be successfully treated with repeat TEM or endoscopic resection.
Access options
Buy single article
Instant access to the full article PDF.
US$ 39.95
Tax calculation will be finalised during checkout.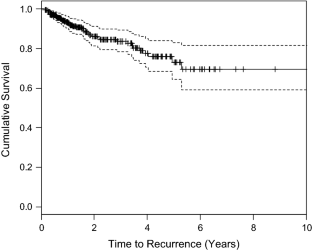 References
1.

Winawer SJ (1999) Natural history of colorectal cancer. Am J Med 106:3S–6S

2.

O'Brien MJ, Winawer SJ, Zauber AG et al (1990) Patient and polyp characteristics associated with high-grade dysplasia in colorectal adenomas. Gastroenterology 98:371–379

3.

Muto T, Bussey HJ, Morson BC (1975) The evolution of cancer of the colon and rectum. Cancer 36(6):2251–2270

4.

Shinya H, Wolff WI (1979) Morphology, anatomic distribution, and cancer potential of colonic polyps. Ann Surg 190(6):679–683

5.

Burghardt J, Buess G (2005) Transanal endoscopic microsurgery (TEM): a new technique and development during a time period of 20 years. Surg Technol Int 14:131–137

6.

De Graaf EJ, Burger JW, van Ijsseldijk AL et al (2011) Transanal endoscopic microsurgery is superior to transanal excision of rectal adenomas. Colorectal Dis 13:762–767

7.

Moore JS, Cataldo PA, Osler T et al (2008) Transanal endoscopic microsurgery is more effective than traditional Transanal excision for resection of rectal masses. Dis Colon Rectum 51:1026–1030

8.

Clancy C, Burke JP, Albert MR et al (2015) Transanal endoscopic microsurgery versus standard transanal excision for the removal of rectal neoplasms: a systematic review and meta-analysis. Dis Colon Rectum 58(2):254–261

9.

Chernyshov SV, Shelygin YA, Mainovskaya OA et al (2015) Possibilities of transanal endoscopic microsurgery: the experience of 202 operations. Vopr Onkol 61(6):998–1005

10.

Bonithon-Kopp C, Piard F, Fenger C et al (2004) Colorectal adenoma characteristics as predictors of recurrence. Dis Colon Rectum 47:323

11.

Government of British Columbia (2013) Follow-up of colorectal polyps or cancer. http://www2.gov.bc.ca/gov/content/health/practitionerprofessional-resources/bc-guidelines/colorectal-cancer-follow-up. Accessed 1 August 2019

12.

Harris PA, Taylor R, Thielke R, Payne J et al (2009) Research electronic data capture (REDCap)—a metadata-driven methodology and workflow process for providing translational research informatics support. J Biomed Inform 42(2):377–381

13.

Facciorusso A, Di Maso M, Serviddio G et al (2016) Factors associated with recurrence of advanced colorectal adenoma after endoscopic resection. Clin Gastroenterol Hepatol 14(8):1148–1154

14.

Barendse RM, Musters GD, de Graaf EJR et al (2018) TREND Study group. Randomised controlled trial of transanal endoscopic microsurgery versus endoscopic mucosal resection for large rectal adenomas (TREND Study). Gut 67:837–846

15.

Emmanuel A, Gulati S, Burt M et al (2018) Safe and effective endoscopic resection of massive colorectal adenomas ≥ 8 cm in a Tertiary Referral Center. Dis Colon Rectum 61(8):955–963

16.

Moss A, Williams SJ, Hourigan LF et al (2015) Long-term adenoma recurrence following wide-field endoscopic mucosal resection (WF-EMR) for advanced colonic mucosal neoplasia is infrequent: results and risk factors in 1000 cases from the Australian Colonic EMR (ACE) study. Gut 64:57–65

17.

Hahnloser D, Cantero R, Salgado G et al (2015) Transanal minimal invasive surgery for rectal lesions: should the defect be closed? Colorectal Dis 17(5):397–402

18.

Brown C, Raval MJ, Phang PT et al (2017) The surgical defect after Transanal endoscopic microsurgery: open versus closed management. Surg Endosc 31(3):1078–1082

19.

Dulskas A, Kilius A, Petrulis K et al (2017) Transanal endoscopic microsurgery for giant benign rectal tumours: is large size a contraindication? Int J Colorectal Dis 32(12):1759–1761

20.

Allaix ME, Arezzo A, Cassoni P et al (2012) Recurrence after transanal endoscopic microsurgery for large rectal adenomas. Surg Endosc 26(9):2594–2600

21.

Whitehouse PA, Tilney HS, Armitage JN et al (2006) Transanal endoscopic microsurgery: risk factors for local recurrence of benign rectal adenomas. Colorectal Dis 8:795–799

22.

McCloud JM, Waymont N, Pahwa N et al (2006) Factors predicting early recurrence after transanal endoscopic microsurgery excision for rectal adenoma. Colorectal Dis 8(7):581–585

23.

Ganai S, Kanumuri P, Rao RS et al (2006) Local recurrence after transanal endoscopic microsurgery for rectal polyps and early cancers. Ann Surg Oncol 13:547–556

24.

Levic K, Bulut O, Hesselfeldt P (2014) Transanal endoscopic microsurgery for giant polyps of the rectum. Tech Coloproctol 18:521–527

25.

Serra-Aracil X, Ruiz-Edo N, Casalots-Casado A et al (2018) Importance of resection margins in the treatment of rectal A, denomas by transanal endoscopic surgery. J Gastrointest Surg. https://doi.org/10.1007/s11605-018-3980-x

26.

Piccoli M, Agresta F, Trapani V et al (2014) Clinical competence in the surgery of rectal cancer: the Italian Consensus Conference. Int J Colorectal Dis 29(7):863–875

27.

Helewa RM, Rajaee AN, Raiche I et al (2016) The implementation of a transanal endoscopic microsurgery programme: initial experience with surgical performance. Colorectal Dis 18(11):1057–1062

28.

Koebrugge B, Bosscha K, Ernst MF (2009) Transanal endoscopic microsurgery for local excision of rectal lesions: is there a learning curve? Dig Surg 26:372–377

29.

Accreditation Council for Graduate Medical Education. Minimum case numbers: review committee for colon and rectal surgery. https://www.acgme.org/Portals/0/PFAssets/ProgramResources/060_CRS_Minimum_Case_Numbers.pdf. Accessed 1 April 2018

30.

Letarte F, Raval M, Karimuddin A et al (2018) Salvage TME following TEM: a possible indication for TaTME. Tech Coloproctol 96(5):280–287
Funding
No sources of funding were provided for this work.
Ethics declarations
Disclosures
T. Chan, A. Karimuddin, M. Raval, P. T. Phang, V. Tang, and C. Brown have no conflicts of interest or financial ties to disclose.
Additional information
Publisher's Note
Springer Nature remains neutral with regard to jurisdictional claims in published maps and institutional affiliations.
About this article
Cite this article
Chan, T., Karimuddin, A.A., Raval, M.J. et al. Predictors of rectal adenoma recurrence following transanal endoscopic surgery: a retrospective cohort study. Surg Endosc 34, 3398–3407 (2020). https://doi.org/10.1007/s00464-019-07114-0
Received:

Accepted:

Published:

Issue Date:
Keywords
Transanal endoscopic microsurgery

Rectal adenoma