Abstract
Background
Although thoracoscopic surgery is commonly performed in patients with a pneumothorax and persistent air leak, it is still difficult to identify a definite air leak site during thoracoscopic surgery. The purpose of this study was to determine the safety, efficacy, and feasibility of intraoperative air leak site detection in spontaneous pneumothorax through low-pressure carbon dioxide (CO2) insufflation during thoracoscopic surgery.
Methods
Of 54 patients who underwent thoracoscopic pneumothorax operations between March 2017 and March 2018, 22 pneumothorax patients underwent surgery for a persistent air leak. All patients were intubated with a single- or double-lumen endotracheal tube for general anesthesia. Three-port thoracoscopic surgery was performed, and CO2 was insufflated into the thoracic cavity at a pressure of 3–5 mmHg under two-lung ventilation to ensure visibility for video-assisted thoracoscopic surgery (VATS) and identification of the air leak site.
Results
Air leak sites were identified in all but one patient under CO2 insufflation. No intraoperative or postoperative adverse effects associated with CO2 insufflation were observed. The operative time was 37.8 ± 14.9 min (range 20–66 min), and the chest tube was removed after an average 2.7 ± 0.7 postoperative days (range 2–4 days). Patients were discharged after an average 4.1 ± 0.9 postoperative days (range 3–6 days). Postoperative recurrence was confirmed in 3 patients during 12.0 ± 4.0 months (range 5–16 months) of follow-up.
Conclusion
A method to detect an air leak site during VATS for pneumothorax using low-pressure CO2 appears to be safe, effective, and feasible.
This is a preview of subscription content, log in to check access.
Access options
Buy single article
Instant access to the full article PDF.
US$ 39.95
Price includes VAT for USA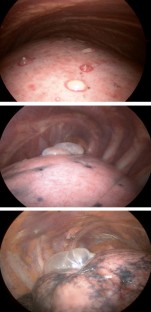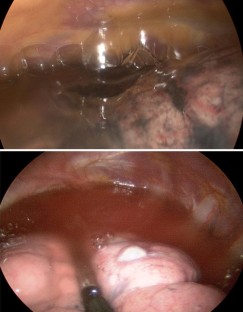 References
1.

Baumann MH et al (2001) Management of spontaneous pneumothorax: an American College of Chest Physicians Delphi consensus statement. Chest 119(2):590–602

2.

MacDuff A, Arnold A, Harvey J (2010) Management of spontaneous pneumothorax: British Thoracic Society Pleural Disease Guideline 2010. Thorax 65(Suppl 2):18–31

3.

Barker A et al (2007) Recurrence rates of video-assisted thoracoscopic versus open surgery in the prevention of recurrent pneumothoraces: a systematic review of randomised and non-randomised trials. Lancet 370(9584):329–335

4.

Al-Tarshihi MI (2008) Comparison of the efficacy and safety of video-assisted thoracoscopic surgery with the open method for the treatment of primary pneumothorax in adults. Ann Thorac Med 3(1):9–12

5.

Pages PB et al (2015) Videothoracoscopy versus thoracotomy for the treatment of spontaneous pneumothorax: a propensity score analysis. Ann Thorac Surg 99(1):258–263

6.

Onuki T et al (2017) Primary and secondary spontaneous pneumothorax: prevalence, clinical features, and in-hospital mortality. Can Respir J 2017:6014967

7.

Noppen M (2010) Spontaneous pneumothorax: epidemiology, pathophysiology and cause. Eur Respir Rev 19(117):217–219

8.

Grallert M et al (2013) VATS lobectomy: a standard procedure in the therapy for stage I non-small cell lung cancer? Zentralbl Chir 138(Suppl 1):S40–S44

9.

Ceulemans G et al (2012) Air leaks localized with lung ventilation SPECT. Clin Nucl Med 37(12):1182–1183

10.

Nakanishi K et al (2013) A new method to detect air leakage in a patient with pneumothorax using saline solution and multidetector-row spiral CT scan. Chest 144(3):940–946

11.

Unterreiner N, Weiss PE (2001) Diagnosis of an air leak by radionuclide scan. Clin Nucl Med 26(12):1039

12.

Jones DR et al (1993) Effects of insufflation on hemodynamics during thoracoscopy. Ann Thorac Surg 55(6):1379–1382

13.

Brock H et al (2000) Haemodynamic changes during thoracoscopic surgery the effects of one-lung ventilation compared with carbon dioxide insufflation. Anaesthesia 55(1):10–16

14.

Ohtsuka T et al (1999) Hemodynamic effects of carbon dioxide insufflation under single-lung ventilation during thoracoscopy. Ann Thorac Surg 68(1):29–32 discussion 32–33

15.

Okamura R et al (2016) Efficacy and hemodynamic response of pleural carbon dioxide insufflation during thoracoscopic surgery in a swine vessel injury model. Surg Today 46(12):1464–1470

16.

Wolfer RS et al (1994) Hemodynamic effects of carbon dioxide insufflation during thoracoscopy. Ann Thorac Surg 58(2):404–407 discussion 407–408

17.

Kim H et al (2009) Thoracoscopic bleb resection using two-lung ventilation anesthesia with low tidal volume for primary spontaneous pneumothorax. Ann Thorac Surg 87(3):880–885

18.

Lee DK et al (2015) Optimal respiratory rate for low-tidal volume and two-lung ventilation in thoracoscopic bleb resection. J Cardiothorac Vasc Anesth 29(4):972–976

19.

Ahn HY et al (2017) Thoracoscopic surgery under epidural anesthesia for intractable secondary spontaneous pneumothorax. Asian J Surg 40(4):285–289

20.

Muramatsu T et al (2011) Cause and management of recurrent primary spontaneous pneumothorax after thoracoscopic stapler blebectomy. Asian J Surg 34(2):69–73
Ethics declarations
Disclosure
Dr. Kang has no conflicts of interest or financial ties to disclose.
Additional information
Publisher's Note
Springer Nature remains neutral with regard to jurisdictional claims in published maps and institutional affiliations.
About this article
Cite this article
Kang, D. Intraoperative air leak site detection in spontaneous pneumothorax through carbon dioxide insufflation during thoracoscopic surgery. Surg Endosc 34, 312–316 (2020). https://doi.org/10.1007/s00464-019-06768-0
Received:

Accepted:

Published:

Issue Date:
Keywords
Pneumothorax

Air leak

Carbon dioxide insufflation

Thoracoscopic surgery

Thoracoscopic visibility

Lung expansion