Abstract
Background
To avoid excessive sacrifice of the tissue surrounding the submucosal tumor in gastric wedge resection with a stapling device, we perform a "combined laparoscopic and endoscopic approach for neoplasia with a nonexposure technique" (CLEAN-NET). Herein the operative technique of CLEAN-NET is described and its short-term outcomes in 50 patients are evaluated.
Patients and methods
Between December 2015 and July 2017 CLEAN-NET was performed in 50 patients with gastric submucosal tumors. During the operation, the seromuscular layer above the tumor is dissected, while the mucosa is kept unbroken. When seromuscular layer is dissected all around the tumor, the full layer is lifted, and the mucosa is stretched. The mucosa is then transected with a stapling device to execute full-thickness resection of the specimen. Finally, the seromuscular defect is repaired by hand-sewn suture. The hospital records of the 50 patients were reviewed to assess the outcomes. The margin width was compared with those measured in another group with 19 patients, who underwent conventional wedge resection with a stapling device.
Results
The operation was completed as CLEAN-NET and the tumor was resected en-bloc without rupture in all patients. The average operation time ranged from 50 to 220 min with an average of 105.4 min. The post-operative course was uneventful. Microscopically the surgical margin was tumor-negative (R0 resection) in all cases. The margin width in the CLEAN-NET group was smaller than that in the wedge resection group (5.4 mm ± 2.5 vs. 33.1 mm ± 14.7).
Conclusions
CLEAN-NET can be performed safely with an acceptable operation time. CLEAN-NET can be a useful option in the laparoscopic surgical treatment of gastric submucosal tumors, when excessive sacrifice of the healthy gastric wall surrounding the endophytic tumor should be avoided.
This is a preview of subscription content, log in to check access.
Access options
Buy single article
Instant access to the full article PDF.
US$ 39.95
Price includes VAT for USA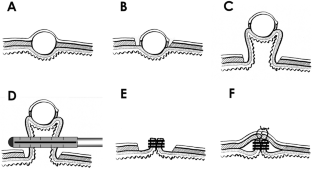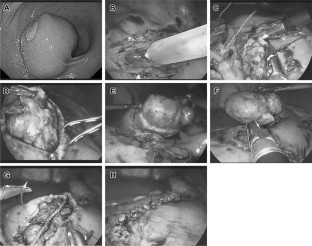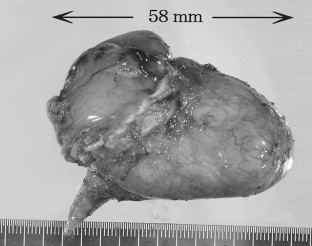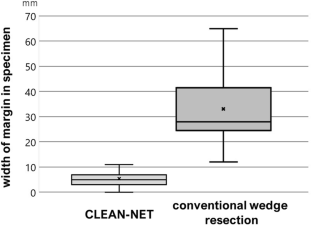 References
1.

Yoshida M, Otani Y, Ohgami M, Kubota T, Kumai K, Mukai M, Kitajima M (1997) Surgical management of gastric leiomyosarcoma: evaluation of the propriety of laparoscopic wedge resection. World J Surg 21:440–443

2.

Ohgami M, Otani Y, Kumai K, Kubota T, Kim YI, Kitajima M (1999) Curative laparoscopic surgery for early gastric cancer: five years- experience. World J Surg 23:187–192 discussion 192-193

3.

Cheng HL, Lee WJ, Lai IR, Yuan RH, Yu SC (1999) Laparoscopic wedge resection of benign gastric tumor. Hepatogastroenterology 46:2100–2104

4.

Blay JY, Bonvalot S, Casali P, Choi H, Debiec-Richter M, Dei Tos AP, Emile JF, Gronchi A, Hogendoorn PC, Joensuu H, Le Cesne A, McClure J, Maurel J, Nupponen N, Ray-Coquard I, Reichardt P, Sciot R, Stroobants S, van Glabbeke M, van Oosterom A, Demetri GD, GIST Consensus Meeting Panelists (2005) Consensus meeting for the management of gastrointestinal stromal tumors. Report of the GIST Consensus Conference of 20-21 March 2004, under the auspices of ESMO. Ann Oncol 16:566–578

5.

Demetri GD, Benjamin RS, Blanke CD, Blay JY, Casali P, Choi H, Corless CL, Debiec-Rychter M, DeMatteo RP, Ettinger DS, Fisher GA, Fletcher CD, Gronchi A, Hohenberger P, Hughes M, Joensuu H, Judson I, Le Cesne A, Maki RG, Morse M, Pappo AS, Pisters PW, Raut CP, Reichardt P, Tyler DS, Van den Abbeele AD, von Mehren M, Wayne JD, Zalcberg J, Task Force NCCN (2007) NCCN Task Force report: management of patients with gastrointestinal stromal tumor (GIST)–update of the NCCN clinical practice guidelines. J Natl Compr Cancer Netw 5(Suppl 2):S1–29

6.

Everett M, Gutman H (2008) Surgical management of gastrointestinal stromal tumors: analysis of outcome with respect to surgical margins and technique. J Surg Oncol 98:588–593

7.

Inoue H, Ikeda H, Hosoya T, Yoshida A, Onimaru M, Suzuki M, Kudo SE (2012) Endoscopic mucosal resection, endoscopic submucosal dissection, and beyond: full-layer resection for gastric cancer with nonexposure technique (CLEAN-NET). Surg Oncol Clin N Am 21:129–140

8.

Hajer J, Havlůj L, Whitley A, Gürlich R (2018) Non-exposure endoscopic-laparoscopic cooperative surgery for stomach tumors: first experience from the Czech Republic. Clin Endosc 51:167–173

9.

Oh H-J, Kim C-Y (2018) Non-exposure endoscopic-laparoscopic cooperative surgery for stomach tumors. Clin Endosc 51:113–114

10.

Kanehira E, Kamei A, Umezawa A, Kurita A, Tanida T, Nakagi M (2016) Long-term outcomes of percutaneous endoscopic intragastric surgery in the treatment of gastrointestinal stromal tumors at the esophagogastric junction. Surg Endosc 30:2036–2042

11.

Kanehira E, Tanida T, Kamei A, Nakagi M, Yoshida T, Touma S (2016) Needlescopic intragastric surgery facilitated by newly developed 2 mm instruments. Min Invasive Ther Allied Technol 25:210–214

12.

Kanehira E, Siozawa K, Kamei A, Tanida T (2012) Development of a novel multichannel port (x-Gate®) for reduced port surgery and its initial clinical results. Min Invasive Ther Allied Technol 21:26–30

13.

Joensuu H, Vehtari A, Riihimäki J, Nishida T, Steigen SE, Brabec P, Plank L, Nilsson B, Cirilli C, Braconi C, Bordoni A, Magnusson MK, Linke Z, Sufliarsky J, Federico M, Jonasson JG, Dei Tos AP, Rutkowski P (2012) Risk of recurrence of gastrointestinal stromal tumour after surgery: an analysis of pooled population-based cohorts. Lancet Oncol 13:265–274

14.

Zhang Q, Gao L, Han Z, Li X, Wang L, Liu S (2018) Effectiveness and safety of endoscopic resection for gastric GISTs: a systematic review. Min Invasive Ther Allied Technol 27:127–137

15.

Fujishima H, Etoh T, Hiratsuka T, Akagi T, Tajima M, Shibata T, Ueda Y, Tojigamori M, Shiroshita H, Shiraishi N, Kitano S, Inomata M (2017) Serosal and muscular layers incision technique in laparoscopic surgery for gastric gastrointestinal stromal tumors. Asian J Endosc Surg 10:92–95

16.

Hiki N, Yamamoto Y, Fukunaga T, Yamaguchi T, Nunobe S, Tokunaga M, Miki A, Ohyama S, Seto Y (2008) Laparoscopic and endoscopic cooperative surgery for gastrointestinal stromal tumor dissection. Surg Endosc 22:1729–1735

17.

Hiki N, Nunobe S, Matsuda T, Hirasawa T, Yamamoto Y, Yamaguchi T (2015) Laparoscopic endoscopic cooperative surgery. Dig Endosc 27:197–204

18.

Kanehira E, Kamei A, Tanida T (2014) Wedge gastric and endogastric resection. In: Mori T, Dapri G (eds) Reduced port laparoscopic surgery. Springer, Tokyo, pp 221–231

19.

Takahashi K, Kanehira E, Kamei A, Tanida T, Sasaki K (2017) Laparoscopic surgery for large gastric submucosal tumors. Surg Laparosc Endosc Percutaneous Tech 27:465–469

20.

Kim KH, Kim MC, Jung GJ, Kim SJ, Jang JS, Kwon HC (2012) Long term survival results for gastric GIST: is laparoscopic surgery for large gastric GIST feasible? World J Surg Oncol 10:230

21.

Masoni L, Gentili I, Maglio R, Meucci M, D'Ambra G, Di Giulio E, Di Nardo G, Corleto VD (2014) Laparoscopic resection of large gastric GISTs: feasibility and long-term results. Surg Endosc 28:2905–2910
Ethics declarations
Disclosures
Eiji Kanehira, Aya Kamei Kanehira, Kodai Takahashi, Takashi Tanida, Yuichi Obana and Kazunori Sasaki have no conflicts of interest or financial ties to disclose.
Additional information
Publisher's Note
Springer Nature remains neutral with regard to jurisdictional claims in published maps and institutional affiliations.
Electronic supplementary material
Below is the link to the electronic supplementary material.
Supplementary material 1 (MP4 185226 kb)
About this article
Cite this article
Kanehira, E., Kanehira, A.K., Tanida, T. et al. CLEAN-NET: a modified laparoendoscopic wedge resection of the stomach to minimize the sacrifice of innocent gastric wall. Surg Endosc 34, 290–297 (2020). https://doi.org/10.1007/s00464-019-06765-3
Received:

Accepted:

Published:

Issue Date:
Keywords
CLEAN-NET

LECS

Laparoscopic wedge resection of stomach

Gastric submucosal tumor

GIST