Abstract
Background
While clinical outcomes have been reported for anti-reflux surgery (ARS), there are limited data on post-operative encounters, including readmission, and their associated costs. This study evaluates healthcare utilization during the 90-day post-operative period following ARS including fundoplication and/or paraesophageal hernia (PEH) repair.
Methods
Data were analyzed from the Truven Health MarketScan® Databases. Patients older than 16 years with an ICD-9 procedure code or Common Procedural Terminology (CPT) code for ARS and a primary diagnosis of GERD during 2012–2014 were selected. Healthcare spending and utilization on emergency department (ED) visits, performance of outpatient endoscopy, and readmission were examined. Reasons for readmission were classified based on ICD-9 code.
Results
A total of 40,853 patients were included in the cohort with a mean age of 49 years and females comprising 76.0%. Mean length of stay was 1.4 days, and 93.0% of patients underwent a laparoscopic approach. The mean cost of the index surgical admission was $24,034. Readmission occurred in 4.2% of patients, and of those, 26.3% required a surgical intervention. Patients requiring one or more related readmissions accrued additional costs of $29,513. Some of the most common reasons for readmission were related to nutritional, metabolic, and fluid and electrolyte disorders. Presentation to the ED occurred in 14.0% of patients, and outpatient upper endoscopy was required in 1.5% of patients, but with much lower associated costs as compared to readmission ($1175).
Conclusion
The majority of patients undergoing ARS do not require additional care within 90 days of surgery. Patients who are readmitted accrue costs that almost double the overall cost of care compared to the initial hospitalization. Measures to attenuate potentially preventable readmissions after ARS may reduce healthcare utilization in this patient population.
This is a preview of subscription content, log in to check access.
Access options
Buy single article
Instant access to the full article PDF.
US$ 39.95
Price includes VAT for USA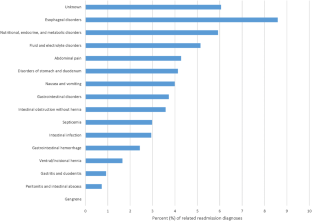 References
1.

El-Serag HB, Sweet S, Winchester CC, Dent J (2014) Update on the epidemiology of gastro-oesophageal reflux disease: a systematic review. Gut 63:871–880

2.

Gawron AJ, French DD, Pandolfino JE, Howden CW (2014) Economic evaluations of gastroesophageal reflux disease medical management. Pharmacoeconomics 32:745–758

3.

Niebisch S, Peters JH (2012) Update on fundoplication for the treatment of GERD. Curr Gastroenterol Rep 14:189–196

4.

Funk LM, Zhang JY, Drosdeck JM, Melvin WS, Walker JP, Perry KA (2015) Long-term cost-effectiveness of medical, endoscopic and surgical management of gastroesophageal reflux disease. Surgery 157:126–136

5.

Robinson B, Dunst CM, Cassera MA, Reavis KM, Sharata A, Swanstrom LL (2015) 20 years later: laparoscopic fundoplication durability. Surg Endosc 29:2520–2524

6.

Goeree R, Hopkins R, Marshall JK, Armstrong D, Ungar WJ, Goldsmith C, Allen C, Anvari M (2011) Cost-utility of laparoscopic Nissen fundoplication versus proton pump inhibitors for chronic and controlled gastroesophageal reflux disease: a 3-year prospective randomized controlled trial and economic evaluation. Value Health 14:263–273

7.

Grant AM, Boachie C, Cotton SC, Faria R, Bojke L, Epstein DM, Ramsay CR, Corbacho B, Sculpher M, Krukowski ZH, Heading RC, Campbell MK, REFLUX Trial Group (2013) Clinical and economic evaluation of laparoscopic surgery compared with medical management for gastro-oesophageal reflux disease: 5-year follow-up of multicentre randomised trial (the REFLUX trial). Health Technol Assess 17:1–167

8.

Niebisch S, Fleming FJ, Galey KM, Wilshire CL, Jones CE, Litle VR, Watson TJ, Peters JH (2012) Perioperative risk of laparoscopic fundoplication: safer than previously reported-analysis of the American College of Surgeons National Surgical Quality Improvement Program 2005 to 2009. J Am Coll Surg 215:61–68 discussion 68-69

9.

Khan F, Maradey-Romero C, Ganocy S, Frazier R, Fass R (2016) Utilisation of surgical fundoplication for patients with gastro-oesophageal reflux disease in the USA has declined rapidly between 2009 and 2013. Aliment Pharmacol Ther 43:1124–1131

10.

Schlottmann F, Strassle PD, Patti MG (2017) Comparative analysis of perioperative outcomes and costs between laparoscopic and open antireflux surgery. J Am Coll Surg 224:327–333

11.

Gronnier C, Desbeaux A, Piessen G, Boutillier J, Ruolt N, Triboulet JP, Mariette C (2014) Day-case versus inpatient laparoscopic fundoplication: outcomes, quality of life and cost-analysis. Surg Endosc 28:2159–2166

12.

Desbeaux A, Gronnier C, Piessen G, Vanderbeken M, Ruolt N, Triboulet JP, Mariette C (2017) Same-day discharge in benign esophageal surgery: a prospective cohort study. Dis Esophagus 30:1–7

13.

Mariette C, Pessaux P (2011) Ambulatory laparoscopic fundoplication for gastroesophageal reflux disease: a systematic review. Surg Endosc 25:2859–2864

14.

Molina JC, Misariu AM, Nicolau I, Spicer J, Mulder D, Ferri LE, Mueller CL (2018) Same day discharge for benign laparoscopic hiatal surgery: a feasibility analysis. Surg Endosc 32:937–944

15.

Mariette C, Boutillier J, Arnaud N, Piessen G, Ruolt N, Triboulet JP (2011) Outcome of day-case laparoscopic fundoplication for gastro-esophageal reflux disease. J Visc Surg 148:50–53

16.

Bliss LA, Maguire LH, Chau Z, Yang CJ, Nagle DA, Chan AT, Tseng JF (2015) Readmission after resections of the colon and rectum: predictors of a costly and common outcome. Dis Colon Rectum 58:1164–1173

17.

Dimick JB, Ghaferi AA (2015) Hospital readmission as a quality measure in surgery. JAMA 313:512–513

18.

Chen J, Mackenzie J, Zhai Y, O'Loughlin J, Kholer R, Morrow E, Glasgow R, Volckmann E, Ibele A (2017) Preventing returns to the emergency department following bariatric surgery. Obes Surg 27:1986–1992

19.

Readmissions Reduction Program (HRRP). https://www.cms.gov/Medicare/Medicare-Fee-for-Service-Payment/AcuteInpatientPPS/Readmissions-Reduction-Program.html Sep 27, 2018. Accessed 20 Nov 2018

20.

Poupore AK, Stem M, Molena D, Lidor AO (2016) Incidence, reasons, and risk factors for readmission after surgery for benign distal esophageal disease. Surgery 160:599–606

21.

Petrick A, Brindle SA, Vogels E, Dove J, Parker D, Gabrielsen J (2018) The readmission contradiction: toward clarifying common misconceptions about bariatric readmissions and quality improvement. Surg Obes Relat Dis 14:1026–1032

22.

Cancienne JM, Brockmeier SF, Gulotta LV, Dines DM, Werner BC (2017) Ambulatory total shoulder arthroplasty: a comprehensive analysis of current trends, complications, readmissions, and costs. J Bone Joint Surg Am 99:629–637

23.

Lee L, Mata J, Ghitulescu GA, Boutros M, Charlebois P, Stein B, Liberman AS, Fried GM, Morin N, Carli F, Latimer E, Feldman LS (2015) Cost-effectiveness of enhanced recovery versus conventional perioperative management for colorectal surgery. Ann Surg 262:1026–1033

24.

Jonsson A, Lin E, Patel L, Patel AD, Stetler JL, Prayor-Patterson H, Singh A, Srinivasan JK, Sweeney JF, Davis SS Jr (2018) Barriers to enhanced recovery after surgery after laparoscopic sleeve gastrectomy. J Am Coll Surg 226:605–613

25.

Molena D, Mungo B, Stem M, Feinberg RL, Lidor AO (2014) Outcomes of operations for benign foregut disease in elderly patients: a National Surgical Quality Improvement Program database analysis. Surgery 156:352–360
Funding
Effort on this study and manuscript was made possible by a VA Career Development Award to Dr. Funk (CDA 015-060).
Ethics declarations
Disclosures
Anne Lidor, MD, MPH, Kyle L. Kleppe MD, Yiwei Xu MHS, Xing Wang PhD, Jeff A. Havlena PhD, Jake Greenberg MD, EdM: nothing to disclose, Luke M. Funk MD MPH: Effort on this study and manuscript was made possible by a VA Career Development Award to Dr. Funk (CDA 015-060). The views represented in this article represent those of the authors and not those of the DVA or the US Government. Dr. Funk declares no conflicts of interest related to this funding source.
Additional information
Publisher's Note
Springer Nature remains neutral with regard to jurisdictional claims in published maps and institutional affiliations.
Appendix
Appendix
About this article
Cite this article
Kleppe, K.L., Xu, Y., Funk, L.M. et al. Healthcare spending and utilization following antireflux surgery: examining costs and reasons for readmission. Surg Endosc 34, 240–248 (2020). https://doi.org/10.1007/s00464-019-06758-2
Received:

Accepted:

Published:

Issue Date:
Keywords
Paraesophageal hernia

Hiatal hernia

Anti-reflux surgery

Healthcare utilization

Costs

Readmission