Abstract
Background
Generation of smoke is inevitable during surgical procedures. Some volatile organic compounds (VOCs) in surgical smoke are known to be strong carcinogens. We used a prototype of a multi-layered complex filter in an attempt to eliminate VOCs.
Methods
From June 2015 to July 2015, 20 patients underwent transperitoneal laparoscopic nephrectomy for renal cell carcinoma. Smoke (pre-filter) was collected 20 min after the electrocautery device was first used during the surgery, by the direct collection method, with a 5-L Tedlar® gas-sampling bag. Twenty and 120 min after the filter was applied, smoke (post-filter) was again collected using the same method. The sample was analyzed by gas chromatography and mass spectrography. The cancer risk and hazard quotient were analyzed based on US Environmental Protection Agency guidelines.
Results
Twenty patients with a median age of 54.5 (30–80) years were enrolled in the study. Eighteen VOCs were detected using the Japanese indoor air standards mix analysis. The total elimination rate of the VOCs was 86.49 ± 2.83%. The post-filter (120 min) cancer risk (mean ± standard deviation) reduced to a negligible level for benzene, ethylbenzene, and styrene except 1,2-dichloroethane. The post-filter (120 min) hazard quotient for each compound decreased to levels posing a negligible risk for acetone, hexane, benzene, toluene, p-xylene, o-xylene, and styrene.
Conclusion
Strong carcinogens, such as 1,2-dichloroethane, benzene, and ethylbenzene, were eliminated by more than 85% by using this activated carbon fiber filter and the risks from these compounds decreased to an almost negligible level. We suggest using every measure, including these filters, to protect the health of operating room personnel.
This is a preview of subscription content, log in to check access.
Access options
Buy single article
Instant access to the full article PDF.
US$ 39.95
Price includes VAT for USA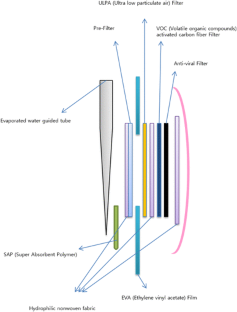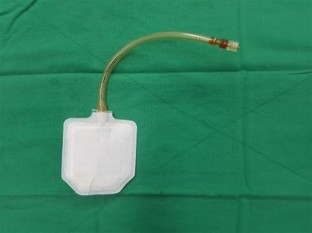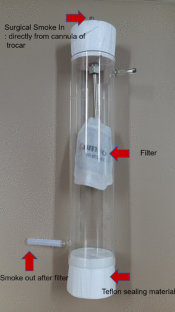 References
1.

Choi SH, Kwon TG, Chung SK, Kim TH (2014) Surgical smoke may be a biohazard to surgeons performing laparoscopic surgery. Surg Endosc 28:2374–2380

2.

King B, McCullough J (2006) Health hazard evaluation report 2001-0030-3020. NIOSH

3.

Dobrogowski M, Wesolowski W, Kucharska M, Sapota A, Pomorski LS (2014) Chemical composition of surgical smoke formed in the abdominal cavity during laparoscopic cholecystectomy–assessment of the risk to the patient. Int J Occup Med Environ Health 27:314–325

4.

Baan R, Grosse Y, Straif K, Secretan B, El Ghissassi F, Bouvard V, Benbrahim-Tallaa L, Guha N, Freeman C, Galichet L, Cogliano V, Group WHOIAfRoCMW (2009) A review of human carcinogens–Part F: chemical agents and related occupations. Lancet Oncol 10:1143–1144

5.

Occupational Safety and Health Administration (OSHA) (2007) Occupational Safety and Health Administration technical links. https://www.osha.gov/SLTC/laserelectrosurgeryplume/index.html

6.

Morawik I, Jablonski M (2016) Effect of perioperative bacteriological safety on hip joint infection after hip replacement. Ortop Traumatol Rehabilitacja 18:269–277

7.

Barrett WL, Garber SM (2003) Surgical smoke: a review of the literature. Is this just a lot of hot air? Surg Endosc 17:979–987

8.

Biggins J, Renfree S (2002) The hazards of surgical smoke. Not to be sniffed at! Br J Perioper Nurs 12:136–138, 141–133

9.

Sadrizadeh S, Tammelin A, Nielsen PV, Holmberg S (2014) Does a mobile laminar airflow screen reduce bacterial contamination in the operating room? A numerical study using computational fluid dynamics technique. Patient Saf Surg 8:27

10.

Gao S, Koehler RH, Yermakov M, Grinshpun SA (2016) Performance of facepiece respirators and surgical masks against surgical smoke: simulated workplace protection factor study. Ann Occup Hyg 60:608–618

11.

Autorino R, Porpiglia F, Dasgupta P, Rassweiler J, Catto JW, Hampton LJ, Lima E, Mirone V, Derweesh IH, Debruyne FMJ (2017) Precision surgery and genitourinary cancers. Eur J Surg Oncol 43:893–908

12.

US Environmental Protection Agency (EPA) (2017) Guidelines for Carcinogen Risk Assessment, March 2005, Risk Assessment Forum. https://www.epa.gov/risk/guidelines-carcinogen-risk-assessment

13.

New Jersey Department of Environmental Protection. Division of Air Quality (2009) Technical Manual 1003: Guidance on Preparing a Risk Assessment Protocol for Air Contaminant Emissions. http://www.nj.gov//dep/aqpp/risk.htm

14.

US Environmental Protection Agency (EPA) (2017) Integrated Risk Information System (IRIS). http://www.epa.gov/iris

15.

Fitzgerald JE, Malik M, Ahmed I (2012) A single-blind controlled study of electrocautery and ultrasonic scalpel smoke plumes in laparoscopic surgery. Surg Endosc 26:337–342

16.

Yonan Y, Ochoa S (2017) Impact of smoke evacuation on patient experience during Mohs surgery. Dermatol Surg 43:1363–1366
Funding
This research was financially supported by the "Advanced medical new material(fiber) development program" through the Ministry of Trade, Industry & Energy (MOTIE) and Korea Institute for Advancement of Technology (KIAT). Grant number: R0001411.
Ethics declarations
Disclosures
Dr. Tae-Hwan Kim reports grants from Ministry of Trade, Industry & Energy (MOTIE) and Korea Institute for Advancement of Technology (KIAT), during the conduct of the study. Seock Hwan Choi, Dong Hee Choi, Dong Hwa Kang, Yun-Sok Ha, Jun Nyung Lee, Bum Soo Kim, Hyun Tae Kim, Eun Sang Yoo, Tae-Gyun Kwon, and Sung Kwang Chung have no conflicts of interest or financial ties to disclose.
About this article
Cite this article
Choi, S.H., Choi, D.H., Kang, D.H. et al. Activated carbon fiber filters could reduce the risk of surgical smoke exposure during laparoscopic surgery: application of volatile organic compounds. Surg Endosc 32, 4290–4298 (2018). https://doi.org/10.1007/s00464-018-6222-0
Received:

Accepted:

Published:

Issue Date:
Keywords
Surgical smoke

Laparoscopy

Cancer risk