Abstract
Background
The en bloc resection of the superior mesenteric or portal vein with concomitant venous reconstruction may be required in patients with borderline resectable pancreatic cancer. However, performing laparoscopic pancreaticoduodenectomy (LPD) with major venous resection and reconstruction is technically challenging. Herein, we introduced a safe and feasible technique to perform LPD with major venous resection.
Methods
Over the period of November 2015 to November 2016, 18 patients underwent laparoscopic pancreaticoduodenectomy with major venous resection and reconstruction using the anterior superior mesenteric artery (SMA)-first approach at our institution. Demographic characteristics, intraoperative and postoperative variables, and follow-up outcomes were prospectively collected.
Results
Eighteen male and ten female patients were included in this study. The median age of the patients was 58 years (range 49–76 years). Eight cases of wage resections, six cases of end-to-end anastomosis, and four cases of artificial grafts were performed in our series. Only one patient (5.6%) required conversion because of uncontrolled bleeding from the splenic vein. The average operative time was 448 min (range 420–570 min). The mean time for blood occlusion was 32 min, including 17 min for wage resections, 28 min for end-to-end anastomosis, and 48 min for artificial grafts. Thirty-day mortality was not observed in our series. The median postoperative hospital stay was 13 days (range 9–18 days). Three patients suffered from pancreatic fistula (Grade A), and one suffered from abdominal bleeding after subcutaneous injection with low-molecular heparin. In this case, abdominal bleeding was stopped through conservative therapies.
Conclusion
Laparoscopic pancreaticoduodenectomy with major venous resection and reconstruction can be safely and feasibly performed. The anterior SMA-first approach can facilitate this procedure and decrease operative time and blood occlusion duration.
This is a preview of subscription content, log in to check access.
Access options
Buy single article
Instant access to the full article PDF.
US$ 39.95
Price includes VAT for USA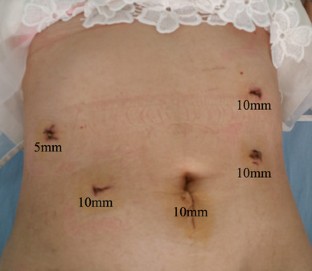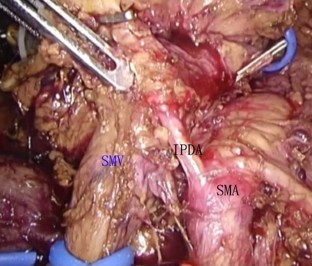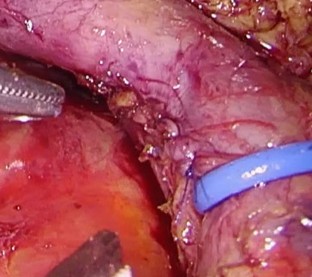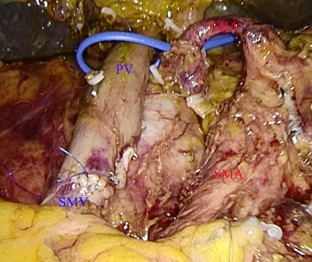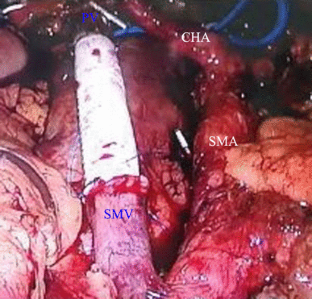 References
1.

Gagner M, Pomp A (1994) Laparoscopic pylorus-preserving pancreatoduodenectomy. Surg Endosc 8:408–410

2.

Subhas G, Mittal VK (2011) Training minimal invasive approaches in hepatopancreatobilliary fellowship: the current status. HPB 13:149–152

3.

Palanivelu C, Rajan PS, Rangarajan M, Vaithiswaran V, Senthilnathan P, Parthasarathi R, Praveen Raj P (2009) Evolution in techniques of laparoscopic pancreaticoduodenectomy: a decade long experience from a tertiary center. J Hepatobil Pancreat Surg 16:731–740

4.

Liao CH, Wu YT, Liu YY, Wang SY, Kang SC, Yeh CN, Yeh TS (2016) Systemic review of the feasibility and advantage of minimally invasive pancreaticoduodenectomy. World J Surg 40:1218–1225

5.

Awad ZT (2014) Totally laparoscopic pancreaticoduodenectomy for pancreatic head cancer with involvement of the superior mesenteric vein-portal vein confluence. Ann Surg Oncol 21:3439

6.

Palanisamy S, Deuri B, Naidu SB, Vaiyapurigoundar Palanisamy N, Natesan AV, Palanivelu PR, Parthasarathy R, Palanivelu C (2015) Major venous resection and reconstruction using a minimally invasive approach during laparoscopic pancreaticoduodenectomy: one step forward. Asian J Endosc Surg 8:468–472

7.

Croome KP, Farnell MB, Que FG, Reid-Lombardo KM, Truty MJ, Nagorney DM, Kendrick ML (2015) Pancreaticoduodenectomy with major vascular resection: a comparison of laparoscopic versus open approaches. J Gastrointest Surg 19:189–194 (discussion 194)

8.

Kendrick ML, Sclabas GM (2011) Major venous resection during total laparoscopic pancreaticoduodenectomy. HPB 13:454–458

9.

Dokmak S, Cherif R, Duquesne I, Delattre R, Aussilhou B, Soubrane O, Sauvanet A (2016) Laparoscopic pancreaticoduodenectomy with reconstruction of the portal vein with the parietal peritoneum. Ann Surg Oncol 23:2664

10.

Siriwardana HP, Siriwardena AK (2006) Systematic review of outcome of synchronous portal-superior mesenteric vein resection during pancreatectomy for cancer. Br J Surg 93:662–673

11.

Asbun HJ, Stauffer JA (2012) Laparoscopic vs open pancreaticoduodenectomy: overall outcomes and severity of complications using the Accordion Severity Grading System. J Am Coll Surg 215:810–819

12.

Kantor O, Talamonti MS, Sharpe S, Lutfi W, Winchester DJ, Roggin KK, Bentrem DJ, Prinz RA, Baker MS (2017) Laparoscopic pancreaticoduodenectomy for adenocarcinoma provides short-term oncologic outcomes and long-term overall survival rates similar to those for open pancreaticoduodenectomy. Am J Surg 213:512–515

13.

Hakeem AR, Verbeke CS, Cairns A, Aldouri A, Smith AM, Menon KV (2014) A matched-pair analysis of laparoscopic versus open pancreaticoduodenectomy: oncological outcomes using Leeds Pathology Protocol. Hepatobil Pancreat Dis Int 13:435–441

14.

Khatkov IE, Izrailov RE, Khisamov AA, Tyutyunnik PS, Fingerhut A (2017) Superior mesenteric-portal vein resection during laparoscopic pancreatoduodenectomy. Surg Endosc 31:1488–1495

15.

Mollberg N, Rahbari NN, Koch M, Hartwig W, Hoeger Y, Buchler MW, Weitz J (2011) Arterial resection during pancreatectomy for pancreatic cancer: a systematic review and meta-analysis. Ann Surg 254:882–893

16.

Amano H, Miura F, Toyota N, Wada K, Katoh K, Hayano K, Kadowaki S, Shibuya M, Maeno S, Eguchi T, Takada T, Asano T (2009) Is pancreatectomy with arterial reconstruction a safe and useful procedure for locally advanced pancreatic cancer? J Hepato-bil Pancreat Surg 16:850–857

17.

Weitz J, Rahbari N, Koch M, Buchler MW (2010) The "artery first" approach for resection of pancreatic head cancer. J Am Coll Surg 210:e1–e4

18.

Noto M, Miwa K, Kitagawa H, Kayahara M, Takamura H, Shimizu K, Ohta T (2005) Pancreas head carcinoma: frequency of invasion to soft tissue adherent to the superior mesenteric artery. Am J Surg Pathol 29:1056–1061

19.

Gaedcke J, Gunawan B, Grade M, Szoke R, Liersch T, Becker H, Ghadimi BM (2010) The mesopancreas is the primary site for R1 resection in pancreatic head cancer: relevance for clinical trials. Langenbecks Arch Surg 395:451–458

20.

Kim PT, Temple S, Atenafu EG, Cleary SP, Moulton CA, McGilvray ID, Gallinger S, Greig PD, Wei AC (2014) Aberrant right hepatic artery in pancreaticoduodenectomy for adenocarcinoma: impact on resectability and postoperative outcomes. HPB 16:204–211

21.

Shrikhande SV, Barreto SG, Bodhankar YD, Suradkar K, Shetty G, Hawaldar R, Goel M, Shukla PJ (2011) Superior mesenteric artery first combined with uncinate process approach versus uncinate process first approach in pancreatoduodenectomy: a comparative study evaluating perioperative outcomes. Langenbecks Arch Surg 396:1205–1212

22.

Sanjay P, Takaori K, Govil S, Shrikhande SV, Windsor JA (2012) 'Artery-first' approaches to pancreatoduodenectomy. Br J Surg 99:1027–1035

23.

Pilgrim CH, Tsai S, Tolat P, Patel P, Rilling W, Evans DB, Christians KK (2014) Optimal management of the splenic vein at the time of venous resection for pancreatic cancer: importance of the inferior mesenteric vein. J Gastrointest Surg 18:917–921
Funding
This study was funded by the National Institutes of Health of China (W2017ZWS07).
Ethics declarations
Disclosures
Dr. Yunqiang Cai, Pan Gao, Yongbin Li, Xin Wang, and Bing Peng have no conflicts of interest or financial ties to disclose.
Electronic supplementary material
Below is the link to the electronic supplementary material.
Supplementary material 1 (MP4 242747 KB)
About this article
Cite this article
Cai, Y., Gao, P., Li, Y. et al. Laparoscopic pancreaticoduodenectomy with major venous resection and reconstruction: anterior superior mesenteric artery first approach. Surg Endosc 32, 4209–4215 (2018). https://doi.org/10.1007/s00464-018-6167-3
Received:

Accepted:

Published:

Issue Date:
Keywords
Laparoscopic

Minimal invasive surgery

Pancreatectomy

Pancreaticoduodenectomy

Vascular resection