Abstract
Background
Bipolar vessel sealing has been successfully introduced in a variety of procedures like prostatectomy, hysterectomy, and nephrectomy. In this study, we evaluated a new sealing mode—the thermoSEAL® mode (TSM)—operated with the VIO3 generator in an ex vivo and in vivo animal study and compared the results with the commercially available BiClamp mode (BCM), operated with the VIO300D generator. Two different instruments were used in combination with both modes, BiCision® and BiClamp® 201T (Erbe Elektromedizin GmbH).
Methods
In the ex vivo experiment, the sealing of renal arteries was evaluated using both instruments and modes. For the in vivo study, different types of arteries and veins were sealed using both modes and instruments in a side-by-side comparison for acute complications in a total of four animals.
Results
Mean burst pressure was in all cases significantly above 360 mmHg (p < 0.001). Sealing time during the ex vivo setting was significantly shorter for TSM compared to BCM: BiCision® (3.7 ± 0.4 vs. 7.1 ± 0.3 s; p < 0.0001); BiClamp® 201T (3.9 ± 0.3 vs. 5.1 ± 1.1 s; p < 0.0015). Lateral thermal damage was more pronounced for BCM: BiCision® (TSM 1.4 ± 0.3 mm vs. BCM 1.9 ± 0.2 mm; p < 0.0001); BiClamp® 201T (TSM 1.9 ± 0.6 mm vs. BCM 3.1 ± 0.6 mm; p < 0.0001). The sealing time during the in vivo study was significantly shorter for TSM in combination with BiCision® for arteries [TSM 3.0 ± 0.7 s vs. BCM 6.5 ± 1.3 s, (p < 0.0001) and veins 3.2 ± 1.1 vs. 5.8 ± 1.8 s, (p < 0.0001)]. No significant differences were seen for the two modes used with BiClamp® 201T [artery: TSM 3.3 ± 0.7 s vs. BCM 3.4 ± 0.9 s, (p = 0.891)]. High sealing rates for arteries (100%) and veins (>90%) were noted for both instruments and modes.
Conclusions
While both modes used with two different instruments reveal high safety characterized by a high burst pressure, low thermal damage (ex vivo) zones, and high sealing rates (in vivo), the thermoSEAL® mode convinces by its fast sealing speed probably helping to reduce operation time.
This is a preview of subscription content, log in to check access.
Access options
Buy single article
Instant access to the full article PDF.
US$ 39.95
Price includes VAT for USA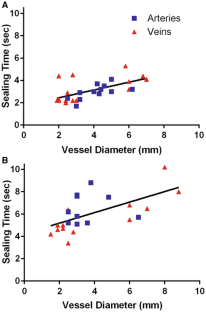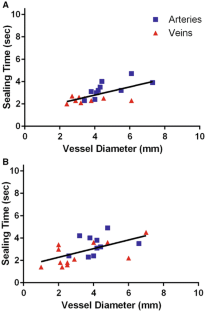 References
1.

Manouras A, Markogiannakis H, Koutras AS et al (2008) Thyroid surgery: comparison between the electrothermal bipolar vessel sealing system, harmonic scalpel, and classic suture ligation. Am J Surg 195(1):48–52. doi:10.1016/j.amjsurg.2007.01.037

2.

Pniak T, Formanek M, Matousek P et al (2014) Bipolar thermofusion BiClamp 150 in thyroidectomy: a review of 1156 operations. Biomed Res Int 2014:707265. doi:10.1155/2014/707265

3.

Harold KL, Pollinger H, Matthews BD et al (2003) Comparison of ultrasonic energy, bipolar thermal energy, and vascular clips for the hemostasis of small-, medium-, and large-sized arteries. Surg Endosc 17(8):1228–1230. doi:10.1007/s00464-002-8833-7

4.

Kennedy JS, Stranahan PL, Taylor KD et al (1998) High-burst-strength, feedback-controlled bipolar vessel sealing. Surg Endosc 12(6):876–878

5.

Bibi S, Alblawi S, Velchuru V et al (2014) Sealing of vessels larger than 7 millimeters using Enseal in porcine aorta. JSLS. doi:10.4293/JSLS.2014.00182

6.

Rothmund R, Schaeller D, Neugebauer AA et al (2012) Evaluation of thermal damage in a pig model. J Invest Surg 25(1):43–50. doi:10.3109/08941939.2011.591895

7.

Rothmund R, Kraemer B, Neis F et al (2012) Efficacy and safety of the novel electrosurgical vessel sealing and cutting instrument BiCision(R). Surg Endosc 26(11):3334–3343. doi:10.1007/s00464-012-2337-x

8.

Richter S, Kollmar O, Schilling MK et al (2006) Efficacy and quality of vessel sealing: comparison of a reusable with a disposable device and effects of clamp surface geometry and structure. Surg Endosc 20(6):890–894. doi:10.1007/s00464-005-0380-6

9.

Smaldone MC, Gibbons EP, Jackman SV (2008) Laparoscopic nephrectomy using the EnSeal tissue sealing and hemostasis system: successful therapeutic application of nanotechnology. JSLS 12(2):213–216

10.

Campagnacci R, de Sanctis A, Baldarelli M et al (2007) Electrothermal bipolar vessel sealing device vs. ultrasonic coagulating shears in laparoscopic colectomies: a comparative study. Surg Endosc 21(9):1526–1531. doi:10.1007/s00464-006-9143-2

11.

Daskalopoulos G, Karyotis I, Heretis I et al (2004) Electrothermal bipolar coagulation for radical prostatectomies and cystectomies: a preliminary case-controlled study. Int Urol Nephrol 36(2):181–185

12.

Campagnacci R, de Sanctis A, Baldarelli M et al (2007) Hepatic resections by means of electrothermal bipolar vessel device (EBVS) LigaSure V: early experience. Surg Endosc 21(12):2280–2284

13.

Santini M, Fiorelli A, Milione R et al (2014) The use of an electrothermal bipolar tissue sealing system in the management of lung hydatid disease. Interact Cardiovasc Thorac Surg 19(4):690–692. doi:10.1093/icvts/ivu221

14.

Demirturk F, Aytan H, Caliskan AC (2007) Comparison of the use of electrothermal bipolar vessel sealer with harmonic scalpel in total laparoscopic hysterectomy. J Obstet Gynaecol Res 33(3):341–345. doi:10.1111/j.1447-0756.2007.00533.x

15.

Richter S, Kollmar O, Neunhoeffer E et al (2006) Differential response of arteries and veins to bipolar vessel sealing: evaluation of a novel reusable device. J Laparoendosc Adv Surg Tech A 16(2):149–155. doi:10.1089/lap.2006.16.149

16.

Newcomb WL, Hope WW, Schmelzer TM et al (2009) Comparison of blood vessel sealing among new electrosurgical and ultrasonic devices. Surg Endosc 23(1):90–96. doi:10.1007/s00464-008-9932-x

17.

Mantke R, Halangk W, Habermann A et al (2011) Efficacy and safety of 5-mm-diameter bipolar and ultrasonic shears for cutting carotid arteries of the hybrid pig. Surg Endosc 25(2):577–585. doi:10.1007/s00464-010-1224-6

18.

Clements RH, Palepu R (2007) In vivo comparison of the coagulation capability of SonoSurg and harmonic ace on 4 mm and 5 mm arteries. Surg Endosc 21(12):2203–2206. doi:10.1007/s00464-007-9345-2

19.

Person B, Vivas DA, Ruiz D et al (2008) Comparison of four energy-based vascular sealing and cutting instruments: a porcine model. Surg Endosc 22(2):534–538. doi:10.1007/s00464-007-9619-8
Acknowledgments
The authors thank M. Seitzer, A. Stolz, C. Fahrner, and T. O. Greiner for their excellent veterinarian and technical assistance.
Ethics declarations
Disclosures
Walter Linzenbold, Bernhard Nold, and Markus Enderle are employees of Erbe Elektromedizin GmbH. Karolin Thiel, Martin Schenk, Alfred Königsrainer, and Christian Thiel have no conflicts of interest or financial ties to disclose.
About this article
Cite this article
Thiel, K., Linzenbold, W., Enderle, M.D. et al. Evaluation of a novel electrosurgical sealing mode in an ex vivo and in vivo porcine model. Surg Endosc 32, 1456–1463 (2018). https://doi.org/10.1007/s00464-017-5832-2
Received:

Accepted:

Published:

Issue Date:
Keywords
Bipolar vessel sealing

Animal model

Sealing time

Sealing rate

Thermal damage

Burst pressure