Abstract
Background
Laparoscopic surgery for rectal TME achieves better patient recovery, lower morbidity, and shorter hospital stay than open surgery. However, in laparoscopic rectal surgery, the overall conversion rate is nearly 20 %. Transanal TME combined with laparoscopy, known as Hybrid NOTES, is a less invasive procedure that provides adequate solutions to some of the limitations of rectal laparoscopy. Transanal TME via TEO with technical variants (intracorporeal resection and anastomosis, TEO review of the anastomosis) attempts to standardize and simplify the procedure.
Method
Prospective observational study was used describe and assess the technique in terms of conversion to open surgery, overall morbidity, surgical site infection and hospital stay. The sample comprised consecutive patients diagnosed with rectal tumor less than 10 cm from the anal verge who were candidates for low anterior resection using TME (except T4). Demographic, surgical, postoperative, and pathological variables were analyzed, as well as morbidity rates.
Results
From September 2012 to August 2014, 32 patients were included. The conversion rate was 0 %. Overall morbidity was 31.3 %, SSI rate was 9.4 %, and mean hospital stay was 8 days. Oncological radical criteria were achieved with pathological parameters of 94 % of complete TME and a median circumferential margin of 13 mm.
Conclusion
The introduction of technical variants of TEO for transanal resection can facilitate a procedure that requires extensive experience in transanal and laparoscopic surgery. Studies of sphincter function, quality of life, and long-term oncological outcome are now necessary.
This is a preview of subscription content, log in to check access.
Access options
Buy single article
Instant access to the full article PDF.
US$ 39.95
Price includes VAT for USA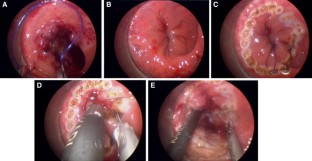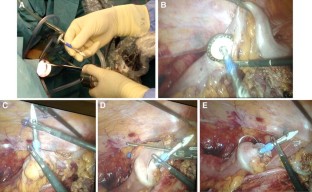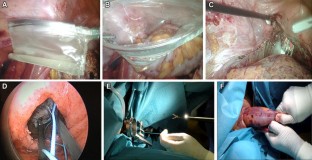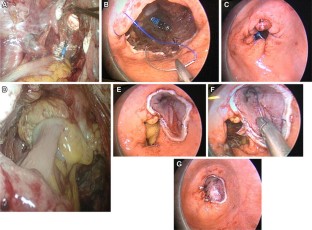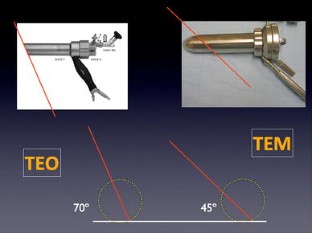 References
1.

Heald RJ, Husband EM, Ryall RD (1982) The mesorectum in rectal cancer surgery—the clue to pelvic recurrence? Br J Surg 69:613–616

2.

Van der Pas MH, Haglind E, Cuesta MA, Fürst A, Lacy AM, Hop WC, Bonjer HJ; COlorectal cancer Laparoscopic or Open Resection II (COLOR II) Study Group (2013) Laparoscopic versus open surgery for rectal cancer (COLOR II): short-term outcomes of a randomised, phase 3 trial. Lancet Oncol 14:210–218

3.

Buess G, Hutterer F, Theiss J, Bobel M, Isselhard W, Pichlmaier H (1984) A system for a transanal endoscopic rectum operation. Chirurg 55:677–680

4.

Serra Aracil X, Mora-Lopez L, Alcantara-Moral M, Corredera-Cantarín C, Gomez-Diaz C, Navarro-Soto S (2014). Atypical Indication for transanal endoscopic microsurgery to avoid major surgery. Tech Coloproctol 18(2):157–164

5.

Sylla P, Rattner DW, Delgado S, Lacy AM (2010) NOTES transanal rectal cancer resection using transanal endoscopic microsurgery and laparoscopic assistance. Surg Endosc 24:1205–1210. doi:10.1007/s00464-010-0965-6

6.

Buess GF, Misra MC, Bhattacharjee HK, Becerra Garcia FC, Bansal VK, Bermudez JR (2011) Single-port surgery and NOTES: from transanal endoscopic microsurgery and transvaginal laparoscopic cholecystectomy to transanal rectosigmoid resection. Surg Laparosc Endosc Percutan Tech 21:e110–e119

7.

Rattner D, Kalloo A, ASGE/SAGES Working Group (2006) ASGE/SAGES working group on natural orifice translumenal endoscopic surgery. Surg Endosc 20:329–333

8.

Lehmann KS, Ritz JP, Wibmer A, Gellert K, Zornig C, Burghardt J, Büsing M, Runkel N, Kohlhaw K, Albrecht R, Kirchner TG, Arlt G, Mall JW, Butters M, Bulian DR, Bretschneider J, Holmer C, Buhr HJ (2010) The German registry for natural orifice translumenal endoscopic surgery: report of the first 551 patients. Ann Surg 252:263–270

9.

Kalloo AN, Singh VK, Jagannath SB, Niiyama H, Hill SL, Vaughn CA, Magee CA, Kantsevoy SV (2004) Flexible transgastric peritoneoscopy: a novel approach to diagnostic and therapeutic interventions in the peritoneal cavity. Gastrointest Endosc 60:114–117

10.

Leroy J, Barry BD, Melani A, Mutter D, Marescaux J (2013) No-scar transanal total mesorectal excision: the last step to pure NOTES for colorectal surgery. JAMA Surg. 148:226–230

11.

Tuech JJ, Bridoux V, Kianifard B, Schwarz L, Tsilividis B, Huet E, Michot F (2011) Natural orifice total mesorectal excision using transanal port and laparoscopic assistance. Eur J Surg Oncol 37:334–335

12.

Zhang H, Zhang YS, Jin XW, Li MZ, Fan JS, Yang ZH (2013) Transanal single-port laparoscopic total mesorectal excision in the treatment of rectal cancer. Tech Coloproctol 17:117–123

13.

Pearl JP, Marks JM, Ponsky JL (2008) Hybrid surgery: combined laparoscopy and natural orifice surgery. Gastrointest Endosc Clin N Am 18:325–332

14.

Horgan S, Cullen JP, Talamini MA, Mintz Y, Ferreres A, Jacobsen GR, Sandler B, Bosia J, Savides T, Easter DW, Savu MK, Ramamoorthy SL, Whitcomb E, Agarwal S, Lukacz E, Dominguez G, Ferraina P (2009) Natural orifice surgery: initial clinical experience. Surg Endosc 23:1512–1518

15.

Lacy AM, Adelsdorfer C, Delgado S, Sylla P, Rattner DW (2013) Minilaparoscopy-assisted transrectal low anterior resection (LAR): a preliminary study. Surg Endosc 27:339–346

16.

Lacy AM, Rattner DW, Adelsdorfer C, Tasende MM, Fernández M, Delgado S, Sylla P, Martínez-Palli G (2013) Transanal natural orifice transluminal endoscopic surgery (NOTES) rectal resection: "down-to-up" total mesorectal excision (TME)-short-term outcomes in the first 20 cases. Surg Endosc 27:3165–3172

17.

Velthuis S, Nieuwenhuis DH, Ruijter TE, Cuesta MA, Bonjer HJ, Sietses C (2014) Transanal versus traditional laparoscopic total mesorectal excision for rectal carcinoma. Surg Endosc. PMID: 24972923 (Epub ahead of print)

18.

National Comprehensive Cancer Network. Rectal Cancer. Clinical Practice Guidelines in Oncology: National Comprehensive. Cancer Network; version 3, 2014; http://www.nccn.org. Accessed 15 Aug 2014

19.

Serra Aracil X, Bombardó Junca J, Mora López L, Alcántara Moral M, Ayguavives Garnica I, Navarro Soto S (2006) Transanal endoscopic microsurgery (TEM). Current situation and future expectations. Cir Esp 80:123–132

20.

Serra-Aracil X, Mora-Lopez L, Alcantara-Moral M, Caro-Tarrago A, Gomez-Diaz CJ, Navarro-Soto S (2014) Transanal endoscopic surgery in rectal cancer. World J Gastroenterol 20:11538–11545

21.

Akamatsu H, Omori T, Oyama T, Tori M, Ueshima S, Nishida T, Nakahara M, Abe T (2009) Totally laparoscopic low anterior resection for lower rectal cancer: combination of a new technique for intracorporeal anastomosis with prolapsing technique. Dig Surg. 26:446–450

22.

Quirke P, Dixon MF, Durdey P, Williams NS (1986) Local recurrence of rectal adenocarcinoma due to inadequate surgical resection. Histopathological study of lateral tumour spread and surgical excision. Lancet 1:996–999

23.

Rebasa P, Mora L, Luna A, Montmany S, Vallverdú H, Navarro S (2009) Continuous monitoring of adverse events: influence on the quality of care and the incidence of errors in general surgery. World J Surg 33:191–198

24.

Copeland GP, Jones D, Walters M (1991) POSSUM: a scoring system for surgical audit. Br J Surg 78:355–360

25.

Whiteley MS, Prytherch DR, Higgins B, Weaver PC, Prout WG (1996) An evaluation of the POSSUM surgical scoring system. Br J Surg 83:812–815

26.

Tekkis PP, Prytherch DR, Kocher HM, Senapati A, Poloniecki JD, Stamatakis JD, Windsor AC (2004) Development of a dedicated risk adjustment scoring system for colorectal surgery (colorectal POSSUM). Br J Surg 91:1174–1182

27.

Rahbari NN, Weitz J, Hohenberger W, Heald RJ, Moran B, Ulrich A, Holm T, Wong WD, Tiret E, Moriya Y, Laurberg S, den Dulk M, van de Velde C, Büchler MW (2010) Definition and grading of anastomotic leakage following anterior resection of the rectum: a proposal by the International Study Group of Rectal Cancer. Surgery. 147:339–351

28.

Serra-Aracil X, Caro-Tarrago A, Mora-López L, Casalots A, Rebasa P, Navarro-Soto S (2014) Transanal endoscopic surgery with total wall excision is required with rectal adenomas due to the high frequency of adenocarcinoma. Dis Colon Rectum 57:823–829

29.

Serra-Aracil X, Mora-Lopez L, Alcantara-Moral M, Caro-Tarrago A, Navarro-Soto S (2014) Transanal endoscopic microsurgery with 3-D (TEM) or high-definition 2-D transanal endoscopic operation (TEO) for rectal tumors. A prospective, randomized clinical trial. Int J Colorectal Dis 29:605–610

30.

Atallah S, Albert M, Larach S (2010) Transanal minimally invasive surgery: a giant leap forward. Surg Endosc 24:2200–2205

31.

Meng WJ, Wang ZQ, Zhou ZG (2013) Laparoscopic splenic flexure mobilization during low anterior resection for rectal cancer: a high-level component of surgeon's armamentarium. Colorectal Dis 15:1184–1186

32.

Rouanet P, Mourregot A, Azar CC, Carrere S, Gutowski M, Quenet F, Saint-Aubert B, Colombo PE (2013) Transanal endoscopic proctectomy: an innovative procedure for difficult resection of rectal tumors in men with narrow pelvis. Dis Colon Rectum 56:408–415

33.

Fernández-Hevia M, Delgado S, Castells A, Tasende M, Momblan D, Díaz Del Gobbo G, DeLacy B, Balust J, Lacy AM (2014) Transanal total mesorectal excision in rectal cancer: short-term outcomes in comparison with laparoscopic surgery. Ann Surg. PMID: 25185463 (Epub ahead of print)

34.

Emmertsen KJ, Laurberg S (2012) Low anterior resection syndrome score: development and validation of a symptom-based scoring system for bowel dysfunction after low anterior resection for rectal cancer. Ann Surg 255:922–928

35.

Serra-Aracil X (2014) Transanal total mesorectal excision. Cir Esp. 92:221–222
Acknowledgments
We thank the members of the multidisciplinary committee for colorectal tumors at the Parc Taulí University Hospital; we thank Mrs. Cristina Gomez Vigo for correcting the manuscript and Michael Maudsley for help with the English.
Disclosures
Xavier Serra-Aracil, Laura Mora-López, Alex Casalots, Carles Pericay, Raul Guerrero, Salvador Navarro-Soto have no conflicts of interest or financial ties to disclose.
Electronic supplementary material
Below is the link to the electronic supplementary material.
Supplementary material 1 (MOV 75076 kb)
Supplementary material 2 (MOV 57259 kb)
Supplementary material 3 (MOV 77548 kb)
Supplementary material 4 (MOV 75337 kb)
About this article
Cite this article
Serra-Aracil, X., Mora-López, L., Casalots, A. et al. Hybrid NOTES: TEO for transanal total mesorectal excision: intracorporeal resection and anastomosis. Surg Endosc 30, 346–354 (2016). https://doi.org/10.1007/s00464-015-4170-5
Received:

Accepted:

Published:

Issue Date:
Keywords
Transanal excision

Transanal TME

TEO

TEM

NOTES

Hybrid NOTES