Abstract
Background
Laparoendoscopic single-site (LESS) surgery has developed as a new surgical modality that has increased cosmetic benefits over conventional endoscopic surgery. However, there are no reports about LESS surgery in common bile duct exploration. This report presents a LESS surgery to manage CBD stones by laparoscopic choledochotomy and C-tube placement with favorable outcomes.
Methods
This retrospective review analyzes 13 patients who underwent LESS CBD exploration with C-tube drainage for choledocholithiasis. The technique is herein described and the outcomes measured. The Radius Surgical System (Tübingen Scientific Medical, Tübingen, Germany) is a flexible manual manipulator that was applied for suturing and ligation to overcome the difficulties associated with LESS surgery.
Results
The diameters of the CBDs ranged from 12 to 20 mm, the median number of stones was 5.8, and the median diameter of stones was 9 mm. All of the routine procedures including choledochotomy, intraoperative ultrasound, choledochoscopy, and intraoperative cholangiography guidance were performed. Stone clearance from the CBD was achieved for all but one of the patients. It was possible to close the common bile duct opening with regular forceps, but this required extra effort compared to conventional laparoscopic surgery. On the other hand, the manual manipulator enabled the optimal penetration angle and was useful for both intracorporeal suturing and ligation for the closure of the common bile duct opening. The manual manipulator also helped to overcome in-line viewing and hand/instruments collisions, which are common problems in LESS surgery. No mortality was associated with this procedure, and two wound infections were drained without anesthesia. No recurrent stones were observed during the follow-up period.
Conclusions
LESS surgery was successfully applied to CBD exploration as an available alternative to conventional laparoscopic surgery. This method is technically feasible and produces superior cosmetic results. The manual manipulator may therefore have several advantages for performing LESS surgery.
Access options
Buy single article
Instant access to the full article PDF.
US$ 39.95
Tax calculation will be finalised during checkout.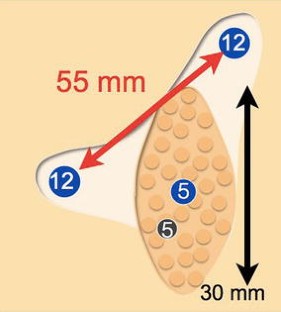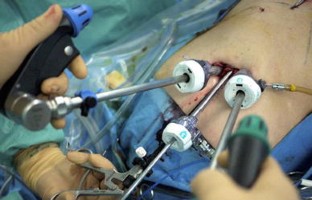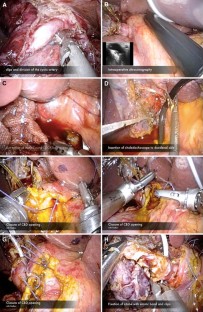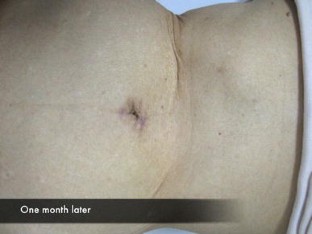 References
1.

10th Nationwide Survey of Endoscopic Surgery in Japan (2010) J Jpn Soc Endosc Surg 15:567–583

2.

Clayton ESJ, Connor S, Alexakis N, Leandros E (2006) Meta-analysis of endoscopy and surgery versus surgery alone for common bile duct stones with the gallbladder in situ. Br J Surg 93:1185–1191

3.

Hunter J (1992) Laparoscopic transcystic common bile duct exploration. Am J Surg 163:53–58

4.

Poulose BI, Arbogast PG, Holzman MD (2006) National analysis of in-hospital resource utilization in choledocholithiasis management using propensity scores. Surg Endosc 20:186–190

5.

Romanelli JR, Earle DB (2009) Single-port laparoscopic surgery: an overview. Surg Endosc 23:1419–1427

6.

Canes D, Desai MM, Aron M, Haber GP, Goel RK, Stein RJ, Kaouk JH, Gill IS (2008) Transumbilical single-port surgery: evolution and current status. Eur Urol 54:1020–1029

7.

Podolsky ER, Rottman SJ, Poblete H, King SA, Curcillo PG (2009) Single port access (SPA) cholecystectomy: a completely transumbilical approach. J Laparoendosc Adv Surg Tech 19:219–222

8.

Shibao K, Higure A, Yamaguchi K (2010) Case report: laparoendoscopic single-site fenestration of giant hepatic cyst. Surg Technol Int 20:133–136

9.

Shibao K, Higure A, Yamaguchi K (2011) Case report: reduced port surgery for enucleation of insulinoma in the pancreas. Surg Technol Int 21:101–105

10.

Ponsky JL, Rosen MJ, Poulose BK (2008) NOTES of caution. Surg Endosc 22:1561–1562

11.

Chamberlain RS, Sakpal SV (2009) A comprehensive review of single-incision laparoscopic surgery (SILS) and natural orifice transluminal endoscopic surgery (NOTES) techniques for cholecystectomy. J Gastrointest Surg 13:1733–1740

12.

Thompson B, Wheeless RC (1971) Outpatient sterilization by laparoscopy. A report of 666 patients. Obstet Gynecol 38:912–915

13.

Navarra G, Pozza E, Occhionorelli S, Carcoforo P, Donini I (1997) One-wound laparoscopic cholecystectomy. Br J Surg 84:695

14.

Curcillo PG 2nd, Wu AS, Podolsky ER, Graybeal C, Katkhouda N, Saenz A, Dunham R, Fendley S, Neff M, Copper C, Bessler M, Gumbs AA, Norton M, Iannelli A, Mason R, Moazzez A, Cohen L, Mouhlas A, Poor A (2010) Single-port-access (SPA) cholecystectomy: a multi-institutional report of the first 297 cases. Surg Endosc 24:1854–1860

15.

Markar SR, Karthikesalingam A, Thrumurthy S, Muirhead L, Kinross J, Paraskeva P (2012) Single-incision laparoscopic surgery (SILS) vs. conventional multiport cholecystectomy: systematic review and meta-analysis. Surg Endosc 26(5):1205–1213

16.

Pfluke JM, Parker M, Stauffer JA, Paetau AA, Bowers SP, Asbun HJ, Smith CD (2011) Laparoscopic surgery performed through a single incision: a systematic review of the current literature. J Am Coll Surg 212:113–118

17.

Phillips MS, Marks JM, Roberts K, Tacchino R, Onders R, DeNoto G, Rivas H, Islam A, Soper N, Gecelter G, Rubach E, Paraskeva P, Shah S (2012) Intermediate results of a prospective randomized controlled trial of traditional four-port laparoscopic cholecystectomy versus single-incision laparoscopic cholecystectomy. Surg Endosc 26:1296–1303

18.

Sajid MS, Ladwa N, Kalra L, Hutson KK, Singh KK, Sayegh M (2012) Single-incision laparoscopic cholecystectomy versus conventional laparoscopic cholecystectomy: meta-analysis and systematic review of randomized controlled trials. World J Surg 36:2644–2653

19.

Garg P, Thakur JD, Garg M, Menon GR (2012) Single-incision laparoscopic cholecystectomy vs. conventional laparoscopic cholecystectomy: a meta-analysis of randomized controlled trials. J Gastrointest Surg 16:1618–1628

20.

Greaves N, Nicholson J (2011) Single incision laparoscopic surgery in general surgery: a review. Ann R Coll Surg Engl 93:437–440

21.

Froghi F, Sodergren MH, Darzi A, Paraskeva P (2010) Single-incision laparoscopic surgery (SILS) in general surgery: a review of current practice. Surg Laparosc Endosc Percutan Tech 20:191–204

22.

Inaki N, Waseda M, Schurr MO, Braun M, Buess GF (2007) Experimental results of mesh fixation by a manual manipulator in a laparoscopic inguinal hernia repair model. Surg Endosc 21:197–201

23.

Waseda M, Inaki N, Torres Bermudez JR, Manukyan G, Gacek IA, Schurr MO, Braun M, Buess GF (2007) Precision in stitches: radius surgical system. Surg Endosc 21:2056–2062
Acknowledgments
The authors thank Dr. Manabu Yamamoto for his valuable advice.
Disclosures
Kazunori Shibao, Aiichiro Higure, and Koji Yamaguchi have no conflicts of interest or financial ties to disclose.
Electronic supplementary material
Below is the link to the electronic supplementary material.
Supplementary material 1 (WMV 80549 kb)
About this article
Cite this article
Shibao, K., Higure, A. & Yamaguchi, K. Laparoendoscopic single-site common bile duct exploration using the manual manipulator. Surg Endosc 27, 3009–3015 (2013). https://doi.org/10.1007/s00464-013-2837-3
Received:

Accepted:

Published:

Issue Date:
Keywords
Choledocholithiasis

Laparoendoscopic single-site surgery

Radius Surgical System

Reduced port surgery

Single incision laparoscopic surgery

Single port surgery