Abstract
Background
Transanal endoscopic microsurgical (TEM) resection is associated with improved outcomes compared to transanal excision of rectal lesions. However, TEM equipment requires additional operative setup time, and tumor location dictates patient positioning. In 2010, Drs. Attallah, Albert, and Larach developed an alternative technique, transanal minimally invasive surgery (TAMIS). Herein, we describe our novel experience using endoscopic visualization to perform TAMIS (eTAMIS) to remove a large rectal polyp.
Methods
This is a technical note describing a new surgical technique, eTAMIS. The technique is performed with the Gelpoint Path TAMIS platform (Applied Medical, Rancho Santa Margarita, CA) and a standard single-channel endoscope for visualization. Patient demographics, operative data, and pathologic data were recorded.
Results
eTAMIS was initially performed in a 50-year-old woman with an endoscopically defiant rectal mass discovered on routine screening colonoscopy. The lesion was a tubulovillous adenoma, 10 cm from the anal verge, anterior, and occupied 15–20 % of the circumference. The rectal mass was removed by eTAMIS. The operative time was 101 minutes, and the patient was discharged within 24 h without event. Final pathology revealed a focus of well-differentiated rectal adenocarcinoma with focal invasion into the muscularis mucosa (Haggit level 0, pTis) arising in the head of a pedunculated tubulovillous adenoma. At 1-year follow-up endoscopy, the patient had no evidence of recurrent mass or polyp.
Conclusions
This is the first technical report describing endoscopic visualization for TAMIS. Endoscopic visualization facilitates intraluminal articulation and lens cleaning while minimizing extraluminal instrument collisions. eTAMIS is a practical and logical evolution of the visual approach to natural orifice transluminal endoscopic surgery and laparoendoscopic surgery.
Access options
Buy single article
Instant access to the full article PDF.
US$ 39.95
Tax calculation will be finalised during checkout.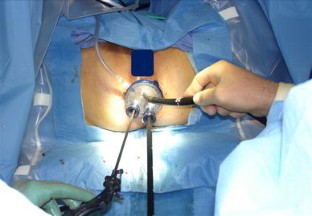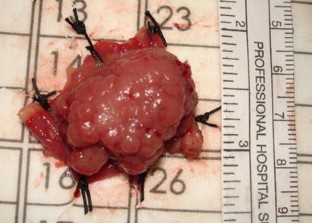 References
1.

Buess G, Theiss R, Hutterer F, Pichlmaier H, Pelz C, Holfeld T, Said S, Isselhard W (1983) Die transanale endoscopische Rektumoperation. Erprobung einer neuen Methode im Tierversuch. Leber Magen Darm 13:73–77

2.

Buess G (1993) Review: transanal endoscopic microsurgery (TEM). J R Coll Surg Edinb 38:239–245

3.

Middleton PF, Sutherland LM, Maddern GJ (2005) Transanal endoscopic microsurgery: a systematic review. Dis Colon Rectum 48:270–284

4.

Moore JS, Cataldo PA, Osler T, Hyman NH (2008) Transanal endoscopic microsurgery is more effective than traditional transanal excision for resection of rectal masses. Dis Colon Rectum 51:1026–1030

5.

Barendse RM, van den Broek FJ, Dekker E, Bemelman WA, de Graaf EJ, Fockens P, Reitsma JB (2011) Systematic review of endoscopic mucosal resection versus transanal endoscopic microsurgery for large rectal adenomas. Endoscopy 43(11):941–949

6.

Tsai BM, Finne CO, Nordenstam JF, Christoforidis D, Madoff RD, Mellgren A (2010) Transanal endoscopic microsurgery resection of rectal tumors: outcomes and recommendations. Dis Colon Rectum 53(1):16–23

7.

Sylla P, Rattner DW, Delgado S, Lacy AM (2010) NOTES transanal rectal cancer resection using transanal endoscopic microsurgery and laparoscopic assistance. Surg Endosc 24(5):1205–1210

8.

Salm R, Lampe H, Bustos A, Matern U (1994) Experience with TEM in Germany. Endosc Surg Allied Technol 2:251–254

9.

Said S, Stippel D (1995) Transanal endoscopic microsurgery in large, sessile adenomas of the rectum. A 10-year experience. Surg Endosc 9:1106–1112

10.

Schäfer H, Baldus SE, Hölscher AH (2006) Giant adenomas of the rectum: complete resection by transanal endoscopic microsurgery (TEM). Int J Colorectal Dis 21(6):533–537

11.

Kreissler-Haag D, Schuld J, Lindemann W, König J, Hildebrandt U, Schilling M (2008) Complications after transanal endoscopic microsurgical resection correlate with location of rectal neoplasms. Surg Endosc 22(3):612–616

12.

Gavagan JA, Whiteford MH, Swanstrom LL (2004) Full-thickness intraperitoneal excision by transanal endoscopic microsurgery does not increase short-term complications. Am J Surg 187(5):630–634

13.

Baatrup G, Borschitz T, Cunningham C, Qvist N (2009) Perforation into the peritoneal cavity during transanal endoscopic microsurgery for rectal cancer is not associated with major complications or oncological compromise. Surg Endosc 23(12):2680–2683

14.

Atallah S, Albert M, Larach S (2010) Transanal minimally invasive surgery: a giant leap forward. Surg Endosc 24(9):2200–2205

15.

Horgan S, Cullen JP, Talamini MA, Mintz Y, Ferreres A, Jacobsen GJ, Sandler B, Bosia J, Savides T, Easter DW, Savu MK, Ramamoorthy SL, Whitcomb E, Agarwal S, Lukacz E, Dominguez G, Ferraina P (2009) NOTES: initial clinical experience. Surg Endosc 23:1512–1518

16.

Haggitt RC, Glotzbach RE, Soffer EE, Wruble LD (1985) Prognostic factors in colorectal carcinomas arising in adenomas: implications for lesions removed by endoscopic polypectomy. Gastroenterology 89:328–336
Acknowledgments
We acknowledge Drs. Antonio Lacy and Patricia Sylla for their innovation and surgical leadership in the revolution of transanal endoluminal proctectomy and total mesorectal excision for rectal cancer. We also acknowledge Drs. Attallah, Albert, and Larach for their innovation and development of the TAMIS technique. Last, we acknowledge Dr. Sonia Ramammoorthy for her support and encouragement in developing an innovative transanal endoscopic surgical practice at the University of California, San Diego. Educational grants from Ethicon Endosurgery and Olympus provided additional funding to support research, education, and training conducted at the UC San Diego Center for the Future of Surgery.
Disclosures
Dr. McLemore is a consultant and an instructor for industry sponsored educational events for Applied Medical and Ethicon Endosurgery Dr. Jacobsen is a consultant and an instructor for industry sponsored educational events for Ethicon Endosurgery Dr. Talamini, MD serves on the advisory board and is a consultant for Olympus. He is also a consultant and an instructor for industry sponsored educational events for Ethicon Endosurgery. Dr. Horgan serves on the advisory board and is a consultant for Olympus. He is also a consultant and an instructor for industry sponsored educational events for Ethicon Endosurgery. Dr. Coker has no conflicts of interest or financial ties to disclose.
Electronic supplementary material
Below is the link to the electronic supplementary material.
Supplementary material 1 (MPG 60590 kb)
Supplementary material 2 (MPG 64138 kb)
Supplementary material 3 (MPG 53432 kb)
About this article
Cite this article
McLemore, E.C., Coker, A., Jacobsen, G. et al. eTAMIS: endoscopic visualization for transanal minimally invasive surgery. Surg Endosc 27, 1842–1845 (2013). https://doi.org/10.1007/s00464-012-2652-2
Received:

Accepted:

Published:

Issue Date:
Keywords
Endoscope

Rectal mass

TAMIS

Transanal minimally invasive surgery