Abstract
Background
For choledochal cyst, the treatment of choice is total excision of the cyst because there is a risk of biliary cancer including the gallbladder. The current report describes the authors' early experiences using their technique of laparoscopic en bloc excision of choledochal cysts with Roux-en-Y biliary reconstruction.
Methods
Between September 2009 and July 2011, laparoscopic excision for choledochal cyst was attempted for 20 patients at the Division of Hepatobiliary and Pancreatic Surgery, Asan Medical Center. Clinical, radiologic, and surgical data were analyzed retrospectively.
Results
The mean age of the patients was 37.8 ± 11.1 years (range, 18–65 years), and the male-to-female ratio was 1:4.0 (4:16). According to Todani's classification, there were four type 1a cases, seven type 1c cases, and nine type 4a cases. The mean operation time was 395.8 ± 58.7 min. No perioperative transfusions were required. The average body mass index was 23.5 ± 4.04 kg/m2. Conversion to laparotomy was required for seven patients (35 %) due to bleeding (n = 1), Roux loop venous congestion (n = 1), abdominal obesity (n = 2), and severe fibrosis and inflammation around the cyst (n = 3). No malignancies were identified. Of the 13 patients who underwent laparoscopy, the jejunojejunostomy was created extracorporeally for the first 2 patients and intracorporeally for the subsequent 11 patients. All hepaticojejunostomies were performed intracorporeally. Oral feeding was resumed on postoperative day 3. The mean postoperative hospital stay was 9.3 days (range, 8–36 days). No major complications or mortalities occurred.
Conclusions
The morbidity and mortality rates for the authors' method are comparable with previously reported results. Although the conversion rate, mean operation time, and hospital stay were greater than reported in some studies, this probably reflected the authors' learning curve for this technically challenging procedure. They believe laparoscopic approaches will eventually become an advantageous treatment option for laparotomy offered to selected choledochal cyst patients.
Access options
Buy single article
Instant access to the full article PDF.
US$ 39.95
Tax calculation will be finalised during checkout.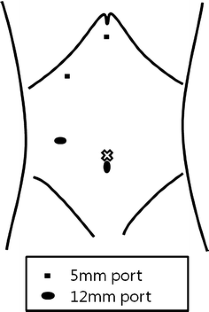 References
1.

Todani T, Watanabe Y, Narusue M, Tabuchi K, Okajima K (1977) Congenital bile duct cysts: classification, operative procedures, and review of thirty-seven cases including cancer arising from choledochal cyst. Am J Surg 134:263–269

2.

Lee H, Hirose S, Bratton B, Farmer D (2004) Initial experience with complex laparoscopic biliary surgery in children: biliary atresia and choledochal cyst. J Pediatr Surg 39:804–807 discussion 804–807

3.

Soreide K, Korner H, Havnen J, Soreide JA (2004) Bile duct cysts in adults. Br J Surg 91:1538–1548

4.

Lipsett PA, Pitt HA (2003) Surgical treatment of choledochal cysts. J Hepatobiliary Pancreat Surg 10:352–359

5.

Benjamin IS (2003) Biliary cystic disease: the risk of cancer. J Hepatobiliary Pancreat Surg 10:335–339

6.

Tashiro S, Imaizumi T, Ohkawa H, Okada A, Katoh T, Kawaharada Y, Shimada H, Takamatsu H, Miyake H, Todani T (2003) Pancreaticobiliary maljunction: retrospective and nationwide survey in Japan. J Hepatobiliary Pancreat Surg 10:345–351

7.

Palanivelu C, Rangarajan M, Parthasarathi R, Amar V, Senthilnathan P (2008) Laparoscopic management of choledochal cysts: technique and outcomes—a retrospective study of 35 patients from a tertiary center. J Am Coll Surg 207:839–846

8.

Jang JY, Kim SW, Han HS, Yoon YS, Han SS, Park YH (2006) Totally laparoscopic management of choledochal cysts using a four-hole method. Surg Endosc 20:1762–1765

9.

Chowbey PK, Katrak MP, Sharma A, Khullar R, Soni V, Baijal M, Vashistha A, Dhir A, Dewan A (2002) Complete laparoscopic management of choledochal cyst: report of two cases. J Laparoendosc Adv Surg Tech A 12:217–221

10.

Le DM, Woo RK, Sylvester K, Krummel TM, Albanese CT (2006) Laparoscopic resection of type 1 choledochal cysts in pediatric patients. Surg Endosc 20:249–251

11.

Tang ST, Yang Y, Wang Y, Mao YZ, Li SW, Tong QS, Cao GQ, Zhao ZX (2011) Laparoscopic choledochal cyst excision, hepaticojejunostomy, and extracorporeal Roux-en-Y anastomosis: a technical skill and intermediate-term report in 62 cases. Surg Endosc 25:416–422

12.

Cho MJ, Hwang S, Lee YJ, Kim KH, Ahn CS, Moon DB, Lee SK, Kim MH, Lee SS, Park DH, Lee SG (2011) Surgical experience of 204 cases of adult choledochal cyst disease over 14 years. World J Surg 35:1094–1102

13.

Kim HJ, Kim MH, Lee SK, Seo DW, Kim YT, Lee DK, Song SY, Roe IH, Kim JH, Chung JB, Kim CD, Shim CS, Yoon YB, Yang US, Kang JK, Min YI (2002) Normal structure, variations, and anomalies of the pancreaticobiliary ducts of Koreans: a nationwide cooperative prospective study. Gastrointest Endosc 55:889–896

14.

Komi N, Tamura T, Miyoshi Y, Kunitomo K, Udaka H, Takehara H (1984) Nationwide survey of cases of choledochal cyst: analysis of coexistent anomalies, complications and surgical treatment in 645 cases. Surg Gastroenterol 3:69–73

15.

Miyano T, Yamataka A (1997) Choledochal cysts. Curr Opin Pediatr 9:283–288

16.

Nicholl M, Pitt HA, Wolf P, Cooney J, Kalayoglu M, Shilyansky J, Rikkers LF (2004) Choledochal cysts in western adults: complexities compared to children. J Gastrointest Surg 8:245–252

17.

Kim JW, Moon SH, Park do H, Lee SS, Seo DW, Kim MH, Lee SK (2010) Course of choledochal cysts according to the type of treatment. Scand J Gastroenterol 45:739–745

18.

Farello GA, Cerofolini A, Rebonato M, Bergamaschi G, Ferrari C, Chiappetta A (1995) Congenital choledochal cyst: video-guided laparoscopic treatment. Surg Laparosc Endosc 5:354–358

19.

Jordan PH Jr, Goss JA Jr, Rosenberg WR, Woods KL (2004) Some considerations for management of choledochal cysts. Am J Surg 187:790–795

20.

Ishibashi T, Kasahara K, Yasuda Y, Nagai H, Makino S, Kanazawa K (1997) Malignant change in the biliary tract after excision of choledochal cyst. Br J Surg 84:1687–1691

21.

Tan SS, Tan NC, Ibrahim S, Tay KH (2007) Management of adult choledochal cyst. Singapore Med J 48:524–527

22.

Tanaka M, Shimizu S, Mizumoto K, Yokohata K, Chijiiwa K, Yamaguchi K, Ogawa Y (2001) Laparoscopically assisted resection of choledochal cyst and Roux-en-Y reconstruction. Surg Endosc 15:545–552

23.

Kang CM, Chi HS, Kim JY, Choi GH, Kim KS, Choi JS, Lee WJ, Kim BR (2007) A case of robot-assisted excision of choledochal cyst, hepaticojejunostomy, and extracorporeal Roux-en-y anastomosis using the da Vinci surgical system. Surg Laparosc Endosc Percutan Tech 17:538–541

24.

Woo R, Le D, Albanese CT, Kim SS (2006) Robot-assisted laparoscopic resection of a type I choledochal cyst in a child. J Laparoendosc Adv Surg Tech A 16:179–183

25.

Chowbey PK, Soni V, Sharma A, Khullar R, Baijal M (2005) Laparoscopic hepaticojejunostomy for biliary strictures: the experience of 10 patients. Surg Endosc 19:273–279

26.

Han HS, Yi NJ (2004) Laparoscopic Roux-en-Y choledochojejunostomy for benign biliary disease. Surg Laparosc Endosc Percutan Tech 14:80–84

27.

Aspelund G, Ling SC, Ng V, Kim PC (2007) A role for laparoscopic approach in the treatment of biliary atresia and choledochal cysts. J Pediatr Surg 42:869–872

28.

Liu DC, Rodriguez JA, Meric F, Geiger JL (2000) Laparoscopic excision of a rare type II choledochal cyst: case report and review of the literature. J Pediatr Surg 35:1117–1119

29.

Yamataka A, Ohshiro K, Okada Y, Hosoda Y, Fujiwara T, Kohno S, Sunagawa M, Futagawa S, Sakakibara N, Miyano T (1997) Complications after cyst excision with hepaticoenterostomy for choledochal cysts and their surgical management in children versus adults. J Pediatr Surg 32:1097–1102
Disclosures
Dae Wook Hwang, Jae Hoon Lee, Sang Yeup Lee, Dae Keun Song, Ji Woong Hwang, Kwang-Min Park, and Young-Joo Lee have no conflicts of interest or financial ties to disclose.
Electronic supplementary material
Below is the link to the electronic supplementary material.
Supplementary material 1 (MPG 16161 kb)
Supplementary material 2 (MPG 15913 kb)
Supplementary material 3 (MPG 15544 kb)
About this article
Cite this article
Hwang, D.W., Lee, J.H., Lee, S.Y. et al. Early experience of laparoscopic complete en bloc excision for choledochal cysts in adults. Surg Endosc 26, 3324–3329 (2012). https://doi.org/10.1007/s00464-012-2299-z
Received:

Accepted:

Published:

Issue Date:
Keywords
Adult

Choledochal cyst

Hepaticojejunostomy

Laparoscopy