Abstract
Background
Long ampullary stenoses and fibrotic distal biliary strictures are not infrequently encountered during endoscopic retrograde cholangiopancreatography (ERCP). Instead of balloon dilation and stenting, we propose that these strictures can be managed with sphincterotome stricturoplasty (SS) during the initial ERCP.
Objective
To report our clinical experience with SS for benign distal biliary strictures.
Design
Review on prospectively collected data.
Patients
All (consecutive) patients who underwent ERCP and SS performed by the authors in a 12-month period. Long ampullary stenosis and/or distal biliary stricture is defined as significant narrowing of CBD from the level of duodenal wall into the common bile duct (CBD) after initial sphincterotomy. The upstream CBD is dilated. Despite adequate ES, contrast drainage is poor due to the downstream stricture. SS was performed using the same sphincterotome in slightly bowed position under endoscopic and fluoroscopic guidance. The cutting wire was placed parallel to the superior border within the stricture and incising the stenosis. In cases of relatively long strictures, during initial SS the majority of the cutting wire was inside the biliary opening. This differs from ES, where about one-third to one-half of the length of cutting wire is outside the ampulla.
Measurements
Clinical data, hospital course, procedure-related complication rates, and outcomes were prospectively collected in a database.
Results
During the study period, 308 ERCPs were performed. Benign and short (≤15 mm in length) distal biliary strictures were observed in 25 patients. Mean ± SD stricture length was 7.4 ± 3.0 mm. The presumed etiologies for these strictures were choledocholithiasis (n = 22) and postsphincterotomy stenosis (n = 3). There was no perforation, post-ERCP pancreatitis, postsphincterotomy bleeding, or cholangitis. To date, none of these patients who had SS have needed follow-up ERCP.
Limitations
Single-operator experience, limited follow-up period.
Conclusions
Compared with balloon stricturoplasty ± biliary stenting, SS is a simple and cost-effective alternative option in managing long ampullary stenosis and/or distal fibrotic biliary stricture during the initial ERCP.
Access options
Buy single article
Instant access to the full article PDF.
US$ 39.95
Tax calculation will be finalised during checkout.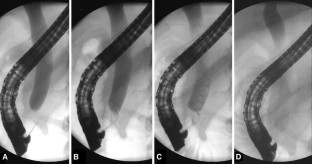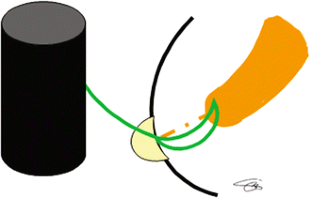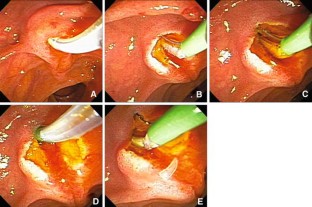 Abbreviations
BS:

Balloon stricturoplasty

CBD:

Common bile duct

ERCP:

Endoscopic retrograde cholangiopancreatography

ES:

Endoscopic sphincterotomy

SD:

Standard deviation

SS:

Sphincterotome stricturoplasty
References
1.

Classen M, Demling L (1974) Endoscopic sphincterotomy of the papilla of Vater and extraction of stones from the choledochal duct. Dtsch Med Wochenschr 99:496–497

2.

Kimmey MB, Al-Kawas FH, Gannan RM, Saeed ZA, Carr-Locke DL, Edmundowicz SA, Jamidar PA, Stein TN (1995) Technology assessment status evaluation- balloon dilation of gastrointestinal tract strictures [Review]. Gastrointest Endosc 42:608–611

3.

Heo JH, Kang DH, Jung HJ, Kwon DS, An JK, Kim BS, Suh KD, Lee SY, Lee JH, Kim GH, Kim TO, Heo J, Song GA, Cho M (2007) Endoscopic sphincterotomy plus large-balloon dilation versus endoscopic sphincterotomy for removal of bile-duct stones. Gastrointest Endosc 66:720–726

4.

Bourke MJ, Elfant AB, Alhalel R, Scheider D, Kortan P, Haber GB (2000) Sphincterotomy-associated biliary strictures: features and endoscopic management. Gastrointest Endosc 52:494–499

5.

Pozsár J, Sahin P, László F, Topa L (2005) Endoscopic treatment of sphincterotomy-associated distal common bile duct strictures by using sequential insertion of multiple plastic stents. Gastrointest Endosc 62:85–91

6.

Veldkamp MC, Rauws EAJ, Dijkgraaf MG, Fockens P, Bruno MJ (2007) Iatrogenic ampullary stenosis: history, endoscopic management, and outcome in a series of 49 patients. Gastrointest Endosc 66:708–716

7.

Tang SJ, Mayo ML, Rodriguez-Frias E, Armstrong L, Tang L, Sreenarasimhaiah J, Lara LF, Rockey DC (2009) Safety and utility of ERCP during pregnancy. Gastrointest Endosc 69:453–461

8.

Avisse C, Flament JB, Delattre JF (2000) Ampulla of Vater: anatomic, embryologic, and surgical aspects. Surg Clin North Am 80:201–212
Disclosures
Authors Sundeep Singh and Shailender Singh have no conflicts of interest or financial ties to disclose. Author Shou-jiang Tang has carried out consulting/speaking work for Olympus America.
Electronic supplementary material
Below is the link to the electronic supplementary material.
Endoscopic sphincterotome stricturoplasty (MPG 48342 kb)
About this article
Cite this article
Tang, Sj., Singh, S. & Singh, S. Sphincterotome stricturoplasty for long ampullary stenoses and benign biliary strictures (with video). Surg Endosc 25, 1313–1318 (2011). https://doi.org/10.1007/s00464-010-1340-3
Received:

Accepted:

Published:

Issue Date:
Keywords
Endoscopic retrograde cholangiopancreatography

Sphincterotome stricturoplasty

Sphincterotomy

Bile duct

Balloon stricturoplasty

Stricture

Stenosis

Endoscopy