Abstract
Background
Various gastrostomy tube placement techniques have been reported in the literature. The endoscopic U-stitch technique allows for primary button placement without the need for laparoscopy. The purpose of this study was to quantify the completion rate and the occurrence of complications with this procedure at one academic teaching hospital.
Methods
All gastrostomy procedures between February 2001 and September 2008 were reviewed. Data were collected from paper and electronic records for endoscopic U-stitch procedures.
Results
Endoscopic U-stitch gastrostomies were attempted in 121 patients, with primary button placement in 115 (95%) and conversion to an open procedure in 6. No procedure-related deaths occurred, and 7% of patients experienced postoperative complications that included hematemesis, cellulitis, colonic perforation, granulation tissue requiring operative excision, and surgical fistula closure. Average operative time was 18 min.
Conclusion
The endoscopic U-stitch technique is safe and allows for primary button placement in infants and children. Its complication rate compares favorably with other laparoscopic and open techniques described in the literature.
We're sorry, something doesn't seem to be working properly.
Please try refreshing the page. If that doesn't work, please contact support so we can address the problem.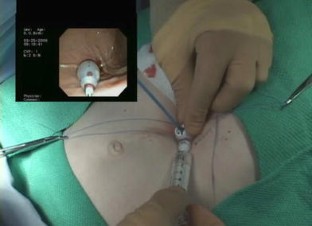 References
1.

Lotan G, Broide E, Efrati Y, Klin B (2004) Laparoscopically monitored percutaneous endoscopic gastrostomy (PEG) in children. Surg Endosc 18:1280–1282

2.

Ponsky T, Lukish J (2008) Single site laparoscopic gastrostomy with a 4-mm bronchoscopic optical grasper. J Pediatr Surg 43:412–414

3.

Aprahamian C, Morgan T, Harmon C, Georgeson K, Barnhart D (2006) U-stitch laparoscopic gastrostomy technique has a low rate of complications and allows primary button placement: experience with 461 pediatric patients. J Laparoendosc Adv Surg Tech A 16:643–649

4.

Zamakhshary M, Jamal M, Blair G, Murphy J, Webber E, Skarsgard E (2005) Laparoscopic vs percutaneous endoscopic gastrostomy tube insertion: a new pediatric gold standard? J Pediatr Surg 40:859–862

5.

Schrag S, Sharma R, Jaik N, Seamon M, Lukaszcyk J, Martin N, Hoey B, Stawicki S (2007) Complications related to percutaneous endoscopic gastrostomy (PEG) tubes. A comprehensive clinical review. J Gastrointestin Liver Dis 16(4):407–418

6.

Terry N, Boswell W, Carney D, Beck A, Lowe L, Rittmeyer C (2008) Percutaneous endoscopic gastrostomy with T-bar fixation in children and infants. Surg Endosc 22:167–170

7.

Khattak I, Kimber C, Kiely E, Spitz L (1998) Percutaneous endoscopic gastrostomy in paediatric practice: complications and outcome. J Pediatr Surg 33:67–72

8.

Kimber C, Beasley S (1999) Limitation of percutaneous endoscopic gastrostomy in facilitating enteral nutrition in children: review of the shortcomings of a new technique. J Paedriatr Child Health 35:427–431

9.

Rothenberg S, Bealer J, Chang J (1999) Primary laparoscopic placement of gastrostomy buttons for feeding tubes. A safer and simpler technique. Surg Endosc 13:995–997

10.

Evans J, Thorne M, Taufiq S, George D (2006) Should single-site PEG buttons become the procedure of choice for PEG placement in children? Gastrointest Endosc 64:320–324
Disclosures
Mr. Nixdorff, Ms. Diluciano, and Drs. Boulanger, Ponsky, Chwals, and Parry have no conflicts of interest to disclose.
Electronic supplementary material
Below is the link to the electronic supplementary material.
Supplementary material 1 (MPG 32148 kb)
About this article
Cite this article
Nixdorff, N., Diluciano, J., Ponsky, T. et al. The endoscopic U-stitch technique for primary button placement: an institution's experience. Surg Endosc 24, 1200–1203 (2010). https://doi.org/10.1007/s00464-009-0729-3
Received:

Accepted:

Published:

Issue Date:
Keywords
Endoscopic

Gastrostomy

Primary button placement