Abstract
We report a patient with a large colonic perforation that occurred in a screening colonoscopy, successfully repaired with endoclips, although the safety and efficacy of this approach is not entirely established. Endoscopic clip placement can be used to treat iatrogenic colonic perforation, when the defect is readily recognized and is easily accessible for closure, and the bowel preparation is excellent.
Access options
Buy single article
Instant access to the full article PDF.
US$ 39.95
Tax calculation will be finalised during checkout.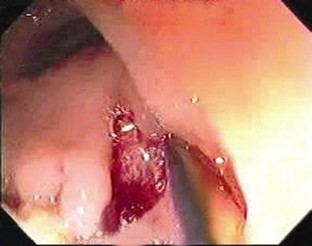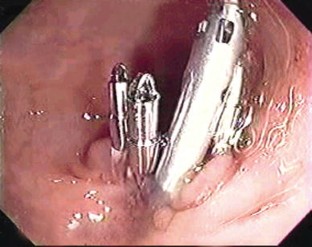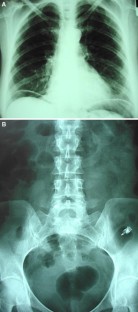 References
1.

Silvis SE, Nebel O, Rogers G, Sugawa C, Mandelstam P (1976) Endoscopic Complications. Results of the 1974 American Society for Gastrointestinal Endoscopy Survey. JAMA 235:928–930

2.

Nelson DB, McQuaid KR, Bond JH, Lieberman DA, Weiss DG, Johnston TK (2002) Procedural success and complications of large-scale screening colonoscopy. Gastrointest Endosc 55:307–314

3.

Macrae FA, Tan KG, Williams CB (1983) Towards safer colonoscopy: a report on the complications of 5000 diagnostic or therapeutic colonoscopies. Gut 24:376–383

4.

Nivatvongs S (1986) Complications in colonoscopic polypectomy. An experience with 1555 polypectomies. Dis Colon Rectum 29:825–830

5.

Ghazi A, Grossman M (1982) Complications of colonoscopy and polypectomy. Surg Clin North Am 62:889–896

6.

Thomson SR, Fraser M, Stupp C, Baker LW (1994) Iatrogenic and accidental colon injuries—what to do? Dis Colon Rectum 37:496–502

7.

Regan MC, Boyle B, Stephens RB (1994) Laparoscopic repair of colonic perforation occuring during colonoscopy. Br J Surg 81:1069–1073

8.

Schlinkert RT, Rasmussen TE (1994) Laparoscopic repair of colonoscopic perforation of the colon. J Laparoendosc Surg 4:51–54

9.

Hayashi K, Urata K, Munakata Y, Kawasaki S, Makuuchi M (1996) Laparoscopic closure for perforation of the sigmoid colon by endoscopic linear stapler. Surg Laparosc Endosc 6:411–413

10.

Miyahara M, Kitano S, Shimoda K, Bandoh T, Chikuba K, Maeo S et al (1996) Laparoscopic repair of a colonic perforation sustained during colonoscopy. Surg Endosc 10:352–353

11.

Wullstein C, Koppen MO, Gross E (1999) Laparoscopic treatment of colonic perforations related to colonoscopy. Surg Endosc 13:484–487

12.

Nassiopoulos K, Chanson C, Petropoulos P (1999) Perforation of the colon during colonoscopy. Swiss Surg 5:2–5

13.

Peterson N, Rohrmann CA Jr, Lennard ES (1982) Diagnosis and treatment of retroperitoneal perforation complicating the double-contrast barium-enema examination. Radiology 144:249–252

14.

Hewetson KA, Dellipiani AW (1984) Massive subcutaneous emphysema following colonoscopy. Humphreys F, Hewetson KA, Dellipiani AW. Endoscopy 16:160–161

15.

Christie JP, Marrazzo J (1991) "Mini-perforation" of the colon—not all postpolypectomy perforations require laparotomy. Dis Colon Rectum 34:132–135

16.

Damore LJ, Rantis PC, Vernava AM, Longo WE (1996) Colonoscopic perforation. Etiology, diagnosis and management. Dis Colon Rectum 39:1308–1314

17.

Donckier V, André R (1993) Treatment of colon endoscopic perforations. Acta Chir Belg 93:60–62

18.

Kavin H, Sinicrope F, Esker AH (1982) Management of perforation of the colon at colonoscopy. Am J Gastroenterol 87:161–167

19.

Farley DR, Bannon MP, Zietlow SP, Pemberton JH, Ilstrup DM, Larson DR (1997) Management of colonoscopic perforations. Mayo Clinic Proc 72:729–733

20.

Raju GS, Gajula L (2004) Endoclips for GI endoscopy. Gastrointest Endosc 59:267–279

21.

Lo AY, Beaton HL (1994) Selective management of colonic perforations. J Am Coll Surg 179:333–337

22.

Yoshikane H, Hidano H, Sakakibara A, Ayakawa T, Mori S, Kawashima H et al (1997) Endoscopic repair by clipping of iatrogenic colonic perforation. Gastrointest Endosc 46:464–466

23.

Mana F, De Vogelaere K, Urban D (2001) Iatrogenic perforation of the colon during diagnostic colonoscopy: endoscopic treatment with clips. Gastrointest Endosc 54:258–259

24.

Raju GS, Pham B, Xiao SY, Brining D, Ahmed I (2005) A pilot study of endoscopic closure of colonic perforations with endoclips in a swine model. Gastrointest Endosc 62:791–795

25.

Khashab M, Rex D (2007) Persistence of resolution clips on colorectal polypectomy sites [Letter]. Gastrointest Endosc 66:635–636
Acknowledgement
The authors are grateful to Dr. Gottumukkala S. Raju, University of Texas Medical Branch, for his thoughtful revision on this report.
Electronic supplementary material
Below is the link to the electronic supplementary material.
A large defect is observed in the sigmoid colon with minimal bleeding. A total of six endoscopic clips are placed sequentially to close entirely the defect. Observe that the bowel wall is deflated, as minimal insufflation of air was applied intentionally during the closure of the perforation. (WMV 6318 kb)
About this article
Cite this article
Albuquerque, W., Moreira, E., Arantes, V. et al. Endoscopic repair of a large colonoscopic perforation with clips. Surg Endosc 22, 2072 (2008). https://doi.org/10.1007/s00464-008-9782-6
Received:

Revised:

Accepted:

Published:
Keywords
G-I

Endoscopy

Technical < Endoscopy

Bowel

Complications