Abstract
Dislodged percutaneous endoscopic gastrostomy (PEG) tubes occur commonly and may require urgent surgical intervention in a susceptible patient population. Natural orifice translumenal endoscopic surgery (NOTES) may facilitate PEG rescue and avoid the morbidity associated with contemporary surgical techniques. We report a case of a dislodged PEG tube in the early post-operative period with evidence of incomplete gastrocutaneous tract formation and intra-abdominal leakage. Bedside transgastric NOTES exploration facilitated peritoneoscopy, evacuation of intra-abdominal fluid, and re-establishment of the PEG tube through the original gastrotomy tract. Tube feeds were resumed and postoperative contrast fluoroscopy demonstrated no intra-abdominal leakage from the replaced PEG tube. No postoperative complications related to the NOTES procedure were noted at 30 days of follow-up. PEG rescue represents a unique, practical, and empowering application of the burgeoning experience of NOTES.
Access options
Buy single article
Instant access to the full article PDF.
US$ 39.95
Tax calculation will be finalised during checkout.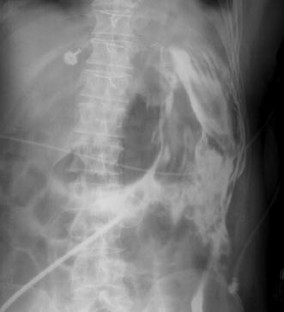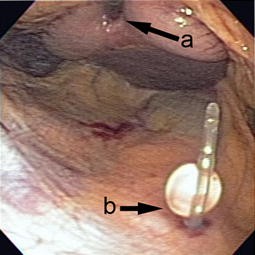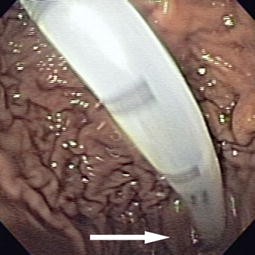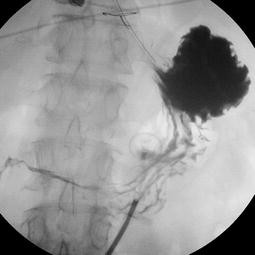 References
1.

McGee MF, Rosen MJ, Marks J, Onders RP, Chak A, Faulx A, Chen VK, Ponsky J (2006) A primer on natural orifice transluminal endoscopic surgery: building a new paradigm. Surg innov 13: 86–93

2.

Rattner D, Kalloo A (2006) ASGE/SAGES Working Group on Natural Orifice Translumenal Endoscopic Surgery. October 2005. Surg Endosc 20: 329–333

3.

Park PO, Bergstrom M, Ikeda K, Fritscher-Ravens A, Swain P (2005) Experimental studies of transgastric gallbladder surgery: cholecystectomy and cholecystogastric anastomosis (videos). Gastrointest Endosc 61: 601–606

4.

Swanstrom LL, Kozarek R, Pasricha PJ, Gross S, Birkett D, Park PO, Saadat V, Ewers R, Swain P (2005) Development of a new access device for transgastric surgery. J Gastrointest Surg 9: 1129–1137

5.

Kantsevoy SV, Jagannath SB, Niiyama H, Chung SS, Cotton PB, Gostout CJ, Hawes RH, Pasricha PJ, Magee CA, Vaughn CA, Barlow D, Shimonaka H, Kalloo AN (2005) Endoscopic gastrojejunostomy with survival in a porcine model. Gastrointest Endosc 62: 287–292

6.

Jagannath SB, Kantsevoy SV, Vaughn CA, Chung SS, Cotton PB, Gostout CJ, Hawes RH, Pasricha PJ, Scorpio DG, Magee CA, Pipitone LJ, Kalloo AN (2005) Peroral transgastric endoscopic ligation of fallopian tubes with long-term survival in a porcine model. Gastrointest Endosc 61: 449–453

7.

Kantsevoy SV, Hu B, Jagannath SB, Vaughn CA, Beitler DM, Chung SS, Cotton PB, Gostout CJ, Hawes RH, Pasricha PJ, Magee CA, Pipitone LJ, Talamini MA, Kalloo AN (2006) Transgastric endoscopic splenectomy: is it possible? Surg Endosc 20:522–525

8.

Wagh MS, Merrifield BF, Thompson CC (2005) Endoscopic transgastric abdominal exploration and organ resection: initial experience in a porcine model. Clin Gastroenterol Hepatol 3: 892–896

9.

Galat SA, Gerig KD, Porter JA, Slezak FA (1990) Management of premature removal of the percutaneous gastrostomy. Am Surg 56: 733–736

10.

Koulentaki M, Reynolds N, Steinke D, Tait J, Baxter J, Vaidya K, Jayesakera A, Pennington C (2002) Eight years' experience of gastrostomy tube management. Endoscopy 34: 941–945

11.

Mellinger JD, Simon IB, Schlechter B, Lash RH, Ponsky JL (1991) Tract formation following percutaneous endoscopic gastrostomy in an animal model. Surg Endosc 5: 189–191

12.

Marshall JB, Bodnarchuk G, Barthel JS (1994) Early accidental dislodgement of PEG tubes. J Clin Gastroenter 18: 210–212

13.

Gaines DI, Delegge MH (2005) Semiurgent endoscopic PEG tube replacement as a treatment for early initial PEG tube dislodgement in the immune-compromised patient. Digestive Dis Sci 50: 2248–2250
Acknowledgments
The authors would like to acknowledge the remainder of the case advanced surgical endoscopy team (CASE-T): Amitabh Chak MD, Raymond Onders MD, Michael Rosen MD, Ashley Faulx MD, Judy Jin MD, Christina Williams MD, Steve Schomisch, and Jamie Andrews for continued clinical and laboratory support. Photography and videography services were graciously provided by Gary Coffey.
Electronic supplementary material
Electronic supplementary material
About this article
Cite this article
Marks, J.M., Ponsky, J.L., Pearl, J.P. et al. PEG "Rescue": a practical NOTES technique . Surg Endosc 21, 816–819 (2007). https://doi.org/10.1007/s00464-007-9361-2
Received:

Accepted:

Published:

Issue Date:
Keywords
Endoscopy

PEG

Minimally Invasive Surgery

NOTES