Abstract
Dysphagia affects swallowing not only of food and drink, but also of orally administered medications. Altering solid or liquid dose formulations renders administration unlicensed and may have adverse effects. Medication administration in patients with dysphagia necessitates a multidisciplinary approach with no one profession holding all necessary expertise. This project aimed to improve the process of medication administration for patients with dysphagia in an acute hospital. Following a baseline audit of practice, an electronic referral system from Speech & Language Therapy (SLT) to Pharmacy was established. Repeat post-implementation audits documenting medication administration to patients with dysphagia and SLT compliance in completing electronic referral were conducted. Of the 43 patients included in the post-implementation audits, 14 (32.6%) were referred from SLT to Pharmacy using the electronic referral system. Those patients referred electronically were reviewed by Pharmacy quicker than those patients who were not referred and had a higher percentage of optimally administered medications. All SLTs eligible (n = 10) were surveyed to explore use of the system and barriers to its use; reasons given for not completing an electronic referral included not prioritizing the referral if under time pressure and lack of IT access to make the referral. Overall compliance with use of the electronic referral system was lower than expected; further work is needed to establish consistency of practice in using the electronic referral system in the interest of optimizing medication administration to patients.
Access options
Buy single article
Instant access to the full article PDF.
US$ 39.95
Tax calculation will be finalised during checkout.
Subscribe to journal
Immediate online access to all issues from 2019. Subscription will auto renew annually.
US$ 79
Tax calculation will be finalised during checkout.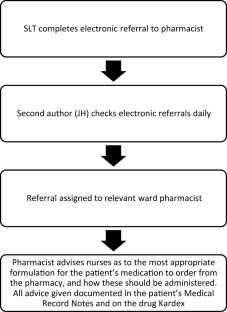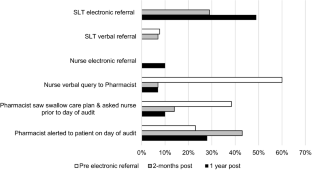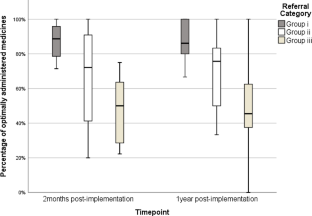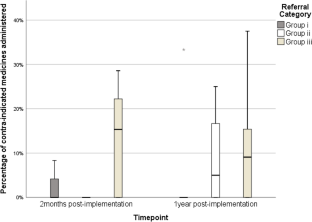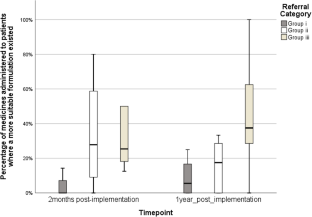 References
1.

Speech RCo, Therapists L. RCSLT resource manual for commissioning and planning services for SLCN: dysphagia. London: RCSLT; 2009.

2.

Stegemann S, Gosch M, Breitkreutz J. Swallowing dysfunction and dysphagia is an unrecognized challenge for oral drug therapy. Int J Pharm. 2012;430(1–2):197–206.

3.

Lau ET, Steadman KJ, Cichero JA, Nissen LM. Dosage form modification and oral drug delivery in older people. Adv Drug Deliv Rev. 2018;135:75–84.

4.

Liu F, Ghaffur A, Bains J, Hamdy S. Acceptability of oral solid medicines in older adults with and without dysphagia: a nested pilot validation questionnaire based observational study. Int J Pharm. 2016;512(2):374–81.

5.

Fields J, Go JT, Schulze KS. Pill properties that cause dysphagia and treatment failure. Curr Ther Res. 2015;77:79–82.

6.

Marquis J, Schneider M-P, Payot V, Cordonier A-C, Bugnon O, Hersberger KE, Arnet I. Swallowing difficulties with oral drugs among polypharmacy patients attending community pharmacies. Int J Clin Pharm. 2013;35(6):1130–6.

7.

Strachan I, Greener M. Medication-related swallowing difficulties may be more common than we realise. Pharm Pract. 2005;15(10):411–4.

8.

Mc Gillicuddy A, Crean AM, Sahm LJ. Older adults with difficulty swallowing oral medicines: a systematic review of the literature. Eur J Clin Pharmacol. 2016;72(2):141–51.

9.

Bourdenet G, Giraud S, Artur M, Dutertre S, Dufour M, Lefèbvre-Caussin M, Proux A, Philippe S, Capet C, Fontaine-Adam M. Impact of recommendations on crushing medications in geriatrics: from prescription to administration. Fundam Clin Pharmacol. 2015;29(3):316–20.

10.

Haw C, Stubbs J. Administration of medicines in food and drink: a study of older inpatients with severe mental illness. Int Psychogeriatr. 2010;22(3):409–16.

11.

Kelly J, Wright D, Wood J. Medicine administration errors in patients with dysphagia in secondary care: a multi-centre observational study. J Adv Nurs. 2011;67(12):2615–27.

12.

Mercovich N, Kyle GJ, Naunton M. Safe to crush? A pilot study into solid dosage form modification in aged care. Aust J Ageing. 2014;33(3):180–4.

13.

Mc Gillicuddy A, Kelly M, Sweeney C, Carmichael A, Crean AM, Sahm LJ. Modification of oral dosage forms for the older adult: an Irish prevalence study. Int J Pharm. 2016;510(1):386–93.

14.

(INDI) IAoSaLTIINaDI. Irish consistency descriptors for modified fluids and food consensus document. Dublin: IASLT/INDI; 2009.

15.

Wright DJ, Kelly J. Medication administration in patients with dysphagia. Nurs Stand. 2012;27(10):35–40.

16.

Wright D. Swallowing difficulties protocol: medication administration. Nurs Stand (through 2013). 2002;17(14/15):43.

17.

Manrique Y, Lee D, Islam F, Nissen L, Cichero JA, Stokes J, Steadman KJ. Crushed tablets: does the administration of food vehicles and thickened fluids to aid medication swallowing alter drug release? J Pharm Pharm Sci. 2014;17(2):207–19.

18.

Verrue C, Mehuys E, Boussery K, Remon JP, Petrovic M. Tablet-splitting: a common yet not so innocent practice. J Adv Nurs. 2011;67(1):26–32.

19.

Kelly J, Wright D. Administering medication to adult patients with dysphagia. Nurs Stand (through 2013). 2009;23(29):62.

20.

Steele CM, Miller AJ. Sensory input pathways and mechanisms in swallowing: a review. Dysphagia. 2010;25(4):323–33.

21.

Cichero JA. Thickening agents used for dysphagia management: effect on bioavailability of water, medication and feelings of satiety. Nutr J. 2013;12(1):54.

22.

Kelly J, D'Cruz G, Wright D. Patients with dysphagia: experiences of taking medication. J Adv Nurs. 2010;66(1):82–91.

23.

Lonergan MT, Broderick J, Coughlan T, Collins DR, Neill DO. Prescribing and enteral tubes in the general hospital. J Am Geriatr Soc. 2009;57(4):736–7.

24.

Stuijt CC, Klopotowska JE, van Driel CK, Le N, Binnekade J, van der Kleij B, van der Schors T, van den Bemt P, Lie-A-Huen L. Improving medication administration in nursing home residents with swallowing difficulties: sustainability of the effect of a multifaceted medication safety programme. Pharmacoepidemiol Drug Saf. 2013;22(4):423–9.

25.

Kelly J, Wright D. Administering medication to adult patients with dysphagia: part 2. Nurs Stand. 2010;24(26):61–8.

26.

Jackson LD, Little J, Kung E, Williams EM, Siemiatkowska K, Plowman S. Safe medication swallowing in dysphagia: a collaborative improvement project. Healthc Q. 2008;11(3):110–6.

27.

Lohmann K, Gartner D, Kurze R, Schösler T, Schwald M, Störzinger D, Hoppe-Tichy T, Haefeli W, Seidling H. More than just crushing: a prospective pre-post intervention study to reduce drug preparation errors in patients with feeding tubes. J Clin Pharm Ther. 2015;40(2):220–5.

28.

Bennett B, Howard C, Barnes H, Jones A. Medication management in patients with dysphagia: a service evaluation. Nurs Stand. 2013;27(41):41–8.

29.

Mc Gillicuddy A, Kelly M, Crean AM, Sahm LJ. The knowledge, attitudes and beliefs of patients and their healthcare professionals around oral dosage form modification: a systematic review of the qualitative literature. Res Soc Adm Pharm. 2017;13(4):717–26.

30.

Smyth J. The NEWT guidelines for administration of medication to patients with enteral feeding tubes or swallowing difficulties. Betsi Cadwaladr University Local Health Boad (East) 2010. https://www.newtguidelines.com. Accessed 1 July 2016.

31.

White R, Bradnam V. Handbook of drug administration via enteral feeding tubes. London: Pharmaceutical Press; 2015.

32.

Cichero JA, Lam P, Steele CM, Hanson B, Chen J, Dantas RO, Duivestein J, Kayashita J, Lecko C, Murray J. Development of international terminology and definitions for texture-modified foods and thickened fluids used in dysphagia management: the IDDSI framework. Dysphagia. 2017;32(2):293–314.

33.

Inc. S SurveyMonkey. San Mateo, CA, USA

34.

Schiele JT, Penner H, Schneider H, Quinzler R, Reich G, Wezler N, Micol W, Oster P, Haefeli WE. Swallowing tablets and capsules increases the risk of penetration and aspiration in patients with stroke-induced dysphagia. Dysphagia. 2015;30(5):571–82.

35.

McAuliffe E, Van Vaerenbergh C (2006) Guiding change in the Irish health system. https://www.lenus.ie/handle/10147/78553. Accessed 6 June 2020.

36.

Santos J, Poland F, Kelly J, Wright DJ. Drug administration guides in dysphagia. Nurs Times. 2012;108(21):15–7.
Ethics declarations
Conflict of interest
The primary author (SR) received sponsorship of €73.80 from Rosemont Pharmaceuticals towards printing a poster based on the completed study. Rosemont Pharmaceuticals had no input into the content of the poster and no involvement with the manuscript itself. The second and third authors (JH, SMcC) declare that they have no conflict of interest.
Ethical Approval
Permission was sought and granted by the Clinical Research and Ethics Committee (CREC)/ Social Research & Ethics Committee (SREC) of the Cork Teaching Hospitals (online Appendix 1) and the Quality Unit of CUH (online Appendix 2).
Additional information
Publisher's Note
Springer Nature remains neutral with regard to jurisdictional claims in published maps and institutional affiliations.
Supplementary Information
Below is the link to the electronic supplementary material.
About this article
Cite this article
Robinson, S., Hosford, J. & McCarthy, S. Establishing an Electronic Referral System from Speech and Language Therapy to Pharmacy to Improve Medication Administration in Patients with Dysphagia in an Acute Hospital Setting. Dysphagia (2021). https://doi.org/10.1007/s00455-021-10256-w
Received:

Accepted:

Published:
Keywords
Dysphagia

Pharmaceutical preparations

Medication administration

Multidisciplinary

Patient safety

Electronic referral