Abstract
Fatigue is widely accepted as a clinically relevant factor in the diagnosis, treatment, and management of dysphagia. Despite the relative importance that is placed on swallowing-related fatigue, the occurrence and effects of fatigue during swallowing is unclear. The goal of this study was to explore effects of eating a meal on measures of tongue strength, endurance, and other parameters of swallowing function under normal conditions compared to when the tongue is intentionally fatigued. Thirty healthy females, 15 "Young" (18–35 years old), and 15 "Old" (70 + years old) were seen for two data collection sessions one week apart. On both days, pre-meal measures were collected, then participants consumed a standardized meal based on a previously published protocol (half a bagel with peanut butter and 8 baby carrots) followed by post-meal measures. An additional pre-meal fatigue task was included on one of the test days (counterbalanced), involving maximal tongue presses until participants could not achieve 40% of baseline maximum pressure. Pre- and post-meal measures included anterior and posterior maximum tongue pressures, saliva swallow pressure, tongue endurance, surface electromyography (sEMG), the modified Borg scale, and the Test of Mastication and Swallowing of Solids (TOMASS). Linear mixed effects regressions compared pre- and post-meal outcome measures (1) on the non-fatigue day and (2) between fatigue and non-fatigue days while controlling for participant and age. The fatigue task caused significant reductions in maximum anterior and posterior tongue pressure. After a normal meal (i.e., without fatigue), we found decreased anterior pressures in the older group only. Older participants also had decreased saliva swallow pressures after the meal compared to pre-meal, while this measure increased post-mean in the young participants. When compared to the non-fatigue meal, eating a meal after tongue fatigue resulted in significantly lower post-meal posterior pressures, regardless of age group. The same pattern was observed with posterior functional reserve. Our results demonstrate that a systematic, participant-specific tongue fatigue task induced measurable changes in maximum tongue pressure. A meal by itself was observed to reduce anterior tongue strength and saliva swallow pressures only in older participants. Overall, it appears that older adults may be more vulnerable to fatigue-induced changes in tongue strength, though the relationship between these measures and changes to functional swallowing remains unknown.
Access options
Buy single article
Instant access to the full article PDF.
US$ 39.95
Tax calculation will be finalised during checkout.
Subscribe to journal
Immediate online access to all issues from 2019. Subscription will auto renew annually.
US$ 79
Tax calculation will be finalised during checkout.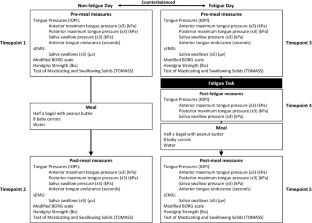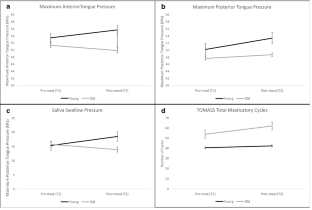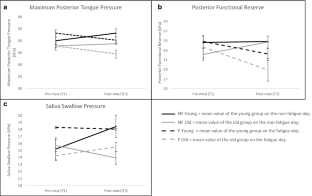 References
1.

American Speech-Language-Hearing Association (n.d.) Dysphagia (practice portal). www.asha.org/Practice-Portal/Clinical-Topics/Dysphagia/. Accessed September 26 2019

2.

Solomon NP. What is orofacial fatigue and how does it affect function for swallowing and speech? Semin Speech Lang. 2006;27(4):268–82. https://doi.org/10.1055/s-2006-955117.

3.

Solomon NP. Assessment of tongue weakness and fatigue. Int J Orofacial Myology. 2004;30:8–19.

4.

Ferdjallah M, Wertsch JJ, Shaker R. Spectral analysis of surface electromyography (EMG) of upper esophageal sphincter-opening muscles during head lift exercise. J Rehabil Res Dev. 2000;37(3):335–40.

5.

Jurell KC, Shaker R, Mazur A, Haig AJ, Wertsch JJ. Spectral analysis to evaluate hyoid muscles involvement in neck exercise. Muscle Nerve. 1996;19:1224.

6.

White KT, Easterling C, Roberts N, Wertsch J, Shaker R. Fatigue analysis before and after shaker exercise: physiologic tool for exercise design. Dysphagia. 2008;23(4):385–91. https://doi.org/10.1007/s00455-008-9155-2.

7.

Kays SA, Hind JA, Gangnon RE, Robbins J. Effects of dining on tongue endurance and swallowing-related outcomes. J Speech Lang Hear Res. 2010;53(4):898–907. https://doi.org/10.1044/1092-4388(2009/09-0048).

8.

Van Ravenhorst-Bell HA, Goldberg L Changes in tongue strength and endurance after a typical meal in healthy older adults in a continuing care community. In: 8th Annual GRASP Symposium, Wichita State University, 2012.

9.

Hiramatsu T, Kataoka H, Osaki M, Hagino H. Effect of aging on oral and swallowing function after meal consumption. Clin Interv Aging. 2015;10:229–35. https://doi.org/10.2147/CIA.S75211.

10.

Solomon NP. Changes in normal speech after fatiguing the tongue. J Speech Lang Hear Res. 2000;43(6):1416–28.

11.

Vanderwegen J, Van Nuffelen G. Evaluation of different fatigue-inducing paradigms (FP) on maximum isometric pressures (MIP) of the anterior tongue in healthy adults and elderly. Dublin, Ireland: Paper presented at the European Society for Swallowing Disorders; 2018.

12.

Solomon NP, Robin DA. Perceptions of effort during handgrip and tongue elevation in Parkinson's disease. Parkinsonism Relat Disord. 2005;11(6):353–61. https://doi.org/10.1016/j.parkreldis.2005.06.004.

13.

Knowles OE, Drinkwater EJ, Urwin CS, Lamon S, Aisbett B. Inadequate sleep and muscle strength: Implications for resistance training. J Sci Med Sport. 2018;21(9):959–68. https://doi.org/10.1016/j.jsams.2018.01.012.

14.

Kryger MH, Roth T, Dement WC. Sleep Deprivation. In: Banks S, Dorrian J, Basner M, editors. Principles and Practice of Sleep Medicine. 6th ed. Philadelphia: Elsevier; 2017.

15.

Belafsky PC, Mouadeb DA, Rees CJ, Pryor JC, Postma GN, Allen J, Leonard RJ. Validity and reliability of the Eating Assessment Tool (EAT-10). Ann Otol Rhinol Laryngol. 2008;117(12):919–24. https://doi.org/10.1177/000348940811701210.

16.

Malmstrom TK, Miller DK, Simonsick EM, Ferrucci L, Morley JE. SARC-F: a symptom score to predict persons with sarcopenia at risk for poor functional outcomes. J Cachexia Sarcopenia Muscle. 2016;7(1):28–36. https://doi.org/10.1002/jcsm.12048.

17.

Steele CM. Optimal approaches for measuring tongue-pressure functional reserve. J Aging Res. 2013;2013:542909. https://doi.org/10.1155/2013/542909.

18.

Jeong DM, Shin YJ, Lee NR, Lim HK, Choung HW, Pang KM, Kim BJ, Kim SM, Lee JH. Maximal strength and endurance scores of the tongue, lip, and cheek in healthy, normal Koreans. J Korean Assoc Oral Maxillofac Surg. 2017;43(4):221–8. https://doi.org/10.5125/jkaoms.2017.43.4.221.

19.

Borg GA. Psychophysical bases of perceived exertion. Med Sci Sports Exerc. 1982;14(5):377–81.

20.

Muza SR, Silverman MT, Gilmore GC, Hellerstein HK, Kelsen SG. Comparison of scales used to quantitate the sense of effort to breathe in patients with chronic obstructive pulmonary disease. Am Rev Respir Dis. 1990;141(4 Pt 1):909–13. https://doi.org/10.1164/ajrccm/141.4_Pt_1.909.

21.

Huckabee ML, McIntosh T, Fuller L, Curry M, Thomas P, Walshe M, McCague E, Battel I, Nogueira D, Frank U, van den Engel-Hoek L, Sella-Weiss O. The Test of Masticating and Swallowing Solids (TOMASS): reliability, validity and international normative data. Int J Lang Commun Disord. 2018;53(1):144–56. https://doi.org/10.1111/1460-6984.12332.

22.

Solomon NP, Munson B. The effect of jaw position on measures of tongue strength and endurance. J Speech Lang Hear Res. 2004;47(3):584–94. https://doi.org/10.1044/1092-4388(2004/045).

23.

Youmans SR, Stierwalt JA. Measures of tongue function related to normal swallowing. Dysphagia. 2006;21(2):102–11. https://doi.org/10.1007/s00455-006-9013-z.

24.

Goodpaster BH, Park SW, Harris TB, Kritchevsky SB, Nevitt M, Schwartz AV, Simonsick EM, Tylavsky FA, Visser M, Newman AB. The loss of skeletal muscle strength, mass, and quality in older adults: the health, aging and body composition study. J Gerontol A Biol Sci Med Sci. 2006;61(10):1059–64. https://doi.org/10.1093/gerona/61.10.1059.

25.

Harris T. Muscle mass and strength: relation to function in population studies. J Nutr. 1997;127(5 Suppl):1004S-1006S. https://doi.org/10.1093/jn/127.5.1004S.

26.

Metter EJ, Conwit R, Tobin J, Fozard JL. Age-associated loss of power and strength in the upper extremities in women and men. J Gerontol A Biol Sci Med Sci. 1997;52(5):B267-276. https://doi.org/10.1093/gerona/52a.5.b267.

27.

Robbins J, Hamilton JW, Lof GL, Kempster GB. Oropharyngeal swallowing in normal adults of different ages. Gastroenterology. 1992;103(3):823–9. https://doi.org/10.1016/0016-5085(92)90013-o.

28.

Tracy JF, Logemann JA, Kahrilas PJ, Jacob P, Kobara M, Krugler C. Preliminary observations on the effects of age on oropharyngeal deglutition. Dysphagia. 1989;4(2):90–4. https://doi.org/10.1007/bf02407151.

29.

Bemben MG, Massey BH, Bemben DA, Misner JE, Boileau RA. Isometric intermittent endurance of four muscle groups in men aged 20–74 yr. Med Sci Sports Exerc. 1996;28(1):145–54. https://doi.org/10.1097/00005768-199601000-00026.

30.

Ditor DS, Hicks AL. The effect of age and gender on the relative fatigability of the human adductor pollicis muscle. Can J Physiol Pharmacol. 2000;78(10):781–90.

31.

Lanza IR, Russ DW. Kent-Braun JA (2004) Age-related enhancement of fatigue resistance is evident in men during both isometric and dynamic tasks. J Appl Physiol. 1985;97(3):967–75. https://doi.org/10.1152/japplphysiol.01351.2003.

32.

Aniansson A, Grimby G, Hedberg M, Rungren A, Sperling L. Muscle function in old age. Scand J Rehabil Med Suppl. 1978;6:43–9.

33.

Laforest S, St-Pierre DM, Cyr J, Gayton D. Effects of age and regular exercise on muscle strength and endurance. Eur J Appl Physiol Occup Physiol. 1990;60(2):104–11. https://doi.org/10.1007/bf00846029.

34.

Lindstrom B, Lexell J, Gerdle B, Downham D. Skeletal muscle fatigue and endurance in young and old men and women. J Gerontol A Biol Sci Med Sci. 1997;52(1):B59-66. https://doi.org/10.1093/gerona/52a.1.b59.

35.

Baudry S, Klass M, Pasquet B, Duchateau J. Age-related fatigability of the ankle dorsiflexor muscles during concentric and eccentric contractions. Eur J Appl Physiol. 2007;100(5):515–25. https://doi.org/10.1007/s00421-006-0206-9.

36.

Cupido CM, Hicks AL, Martin J. Neuromuscular fatigue during repetitive stimulation in elderly and young adults. Eur J Appl Physiol Occup Physiol. 1992;65(6):567–72. https://doi.org/10.1007/bf00602367.

37.

Davies CT, White MJ. Contractile properties of elderly human triceps surae. Gerontology. 1983;29(1):19–25. https://doi.org/10.1159/000213090.

38.

McNeil CJ, Rice CL. Fatigability is increased with age during velocity-dependent contractions of the dorsiflexors. J Gerontol A Biol Sci Med Sci. 2007;62(6):624–9. https://doi.org/10.1093/gerona/62.6.624.

39.

Rawson ES. Enhanced fatigue resistance in older adults during repeated sets of intermittent contractions. J Strength Cond Res. 2010;24(1):251–6. https://doi.org/10.1519/JSC.0b013e3181a8f7cf.

40.

Connor NP, Ota F, Nagai H, Russell JA, Leverson G. Differences in age-related alterations in muscle contraction properties in rat tongue and hindlimb. J Speech Lang Hear Res. 2008;51(4):818–27. https://doi.org/10.1044/1092-4388(2008/059).

41.

Humbert IA, Fitzgerald ME, McLaren DG, Johnson S, Porcaro E, Kosmatka K, Hind J, Robbins J. Neurophysiology of swallowing: effects of age and bolus type. Neuroimage. 2009;44(3):982–91. https://doi.org/10.1016/j.neuroimage.2008.10.012.

42.

Duchateau J, Hainaut K. Behaviour of short and long latency reflexes in fatigued human muscles. J Physiol. 1993;471:787–99. https://doi.org/10.1113/jphysiol.1993.sp019928.

43.

Powers S, Howley E. Skeletal Muscle: Structure and Function. In: Powers S, editor. Exercise Physiology: Theory and Application to Fitness and Performance. 10th ed. New York: McGraw-Hill; 2018.

44.

Ratkevicius A, Skurvydas A, Lexell J. Submaximal-exercise-induced impairment of human muscle to develop and maintain force at low frequencies of electrical stimulation. Eur J Appl Physiol Occup Physiol. 1995;70(4):294–300. https://doi.org/10.1007/bf00865025.

45.

Stal P, Marklund S, Thornell LE, De Paul R, Eriksson PO. Fibre composition of human intrinsic tongue muscles. Cells Tissues Organs. 2003;173(3):147–61. https://doi.org/10.1159/000069470.

46.

Crow HC, Ship JA. Tongue strength and endurance in different aged individuals. J Gerontol A Biol Sci Med Sci. 1996;51(5):M247-250. https://doi.org/10.1093/gerona/51a.5.m247.

47.

Molfenter SM, Lenell C, Lazarus CL. Volumetric Changes to the Pharynx in Healthy Aging: Consequence for Pharyngeal Swallow Mechanics and Function. Dysphagia. 2019;34(1):129–37. https://doi.org/10.1007/s00455-018-9924-5.

48.

Molfenter SM, Brates D, Herzberg E, Noorani M, Lazarus C. The Swallowing Profile of Healthy Aging Adults: Comparing Noninvasive Swallow Tests to Videofluoroscopic Measures of Safety and Efficiency. J Speech Lang Hear Res. 2018;61(7):1603–12. https://doi.org/10.1044/2018_JSLHR-S-17-0471.

49.

Freude G, Ullsperger P. Changes in Bereitschaftspotential during fatiguing and non-fatiguing hand movements. Eur J Appl Physiol Occup Physiol. 1987;56(1):105–8. https://doi.org/10.1007/bf00696384.

50.

Robbins J, Levine R, Wood J, Roecker EB, Luschei E. Age effects on lingual pressure generation as a risk factor for dysphagia. J Gerontol A Biol Sci Med Sci. 1995;50(5):M257-262.

51.

Steele CM. Electromyography as a biofeedback tool for rehabilitating swallow muscle function. In: Steele C, editor. Applications of EMG in clinical and sports medicine. Croatia: InTech, Rijeka; 2011.

52.

Vollestad NK. Measurement of human muscle fatigue. J Neurosci Methods. 1997;74(2):219–27. https://doi.org/10.1016/s0165-0270(97)02251-6.

53.

Enoka RM. Stuart DG (1992) Neurobiology of muscle fatigue. J Appl Physiol. 1985;72(5):1631–48. https://doi.org/10.1152/jappl.1992.72.5.1631.

54.

Matsuo K, Palmer JB. Coordination of Mastication, Swallowing and Breathing. Jpn Dent Sci Rev. 2009;45(1):31–40. https://doi.org/10.1016/j.jdsr.2009.03.004.

55.

Martin-Harris B, McFarland D, Hill EG, Strange CB, Focht KL, Wan Z, Blair J, McGrattan K. Respiratory-swallow training in patients with head and neck cancer. Arch Phys Med Rehabil. 2015;96(5):885–93. https://doi.org/10.1016/j.apmr.2014.11.022.

56.

Gross RD, Atwood CW Jr, Ross SB, Olszewski JW, Eichhorn KA. The coordination of breathing and swallowing in chronic obstructive pulmonary disease. Am J Respir Crit Care Med. 2009;179(7):559–65. https://doi.org/10.1164/rccm.200807-1139OC.

57.

Gross RD, Atwood CW Jr, Ross SB, Eichhorn KA, Olszewski JW, Doyle PJ. The coordination of breathing and swallowing in Parkinson's disease. Dysphagia. 2008;23(2):136–45. https://doi.org/10.1007/s00455-007-9113-4.
Acknowledgements
The authors would like to thank Dr. Ashwini Namasivayam-MacDonald and Dr. Aaron Johnson for their contributions and consultation.
Ethics declarations
Conflict of interest
The authors have no conflicts of interest to disclose. Portions of this work were accepted for presentation at the 2020 Dysphagia Research Society meeting.
Additional information
Publisher's Note
Springer Nature remains neutral with regard to jurisdictional claims in published maps and institutional affiliations.
About this article
Cite this article
Brates, D., Molfenter, S. The Influence of Age, Eating a Meal, and Systematic Fatigue on Swallowing and Mealtime Parameters. Dysphagia (2021). https://doi.org/10.1007/s00455-020-10242-8
Received:

Accepted:

Published:
Keywords
Deglutition

Deglutition disorders

Swallowing

Fatigue

Mealtime

Endurance

Tongue strength

Aging