Abstract
Total laryngectomy (TL) is the surgical treatment option for advanced stage of laryngeal cancer, involving the removal of larynx along with several muscles attached to it. Several anatomical changes occur following the surgery which will in turn affect the swallowing mechanism. The severing of the cricopharyngeus muscle, which is an important muscle of the pharyngoesophageal segment (PES), may lead to dysphagia. Several other causes have also been explained in the literature. Several invasive instruments have been used to identify dysphagia in this population. The present study aimed to identify the differences in the biomechanics of the PES during dry and wet swallow tasks in persons with TL with and without dysphagia. Amplitude and duration of movement of PES was analysed using a non-invasive instrumental method surface electromyography. The results indicate that amplitude of PES movement was significantly higher in dysphagic group for solids and semisolids. A significantly longer duration was observed for solid consistency for dysphagic group when compared to non-dysphagic group. sEMG evidences suggestive of differences in amplitude and duration between the TL with and without dysphagia groups. Findings also revealed that TL with dysphagia group require more effort to swallow solids and semisolid consistencies when compared to the effort exerted by them during liquid and dry swallow.
Access options
Buy single article
Instant access to the full article PDF.
US$ 39.95
Tax calculation will be finalised during checkout.
Subscribe to journal
Immediate online access to all issues from 2019. Subscription will auto renew annually.
US$ 79
Tax calculation will be finalised during checkout.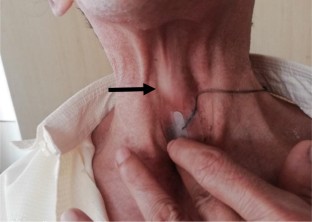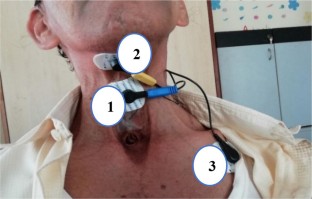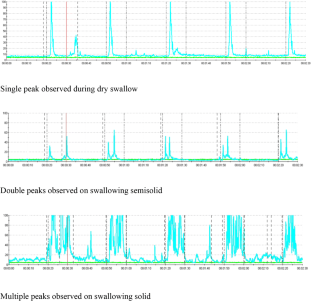 References
1.

Maclean J, Cotton S, Perry A. Variation in surgical methods used for total laryngectomy in Australia. J Laryngol Otol. 2008;122(7):728–32.

2.

McConnel FM, Hester TR, Mendelsohn MS, Logemann JA. Manofluorography of deglutition after total laryngopharyngectomy. Plast Reconstr Surg. 1988;81(3):346–51.

3.

Welch RW, Luckmann K, Ricks PM, Drake ST, Gates GA. Manometry of the normal upper esophageal sphincter and its alterations in laryngectomy. J Clin Invest. 1979;63(5):1036–41.

4.

McConnel FMS, Mendelsohn MS, Logemann JA. Examination of swallowing after total laryngectomy using manofluorography. Head Neck Surg. 1986;9(1):3–12.

5.

Schobinger R. Spasm of the cricopharyngeal muscle as cause of dysphagia after total laryngectomy. AMA Arch Otolaryngol. 1958;67(3):271–5.

6.

Crary MA, Carnaby (Mann) GD, Groher ME. Identification of swallowing events from sEMG signals obtained from healthy adults. Dysphagia. 2007;22(2):94–9. https://doi.org/10.1007/s00455-006-9059-y

7.

Lippert D, Hoffman MR, Britt CJ, Jones CA, Hernandez J, Ciucci MR, McCulloch TM. Preliminary evaluation of functional swallow after total laryngectomy using high-resolution manometry. Ann Otol Rhinol Laryngol. 2016;125(7):541–9.

8.

Balfe DM, Koehler RE, Setzen M, Weyman PJ, Baron RL, Ogura JH. Barium examination of the esophagus after total laryngectomy. Radiology. 1982;143(2):501–8.

9.

Hillman RE, Walsh MJ, Wolf GT, Fisher SG, Hong WK. Functional outcomes following treatment for advanced laryngeal cancer: Part I–voice preservation in advanced laryngeal cancer; Part II–laryngectomy rehabilitation: the state of the art in the VA system. Ann Otol Rhinol Laryngol. 1998;107(5):2.

10.

Landera MA, Lundy DS, Sullivan PA. Dysphagia after total laryngectomy. Perspect Swallowing Swallowing Disord. 2010;19(2):39–44.

11.

Starmer HM, Tippett DC, Webster KT. Effects of laryngeal cancer on voice and swallowing. Otolaryngol Clin North Am. 2008;41(4):793–818.

12.

Duranceau A, Jamieson G, Hurwitz AL, Jones RS, Postlethwait RW. Alteration in esophageal motility after laryngectomy. Am J Surg. 1976;131(1):30–5.

13.

Hanks JB, Fisher SR, Postlethwait RW, Meyers WC, Jones RS, Christian KC. Effect of total laryngectomy on esophageal motility. Ann Otol Rhinol Laryngol. 1981;90(4):331–4.

14.

Vaiman M, Eviatar E, Segal S. Evaluation of normal deglutition with the help of rectified surface electromyography records. Dysphagia. 2004;19(2):125–32. https://doi.org/10.1007/s00455-003-0504-x.

15.

Vaiman M, Eviatar E, Segal S. Surface electromyographic studies of swallowing in normal subjects: a review of 440 adults. Report 2. Quantitative data: amplitude measures. Otolaryngol Neck Surg. 2004;131(5):773–80.

16.

Crary MA, Carnaby GD, Groher ME. Biomechanical correlates of surface electromyography signals obtained during swallowing by healthy adults. Lang Hear Res: J Speech; 2006.

17.

Ackerstaff AH, Hilgers FJM, Aaronson NK, Balm AJM. Communication, functional disorders and lifestyle changes after total laryngectomy. Clin Otolaryngol Allied Sci. 1994;19(4):295–300.

18.

Maclean J, Szczesniak M, Cotton S, Cook I, Perry A. Impact of a laryngectomy and surgical closure technique on swallow biomechanics and dysphagia severity. Otolaryngol Neck Surg. 2011;144(1):21–8.

19.

Zhang T, Szczesniak M, Maclean J, Bertrand P, Wu PI, Omari T, et al. Biomechanics of pharyngeal deglutitive function following total laryngectomy. Otolaryngol Neck Surg. 2016;155(2):295–302. https://doi.org/10.1177/0194599816639249.

20.

Moerman M, Fahimi H, Ceelen W, Pattyn P, Vermeersch H. Functional outcome following colon interposition in total pharyngoesophagectomy with or without laryngectomy. Dysphagia. 2003;18(2):78–84.

21.

Dantas RO, Aguiar-Ricz LN, Gielow I, Filho FVM, Mamede RCM. Proximal esophageal contractions in laryngectomized patients. Dysphagia. 2005;20(2):101–4. https://doi.org/10.1007/s00455-004-0027-0.

22.

Monaco A, Cattaneo R, Spadaro A, Giannoni M. Surface electromyography pattern of human swallowing. BMC Oral Health. 2008;8(1):6.

23.

Regan J, Walshe M, Timon C, McMahon BP. Endoflip® evaluation of pharyngo-oesophageal segment tone and swallowing in a clinical population: a total laryngectomy case series. Clin Otolaryngol. 2015;40(2):121–9.

24.

Hrycyshyn AW, Basmajian JV. Electromyography of the oral stage of swallowing in man. Am J Anat. 1972;133(3):333–40.

25.

Gupta V, Reddy NP, Canilang EP. Surface EMG measurements at the throat during dry and wet swallowing. Dysphagia. 1996;11(3):173–9.

26.

Molfenter SM, Cliffe Polacco R, Steele CM. The validity of multiple swallows per bolus as a sign of swallowing impairment. In: European society of swallowing disorders. Leiden, The Netherlands: Dysphagia; 2011;476e88.

27.

De Casso C, Slevin NJ, Homer JJ. The impact of radiotherapy on swallowing and speech in patients who undergo total laryngectomy. Otolaryngol Neck Surg. 2008;139(6):792–7.
Acknowledgements
Our sincere thanks to NITTE Institute of Speech and Hearing, Mangalore, Karnataka and HCG Hospital, Bangalore for their support.
Ethics declarations
Conflicts of interest
The authors declare that they do not have any conflict of interest.
Ethical Approval
All procedures performed in studies involving human participants were in accordance with the ethical standards of the Institutional Ethical Committee of Kasturba Hospital, Manipal (IEC No. 260/2018). The study was registered with Clinical Trials Registry of India (CTRI/2018/08/021018).
Informed Consent
A language-specific informed consent was taken from all participants prior to the procedure.
Additional information
Publisher's Note
Springer Nature remains neutral with regard to jurisdictional claims in published maps and institutional affiliations.
About this article
Cite this article
Harsha Raj, G., Aithal, V.U. & Guddattu, V. Comparison of Pharyngoesophageal Segment Biomechanics Between Persons with Total Laryngectomy With and Without Dysphagia Using sEMG: A Multicentric Swallow Study. Dysphagia 35, 843–852 (2020). https://doi.org/10.1007/s00455-020-10090-6
Received:

Accepted:

Published:

Issue Date:
Keywords
Surface electromyography

Total laryngectomy

Dysphagia

Deglutition problems

Pharyngoesophageal segment

Biomechanics