Abstract
A 39-year-old woman experienced dyspnea and progressive dysphagia for 1 year. Dysphagia appeared for solid foods at the beginning but advanced for liquids. She described 17 kg weight loss in the past 6 months and her current weight was 38 kg [body mass index (BMI) 16 kg/m2]. Dyspnea presented with effort and lying was included after 1 month. There was no disease or surgery except chronic hepatitis C in her medical history. Physical examination revealed hyponasal speech and a mass beside the tongue base. A smoothly surfaced 4 × 3-cm vascular mass in oropharynx was determined in endoscopic examination. The mass was mobile and occupied 80% of oropharyngeal area. Contrast-enhanced computed tomography revealed hypervascular 4 × 4 × 3 cm pedunculated (8 × 13 mm) mass arising from the right tongue base. The mass and the surrounding mucosa with a thin layer of tongue musculature were excised using cold instrumentation and bipolar cautery. Histologically the mass was reported as pyogenic granuloma (PG). This is the first study to report on oropharyngeal PG causing obvious weight loss in literature.
Access options
Buy single article
Instant access to the full article PDF.
US$ 39.95
Tax calculation will be finalised during checkout.
Subscribe to journal
Immediate online access to all issues from 2019. Subscription will auto renew annually.
US$ 79
Tax calculation will be finalised during checkout.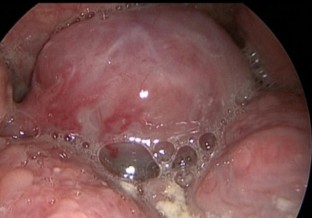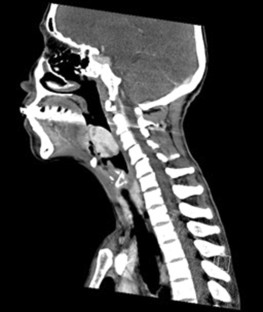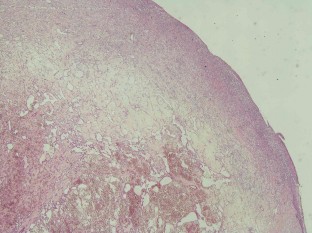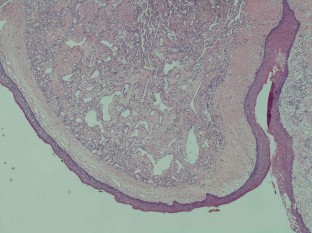 References
1.

Lin CY, Hsieh YC, Hsu CM, Chu YY, Yeh HC, Chen TD, Chiu CT. Clinical and endoscopic features of gastric pyogenic granuloma. Adv Dig Med. 2014;1:118–25.

2.

Kamal R, Dahiya P, Puri A. Oral pyogenic granuloma: various concepts of etiopathologies. J Oral Maxillofac Pathol. 2012;16:79–82.

3.

Ramasundram S, Mohamad I, Kumarasamy S, Ambu VK. Case report unusual site of pyogenic granuloma: case report. Egypt J Ear Nose Throat Allied Sci. 2017;18:83–5.

4.

Udoji TN, Bechara RI. Pyogenic granuloma of the distal trachea a case report. J Bronchol Interv Pulmonol. 2011;18(39):281–4. https://doi.org/10.1097/lbr.0b013e318228f3b1.

5.

Krishnapillai R, Punnoose K, Angadi PV, Koneru A. Oral pyogenic granuloma—a review of 215 cases in a South Indian Teaching Hospital, Karnataka, over a period of 20 years. Oral Maxillofac Surg. 2012;16(3):305–9. https://doi.org/10.1007/s10006-012-0315-z.
Additional information
Publisher's Note
Springer Nature remains neutral with regard to jurisdictional claims in published maps and institutional affiliations.
Electronic supplementary material
Below is the link to the electronic supplementary material.
Supplementary material 1 (MOV 15376 kb)
Supplementary material 2 (MOV 18109 kb)
About this article
Cite this article
Arslan, I.B., Ozkara, S.A., Baser, E. et al. A Huge Oropharyngeal Pyogenic Granuloma in a Patient Presenting with Dysphagia. Dysphagia 35, 542–544 (2020). https://doi.org/10.1007/s00455-019-10057-2
Received:

Accepted:

Published:

Issue Date:
Keywords
Dysphagia

Dyspnea

Pyogenic granuloma

Oropharynx