Abstract
Pharyngeal residue, the material that remains in the pharynx after swallowing, is an important marker of impairments in swallowing and prandial aspiration risk. The goals of this study were to determine whether the 2D area of post-swallow residue accurately represents its 3D volume, and if the laterality of residue would affect this association. Thirteen patients with dysphagia due to brainstem stroke completed dynamic 320-detector row computed tomography while swallowing a trial of 10 ml honey-thick barium. 3D volumes of pharyngeal residue were compared to 2D lateral and anterior–posterior areas, and a laterality index for residue location was computed. Although the anteroposterior area of residue was larger than the lateral area, the two measures were positively correlated with one another and with residue volume. On separate bivariate regression analyses, residue volume was accurately predicted by both lateral (R2 = 0.91) and anteroposterior (R2 = 0.88) residue areas, with limited incidence of high residuals. Half of the sample demonstrated a majority of pharyngeal residue lateralized to one side of the pharynx, with no effect of laterality on the association between areas and volume. In conclusion, the area of post-swallow pharyngeal residue was associated with volume, with limitations in specific cases. Direct measurement of pharyngeal residue volume and swallowing physiology with 3D-CT can be used to validate results from standard 2D instrumentation.
This is a preview of subscription content, log in to check access.
Access options
Buy single article
Instant access to the full article PDF.
US$ 39.95
Price includes VAT for USA
Subscribe to journal
Immediate online access to all issues from 2019. Subscription will auto renew annually.
US$ 99
This is the net price. Taxes to be calculated in checkout.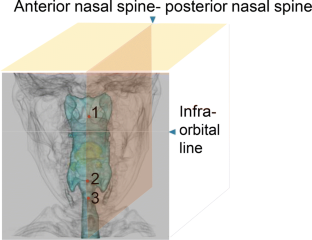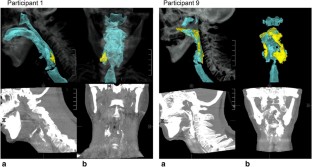 References
1.

Meng N, Wang T, Lien I. Dysphagia in patients with brainstem stroke: incidence and outcome. Am J Phys Med Rehabil. 2000;79:170–5.

2.

Barer DH. The natural history and functional consequences of dysphagia after hemispheric stroke. J Neurol Neurosurg Psychiatry. 1989;52:236–41.

3.

Daniels SK, Brailey K, Priestly DH, Herrington LR, Weisberg LA, Foundas AL. Aspiration in patients with acute stroke. Arch Phys Med Rehabil. 1998;79:14–9.

4.

Martin BJ, Corlew MM, Wood H, Olson D, Golopol LA, Wingo M, Kirmani N. The association of swallowing dysfunction and aspiration pneumonia. Dysphagia. 1994;9:1–6.

5.

Veis SL, Logemann JA. Swallowing disorders in persons with cerebrovascular accident. Arch Phys Med Rehabil. 1985;66:372–5.

6.

Teasell R, Foley N, Fisher J, Finestone H. The incidence, management, and complications of dysphagia in patients with medullary strokes admitted to a rehabilitation unit. Dysphagia. 2002;17:115–20.

7.

Bian R, Choi I, Kim J, Han J, Lee S. Impaired opening of the upper esophageal sphincter in patients with medullary infarctions. Dysphagia. 2009;24:238–45.

8.

Molfenter SM, Steele CM. The relationship between residue and aspiration on the subsequent swallow: an application of the normalized residue ratio scale. Dysphagia. 2013;28:494–500.

9.

Eisenhuber E, Schima W, Schober E, Pokieser P, Stadler A, Scharitzer M, Oschatz E. Videofluoroscopic assessment of patients with dysphagia: pharyngeal retention is a predictive factor for aspiration. Am J Roentgenol. 2002;178:393–8.

10.

Horner J, Buoyer FG, Alberts MJ, Helms MJ. Dysphagia following brain-stem stroke. Arch Neurol. 1991;48:1170–3.

11.

Dejaeger E, Pelemans W, Bibau G, Ponette E. Manofluorographic analysis of swallowing in the elderly. Dysphagia. 1994;9:156–61.

12.

Omari TI, Dejaeger E, Van Beckevoort D, Goeleven A, De Cock P, Hoffman I, Smet MH, Davidson GP, Tack J, Rommel N. A novel method for the nonradiological assessment of ineffective swallowing. Am J Gastroenterol. 2011;106:1796–802.

13.

Robbins J, Kays SA, Gangnon RE, Hind JA, Hewitt AL, Gentry LR, Taylor AJ. The effects of lingual exercise in stroke patients with dysphagia. Arch Phys Med Rehabil. 2007;88:150–8.

14.

Kelly AM, Leslie P, Beale T, Payten C, Drinnan MJ. Fibreoptic endoscopic evaluation of swallowing and videofluoroscopy: does examination type influence perception of pharyngeal residue severity? Clin Otolaryngol. 2006;31:425–32.

15.

McCullough GH, Wertz RT, Rosenbek JC, Mills RH, Webb WG, Ross KB. Inter-and intrajudge reliability for videofluoroscopic swallowing evaluation measures. Dysphagia. 2001;16:110–8.

16.

Han TR, Paik N, Park JW. Quantifying swallowing function after stroke: a functional dysphagia scale based on videofluoroscopic studies. Arch Phys Med Rehabil. 2001;82:677–82.

17.

Ryu JS, Lee JH, Kang JY, Kim MY, Shin DE, Shin DA. Evaluation of dysphagia after cervical surgery using laryngeal electromyography. Dysphagia. 2012;27:318–24.

18.

Pearson WG, Molfenter SM, Smith ZM, Steele CM. Image-based measurement of post-swallow residue: the normalized residue ratio scale. Dysphagia. 2013;28:167–77.

19.

Dyer JC, Leslie P, Drinnan MJ. Objective computer-based assessment of valleculae residue–is it useful? Dysphagia. 2008;23:7–15.

20.

Logemann JA, Williams RB, Rademaker A, Pauloski BR, Lazarus CL, Cook I. The relationship between observations and measures of oral and pharyngeal residue from videofluorography and scintigraphy. Dysphagia. 2005;20:226–31.

21.

Hamlet S, Choi J, Zormeier M, Shamsa F, Stachler R, Muz J, Jones L. Normal adult swallowing of liquid and viscous material: scintigraphic data on bolus transit and oropharyngeal residues. Dysphagia. 1996;11:41–7.

22.

Leonard R, Belafsky PC, Rees CJ. Relationship between fluoroscopic and manometric measures of pharyngeal constriction: the pharyngeal constriction ratio. Ann Otol Rhinol Laryngol. 2006;115:897–901.

23.

Schatz K, Langmore SE, Olson N. Endoscopic and videofluoroscopic evaluations of swallowing and aspiration. Ann Otol Rhinol Laryngol. 1991;100:678–81.

24.

Rao N, Brady SL, Chaudhuri G, Donzelli JJ, Wesling MW (2003) Gold-standard? Analysis of the videofluoroscopic and fiberoptic endoscopic swallow examinations 3.

25.

Fujii N, Inamoto Y, Saitoh E, Baba M, Okada S, Yoshioka S, Nakai T, Ida Y, Katada K, Palmer JB. Evaluation of swallowing using 320-detector-row multislice CT. Part I: single-and multiphase volume scanning for three-dimensional morphological and kinematic analysis. Dysphagia. 2011;26:99–107.

26.

Inamoto Y, Fujii N, Saitoh E, Baba M, Okada S, Katada K, Ozeki Y, Kanamori D, Palmer JB. Evaluation of swallowing using 320-detector-row multislice CT. Part II: kinematic analysis of laryngeal closure during normal swallowing. Dysphagia. 2011;26:209–17.

27.

Dejaco D, Url C, Schartinger VH, Haug AK, Fischer N, Riedl D, Posch A, Riechelmann H, Widmann G. Approximation of head and neck cancer volumes in contrast enhanced CT. Cancer Imaging. 2015;15:16.

28.

Cavalcanti M, Rocha SS, Vannier MW. Craniofacial measurements based on 3D-CT volume rendering: implications for clinical applications. Dentomaxillofac Radiol. 2004;33:170–6.

29.

Kwon M, Lee JH, Kim JS. Dysphagia in unilateral medullary infarction: lateral vs medial lesions. Neurology. 2005;65:714–8.

30.

Aydogdu I, Ertekin C, Tarlaci S, Turman B, Kiylioglu N, Secil Y. Dysphagia in lateral medullary infarction (Wallenberg's syndrome): an acute disconnection syndrome in premotor neurons related to swallowing activity? Stroke. 2001;32:2081–7.

31.

Sacco RL, Freddo L, Bello JA, Odel JG, Onesti ST, Mohr JP. Wallenberg's lateral medullary syndrome: clinical-magnetic resonance imaging correlations. Arch Neurol. 1993;50:609–14.

32.

Inamoto Y, Saitoh E, Shibata S, Kagaya H, Nakayama E, Ota K, Onogi K, Kawamura Y. Effectiveness and applicability of a specialized evaluation exercise-chair in posture adjustment for swallowing. Jpn J Compr Rehabil Sci. 2014;5:33–9.

33.

Park B, Seo J, Ko M, Park S. Effect of 45° reclining sitting posture on swallowing in patients with dysphagia. Yonsei Med J. 2013;54:1137–42.

34.

Lee J, Sejdić E, Steele CM, Chau T. Effects of liquid stimuli on dual-axis swallowing accelerometry signals in a healthy population. Biomed Eng Online. 2010;9:7.

35.

Chen MY, Peele VN, Donati D, Ott DJ, Donofrio PD, Gelfand DW. Clinical and videofluoroscopic evaluation of swallowing in 41 patients with neurologic disease. Abdom Imaging. 1992;17:95–8.

36.

Kuhlemeier KV, Palmer JB, Rosenberg D. Effect of liquid bolus consistency and delivery method on aspiration and pharyngeal retention in dysphagia patients. Dysphagia. 2001;16:119–22.

37.

Inamoto Y, Fujii N, Saitoh E, Baba M, Okada S, Katada K, Ozeki Y, Kanamori D, Palmer JB. Evaluation of swallowing using 320-detector-row multislice CT. Part II: kinematic analysis of laryngeal closure during normal swallowing. Dysphagia. 2011;26:209–17.

38.

Seta H, Hashimoto K, Inada H, Sugimoto A, Abo M. Laterality of swallowing in healthy subjects by AP projection using videofluoroscopy. Dysphagia. 2006;21:191–7.

39.

Yang S, Choi KH, Son YR. The effect of stroke on pharyngeal laterality during swallowing. Ann Rehabil Med. 2015;39:509–16.

40.

Mikushi S, Kagaya H, Baba M, Tohara H, Saitoh E. Laterality of bolus passage through the pharynx in patients with unilateral medullary infarction. J Stroke Cerebrovasc Dis. 2014;23:310–4.

41.

Ota K, Saitoh E, Kagaya H, Sonoda S, Shibata S. Effect of postural combinations—the reclined seated position combined with head rotation—on the transport of boluses and aspiration. Jpn J Compr Rehabil Sci. 2011;2:36–41.

42.

Logemann JA, Rademaker AW, Pauloski BR, Kahrilas PJ. Effects of postural change on aspiration in head and neck surgical patients. Otolaryngol Head Neck Surg. 1994;110:222–7.

43.

Shaker R, Easterling C, Kern M, Nitschke T, Massey B, Daniels S, Grande B, Kazandjian M, Dikeman K. Rehabilitation of swallowing by exercise in tube-fed patients with pharyngeal dysphagia secondary to abnormal UES opening. Gastroenterology. 2002;122:1314–21.

44.

Kagaya H, Inamoto Y, Okada S, Saitoh E. Body positions and functional training to reduce aspiration in patients with dysphagia. JMAJ. 2011;54:35–8.

45.

Inamoto Y, Kagaya H, Saitoh E, Kanamori D, Shibata S, Fujii N, Katada K, Palmer JB. Inter-rater and intra-subject reliability for the evaluation of swallowing kinematics using 320-row area detector computed tomography. Jpn J Compr Rehabil Sci. 2012;3:59–65.
Acknowledgements
The research reported in this paper was partially supported. The authors would like to thank the staff of Fujita Health University Hospital, Department of Radiology, for their generous support and assistance with CT imaging and data collection.
Funding
This research was partially supported by JSPS KAKENHI (No. 25750236 Inamoto) and by the National Institute of Child Health and Human Development- National Center for Medical Rehabilitation Research through award 5T32HD007414-23 (Mulheren); the content is solely the responsibility of the authors and does not necessarily represent the views the National Institutes of Health.
Ethics declarations
Conflict of interest
No conflict of interest declared.
Ethical Approval
All procedures performed in studies involving human participants were in accordance with the ethical standards of the institutional and/or national research committee and with the 1964 Helsinki declaration and its later amendments or comparable ethical standards.
Informed Consent
Informed consent was obtained from all individual participants included in the study.
About this article
Cite this article
Mulheren, R.W., Inamoto, Y., Odonkor, C.A. et al. The Association of 3-D Volume and 2-D Area of Post-swallow Pharyngeal Residue on CT Imaging. Dysphagia 34, 665–672 (2019). https://doi.org/10.1007/s00455-018-09968-3
Received:

Accepted:

Published:

Issue Date:
Keywords
Pharynx

Dynamic computed tomography

Brainstem stroke

Residue

Deglutition

Deglutition disorders