Abstract
Blue Gene/Q represents the third generation in the IBM Blue Gene line of supercomputer systems. Architecturally, BG/Q installations can scale to over 100 PetaFLOPS. Blue Gene/Q follows the same philosophy as the earlier Blue Gene/L and Blue Gene/P systems, namely to build a massively parallel and highly reliable High Performance Computing (HPC) system out of power-efficient processor chips. Such power-efficient chips, in turn, allow dense packaging, which consequently results in power efficient, cost efficient, and floor-space efficient systems. A focus on reliability in the design of each component contributes to the ability to run a single application across even the largest configurations.
Because of the tight interaction between the hardware, system software, and application teams, the machine was truly co-designed. The intended characteristics of architecture were presented early to the system software and application teams, and those teams requested specific features that were then incorporated into the hardware. The contributions of this paper are a description of the overall system and packaging of Blue Gene/Q, a description of the core system software, and a detailed description of the software's needs that drove the co-design process, in turn affecting the hardware.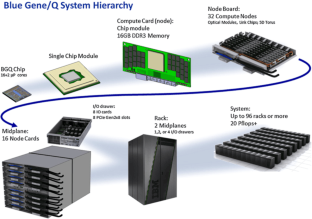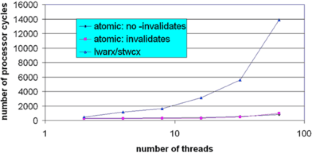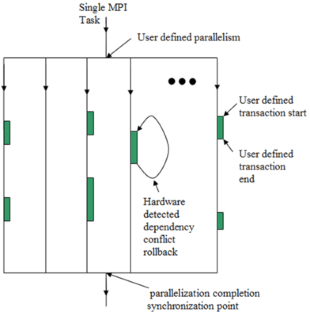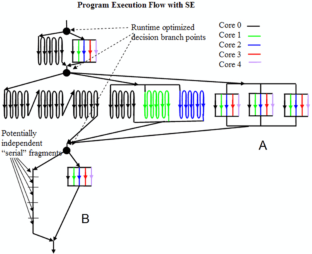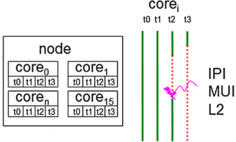 References
1.

Chen D, Eisley NA, Heidelberger P, Senger RM, Sugawara Y, Kumar S, Salapura V, Satterfield DL, Stenmacher-Burow B, Parker JJ (2011) The IBM Blue Gene/Q interconnection network and message unit. In: 2011 international conference for high performance computing, networking, storage and analysis (SC2011). doi:10.1145/2063384.2063419

2.

Chen D, Eisley NA, Heidelberger P, Senger RM, Sugawara Y, Kumar S, Salapura V, Satterfield DL, Stenmacher-Burow B, Parker JJ (2012) The IBM Blue Gene/Q interconnection fabric. IEEE Micro 32(1):32–43. doi:10.1109/MM.2011.96

3.

Green 500 list (2010, 2011) www.green500.org

4.

Gara A, Blumrich MA, Chen D, Chiu GL, Coteus P, Giampapa ME, Haring RA, Heidelberger P, Hoenicke D, Kopcsay GV, Liebsch TA, Ohmacht M, Steinmacher-Burow BD, Takken T, Vranas P (2005) Overview of the Blue Gene/L system architecture. IBM J Res Dev 49(2/3):195–212

5.

Giampapa M, Gooding T, Inglett T, Wisniewski RW (2010) Experiences with a lightweight supercomputer kernel: lessons learned from Blue Gene's CNK. In: 2010 international conference for high performance computing, networking, storage and analysis (SC2010), pp 1–10. doi:10.1109/SC.2010.22

6.

Haring RA, Ohmacht M, Fox TW, Gschwind MK, Satterfield DL, Sugavanam K, Coteus PW, Heidelberger P, Blumrich MA, Wisniewski RW, Gara A, Chiu GL, Boyle PA, Chist NH, Kim C (2012) The IBM Blue Gene/Q Compute chip. IEEE Micro 32(2):48–60. doi:10.1109/MM.2011.108

7.

IBM Blue Gene Team (2008) Overview of the Blue Gene/P project. IBM J Res Dev 52(1/2):199–220

8.

Moreira JE, Almasi G, Archer C, Bellofatto R, Bergner P, Brunheroto JR, Brutman M, Castanos JG, Crumley PG, Gupta M, Inglett T, Lieber D, Limpert D, McCarthy P, Megerian M, Mendell M, Mundy M, Reed D, Sahoo RK, Sanomiya A, Shok R, Smith B, Stewart GG (2005) Blue Gene/L programming and operating environment. IBM J Res Dev 49(2/3):367–376
Additional information
IBM The Blue Gene/Q project has been supported and partially funded by Argonne National Laboratory (ANL) and the Lawrence Livermore National Laboratory (LLNL) on behalf of the U.S. Department of Energy, under LLNL subcontract no. B554331.
The Blue Gene/Q Team
The Blue Gene/Q Team
IBM Blue Gene Team spans a wide range of technical disciplines and organizations within IBM, as well as several Universities. The Blue Gene Team contributors are:
From IBM: Mike Aho, David W. Alderman, Eric Alter, Eberhard Amann, Anatoli Andreev, Sameh Asaad, John Attinella, Vernon Austel, Marcy Averill, Mike Azevedo, Joern Babinsky, Darryl J. Becker, Ralph Bellofatto, James R. Bentlage, Jeremy Berg, Darcy Berger, Randy Bickford, SuEllen Birkholz, Michael Blocksome, Matthias Blumrich, Lynn Boger, Alan Boulter, Tom Brennan, Jeremy Brewer, Bernard Brezzo, Arthur A. Bright, Jose Brunheroto, Jay S. Bryant, Nate Buck, Tom Budnik, Daniel Buerkle, Raymond J. Bulaga, Mark Campana, Ken Caron, Bob Cernohous, Douglas Chartrand, Jeffery D. Chauvin, Daniel Chen, Dong Chen, Rui Chen, Wang Chen, Chen-Yong Cher, George Chiu, I-hsin Chung, Paul K. Coffman, Miguel Comparan, Paul Coteus, Bruce D'Amora, Ron Daede, Kris Davis, Michael Deindl, Brian Deskin, Jun Doi, Marc B. Dombrowa, Roger Dong, Michael L. Eaton, Alexandre Eichenberger, Noel A. Eisley, Matthew R. Ellavsky, Robert Enenkel, Kahn C. Evans, Sean T. Evans, Steve Faas, Daniel Faraj, George Fax, Mitchell D. Felton, Giovanni Fiorenza, Blake G. Fitch, Ryan A. Fitch, Bruce M. Fleischer, Bill Flynn, Thomas Fox, John F. Fraley, Ross L. Franke, Scott Frei, Yaoqing Gao, Robert Germain, Philip Germann, Mark E. Giampapa, Frank P. Giordano, Emanuel Gofman, Mike P. Good, Thomas Gooding, Nicholas Goracke, Jason Greenwood, Michael Gschwind, John A. Gunnels, Shawn Hall, Michael Hamilton, Ruud A. Haring, James Harveland, Troy L. Haugen, Philip Heidelberger, Timothy D. Helvey, Olaf Hendrickson, Brent Hilgart, Misky H. Hillestad, Judith W. Hjortness, Dennis Huang, Todd Inglett, David J. Iverson, Randy T. Jacobson, Geert Janssen, Mark Jeanson, Anto John, Mark Johnson, Steve Jones, Kirk Jordan, Jeff Judd, Kerry Kaliszewski, Robert Kammerer, Amanda R. Kaufer, Michael Kaufmann, Chulho Kim, Kyu-hyoun Kim, David Klepacki, Ravi Komanduri, Gerard V. Kopcsay, Anatoly Koyfman, Brant L. Knudson, Jon Kriegel, Eric Kronstadt, Sameer Kumar, Lih Chung Kuo, Mark Kupferschmidt, David E. Lackey, Alphonso P. Lanzetta, Christopher Lapkowski, Cory Lappi, Jay Lawrence, David Lawson, Gene Leung, Tak O. Leung, Qing Li, Tom Liebsch, Yan Liu, Meryl Lo, Ray Lucas, Ming Luo, Bob Lytle, Scott H. Mack, Serban Maerean, David Malone, Amith R. Mamidala, Jim Marcella, Christopher M. Marroquin, John K. Masi, Pat McCarthy, Moyra McManus, Mark Megerian, Douglas Miller, Sam Miller, Khaled Mohammed, Jaime H. Moreno, Adam Muff, Patrick Mulligan, Roy Musselman, Tom Musta, Indira Nair, Ben Nathanson, Eldon Nelson, Mike Nelson, Hoang Nguyen, Carl Nilsen, Kinya Noguchi, Carl Obert, Kathryn O'Brien, Kevin K. O'Brien, Alda Ohmacht, Martin Ohmacht, Bitwoded Okbay, Jim Van Oosten, Michael R. Ouellette, Bruce Owens, Mike J. Palmer, Jeff Parker, David P. Paulsen, Kerry Pfarr, Huyen Phan, Swetha Pullela, Irina Rada, Don Reed, Michael T. Repede, Dennis Rickert, Thomas Roewer, Jeff Ruedinger, Bryan S. Rosenburg, Michael Rosenfield, Yogish Sabharwal, Takehito Sakuragi, Valentina Salapura, David Salinas, David L. Satterfield, Jun Sawada, Vaibhav Saxena, Paul Schardt, Matthew Scheckel, Brandon Schenck, Heiko Schick, Dietmar Schmunkamp, Bob Schoen, Andrew A. Schram, Brian Schuelke, Al Secor, Faith W. Sell, Woody Sellers, Robert M. Senger, James Sexton, Jigar Shah, Vinay V. Shah, Rob Shearer, Raul Silvera, Brian Smith, David L. Sparks, Karl Solie, Carlos P. Sosa, Burkhard Steinmacher-Burow, Will Stockdell, Scott Strissel, Craig Stunkel, Krishnan Sugavanam, Yutaka Sugawara, Nobu Suginaka, Corey Swenson, Yoshihisa Takatsu, Todd Takken, Keith A. Tally, Andrew Tauferner, Kiswanto Thayib, John Thomas, Shurong Tian, Jose A. Tierno, Barry M. Trager, Ailoan Tran, Matt Tubbs, Priya Unnikrishnan, Jason VanVreede, Pascal Vezolle, Ivan Vo, Martha Voytovich, Charles Wait, Bob Walkup, Amy Wang, Bryan J. Weatherford, Bruce Winter, Bryon Wirtz, Robert W. Wisniewski, Kelvin Wong, Michael Wong, Peng Wu, Hanhong Xue, Brett M. Yokom, Guo Zhong Zhang, Yong Zheng, Ching Zhou, Jianwei (John) Zhuang, Fred Ziegler, Matthew Ziegler, Christian G. Zoellin.
From Columbia University: Norman H. Christ.
From University of Edinburgh: Peter A. Boyle.
From RIKEN BNL Research Center: Changhoan Kim.
Formerly at IBM: Jeremy Balster, James Clemens, Carlos Costa, Paul Curtis, Gabor Dozsa, Don Eisenmenger, Matthias Fritsch, Alan Gara, Russell Hoover, Fariba Kasemkhani, Stefan Koch, Brian Koehler, Matt Logelin, Curt Mathiowetz, Eric O. Mejdrich, Virginia Metayer, Timothy Moe, Mike Mundy, Eldon Nelson, Dennis Olson, Rick A. Rand, Joseph Ratterman, Rony Sakuragui, Daniele P. Scarpazza, Marcel Schaal, Ryan J. Schlichting, Catherine Trammell, Simeon Wahl, Alfred T. Watson, Tim Wensky, Xiaotong Zhuang.
About this article
Cite this article
The Blue Gene Team. Blue Gene/Q: by co-design. Comput Sci Res Dev 28, 127–135 (2013). https://doi.org/10.1007/s00450-012-0215-3
Keywords
Hardware-software co-design

SIMD processors

Super (very large) computers

Large and medium ("mainframe") computers

Microprocessors and microcomputers

Multicore/single-chip multiprocessors

Multiple data stream architectures (multiprocessors)

Multithreaded processors

Parallel processors

Speculative multithreading

Support for multithreaded execution

Hardware transactional memory

Scalable atomic operations